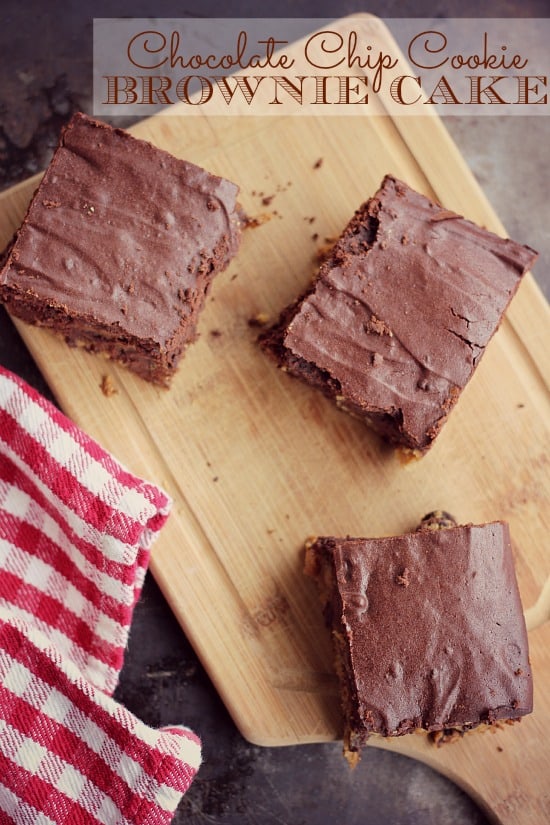 I can't take credit for this creation. This is a Mr. Baker Bettie creation. I feel bad because I often don't indulge his requests. Things like, "You should make a chocolate chip cheesecake with oreo crust and peanut butter cup frosting." Or, "Let's make a chocolate chip cookie brownie layer thing so I can eat it for breakfast all week." That last part. That is the kicker. It isn't about not wanting to make his requests, it's about why he wants me to make them. To eat them for breakfast. Oy.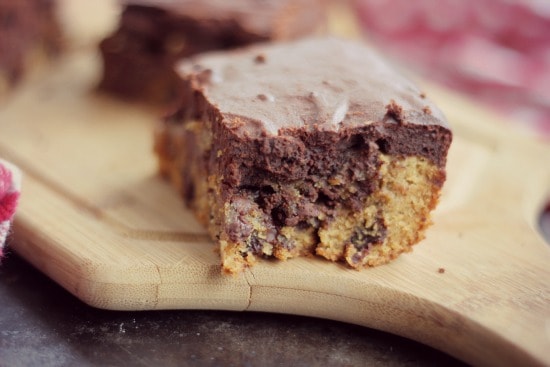 But I love this man more than I can really express so when I found out last night that both of us were getting a snow day off of work, I decided to humor him. And we rarely bake together. So we got the store before the storm set in and got a few things to keep us snowed in for at least the day. And we baked together. Mr. Bettie ran the mixer and I added ingredients to the bowl. He was so cute as the mixer turned on too high and ingredients started splattering out of the bowl. Then we cuddled on the couch while our creation baked and filled the house with the best smells.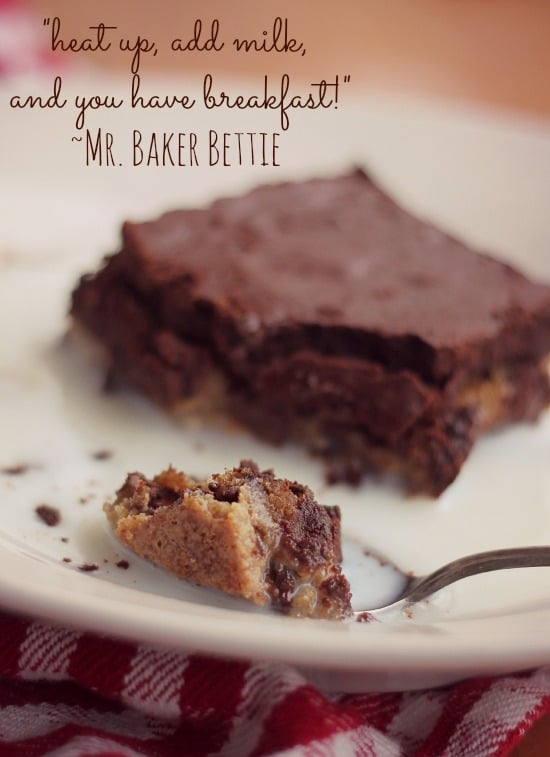 Our snow day will be filled with more snuggling, lots of relaxing, lots of chocolate, crappy reality tv (teen mom anyone?), and tons of love. If you are also experiencing this snow storm, be safe out there if you must brave it!
Chocolate Chip Cookie Brownie Sheet Cake
Prep time:
Cook time:
Total time:
Ingredients
For the Chocolate Chip Layer
2 sticks unsalted butter, softened
1½ cups dark brown sugar
2 large eggs, room temperature
1 TBSP vanilla
1 tsp kosher salt
1 tsp baking soda
2¼ cups all-purpose flour
2 cups chocolate chips
For the Brownie Layer
2 sticks unsalted butter, melted
¾ cup granulated sugar
½ cup dark brown sugar
1 tsp vanilla extract
3 eggs
½ tsp kosher salt
1¼ cups dark chocolate cocoa powder
¾ cup all-purpose flour
Instructions
Lightly oil a 13X9 baking dish and set aside.
Preheat the oven to 350 degrees F.
Prepare the Cookie Layer
Cream together the butter and the sugar until well combined.
Add the eggs and vanilla, and beat until combined.
Add the salt, baking soda, and then the flour in small amounts, mixing until well incorporated.
Fold in the chocolate chips.
Using a rubber spatula, spread the dough in the bottom of the baking sheet, smoothing out.
Prepare the Brownie Layer
Whisk together the butter, sugars, eggs, and vanilla until all combined.
Stir in the salt, cocoa powder, and flour just until combined.
Pour batter over the
Bake at 350 for 30-35 minutes until a toothpick comes out clean from the middle.
Allow to cool before slicing into pieces.