Baked Sweet Potato Pecan Crisps
Baked sweet potatoes with streusel topping are a fun way to serve individual sweet potato crisps! Just bake and serve right in the sweet potato skin!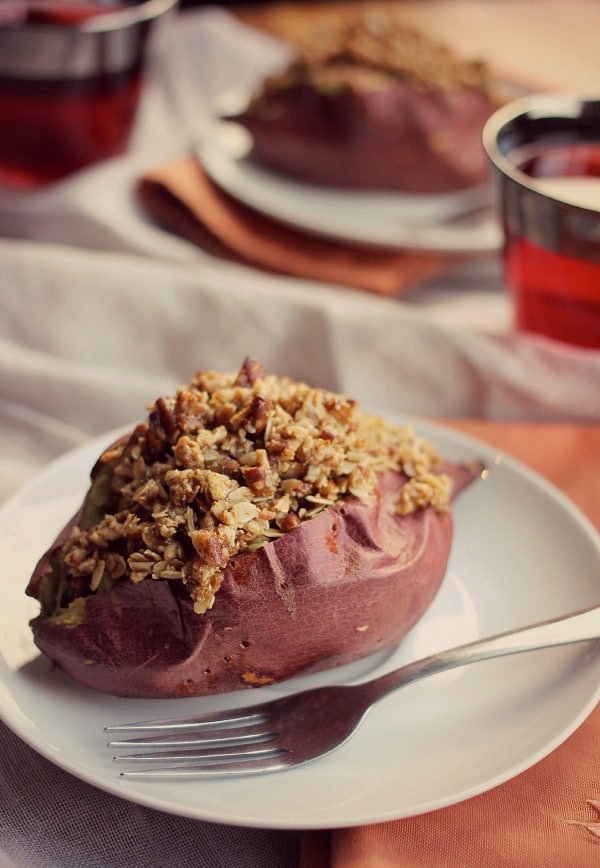 The other morning I ate a sweet potato for breakfast. And not just a sweet potato. But a sweet potato topped with oats, brown sugar, a bit of butter, and pecans. It was totally warming and comforting and the perfect Autumn breakfast. I patted myself on the back for the great idea.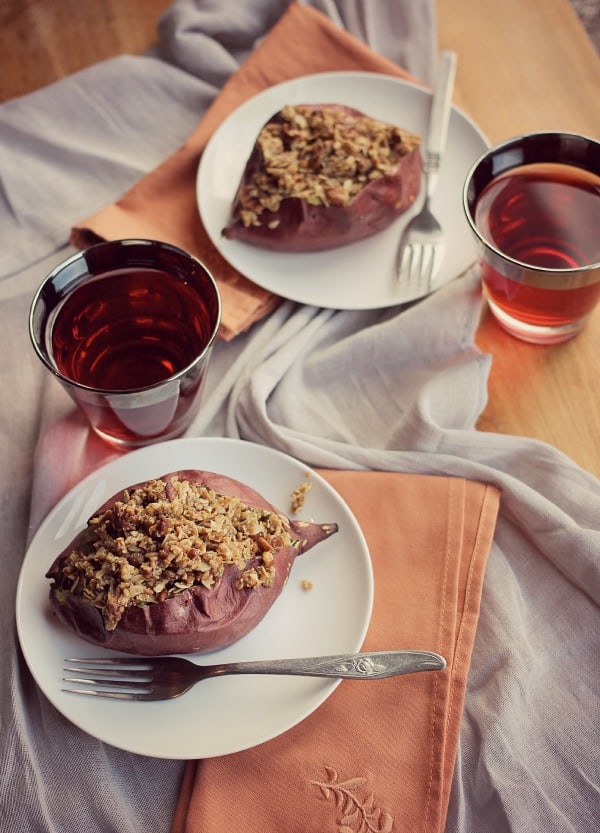 I'm really into sweet potatoes. I have a difficult time understanding why people don't like them. They can be savory or sweet. You can make them into a mash, or fries, or a pie. You can even make them into cookies or keep them whole and appreciate how perfect they are as is. What is not to like? I can't relate on this one.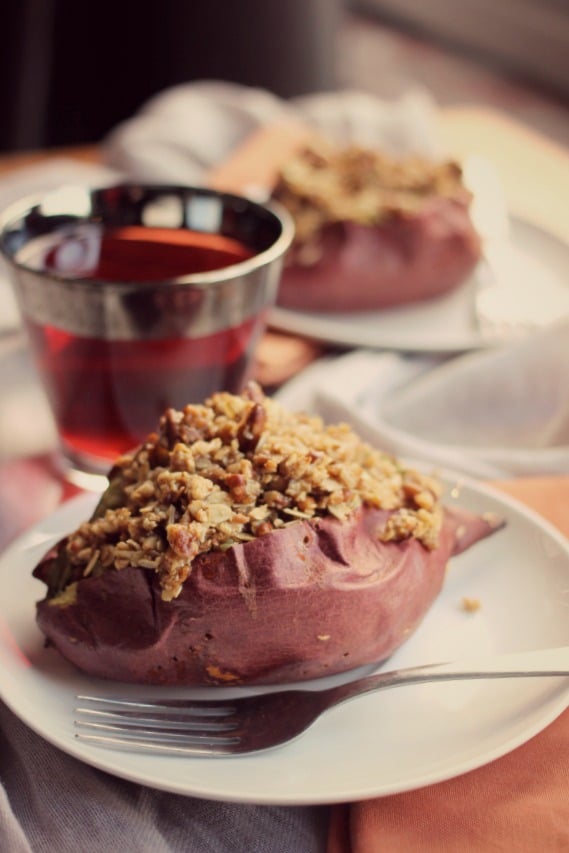 I ate these for breakfast but it would be a great dessert or afternoon snack. If you want to plan ahead,  just bake up the potatoes and keep them in the fridge until ready to use. Then pull them out, slit them open, fill with the crumble mixture, bake for a few more minutes and devour!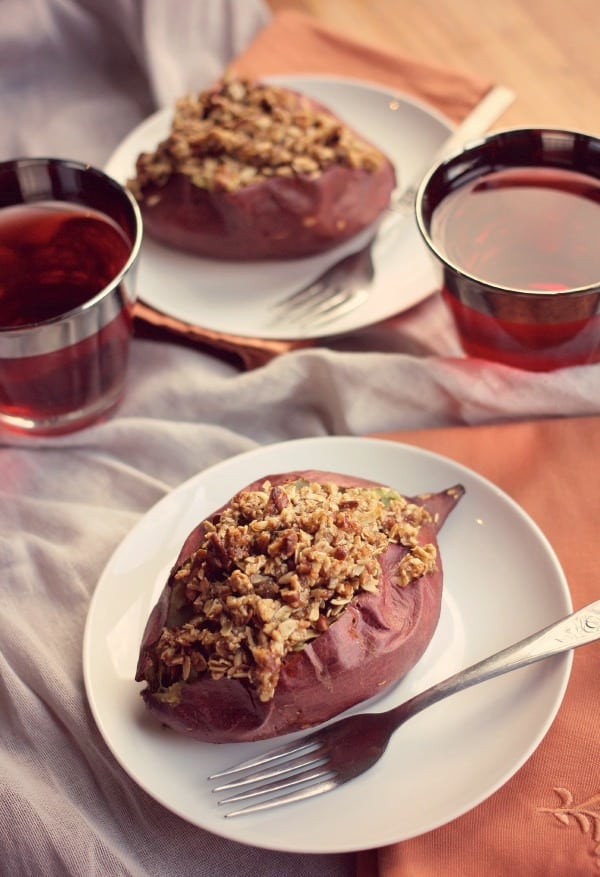 Fall is in full force there is no reason we shouldn't follow suit with delicious Fall treats. We deserve it.
One Year Later: N0-Bake Pumpkin Cheesecake
One Year Ago: Chicken Pot Pie Casserole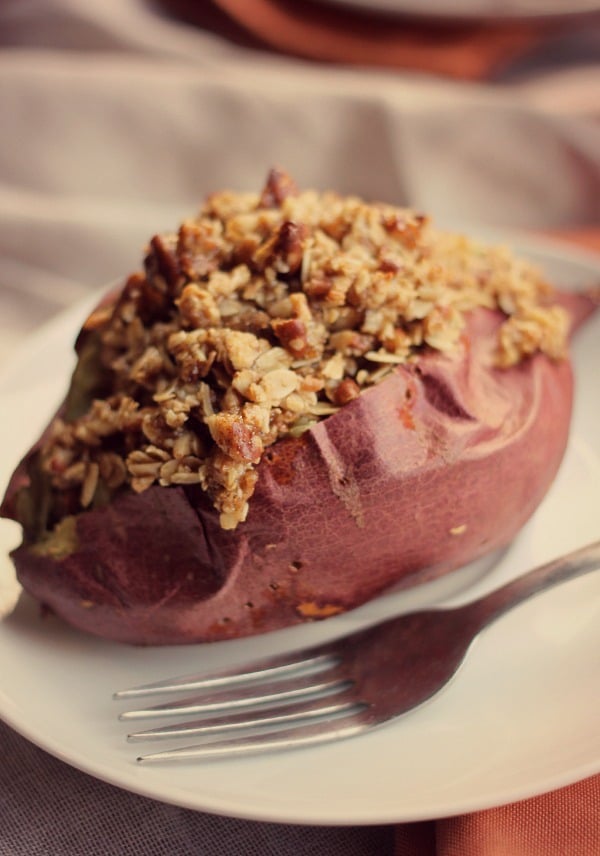 Baker Bettie
Yields 4
Baked Sweet Potato Pecan Crisps
5 minPrep Time
55 minCook Time
1 hrTotal Time
Ingredients
4 sweet potatoes
vegetable oil
1 cup brown sugar
21/2 cups rolled oats
11/2 cups pecans
1/4 tsp cinnamon
1 stick unsalted butter, melted
large pinch kosher salt
Instructions
Preheat the oven to 450ºF.
Lightly coat each potato with oil. Prick each potato with a fork all over. Place on a baking sheet and bake for 45 minutes or until the potatoes are soft.
Meanwhile, combine brown sugar, oats, pecans, cinnamon, butter and salt in a food processor or blender. Pulse several times until combined.
Cut a slit down the middle of each potato and squeeze the ends toward the center to open the potatoes. Fill each potato with a generous amount of the crisp topping.
Place the potatoes on a baking sheet and put back in the oven for 7-9 minutes until the topping is slightly toasted and the sugar is melted. Serve warm.
7.6.4
56
http://bakerbettie.com/baked-sweet-potato-pecan-crisps/