Blueberry Lemon Sour Cream Bread
Blueberry Lemon Sour Cream Bread is a quick bread that can be in the oven in just about 10 minutes! It comes out incredibly moist and tender and is drizzled with a tart lemon glaze! A great way to get some more blueberries in before summer ends!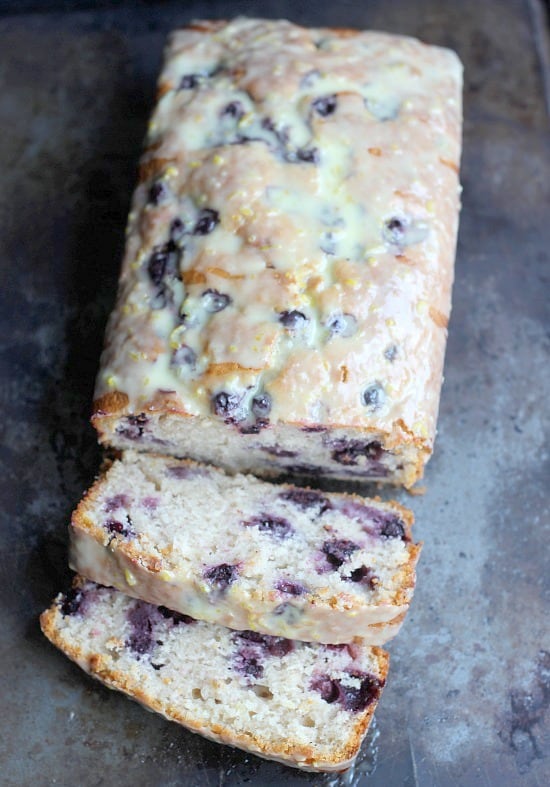 I originally published this recipe in July 2013 as a guest post on the blog, The Cooking Actress. 
---
A while back I started a series on my blog called Back to Bake-sics. In each post I brake down the science of various different baked goods to create very simple and adaptable recipes.
One of my favorite basic baked goods is quick bread. I make it frequently in all kinds of ways. It is so easy to make it savory or sweet and flavor it with pretty much anything you imagination can come up with. Check out this post for the basic recipe and to understand how it can be easily adapted.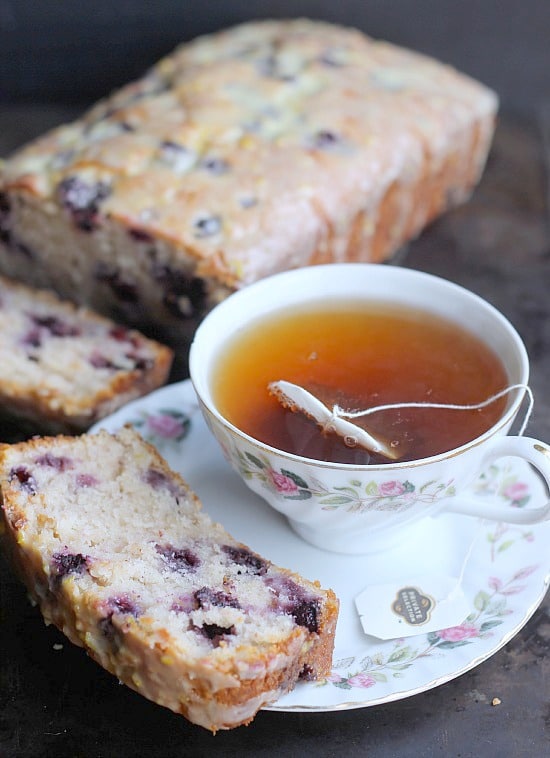 To continue with my summer obsession of berries and lemon I used my quick bread base recipe to make a blueberry sour cream bread with a lemon glaze. It was so moist and tart and just the perfect breakfast with my morning hot tea.
There are few flavor combinations I love more than blueberry and lemon. Especially in the summer. These flavors just feel like summer. I like to think of blueberry and lemon as sort of a lifelong friend of flavors, as silly as that may sound. It just always comes through for me. In muffins, or biscuits, or cookies, or of course bread.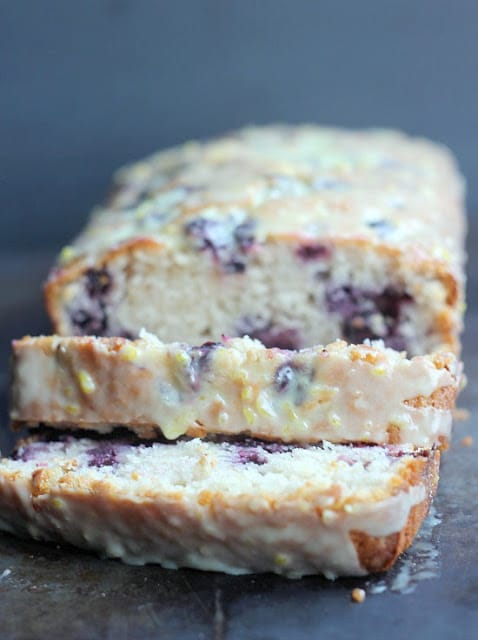 This bread is ready to go into the oven within 10 minutes and comes out incredibly moist and flavorful. I also think this would be awesome with raspberries, blackberries or cherries. Or a combination sounds pretty awesome too! You could even pair it with a different citrus. Orange, lime, or grapefruit?! Oh, the endless possibilities!

Baker Bettie
Yields 1
Blueberry Lemon Sour Cream Quick Bread
10 minPrep Time
60 minCook Time
1 hr, 10 Total Time
Ingredients
1 1/2 cups flour
1 tsp baking powder
1 1/2 cups + 1/4 cup blueberries divided (fresh or frozen)
1/4 tsp cinnamon
1 cup sugar
1 tsp vanilla
pinch of salt
2 eggs
1 cup sour cream
1/4 cup vegetable oil
juice and zest of 1 lemon
for the glaze
juice and zest of a lemon
1-2 cups powdered sugar
Instructions
Preheat oven to 350ºF.
Lightly oil a loaf pan and set aside.
In a large bowl stir together flour, baking powder, cinnamon, sugar, and 1 1/2 cups of the blueberries.
In another bowl, lightly whisk together the eggs, oil, vanilla, sour cream, and lemon juice and zest.
Pour the liquid ingredients into the dry ingredients and stir together until combined.
Pour the batter into the loaf pan and sprinkle the remaining 1/4 cup of blueberries over the top.
Bake at 350 for about 50-60 minutes until a toothpick comes out clean from the middle.
Cool completely before removing from the pan and glazing.

for the glaze

Place the lemon juice and zest in a small mixing bowl.
Whisk in 1 cup of the powdered sugar.
Add more powdered sugar until the glaze is at the desired consistency.
Drizzle over the cooled bread.
7.6.4
48
http://bakerbettie.com/blueberry-lemon-sour-cream-bread/