Creamy Breakfast Polenta with Asiago, Thyme, Bacon, and Poached Eggs
Creamy breakfast polenta (yellow coarse cornmeal) is the perfect breakfast porridge to serve under poached eggs and bacon. Quick, hearty, and decadent!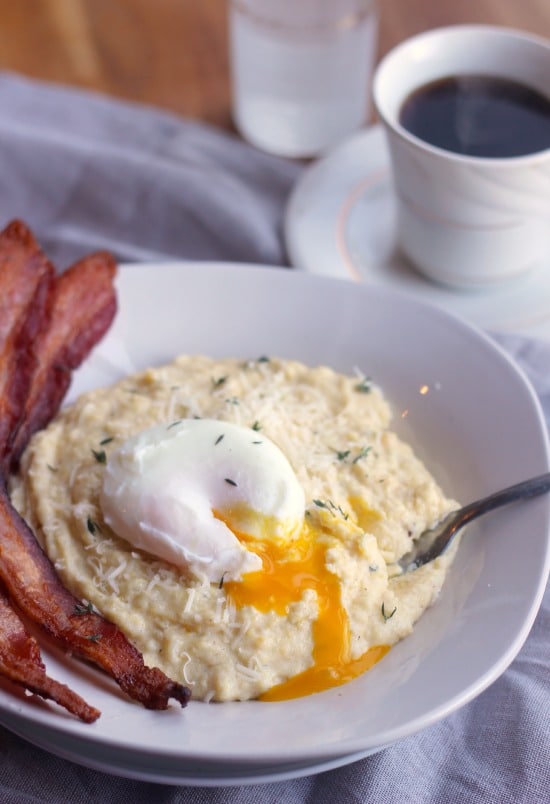 This weekend was intense. Friday night and all day Saturday were filled with exciting yet anxiety provoking activities. Including a trip to NYC where the stressful day ended with a relaxing show that one of my best friends was in!
My husband and I didn't get home until pretty late Saturday night and I was exhausted Sunday morning. I don't know what it is about creating a hearty breakfast (that always includes eggs with runny yolks) that just energizes me. And what is it with people saying they aren't a "breakfast person." Stop it. Just stop.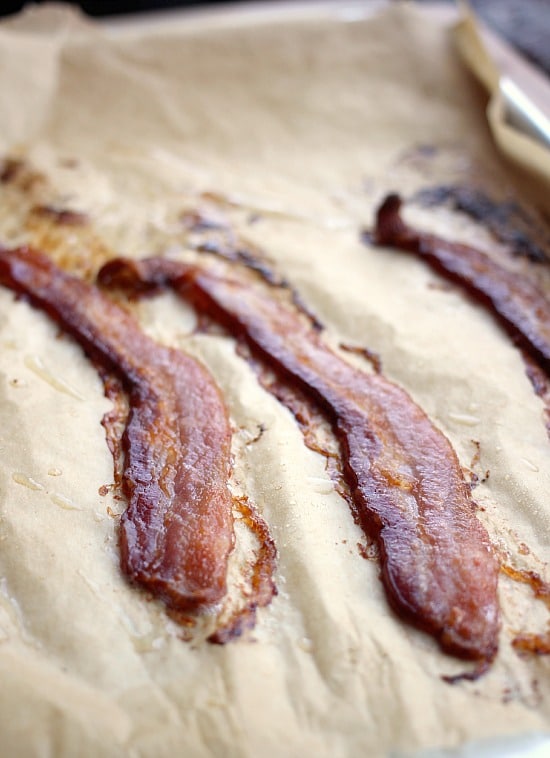 I have mixed feelings about polenta. It's one of those things that is often prepared so bland that it isn't even worth eating. And I am really not a fan of it being prepared as a cake. You know those solid masses of polenta? Ew. The texture just isn't appetizing to me.
I have had bad polenta so many times that I rarely think of it when I'm snooping through my cupboards for inspiration. But we've been making polenta at school lately so I guess it was on my brain when I saw the bag of cornmeal yesterday morning. I wanted to make a really well seasoned polenta as a savory breakfast porridge to eat with my poached eggs and bacon. It was heavenly.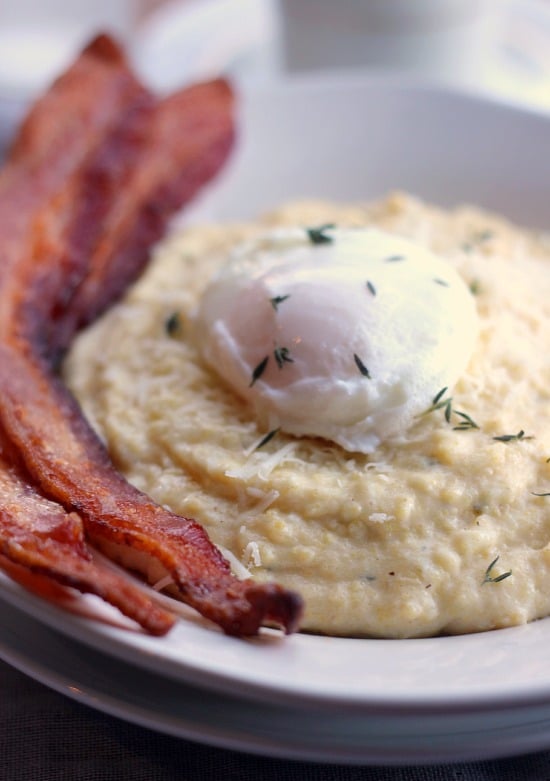 It's silly how excited I get over really simple food. Like a perfectly poached egg. I had never tried to poach eggs before until recently and now every time I do a proper one I get really excited.
"Look at the beautiful egg!" I squealed when I pulled this one out of the pan. My husband didn't understand the excitement. Perfectly poached eggs are just about the most beautiful thing in the world. I completely understand that I'm nuts. I'm okay with that.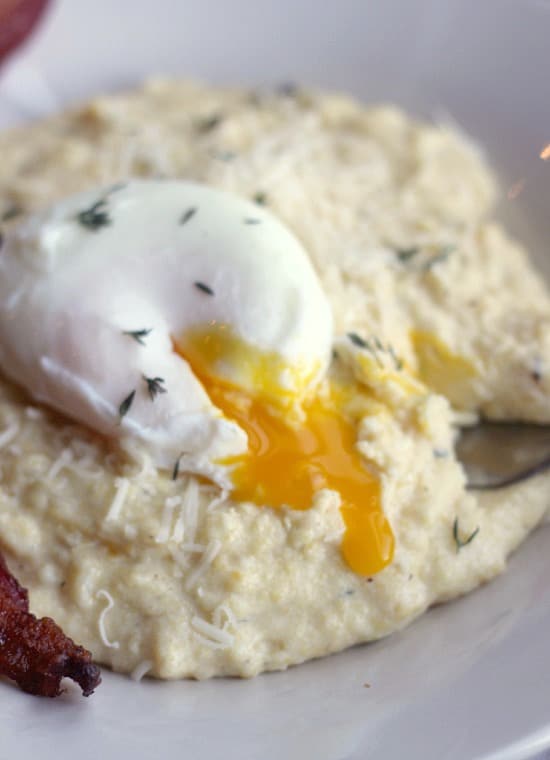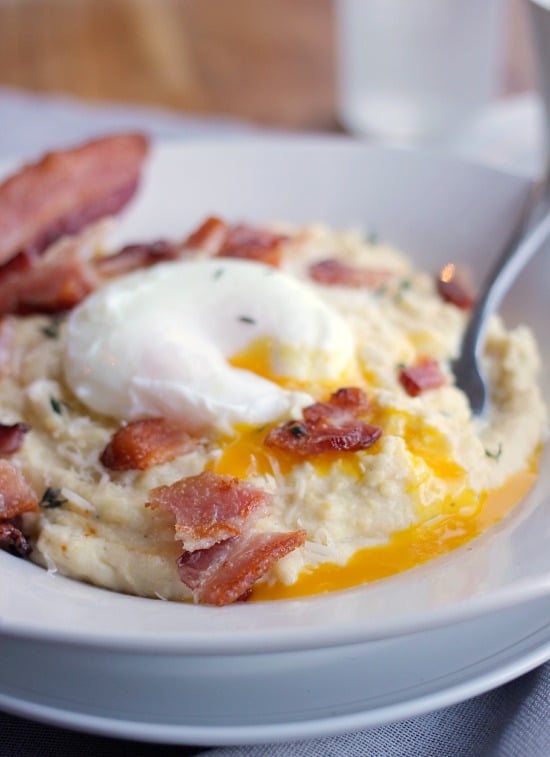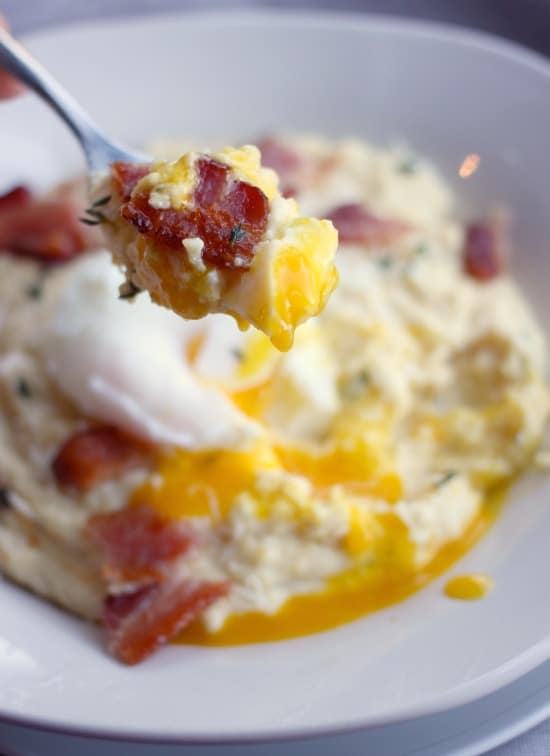 Baker Bettie
Yields 4
Creamy Breakfast Polenta with Asiago, Thyme, Bacon, and Poached Eggs
10 minPrep Time
10 minCook Time
20 minTotal Time
Ingredients
5 TBSP unsalted butter, divided
1/4 cup onion, finely diced
1 large clove garlic, minced
1 cup warm water
2 cups whole milk, plus more as needed
1 cup coarse ground yellow cornmeal
salt and pepper
1 TBSP finely chopped fresh thyme
3 oz shredded asiago cheese, plus more for serving
4 poached eggs
4 strips crisp cooked bacon, crumbled
Instructions
In a medium saucepan melt 3 TBSP of the butter over medium heat. Add the onion and garlic and cook until translucent.
Add in the water and milk and bring to a simmer. While whisking continuously, slowly pour in the cornmeal. Continue whisking until the mixture starts to thicken.
Heavily season with salt and pepper to taste. Mix in the thyme, asiago cheese, and the rest of the butter (2 TBSP). Add more warm milk as needed if the mixture starts becoming too thick.
Serve warm topped with more asiago cheese, a poached egg, and crumbled bacon. Makes 4 servings.
7.6.6
69
http://bakerbettie.com/creamy-breakfast-polenta-asiago-thyme-bacon-poached-eggs/
Products I used for this recipe…
Disclaimer: Please note that the links below are affiliate links and I will earn a commission if you purchase through those links.
[AMAZONPRODUCTS asin="B010UKIRYU"][AMAZONPRODUCTS asin="B00JK9629U"][AMAZONPRODUCTS asin="B00004OCNS"]