Creamy Tomato and Herb Soup
Creamy tomato and herb soup served in homemade bread bowls is the perfect fall/winter comfort food! Thyme, tarragon, and garlic create an incredibly flavorful soup!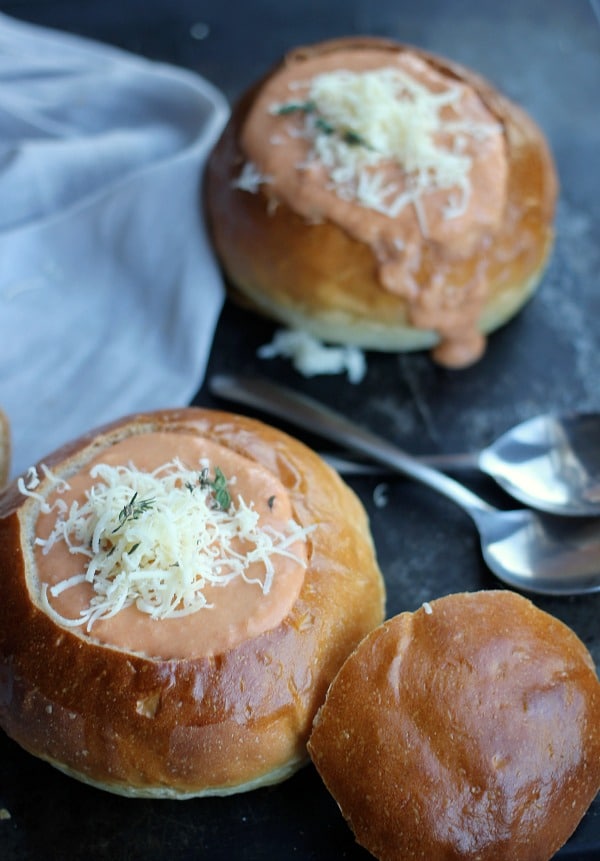 It's cuddle weather! It's live in my husband's sweats weather. It's the holidays are coming weather! And most importantly, it's soup weather!
Soup is so underrated. If you're worried about being judged for eating an entire baguette just eat it with some soup. Everyone will understand. You needed something to dip. You can even eat your soup IN a half loaf of bread that is disguised as an edible bowl.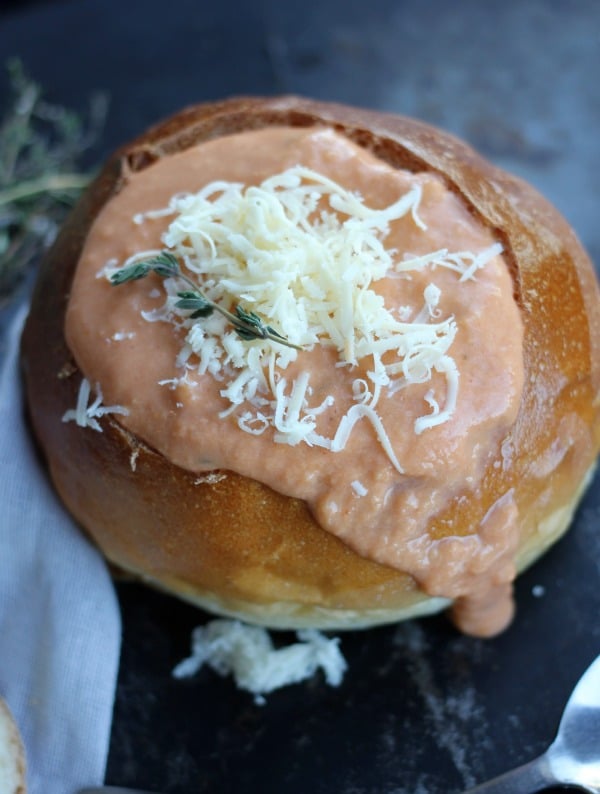 We made good use of those homemade bread bowls I made by filling them with this warming soup. We also used up some of the leftover soup to dip our gourmet grilled cheese sandwiches with caramelized onions and a trio of cheeses: asiago, goat, and sharp cheddar cheese.
I totally should have snapped some pictures of those but we got too excited about eating them. Now you understand why there aren't very many savory recipes on Baker Bettie? We really like the eating part of cooking.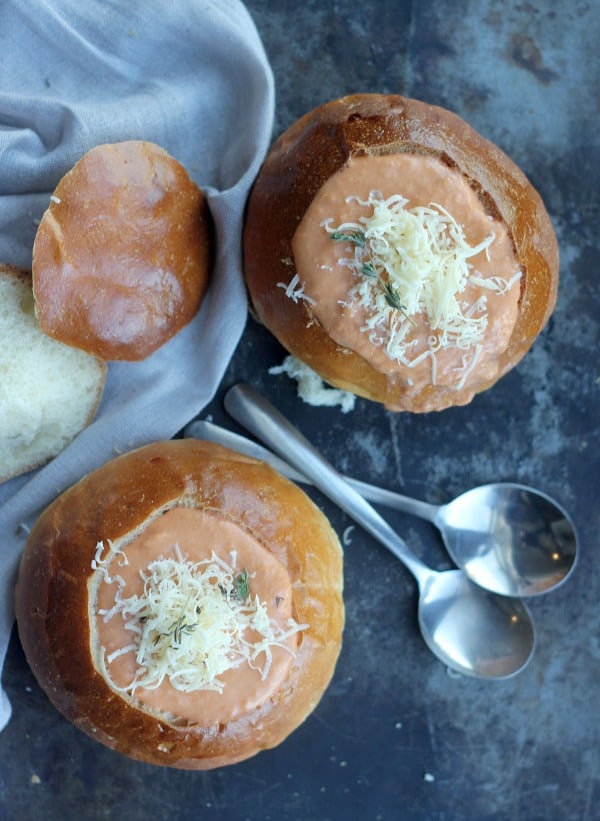 Don't get me wrong, I fully admit that Campbell's tomato soup with a grilled cheese made with Kraft singles is totally legit. It definitely has it's place in this world and in my life.
But this. THIS soup with a fancy grilled cheese or a delicious homemade bread bowl (have I mentioned bread bowl yet?) is on a whole different level. You can't compare the two. It's like comparing McDonald's fries with a fancy restaurant's truffle fries. Just don't compare them. Just appreciate them separately.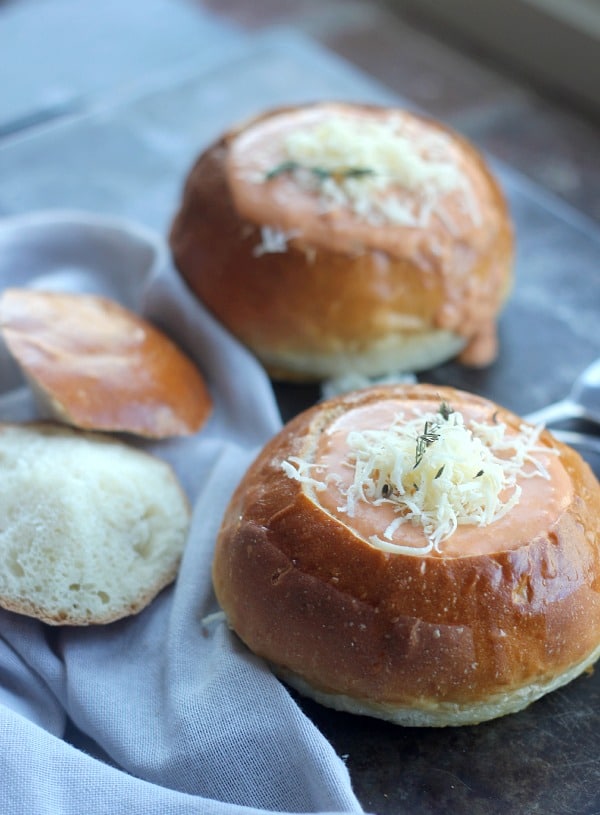 I am working on a new vlog this weekend. Let me know if you have any baking or cooking questions you want me to try and address in the video! I love your questions it pushes me to keep learning! Love you guys!
---
One Year Later: Cranberry White Chocolate and Orange Oatmeal Cookies
One Year Ago: Pumpkin, Chocolate Chip, and Walnut Coffee Cake with Toffee Sauce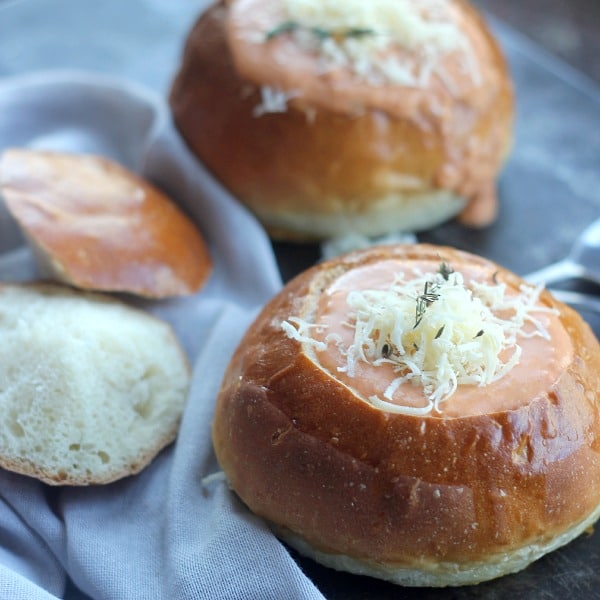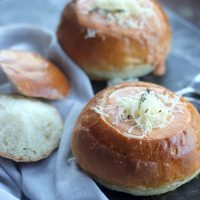 Creamy Tomato and Herb Soup
Yield: 4 Servings
Prep Time: 10 minutes
Cook Time: 35 minutes
Total Time: 45 minutes
Creamy tomato and herb soup served in homemade bread bowls is the perfect fall/winter comfort food! Thyme, tarragon, and garlic create an incredibly flavorful soup!  
Ingredients
4 lbs ripe roma tomatoes
2 TBSP canola oil
1 small onion, small diced
4 cloves garlic, minced
2 tsp sugar
2 TBSP tomato paste
3-4 sprigs fresh thyme
5 sprigs tarragon, tied together with the thyme
2 cups chicken stock
1 TBSP kosher salt
2 tsp pepper
1 cup heavy cream
Instructions
Bring a pot of water to a boil to blanch the tomatoes. Fill a bowl with ice and cold water to shock the tomatoes.
Score just the skin of the tomatoes in an X shape on the end.
Gently drop the tomatoes in the boiling water for about 12 seconds. Remove from the boiling water and place in the ice water to shock.
Remove the skins of the tomatoes and de-seed and small dice.
Heat the oil in a large pot over medium heat. Add the onions and saute until tender and translucent. Add the garlic and cook for 1 more minute.
Add the tomatoes, sugar, tomato paste, the thyme and tarragon bundle, chicken stock, salt, and pepper and stir to combine.
Simmer for 30 minutes uncovered.
Remove the herb bundle. Add the cream to the soup and process and puree with an immersion blender or in batches in a regular blender. If using a regular blender be careful not to fill more than half way as the liquid is very hot.
Serve in homemade bread bowls with a bit of grated cheese and some chopped fresh herbs.
Nutrition Information:
Amount Per Serving:
Calories: 422