Homemade Chicken and Flat Dumplings
This chicken and flat dumplings recipe is true to southern fashion. None of those blobs of dumplings, just flat almost noodle like dumplings in a thick and creamy broth with shredded chicken.
Veggies are not traditional in a chicken and dumpling dish, however they can be added if desired. Chicken and flat dumplings is the best "stick to your ribs" meal for the fall and winter!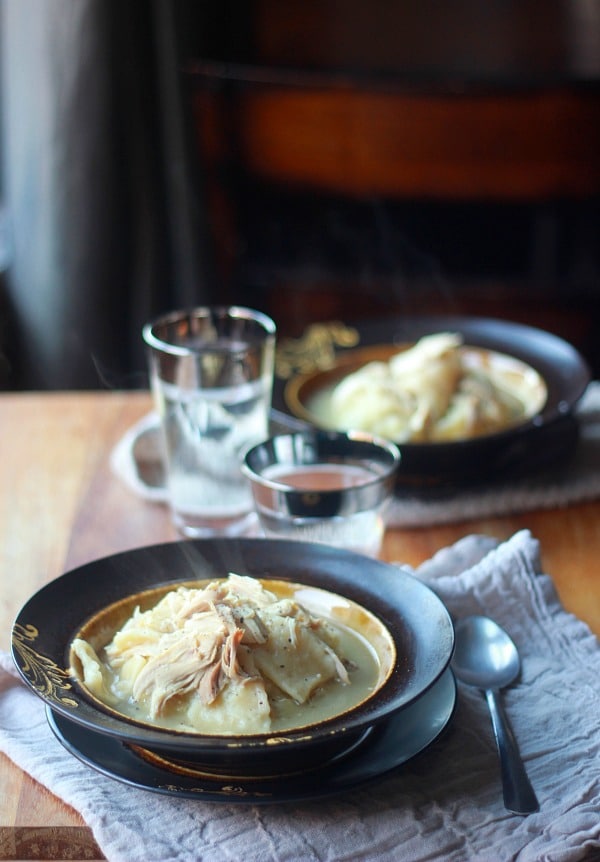 Growing up in Kansas, chicken and noodles was our Midwest equivalent to the South's chicken and dumplings. A chicken and noodle dinner did not refer to a thin soup with carrots and celery mixed in. It meant a thick and creamy almost stew like mixture with no vegetables. And it was most definitely served over mashed potatoes with a roll on the side. I know. Carb overload in the best way possible.
Sometimes the noodles in our chicken and noodles were those thin curly egg noodles like the ones I used here in my turkey and noodles recipe, but they were usually those really thick almost dumpling like egg noodles.
THAT is my childhood. That is the "chicken and noodle day" I always looked forward on the grade school lunch calendar. But I realized the other day that I have never made real southern chicken and flat dumplings at home and it was high time I do it!
I have to say that these chicken and flat dumplings were just as good as the chicken and noodles that I'm used to. In fact, I don't think I prefer one over the other. They are pretty equal in their hearty comfort food level. And I really enjoyed the process of making the dumplings from scratch.
It really is just a basic biscuit recipe that is rolled out really thin. I let my dumplings dry for a bit on the counter a bit before adding them to the boiling broth that they were easier to handle and this also helps them stay flat when cooking.
The key to any great chicken and dumpling OR chicken and noodle meal is the broth that it is all cooked in. When I make the broth for chicken and noodles and am going to be home all day, I make it on the stove top because I have time to check on it.
But this time I was going to be at work all day so I used my slow cooker and it worked out really well. I will put both methods in the instructions.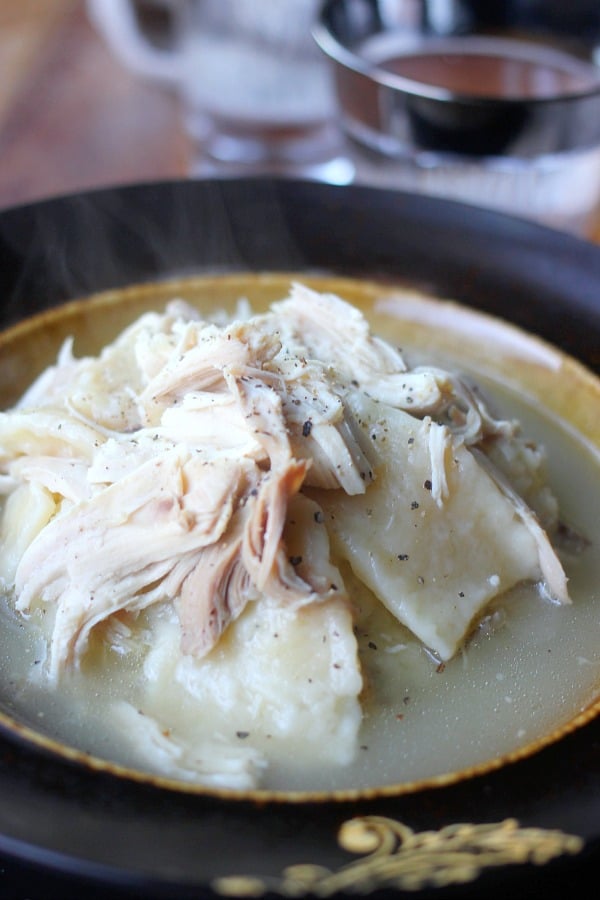 Baker Bettie
Yields 6
Creamy Chicken and Flat Dumplings
This is a classic southern chicken and flat dumplings recipe. In true fashion, the finished dish does not have vegetables in it, however they could be added if you prefer. The broth can be made either on stove top and will cook much quicker, or can be made in the crockpot all day if you have to be away from the house.
8 hrPrep Time
1 hrCook Time
9 hrTotal Time
Ingredients
For the Chicken and Broth
1 whole fryer chicken (about 4 pounds)
1 medium onion
3 medium carrots
3 stalks celery
2 tsp kosher salt
2 cloves garlic, peeled and smashed
8 cups water
For the Dumplings
2 cups all-purpose flour
3/4 tsp baking powder
large pinch salt
2 TBSP unsalted butter, cut into pieces
3/4 cup milk
Instructions
IF USING THE SLOW COOKER: Remove the chicken from the package and discard the giblets inside. Place it in your slow cooker. Roughly chop the onion, celery, and carrot and add to the slow cooker. Add the salt, garlic, and water. Set the cooker on low, cover, and cook for 8 hours. IF USING THE STOVE TOP: Place all of the ingredients in a large stock pot (you may need a bit more water to make sure the chicken is completely covered), bring to a simmer, and reduce the heat keeping the pot at a simmer for one hour.
[img src="http://bakerbettie.com/wp-content/uploads/2014/09/chicken-broth.jpg" width="600" height="400" class="alignnone size-full" title="chicken-broth"]
When the broth is finished cooking, gently remove the chicken from the pot. If using the slow cooker the chicken will most likely fall apart as you move it. That is okay, and good! Set it aside to cool while you work with the broth.
[img src="http://bakerbettie.com/wp-content/uploads/2014/09/chicken-cooling.jpg" width="600" height="400" class="alignnone size-full" title="chicken-cooling"]
Line a strainer with cheesecloth or several layers of paper towels. Place over a container and strain the broth into it. Discard the veggies. Let the broth cool so that the fat will separate to the top. Once you have a layer of fat on top, skim it off and discard.
[img src="http://bakerbettie.com/wp-content/uploads/2014/09/straining-broth.jpg" width="600" height="415" class="alignnone size-full" title="straining-broth"]
Meanwhile, pick the meat off the chicken. Separate the skin and bones from the pieces and shred the chicken. I find the only way to do this is with clean hands. Once all the meat is separated, put it in the refrigerator until you need it.
[img src="http://bakerbettie.com/wp-content/uploads/2014/09/picking-chicken.jpg" width="600" height="388" class="alignnone size-full" title="picking-chicken"]
To make the dumplings, put the flour, baking powder, salt, and butter pieces into a food processor, (or use a large mixing bowl and a pastry cutter) and pulse until the mixture resembles coarse meal. Add the milk a little at a time and mix just until the dough begins to form. Turn out on a lightly floured surface and knead just about 3 or 4 times. Roll out to about 1/4" thick and use a pizza cutter or sharp knife to cut into dumplings of your desired size. They will expand when cooked. I suggest cutting them about 1" by 2". Let the dumplings sit on the counter to dry out while you begin the next step.
[img src="http://bakerbettie.com/wp-content/uploads/2014/09/homemade-dumplings.jpg" width="600" height="400" class="alignnone size-full" title="homemade-dumplings"]
Put all of the chicken broth into a large pot and bring to a boil. Cook for about 30 minutes to reduce and concentrate the flavors a bit. After about 30 minutes, start adding the dumplings one by one into the pot, stirring in between so that they do not stick together. Cook the dumplings for about 12 minutes, or until cooked through. Remove about 1/2 cup of broth from the pot and whisk in 2 TBSP of flour. Add this into the pot to thicken and create a bit more creaminess. Add the shredded chicken and season well with salt and pepper, extra heavy on the pepper! That is key!
Notes
i]Recipe adapted from[ My Life As a Mrs. [/i]
*If you have leftovers your broth will solidify in the fridge. This is an indicator of a well made broth because you extracted a good amount of gelatin. It will melt when reheated.
*The chicken and broth can be made a day ahead of time and stored in the refrigerator. You can even skip the skimming the fat step if you do this and let the fat solidify in the refrigerator. You can then easily remove it before making the chicken and noodles.
*This same method can be used with store bought egg noodles instead of making the dumplings.
7.6.4
131
http://bakerbettie.com/homemade-chicken-flat-dumplings/
Products I used for this recipe…
Disclaimer: Please note that the links below are affiliate links and I will earn a commission if you purchase through those links.
[AMAZONPRODUCTS asin="B002R1CGV6″][AMAZONPRODUCTS asin="B00IWOJSJK"][AMAZONPRODUCTS asin="B000IYYFIQ"]