Kung Pao Chicken is a traditional sichuan dish that is very easy to make and comes together in under 30 minutes! The flavors of Kung Pao Chicken are very unique in that they call for Sichuan Peppercorns, which bring a very unusual slightly numbing sensation to the palette. But it is quite addicting!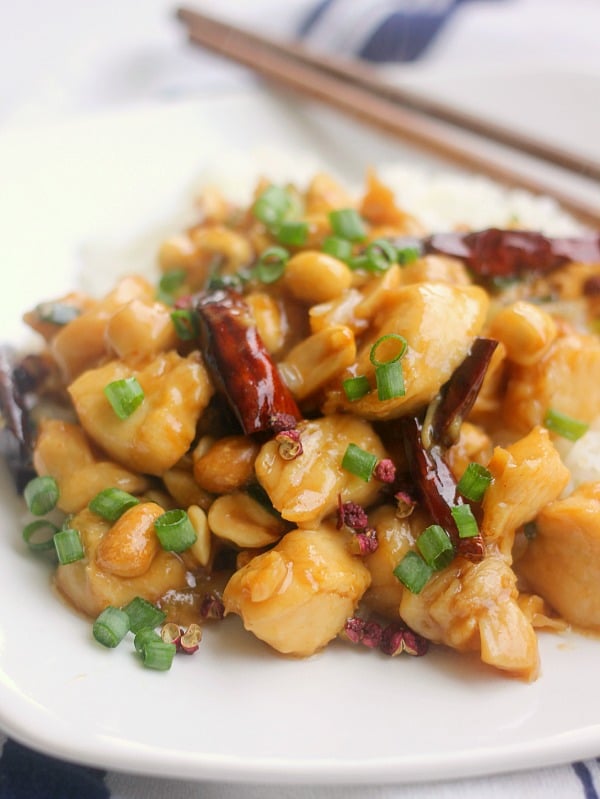 Mrs. BB: Happy Sunday everyone! I'm starting a new series today that I'm really excited about and it involves the love of my life! You see, I have this husband, who I refer to as Mr.BB, and he came to me with an idea for this series and I was on board immediately.
I've actually never asked you if it bothers you that I call you Mr. BB? Does it? It sounds like I'm the head of household or something.
Mr. BB: I like it. You ARE the head of household.
Mrs. BB: That's not true! We are partners and equals! But I definitely do have a tendency to take charge in the kitchen. I'm working on that!
Mr. BB and I love to cook together. We don't do it as often as we'd like, especially in our current cramped box kitchen with a less than desirable electric coil stove. But it is one of our favorite things to do together! A few weeks ago, Mr.BB came with me with an idea about how we could make cooking together more interesting. 
Mr. BB:  We really love to try new kinds of food, and I wanted to get a little more adventurous with what we were making at home.  I've really found my comfort zone with trying new food, and I think Mrs. BB has too.  So I figured we could try to take everyone else along for the ride.  We should pick different parts of the world, and choose a cuisine we have never made from there, and make it at home!  
Mrs. BB: I loved this proposal! It gave us the perfect reason to not make the same things over and over again and any reason to spend some time in the kitchen with my hottie husband is good with me! 
So we wrote down cuisines from all over the world on little pieces of paper to draw out of a hat each week! The rule is that we had to make something we have never made before. This week we drew Chinese and we settled on making homemade Kung Pao Chicken. 
Mr. BB: Sounds good to me.  Anything that involves the meats is a win.  And maybe we can learn if Kung Pao is a distant relative of Commander Tso.  Maybe creating delicious Asian dishes run's in their family.
Mrs. BB: Zing! 
Okay, back to business. After a little research, I found out that Kung Pao Chicken, also known as Gung Bao or Kung Po, is not just a westernized Chinese dish. It is actually a traditional Sichuan dish. There are numerous variations on the dish, but most involve sauteing marinated chicken with vegetables, peanuts, chilis, and Sichuan peppercorns.
The Sichuan peppercorns are really the iconic flavor of this dish. Many westernized versions leave them out, but we weren't going to half-ass this here. If you have never had these peppercorns before, it is quite the experience for the palette. They have a sort of spicy floral flavor and cause a slight numbing sensation in the mouth.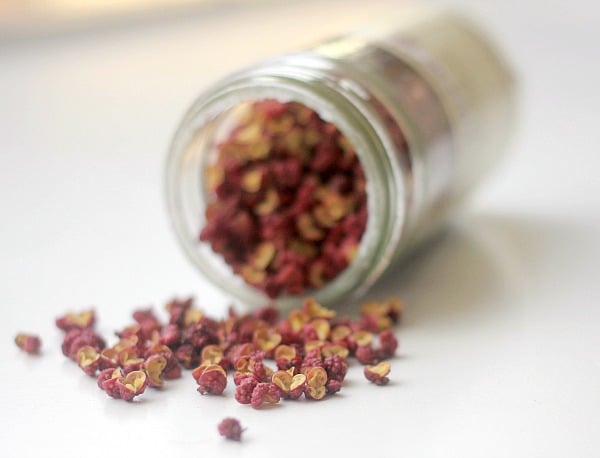 Mr. BB: Definitely one of the most unique sensations I've ever gotten from eating.  It tastes good for sure, but it is kind of numbing, the pepper. It transforms the flavors of everything else you are eating. Kind of like those pills you take that change flavors.  A cool experience for sure.  
Mrs. BB: He's referring to Miracle Fruit Pills. If you aren't familiar, they make sour and bitter foods taste sweet after you take them. 
One of the first things you learn in culinary school is mise en place. If you aren't familiar with the term it literally means "putting in place" and in the culinary world it is the cardinal rule before you start cooking. You get everything out and ready BEFORE you start the actual cooking. Measure ingredients, get all of your utensils ready, do any prep of veg, etc…
At work, this comes natural to me. But sometimes in my own cooking for leisure, I get excited and start cooking before I'm really ready and the end result is a huge mess. Mr. BB can attest to my ridiculous messiness when cooking. This is one of the reasons I love cooking with Mr. BB. He reminds me to take my time and be more mindful about what I'm doing.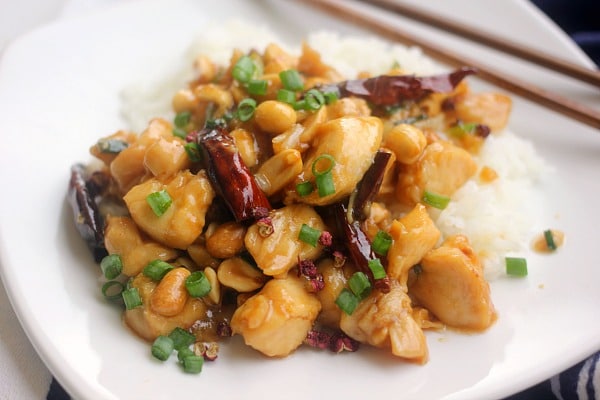 Mr. BB: I feel like it's less of the reminding, and more about just cleaning up the messes that are left on every little piece of empty tabletop. I'm glad to help! It is a good bonding experience for sure. I feel like it's just what's needed. I'm like the butler to clean up after the dirty kids, but it's whatevs. I know my limits. I'm not the cook.
Mrs. BB: Can you hear his sarcasm?! Did you just call me a dirty child? 
Mr. BB: It's all love in the kitchen!  It'll be fun to see where this goes, and to share our adventures across the world through food!
Baker Bettie
Yields 3-4 Servings
Kung Pao Chicken
15 minPrep Time
10 minCook Time
25 minTotal Time
Ingredients
For the Marinade
1 1/2 lbs boneless skinless chicken breast
1/2 tsp salt (omit if using regular soy sauce)
1 1/2 TBSP low sodium soy sauce
1 TBSP cornstarch
For the Sauce
3 tablespoon sugar
2 teaspoon cornstarch
2 TBSP low sodium soy sauce
2 tablespoon Chinkiang vinegar (also known as black vinegar, or use balsamic vinegar)
1 teaspoon sesame oil
1/4 cup chicken stock or water
1-2 tsp Chili Garlic Sauce, like sriracha (optional, and not traditional, but we ended up adding some to ours for extra spice and flavor)
For the Stir Fry
3 garlic cloves, minced
1/2 TBSP minced fresh ginger
5 green onions, white and light green parts only
8-10 dried chilies
2 tablespoons cooking oil
1 teaspoon whole Sichuan peppercorns (most recipes call for more than this, and if you are used to the flavor you can definitely add more. This amount will definitely give you the flavor without overwhelming the dish)
3 ounces roasted peanuts
Instructions
Prepare the marinade: Cut your chicken into chunks. In a medium bowl, whisk together the salt, soy sauce, & cornstarch. Add the chicken to the bowl and toss to coat. Let marinade while you prepare the rest of your ingredients.
Prepare the sauce: In a small bowl, whisk together the sugar, cornstarch, soy sauce, vinegar, sesame oil, chicken stock, & chili garlic sauce if using. Set aside.
Mise your other ingredients: Mince your garlic or push through a garlic press. Mince or grate your ginger. Finely slice your onions. Break or cut the dried chilies in half and remove most of the seeds. Measure out your oil, peppercorns, and peanuts and set aside.
Make your stir fry: Heat a large skillet over medium-high heat until very hot. Add 1 TBSP of your cooking oil, and when it starts shimmering, add your chicken. Saute until the chicken is cooked through and browned. Transfer the chicken to a bowl and wipe out your pan.
Heat the pan on medium heat and once hot, add the rest of your cooking oil. Add your garlic and ginger to the pan and cook for about 1 minute. Add the onions and dried chilies to the pan and cook for 1 minute more. Add the chicken, peppercorns, and peanuts to the pan and cook for 1 minute more until all ingredients are heated through.
Add your sauce to the pan and toss all ingredients together, cooking for 2-3 minutes until the sauce is thickened.
Serve immediately over steamed rice if desired.
Notes
7.6.4
373
http://bakerbettie.com/kung-pao-chicken/