Mastering Perfect Pound Cake
Creating the perfect pound cake requires just a little attention to detail! This classic pound cake is buttery, rich, and moist. The simple flavor of butter and vanilla is an excellent canvas to pair with fresh berries or use this as your go-to base recipe for creating endless other flavors.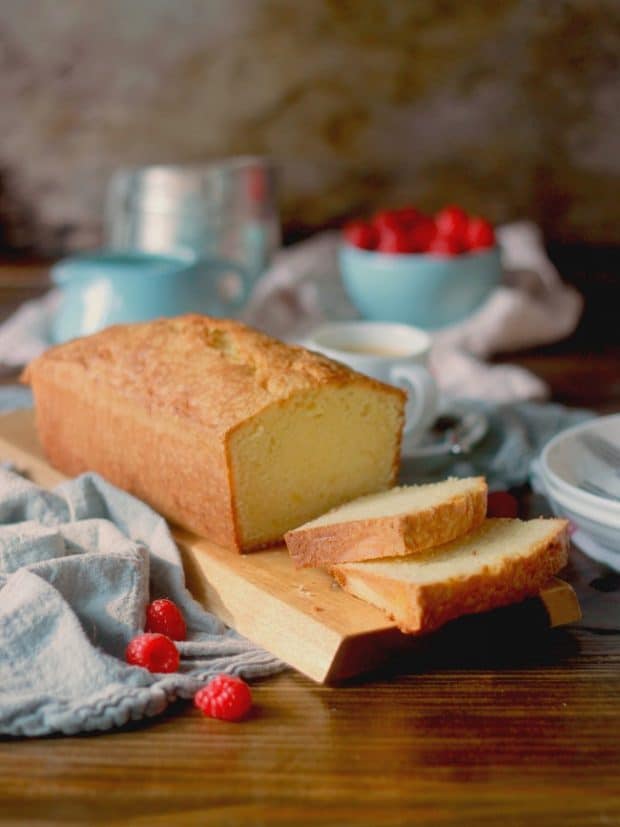 Welcome to the first post in my new "Mastering" series. The purpose of this series is to tackle classic baking techniques and recipes and to gain a very in depth understanding of the subject. I'm immersing myself to the point where I feel I have mastered the skill enough that I could can teach it to someone else, aka you! I then pass the baton on to you and challenge you to master the skill and recipe for yourself!
First up in the series is Mastering the Perfect Pound Cake! While classic pound cake can seem like quite a simple thing to bake, there is definitely quite a bit of nuance to making a truly perfect one.
One of the things I love about pound cake is just how plain and simple it is. A good classic pound cake lends itself to being the perfect accompaniment to fresh fruit. But plain pound cake is also a blank canvas for you to paint with any flavor you like!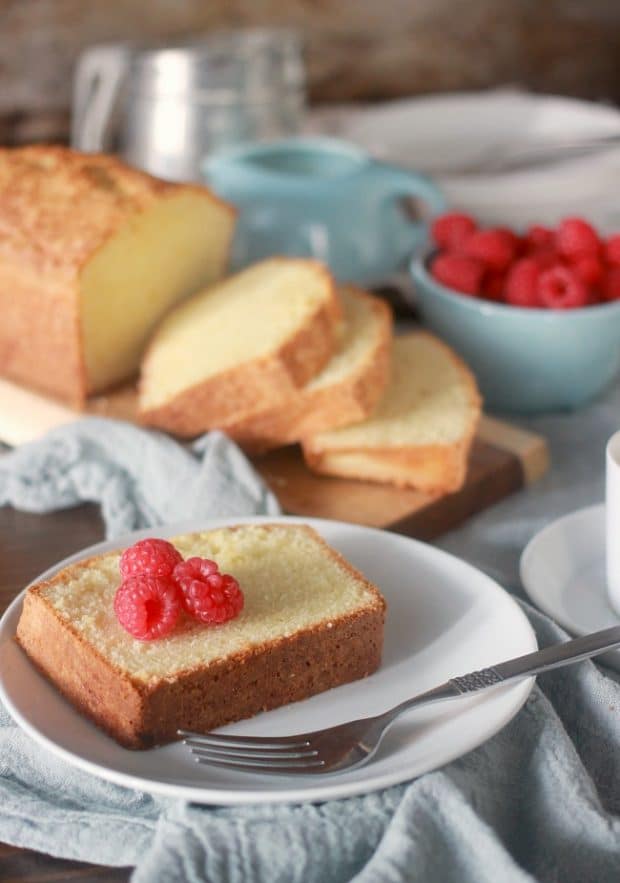 Mastering the Perfect Pound Cake
The original recipe for pound cake called for 1 pound of sugar, 1 pound of butter, 1 pound of eggs, and 1 pound of flour. This is where pound cake got its name. Though, it would make sense to believe it is also because of the weight you might gain from eating it!
The 1:1:1:1 ratio creates a very dense, rich, and somewhat dry cake that most of our modern palates do not prefer. It was intended to be a lasting cake that could hold up to sitting out for many days without spoiling. Many modern pound cakes deviate greatly from the true pound cake in order to meet our current expectations of a cake. You will find many recipes out there that are extremely different from what the original looked like. However, I want to stick close to the classic and perfect the true pound cake. You know what they say about learning the rules so you can break them? The goal is create a cake that highlights the richness and density of the original version while keeping it moist, flavorful, and not too heavy.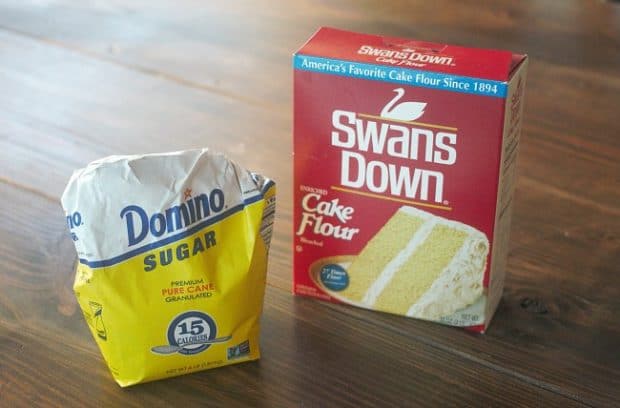 Use High Quality Ingredients
To be completely honest with you, I am typically not the kind of baker that believes that using name brand ingredients is going to make a huge difference over a generic brand. But when you have a recipe with as few ingredients as pound cake, each one is significantly more important.
Compare a generic store brand sugar to a name brand sugar, such as C&H or Domino, and you may notice that the sugar crystals are much smaller. The rise, also known as the leavening, of this cake is completely dependent on the ability of the sugar to hold a web of air with the butter (we'll discuss in more detail later on). Therefore, a smaller sugar grain is significant because it can cause this web to break and the cake to fall.
Did You Know: If the package of sugar does not specify "cane sugar," chances are that it is actually beet sugar? Most generic store brand sugars are beet sugar. While those in the sugar industry claim beet sugar and cane sugar are chemically identical, many baking tests have proven that cane sugar creates much more superior baked goods! 
You may notice that this cake calls for cake flour instead of all purpose flour. Cake flour has a lower protein content than all purpose flour and helps to keep the cake tender. It really is the best flour to use in this tender cake. However, if you absolutely cannot find cake flour, you can substitute it with all-purpose flour mixed with corn starch (the amounts listed in the notes section of the recipe). If you make this substitution, sift the flour and cornstarch 5 times before adding it to the recipe. I know that seems excessive. But this truly helps the substitution to be more successful and more accurately mimic cake flour.
Check for Proper Oven Temperature
It is extremely common for an oven to not be calibrated properly. Many ovens heat too low or too high compared to what the temperature is set at. This can vary greatly from oven to oven, therefore I highly recommend making the very small investment in buying an oven thermometer to test your own oven temperature.
Pound cake, in particular, bakes at a fairly moderate temperature. An oven that is cooking to hot will cause the cake to set too quickly and prohibit the cake from rising. An oven that cooks too cool can cause the cake to fall because it won't set quick enough.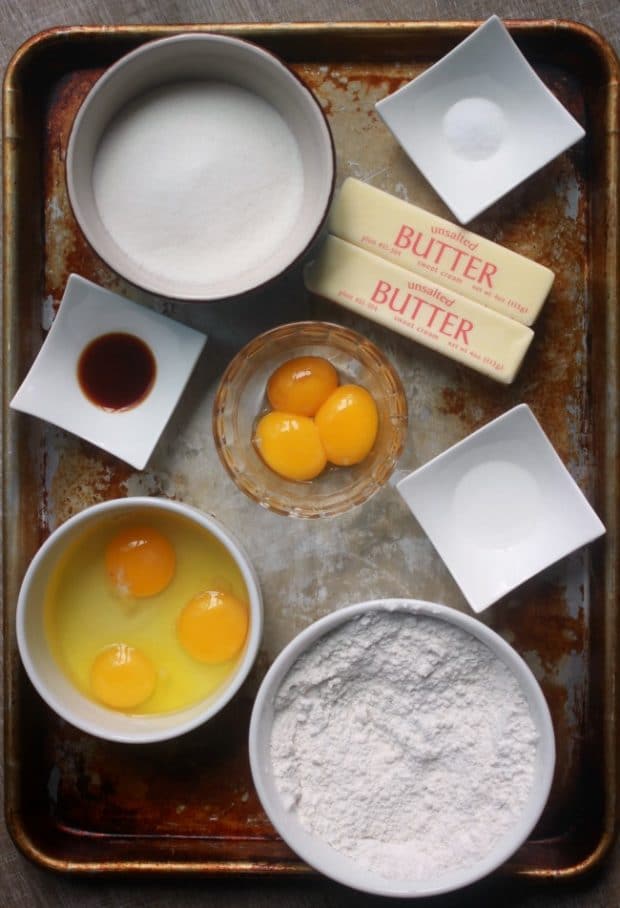 Prep Before Starting- Mise en Place
Mise en place, or the concept of "everything in its place," is key to most any baking recipe. It is especially important with pound cake because you must pay special attention to the temperature of your ingredients.
Read through the recipe fully, measure out all of your ingredients, and gather any equipment you might need before starting. I like to line my ingredients up in the order that they will be added into the recipe. This serves two purposes: It insures that you actually have all of your ingredients on hand before you start the recipe instead of getting halfway through only to realize you're a little short on flour (ahem, been there!), and it also helps to ensure you do not forget to add any ingredients into your batter.
Baking Tip: If a recipe is written properly, the ingredients will be listed in the order that they will be needed.

Make Sure Your Ingredients are at the Proper Temperature
A simple classic pound cake does not utilize any chemical leavening (baking powder or baking soda). This cake relies solely on the air that is mixed into the batter during the creaming process for its rise. This process is known as physical leavening.
It is important that the butter and eggs are at room temperature, around 70 degrees F, before starting your recipe. The physical leavening process happens as the butter is beaten with the sugar, also known as creaming, and air is trapped in a web of sugar and fat. If the ingredients are too cold, the structure will remain weak causing the batter to break.
Baking Tip: Many kitchens are warmer than 70 degrees F. Make sure that your butter is soft but still solid when you go to make a recipe that calls for softened butter. If your butter is too warm and starting to melt it can greatly affect the results of your recipe. 
 
Use the Proper Creaming Technique
Creaming the butter and sugar together properly is absolutely a key skill in perfecting the pound cake. The technique is not difficult at all, it just requires some patience.
Start with your room temperature butter and beat it in your stand mixer on medium speed for about 2 minutes. With the mixer still running, gradually stream in your sugar. Continue to beat for 4-5 extra minutes until the mixture is very light in color and fluffy. The purpose of this process is to force air into the mixture that will leaven the cake. You do not want to rush it.
The cake will get its rise from these air bubbles expanding in the oven as well as from the steam generated from the water evaporating off the cake as it cooks.
Add the Eggs Very Slowly – Creating an Emulsion
Now that your have forced air into the butter and sugar, it is time to add the eggs. The way in which the eggs are added is equally important.
Original pound cakes used only whole eggs, while this recipe uses both whole eggs and egg yolks. The additional egg yolks serve to help to create an emulsion which will stabilize the trapped air. If additional whole eggs were added, instead of just egg yolks, more air would be beaten into the cake and it would would result in a product that is too airy than what a pound cake should be.
In order to create this emulsion, the eggs must be added very slowly. I keep the mixer running on medium speed and add the eggs in 1 TBSP at a time. The process of incorporating the eggs should take about 5 minutes in total. Rushing this process will cause the emulsion to break and curdle and you will have a dense cake on your hands.
Emulsion: An emulsion is a mixture of two liquids that are normally unmixable. In this case, butter is already an emulsion because water is suspended in fat when it is created. Because eggs have a high percentage of water content, another emulsion is created when they are incorporated into the fat/sugar mixture. 
Do Not Over-Mix Your Batter
I know, I know. The instruction of "do not over-mix" is in so many recipes, but what does it truly mean? This instruction is especially important when you are working with delicate baked goods, as well as baked goods that are being leavened with air. Pound cake falls into both of these categories.
Once the flour is added into the batter, you want to gently fold it in. As soon as it is incorporated throughout, stop mixing. When flour is hydrated, gluten formation begins. The more the batter is worked, the more the gluten structure will develop. You want to limit this as much as possible to keep your cake very tender. You also do not want to deflate the air that you worked so hard to beat into your butter!
Bake to Proper Doneness
Many baking recipes state that when the tester inserted into the middle of the cake comes out clean, then the cake is done. However, this instruction actually leads to an over-baked cake. You want to pull the cake out of the oven when the tester comes out with a moist crumb. The residual heat in the cake will continue the cooking some even after it is out of the oven. If you wait to pull the cake until it is completely dry in the middle, you will have a very dry pound cake.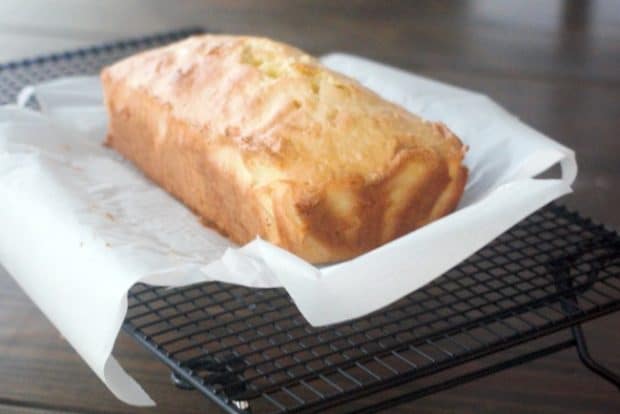 Allow to Cool Properly
Once your cake is done baking and you have pulled it from the oven, remove it from the pan and place it on a baking rack to cool completely. If the cake is left in the loaf pan to cool, the heat will be trapped in the pan and it will steam the cake around the edges resulting in an undesirable texture.
Quickly moving the cooked cake from the pan to the cooling rack will also ensure your cake does not continue cooking for too long, resulting in a cake that is too well done.
Baking Tip: Line your loaf pan with parchment paper so that you can easily pull the cake out of the pan once it is done baking.
There you have it! A beautiful, simple, and perfect pound cake! Do you think you can master it? I KNOW you can! Won't you join me? I'm passing off the baton to you to master the pound cake and I want to see how you did! Share your beautiful pound cake results with me on Instagram with the hashtag #bakerbettie. I can't wait to see!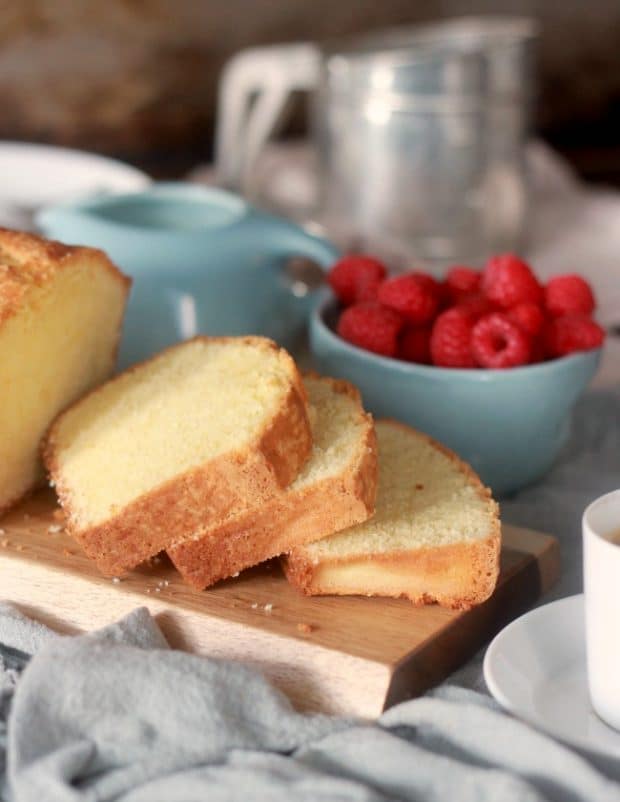 Perfect Pound Cake
Creating the perfect pound cake requires just a little attention to detail! This classic pound cake is buttery, rich, and moist. The simple flavor of butter and vanilla is an excellent canvas to pair with fresh berries or use this as your go-to base recipe for creating endless other flavors.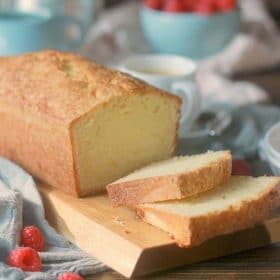 Ingredients:
1/2 lb (2 sticks, 8 oz, 226 gr) unsalted butter (*see notes for substitution)
1 1/4 cup granulated cane sugar (8.75 oz, 248 gr), C&H or Domino recommended
3 whole large eggs, room temperature
3 large egg yolks, room temperature
1/2 TBSP pure vanilla extract
1/2 TBSP (o.25 fl oz, 7 ml) water
1/2 tsp kosher salt
1 3/4 cup (7 oz, 198 gr) cake flour (*see note for substitution)
Directions:
Preheat your oven to 350 degrees F (175 degrees C). Grease an 8 x 4 inch (20 x 10 cm) loaf pan with pan spray or by rubbing it with butter, and line it with parchment paper. Set aside.
In the bowl of a stand mixer fit with the paddle attachment, beat the room temperature butter on medium speed for about 2 minutes.
With the mixer still running, slowly stream in the sugar. Continue beating for 5 additional minutes. Stop the mixer and scrape down the sides of the bowl halfway through. The mixture should be very pale yellow, almost white, and light and fluffy after mixing.
While the butter and sugar are creaming together, combine the whole eggs, egg yolks, vanilla, and water together in a small bowl. Lightly whisk together just until combined.
With the mixer still running on medium speed, add the eggs in very gradually. Add about 1 TBSP at a time until they are all incorporated. This whole process should take about 5 minutes total. You do not want to rush it as it will cause your emulsion to break.
Beat in the salt.
Stop the mixer and use a rubber spatula to fold in the flour. As soon as the flour is incorporated, stop mixing. Over-mixing can cause the glutens to develop too much and can also cause the air that was beaten into the butter and sugar to begin deflating.
Pour your batter into your prepared loaf pan and bake at 350 degrees F (175 degrees C) for 50 – 60 minutes, until a wooden skewer inserted into the middle of the cake comes out with moist crumb. Immediately remove the cake from the pan and place on a cooling rack to cool completely.
Once completely cooled the cake can be wrapped in plastic wrap and stored at room temperature for up to 1 week.
Substitution Notes:
*If you only have salted butter available, it can be used in place of the unsalted butter. Omit the salt in the recipe when making the substitution. Other solid fats are not a good substitution in this particular recipe. Margarine, vegetable shortening, lard, and coconut oil will yield very different textures.
*Cake Flour is truly the best flour to use in this recipe. Pastry flour would also work well. If you cannot find either of these flours, you can use all-purpose flour. To make this substitution: Measure out 1 1/2 cups + 1/2 TBSP (6.1 oz, 173 gr) all-purpose flour and mix it with 3 1/2 TBSP (1 oz, 28 gr) of corn starch. Sift these 5 times. Yes, really. 5 times. This will give you the best substitute for cake flour.