Orange & Basil Rhubarb Oatmeal
A healthy breakfast recipe embracing rhubarb season! Baked rhubarb with orange and basil is spooned over oatmeal for an easy and healthy spring breakfast!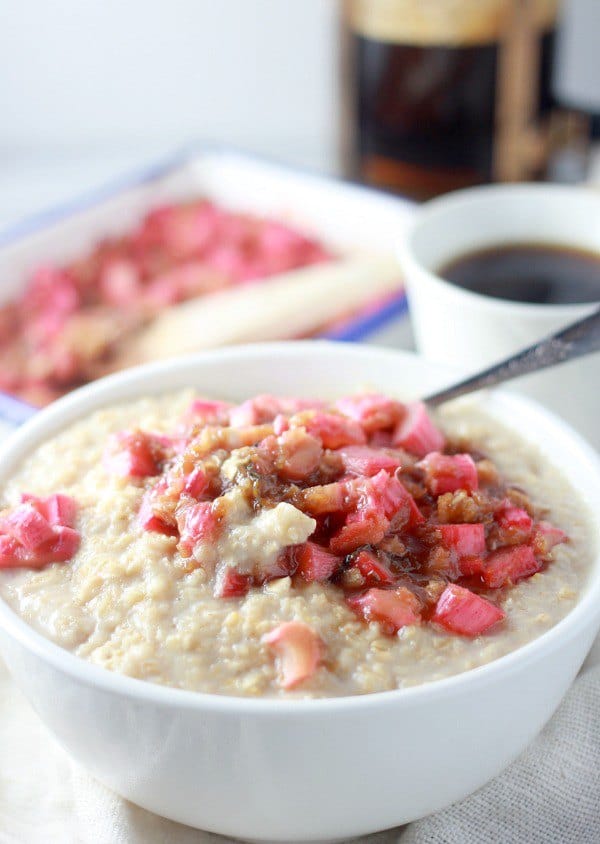 I absolutely love rhubarb. Its distinct tart flavor is so unique and I get so excited when it comes back in season. I was at the grocery store this weekend and got very excited when I saw the unmistakable pink stalks sitting in the produce section. I quickly snached some up without even knowing what I was going to do with it. I love rhubarb season! I really need more rhubarb recipes in my repertoire.
Yesterday morning I was rummaging through the fridge looking for breakfast inspiration and the rhubarb was staring right back at me. Rhubarb for breakfast? Yes please!
I decided to mix it with some other fresh flavors and to use up some produce that would soon go bad. Orange seemed like a no brainer but then I spotted the basil! It's not a combination I had ever thought of before, but it just clicked. A healthy breakfast recipe was well under way!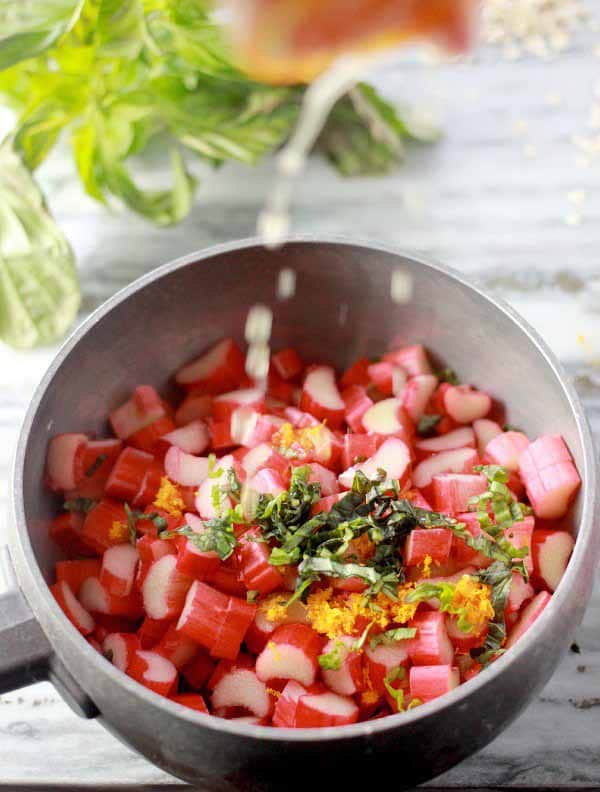 I wanted something warming and filling to get me through the morning. But I also wanted it to be  bright and flavorful- embracing spring! I baked the rhubarb with a little brown sugar, the juice and zest of an orange, and some fresh basil. I then spooned this lovely mixture over my bowl of oatmeal, making sure to spoon lots of the juices from the rhubarb on top too.
This rhubarb recipe may just be one of my new favorites. It's an easy and healthy breakfast recipe with lots of bright spring flavors! I'm not usually that excited about leftovers, but I am this morning.
What do you think of rhubarb? It has such a unique flavor. I think of myself as a rhubarb purist. While I love strawberry rhubarb pie, I prefer the rhubarb to be the star of the show. I think sometimes it gets lost with strawberries. But rhubarb is definitely the star here! The orange and basil are just supporting characters.
Hooray for rhubarb season!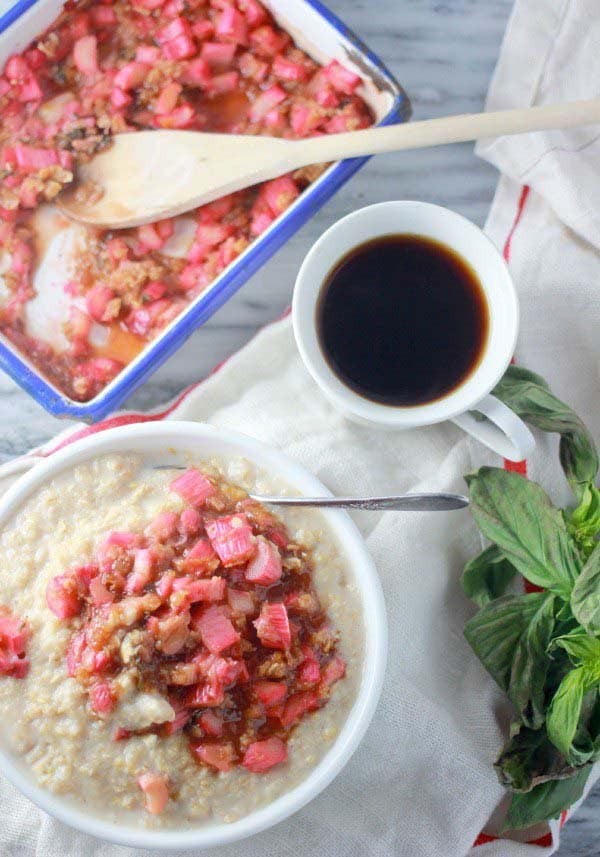 Baker Bettie
Yields 3-4
Orange & Basil Rhubarb Oatmeal
5 minPrep Time
15 minCook Time
20 minTotal Time
Ingredients
1/2 lb rhubarb
juice and zest from 1/2 an orange
2 TBSP finely chopped fresh basil, about 8 leaves
1/3 cup brown sugar
2 TBSP water
pinch of kosher salt
cooked oatmeal
Instructions
Preheat oven to 400F.
Dice the rhubarb into 1/2" slices and combine in a small baking dish with the juice and zest from the orange, the chopped basil, the brown sugar, and water. Stir to combine.
Bake at 400F for 12-15 minutes, until the rhubarb is tender.
Meanwhile, prepare oatmeal the way you like it. Spoon the rhubarb and juices over the oatmeal.
7.6.4
107
http://bakerbettie.com/orange-basil-rhubarb-oatmeal/