Perfect Oatmeal Raisin Cookies with Only 6 Ingredients
---
Perfectly soft and chewy easy oatmeal raisin cookie recipe with only 6 ingredients! Easy to put together and the recipe makes the best oatmeal cookies!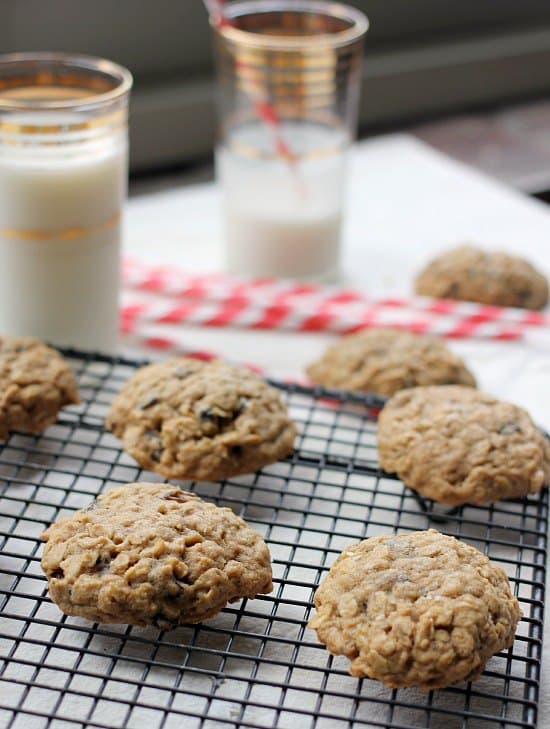 This post is overdue. These easy oatmeal cookies are long gone now and I'm just left here editing the photos and wishing I would have saved some. But the beauty of these babies is that they can be whipped together in minutes. Perfect for days like today when I'm not feeling well or any day really. An easy oatmeal cookie recipe created just for you to throw together in a pinch!
I'm not really sure where my fascination for cookies came from specifically. I know it all started about 4 years ago with an idea that became an obsession to create what was my perfect chocolate chip cookie. I think it was partly due to the fact that most cookies I ate were never quite as good as I hoped they would be. So I wanted to create recipes that lived up to my expectations. And this has been my mission for the past 4 years. It probably will not ever end.
And while my obsession for creating unique, over the top, and fancy cookie recipes is bigger than ever, I understand the need for simple classic recipes. I created the Simple 5 Ingredient Chocolate Chip Recipe a few months ago and it has become one of my most trafficked post. I think my notion of the "I need cookies in my mouth in less than 15 minutes" kind of recipe is a common need. So today I am bringing you my most simple Oatmeal Raisin Cookie Recipe. The recipe at it's core only needs 6 ingredients to produce a damn good cookie. There are a few other optional ingredients that will bring it up a notch if you have them available. I will break it down for you.
#1: Butter: I prefer good old fashioned unsalted butter and that is what I usually have on hand. If all you have is salted butter, margarine, shortening, or vegan butter, any of them will work. This is a "make it work" kind of recipe. I won't put strict rules on it. But use real butter if you have it.
#2: Sugar: For the best results, use brown sugar, and preferably dark brown sugar. It will give the cookies the most depth of flavor and chew. However, if all you have is white sugar or regular brown sugar that will also work.
#3: Egg: a whole large egg is preferable, however egg beaters or Ener-G egg replacer will also work. This helps bind the cookies together and does some leavening.
#4: Flour: Good old all purpose flour is best, but bread flour, wheat flour, or self-rising flour will all work as well if they are what you have. For more information on flours, read this post. 
#5: Oatmeal: Obviously.
#6: Raisins: Obviously.
-Optional Ingredients to enhance the flavor and texture (these aren't absolutely necessary to get a decent cookie if you do not have them on hand or the time to add extras):
Cinnamon, Vanilla, Salt, Baking Powder, Bourbon or Spiced Rum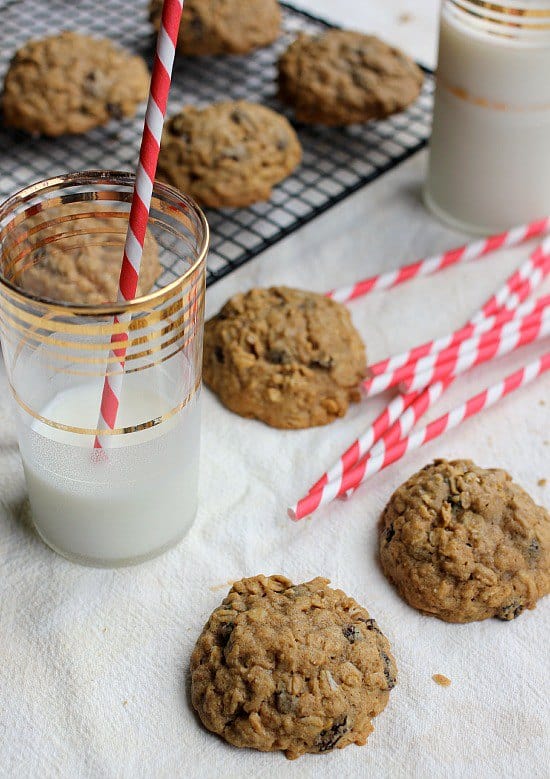 I think I have finally crossed the line over to preferring oatmeal raisin cookies over chocolate chip cookies. I never really liked oatmeal raisin cookies until I started baking a lot of cookies myself. Soaking the raisins in spiced rum or bourbon before baking them was one of the things that really started pulling me across the line. I often do not have time to do this if I haven't planned ahead enough before baking, and even so I am now preferring oatmeal raisin to chocolate chip. I hope you enjoy this simplified version of the classic Oatmeal Raisin Cookie and check out the 5 Ingredient Chocolate Chip Cookies as well!
Perfect Oatmeal Raisin Cookies with Only 6 Ingredients
Recipe for perfectly soft and chewy easy oatmeal raisin cookie recipe with only 6 ingredients!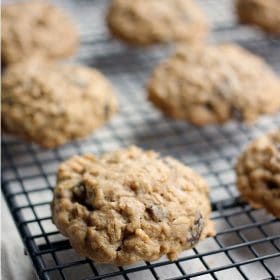 Ingredients:
1 stick (1/2 cup, 4 oz, 113 gr) butter, room temperature
1 cup (7.4 oz, 210 gr) brown sugar, preferably dark brown sugar
1 large egg (or egg replacer)
1/2 TBSP (0.25 oz, 7 gr) vanilla (optional ingredient)
1 tsp baking powder (optional ingredient, do not add if you are using self rising flour)
1/2 tsp cinnamon (optional ingredient, do not add if you are using self rising flour)
1/2 tsp Morton kosher salt (optional, but highly recommended if you used unsalted butter)
1 cup plus 2 TBSP (4.8 oz, 136 gr) white flour (can be all-purpose, self-rising, or bread flour)
1 cup raisins (soaked in rum or bourbon for 6-12 hours and drained, optional)
1 1/2 cups rolled oats
Directions:
Preheat oven to 350ºF.
In a large bowl with a hand mixer or the bowl of a stand mixer, cream together the butter and brown sugar.
Add the egg and mix until incorporated. If using, add the vanilla, baking powder, cinnamon and salt, and mix until incorporated.
Stir in the flour then the raisins and oatmeal just until combined. Mixing too much will create tough and dry cookies.
Drop rounded mounds of dough (about 2 TBSP each) on ungreased cookie sheets. Flatten the dough mounds slightly before baking.
Bake at 350ºF until just lightly browned on the edges and middle still looks under-cooked, about 9 minutes.
All images and text ©
.
Products Featured in this Recipe:
(may include affiliate links)