Puff Pastry Donuts with Cinnamon Sugar and Bourbon Glaze
Puff pastry donuts with cinnamon sugar bourbon glaze are made from frying pieces of puff pastry. The inside turns out flakey and airy and they are just so incredibly easy to make!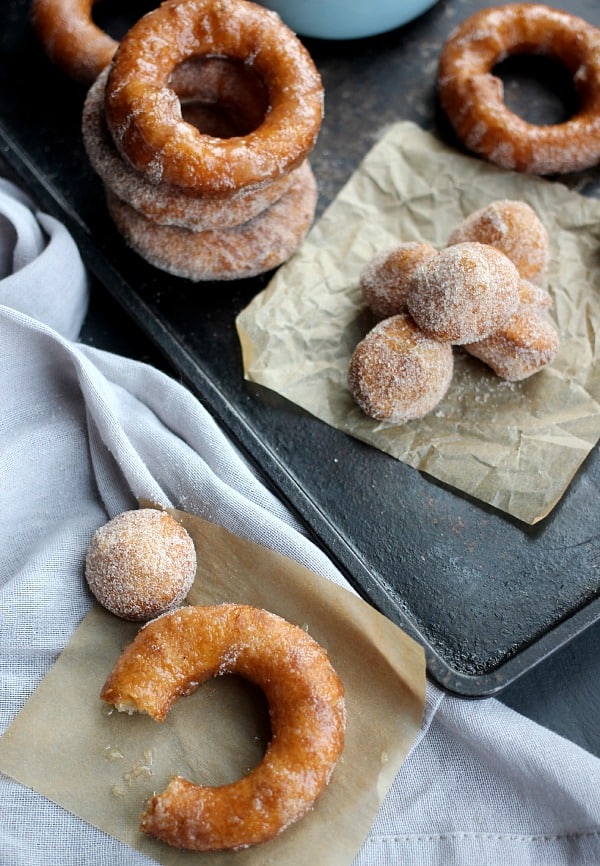 Yesterday Baker Bettie turned two. I can't believe I have already been at this for two years. We sure have come a long way since that first post.
At times it has been stressful, and exciting, and overwhelming. But it has always been amazing. And I have never once wanted to stop.
That is a big deal for me. I am an ideas person but I rarely follow through completely with all of those crazy ideas. But here we are today with this one. Two years later. I feel really proud of that.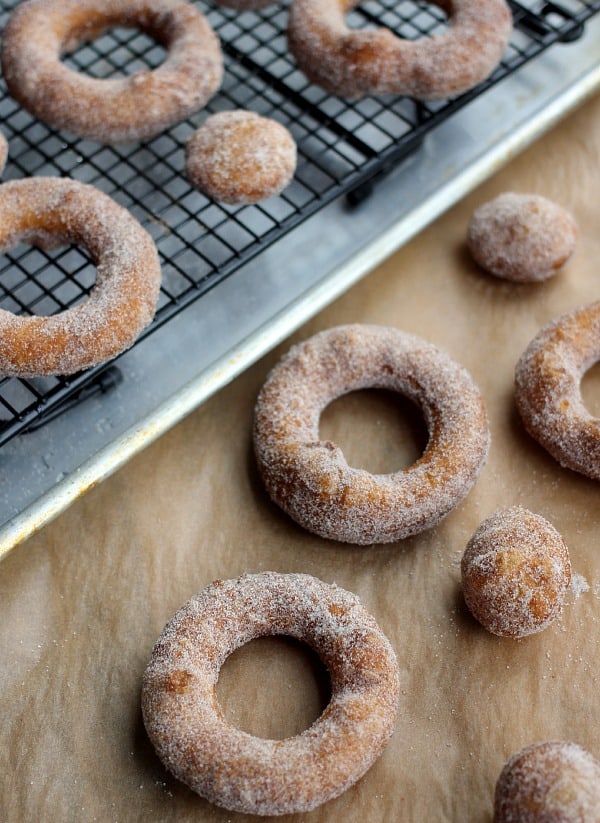 I didn't really get to celebrate the day yesterday. I was at school by 7 am and didn't get home from work until after midnight.
But this morning I was able to sleep in a bit and I had a little time before school so I treated myself. I treated myself to some baking therapy with these donuts.
They were perfect paired with some really strong coffee and a few episodes of How I Met Your Mother which I am currently binge watching whenever I get a few hours.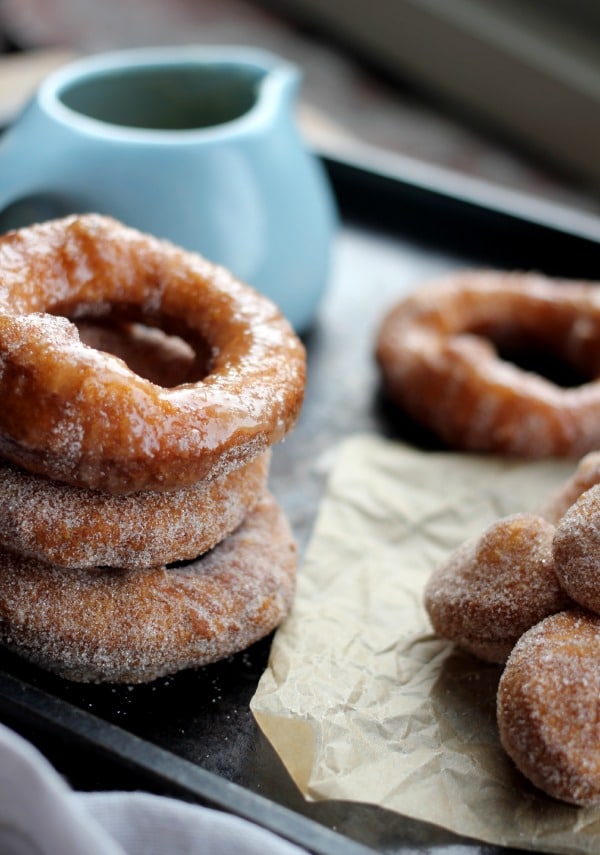 I made puff pastry from scratch at school the other day. It was just about the most exciting thing ever for me. The dough feels really nice to work with and the process is cathartic. Though some might think it's tedious and obnoxious.
These can easily be made with store bought puff pastry. This post isn't about making puff pastry. I feel like that needs its own post and I didn't take pictures of the process since I was at school.
But if you are interested in making your own here is a great tutorial. But seriously, unless you are insane like me, just buy some.
I love how the puff pastry gave these all the flaky layers inside. It definitely felt like a celebration breakfast. A relaxing celebration breakfast.
The only thing that would have made it better was to have you all with me celebrating. So I hope you will virtual celebrate with me. I am so thankful for you.
For the ones who have been with me since the beginning and for those of you who just joined in the fun. You are all amazing and thank you for being here for the journey.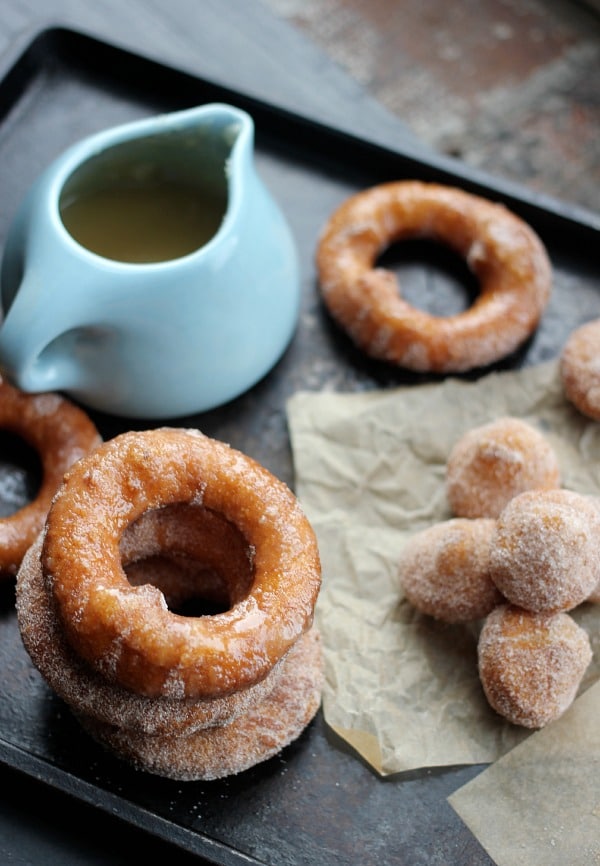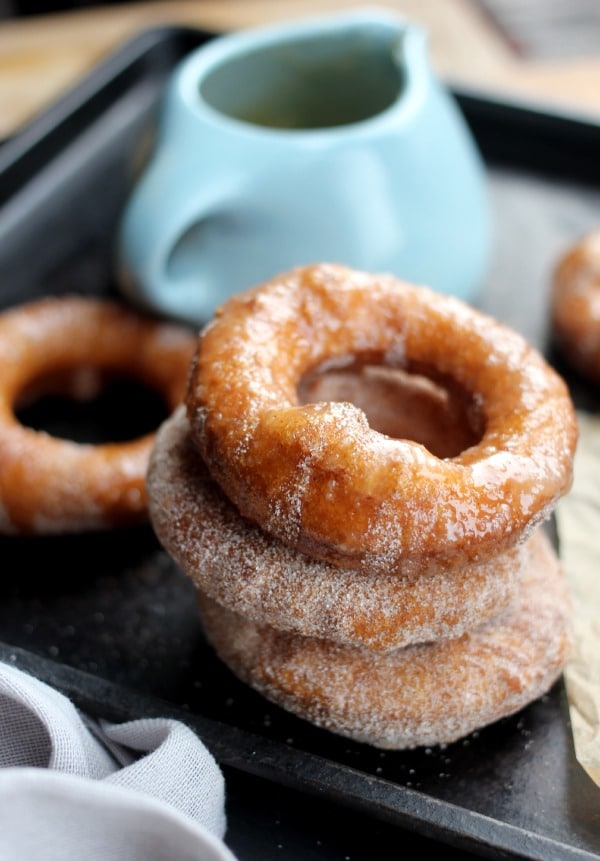 One Year Later: Cranberry and Sage Apple Brown Bettie
One Year Ago: Carrot Cookies with Orange Glaze
Two Years Ago: Brisket Sliders with Caramelized Onions and Rosemary Mayo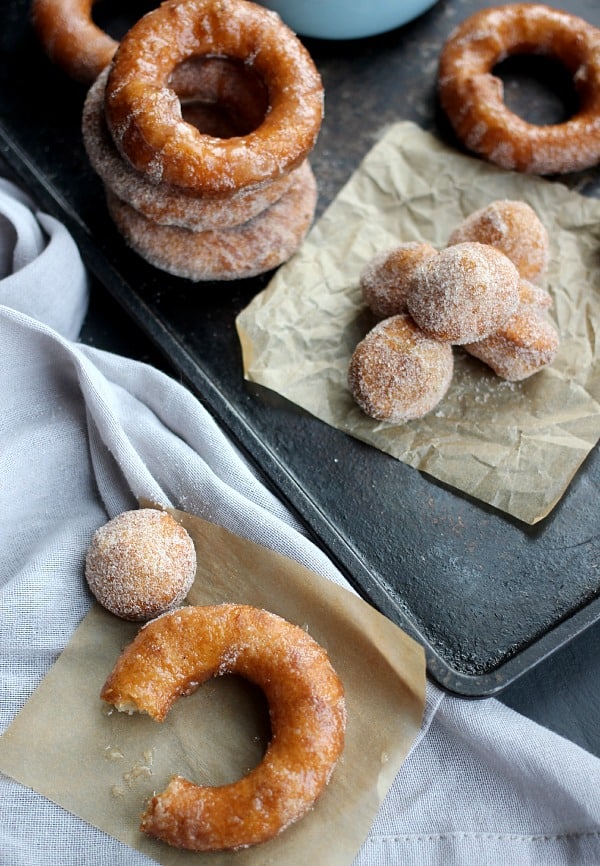 Baker Bettie
Yields 10
Puff Pastry Donuts with Cinnamon Sugar and Bourbon Glaze
10 minPrep Time
5 minCook Time
15 minTotal Time
Ingredients
1/2 cup sugar
1 TBSP cinnamon
oil for frying (canola, vegetable)
2 sheets puff pastry, thawed but still cold
1 cup powdered sugar
2 TBSP bourbon
2 TBSP whole milk or cream
Instructions
Combine sugar and cinnamon in a small bowl and set aside. Heat 2 inches of oil in a pan over medium heat to 350ºF.
Meanwhile, roll out puff pastry to 1/4" thick and cut out with a donut cutter or biscuit cutters.
Once oil is hot gently drop the donuts into the hot oil. Cook about 3 minutes on each side.
Remove from the pan and drain on paper towels or a cookie rack placed over a sheet pan.
Toss hot donuts in the cinnamon sugar to coat.
In a saucepan over low heat combine powdered sugar, bourbon, and milk and whisk until well combined and warm. Drizzle over donuts or dip donuts in glaze and allow to set for about 5 minutes before serving.
7.6.6
73
http://bakerbettie.com/puff-pastry-donuts-cinnamon-sugar-bourbon-glaze/