Raspberry Pancakes with Chocolate Glaze
Tart raspberry pancakes with chocolate glaze for the syrup are incredibly easy to make using my basic pancake recipe. They are light, tender and fluffy and the raspberries and chocolate make this breakfast feel very decadent.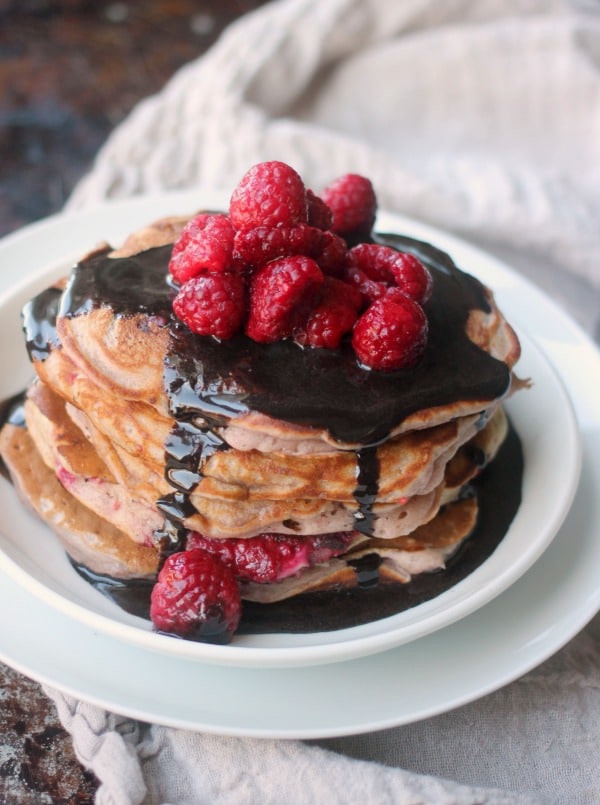 I'm easing back into it. I still feel like I'm in a daze from the holidays and my birthday. I feel spoiled. I've been relaxing, having fun, being with friends and family, and drinking a little more than my fair share (which is probably most people's normal amount). I feel like I really haven't had to seriously work in weeks and it has been amazing.
Mr. BB and I went back to my hometown of Hutchinson, KS for Christmas. We got to spend some much needed quality time with my immediate and extended family.
We ate a lot of food, slept in, and kept our sweatpants on most of the days. Then we were back in Philly for a few days where I worked a really long shift on New Years Eve to try and make myself feel better about not working ever. I was all set for a long weekend of relaxing before we were really back in the grind.
BUT on Friday, Mr. BB surprised me with a trip to New York where two of my best friends were there waiting for me. We had a fabulous weekend romping around the city in the snow and rain, eating pho, drinking beer, seeing a show, snuggling in our sweats at the end of the day, and then brunch and bottomless mimosas the next morning.
I even got to meet up for coffee in real life with my long time internet friend Laura, of the blog Food Baby. It was the best birthday. It was everything you want out of a NYC weekend.
I'm not a huge birthday celebrator, so the fact that they did all this to surprise me was so special. I didn't feel like I deserved all the fuss. But I'll take it. I am one lucky woman and am so thankful for these amazing people in my life.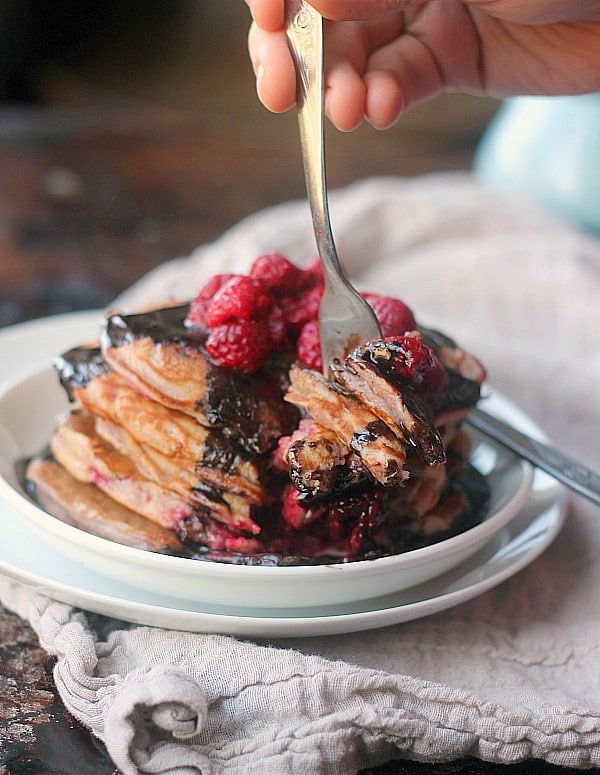 And just like I'm sure most of you are feeling, I need to majorly detox from the past few weeks and get a few more greens into my life. Green smoothies are definitely on the breakfast meal plan for the foreseeable future. But first, pancakes!
I actually had raspberry fritters with a chocolate glaze planned for these raspberry beauties. I just wanted something tart and bright to brighten up the cold grey days. But the fritters were a complete flop.
So I opted for my basic pancake recipe (which is awesome if you haven't tried it yet!) and threw in the thawed raspberries and salvaged that chocolate glaze as my "syrup." It was a great choice.
Chocolate raspberry pancakes feel like a much needed brightness to this winter. And tomorrow, we detox! Well… we drink green smoothies for breakfast and eat cake for dessert. It is just how things are around here.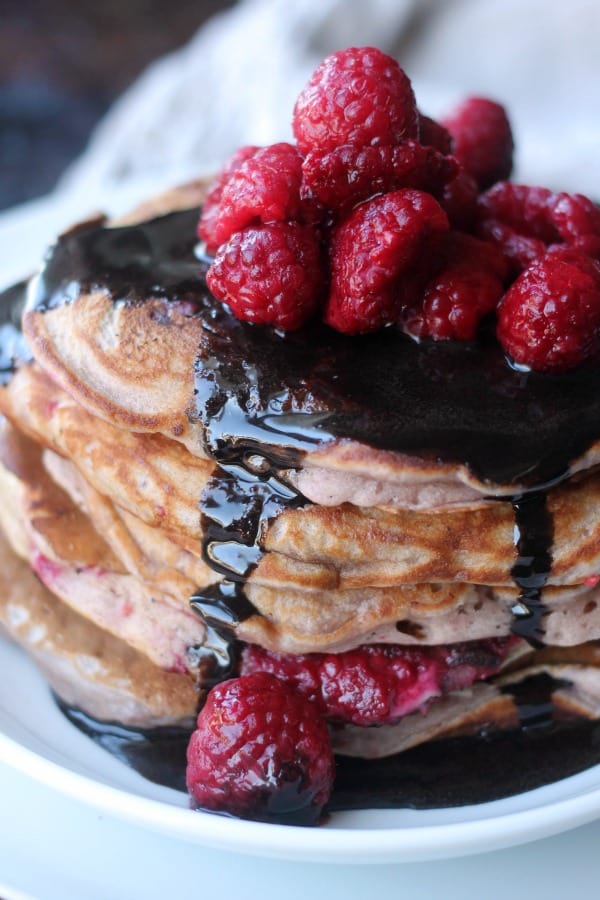 One year ago: Huge Dark Chocolate Cookie with Espresso and Toasted Pecans
Two years ago: Pan Roasted Brussels Sprouts with Smoked Almonds and Dates
Three years ago: Oven Roasted Tomatoes with Onion Hash

Baker Bettie
Yields 8
Raspberry Pancakes with Chocolate Glaze
5 minPrep Time
5 minCook Time
10 minTotal Time
Ingredients
For the Chocolate Glaze
1 cup powdered sugar
1/4 cup unsweetened cocoa powder
3 TBSP warm water
pinch of salt
For the Pancakes
1 cup all-purpose flour
2 tsp baking powder
1/4 cup sugar
large pinch salt
1 cup buttermilk (or soured milk- see notes for details on this)
1 egg
2 TBSP oil or melted butter
1 cup fresh or thawed and drained frozen raspberries
Instructions
For the Chocolate Glaze

Combine all of the ingredients together in a medium bowl and whisk together until combined. If you want a thinner glaze, add more water. If it is too thin, add a bit more powdered sugar.

For the Pancakes

In a large bowl whisk together flour, baking powder, sugar and salt.
In a small bowl or liquid measuring cup, lightly whisk together the milk, egg, and oil.
Pour the liquid ingredients into the dry ingredients and stir just until combined (batter will be lumpy, do not over mix). Fold in the raspberries. Let the batter sit while heating up a griddle or skillet over medium heat.
Grease the griddle or skillet and pour about 1/4 cup batter per pancake. Once bubbles are formed on top and along the edges, flip the cake once to finish cooking on the other side.
Serve hot with the chocolate glaze and more raspberries.
Notes
If you do not have buttermilk, you can make "sour milk" by adding a TBSP of vinegar or lemon juice to a cup of milk and letting it sit for about 5 minutes. It will look slightly thickened and curdled.
7.6.4
150
http://bakerbettie.com/raspberry-pancakes-chocolate-glaze/
Tools I used for this recipe
[AMAZONPRODUCTS asin="B00DE1CGKY,B000ND5CBG"]