Salted Caramel Skillet Cookie
This Salted Caramel Skillet Cookie is so incredibly easy to make and nobody will ever know it is grain free, vegan, and refined sugar free! The salted caramel sauce serves a dual purpose of the base for the cookie and also a decadent sauce to drizzle over the top!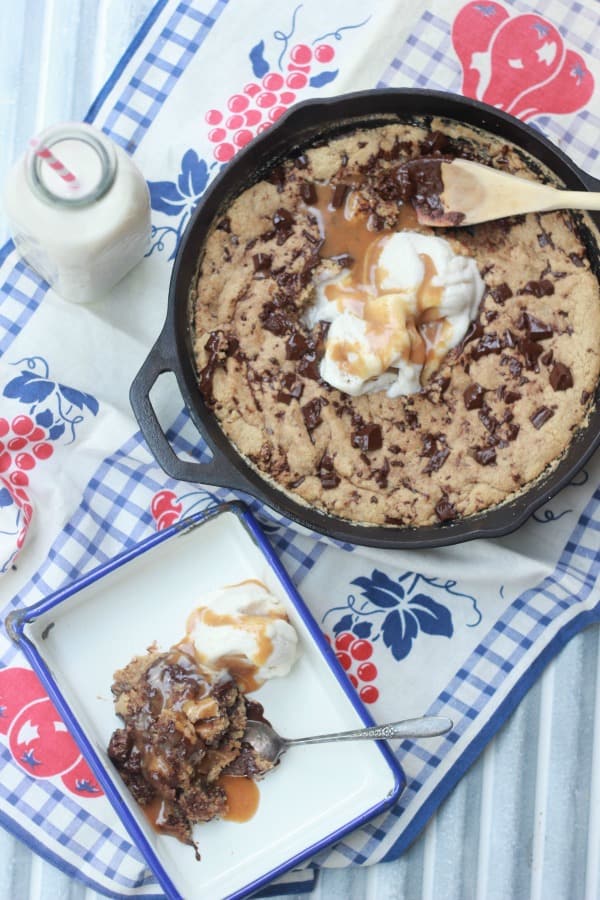 I originally published this recipe as a guest post for the blog Fork & Beans in July 2012. 
---
You may or may not know that in my real world job I am a private chef for someone with a very long list of food allergies. It is a fun challenge, to say the least. I am tasked with working with some extremely unconventional techniques and ingredients to try and keep their meals interesting and tasting great! And sometimes even outside of work I like to play with non-traditional ingredients to make something very comforting!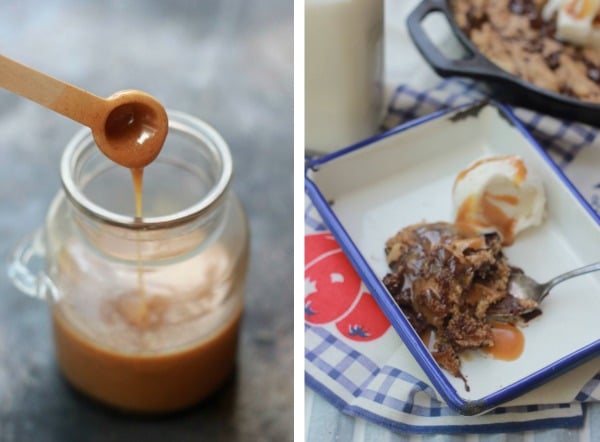 I guess you can say I am known for cookies.  Well, as much as someone who isn't really known by anyone can be known for something.  I just really love how versatile they are.  The possibilities of flavor combinations, textures, and presentations are endless.
Those of you who are experienced in the non-traditional baking world know all too well how frustrating it can be to get the texture you are aiming for.  I need for you to trust me on this one, the texture of this salted caramel skillet cookie is the most gooey and chewy cookie you have ever encountered.  It really is quite incredible.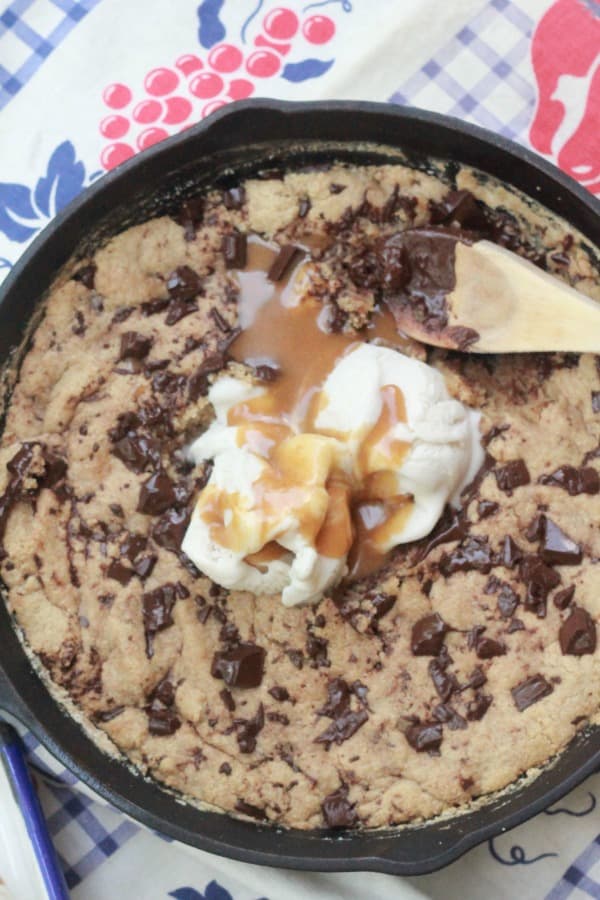 The secret to the texture? A gooey salted caramel sauce as the base of the recipe.  Once you make the caramel this cookie is a snap to put together.  And you probably want to just have a batch of this sauce around at all times anyway.  Let's be honest.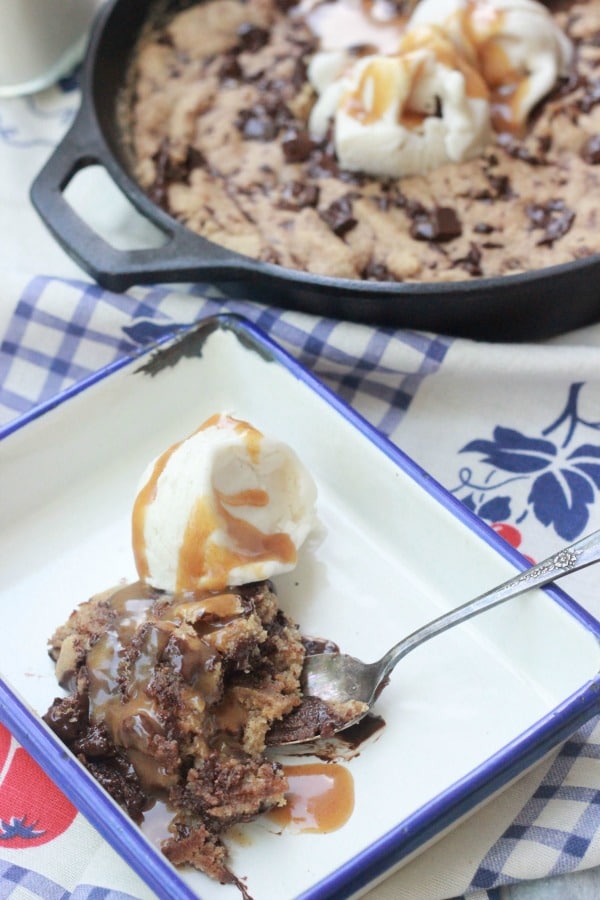 You should also know that this recipe could easily be used to make individual cookies if eating out of a large skillet like me isn't your thing. I think it would be so comforting to serve a cast iron skillet filled with a warm gooey cookie at a brunch or dinner party.  And if you are awesome enough to have those tiny individual cast iron skillets, well I'm jealous of you and you should totally use those instead!

Baker Bettie
Yields 8-10
Salted Caramel Skillet Cookie
10 minPrep Time
13 minCook Time
23 minTotal Time
Ingredients
1/2 cup coconut oil
1/2 cup raw almond butter
1/2 cup pure maple syrup
1/2 tsp sea salt
1 Tbsp vanilla extract
1/2 tsp baking soda
2 1/2 cups to 3 cups blanched almond flour, measured after sifting
4 oz chopped dark chocolate
Instructions
Combine coconut oil, almond butter, maple syrup, salt, and vanilla in a blender or food processor.
Blend for 4-6 minutes until it is a sticky caramel texture. You may have to scrape the sides down several times. You want to blend this long to achieve the texture you are looking for.
Pour 1 cup of the caramel sauce into a bowl and save the rest for serving.
Add the baking soda and mix until incorporated.
Mix in 2 1/2 cups of the almond flour 1/2 cup at a time. If the mixture needs more flour add 1 TBSP at a time more until it becomes the consistency of thick cookie dough. (I use Bob's Red Mills almond flour, and I needed 3 cups. But almond flours vary in coarseness and less flour may be needed. Elevation and humidity can also contribute to needing more or less flour). If it is liquidy, add more flour until it is the consistency of a chocolate chip cookie dough.
Stir in the chopped chocolate.
Spread the dough evenly in a 10 skillet . I find that clean hands works best for this.
Bake in a 350 degree oven for 10-13 minutes until set.
Serve with your favorite ice cream (I love coconut milk ice cream) and a drizzle of the left over caramel.
7.6.4
20
http://bakerbettie.com/salted-caramel-skillet-cookie/