Sweet and Spicy Orange Chicken with Baby Bok Choy
Sweet and spicy orange chicken with bok choy is a perfect quick weeknight meal that is full of flavor. The sauce is flavored with orange zest, ginger, garlic, and a touch of sesame.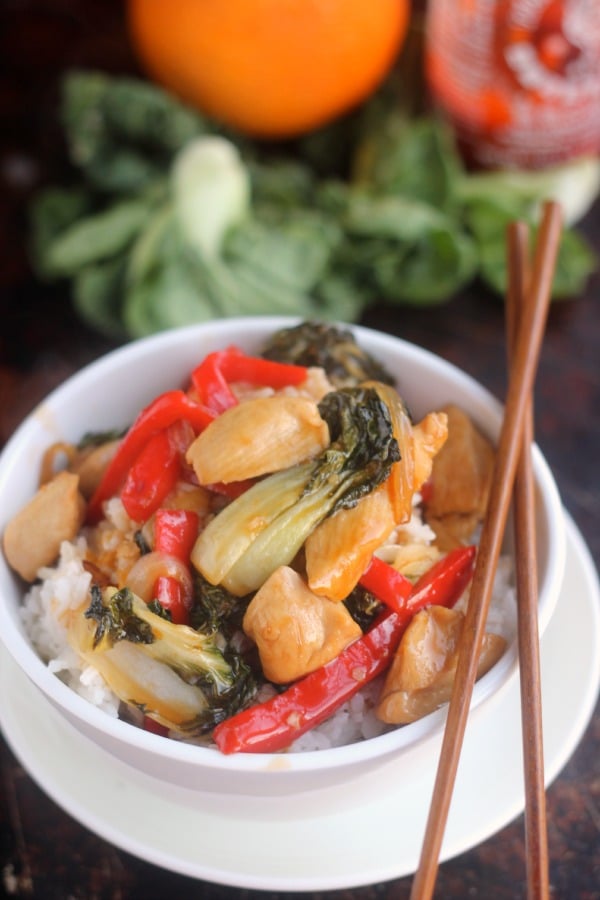 Happy Sunday my internet friends and family! I hope you have all had a lovely weekend and have been getting some of the beautiful weather we are getting here in Philly! It's amazing how some sunshine can make you feel like everything in your world is a little better.
Today I bring you something savory. Hopefully at least a tiny inspiration for your weekly dinner planning. I don't know about you, but I am always frantically searching for dinner ideas on Sunday before our weekly shopping trip. So I am going to try and bring you some more savory recipes here at Baker Bettie. This is mainly for selfish reasons. It will force me to make more creative and exciting dishes. But hopefully they will inspire you too!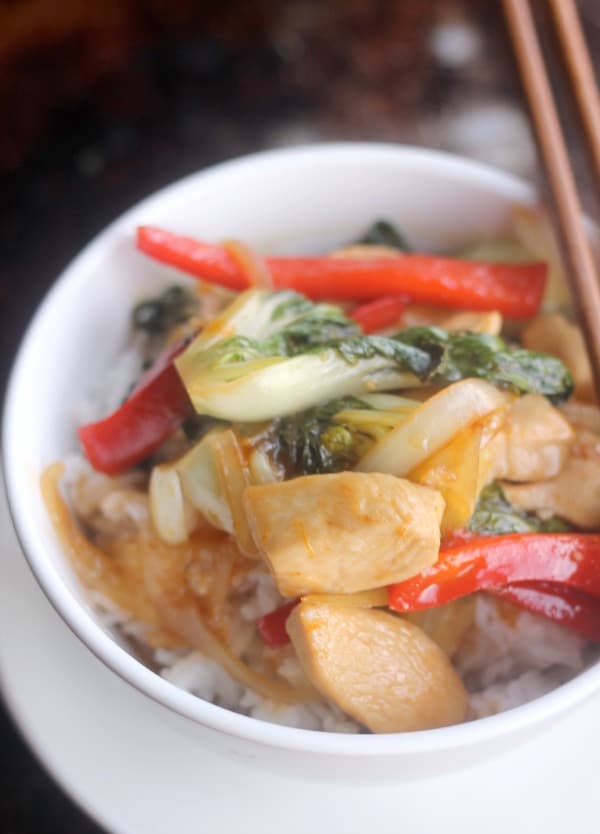 I bring you exhibit A of my frequent lack of ideas for dinner. You see, my husband and I do not exactly see eye to eye about what might be a good thing to make. I am constantly trying to play it safe because I want him to love it. So stir frys are a frequent dinner in our house. It's a way that I can at least get a few veggies into him, other than the lettuce on his Taco Bell taco that he argues is one of his veggie servings. And I can change up the flavors and ingredients easily.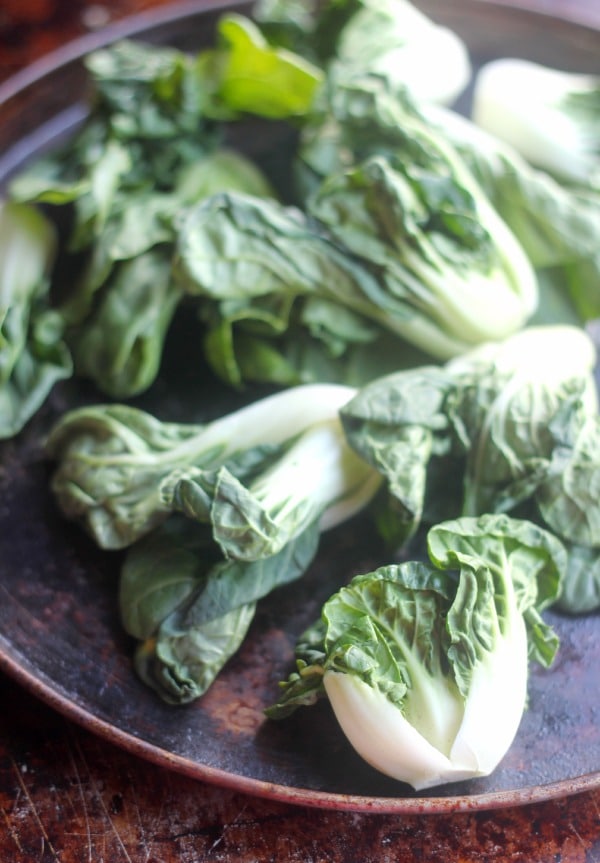 Don't get me wrong, this dish definitely isn't lacking in flavor or excitement on the palette. The sauce is sweet and spicy and sticky with tons of orange zest, garlic, ginger, and a touch of sesame. And just as if this was great chinese takeout, it is equally as good for leftovers the next day. That's a pretty big requirement for me when making dinner. Will we eat it for leftovers? The answer is yes! Absolutely, 100% yes! I may have eaten some of these leftovers for breakfast with a fried egg on top… I know what you all are thinking about that. That I am a genius.
I hope the rest of your Sunday is amazing. Spend it relaxing, enjoying someone you love, eating great food, and get out in that sunshine if you can!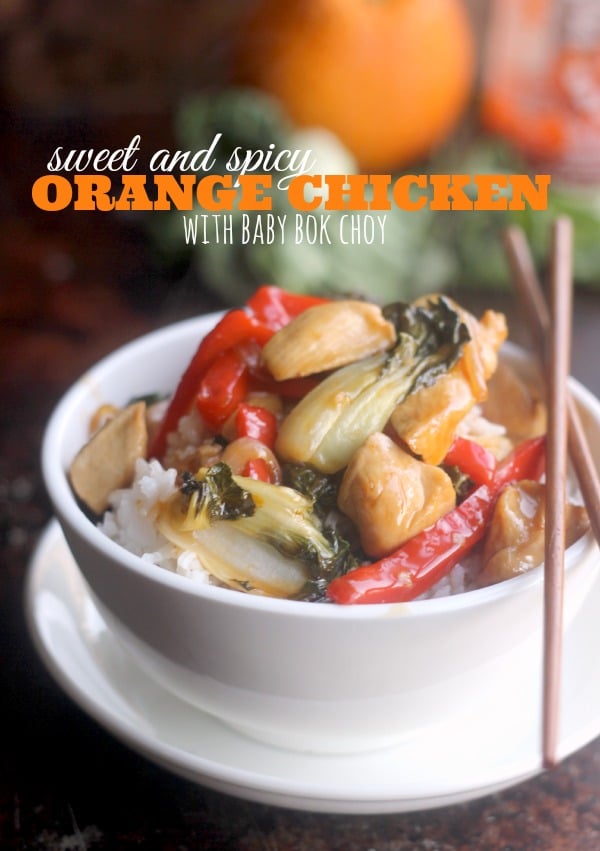 Baker Bettie
Yields 6
Sweet and Spicy Orange Chicken with Baby Bok Choy
15 minPrep Time
10 minCook Time
25 minTotal Time
Ingredients
1 lb boneless skinless chicken (use light or dark meat, whichever your prefer)
1/4 lb baby bok choy, halved (use regular bok choy if you cannot find baby bok choy)
1 red bell pepper, cut in thin strips
1 small onion, cut in thin strips
1/2 cup water
juice and zest from 1 small orange
1/3 cup rice wine vinegar
1/2 cup brown sugar
1 TBSP fresh grated ginger root
3 cloves garlic, minced
1/4 cup low sodium soy sauce
1-3 TBSP chili garlic sauce, such as sriracha (amount depending on your spicy preference)
1 TBSP sesame oil
2 TBSP cornstarch
cooking oil, such as peanut, canola, or vegetable
Instructions
Cut the chicken breast into bite size pieces and season with salt and pepper. Wash and prep your veggies and set aside.
In a small mixing bowl, whisk together water, orange juice and zest, vinegar, brown sugar, ginger, garlic, soy sauce, sriracha, sesame oil, and cornstarch. Set aside.
Heat a wok or large skillet over high heat and after the skillet is hot add a few TBSP of oil.
Quickly stir fry the chicken. Remove from the skillet and set aside.
Reheat the skillet or wok and add a few more TBSP of oil. Quickly stir fry the bok choy, bell pepper, and onion over high heat. You want them to char a bit. Season with salt and pepper.
Add the chicken and the sauce into the skillet. Allow to come to a boil for the sauce to thicken. Adjust seasonings as desired. If the sauce isn't thick enough, add a cornstarch slurry (cornstarch mixed with water) a little at a time until your desired thickness.
Serve over steamed rice.
7.6.4
103
http://bakerbettie.com/savory-sunday-sweet-spicy-orange-chicken-baby-bok-choy/