Simply Perfect Banana Bread
This easy banana bread recipe is very simple to put together with very few ingredients. Banana bread is a great recipe to start with for new bakers. It is incredibly forgiving and difficult to mess up. This recipe strips banana bread down to its classic flavor.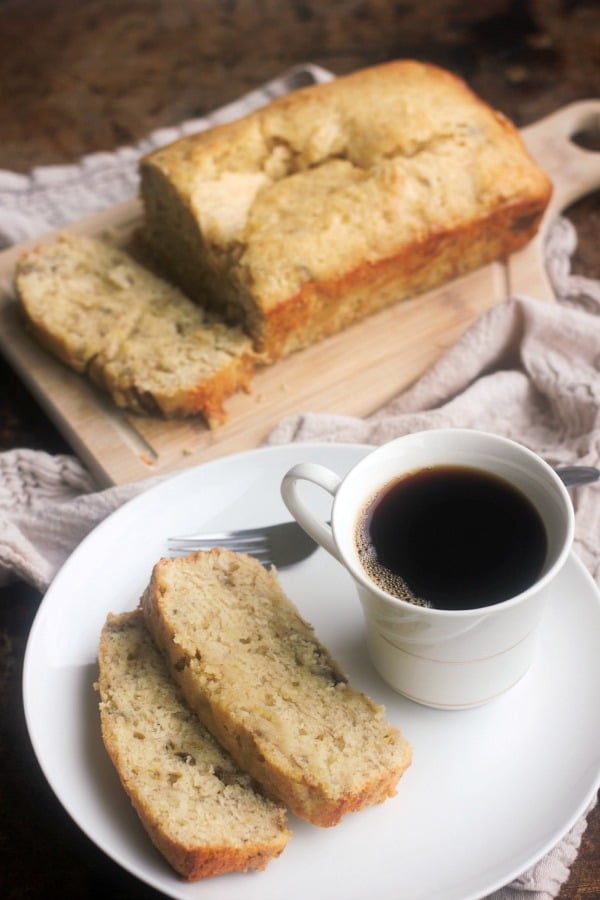 Banana bread is absolutely one of my favorite things to make and to teach other people how to make. It is one of the best things to bake for a new from scratch baker.
Banana bread is incredibly simple to put together and is also very forgiving. The ratios in a banana bread aren't as finicky as many other baked goods which makes it less intimidating.
I actually can't believe I haven't posted my simple banana bread recipe yet. This is one of those recipes that I have memorized because it can come together so easily. It is also easily adaptable to add other flavors in.
---
How to Make Simply Perfect Banana Bread
Start with ripe bananas. 
Banana bread is widely regarded as the thing you make when you have overripe bananas. Personally, I am a bit more of a planner with my baking endeavors. I'm not always in the place mentally or schedule wise to just bake banana bread because my bananas are too ripe.
My solution is to throw my bananas in the freezer when they get overripe that way I can easily pull them out of the freezer when I have the urge to bake up some banana bread.
Alternatively, if you are wanting to bake banana bread and find yourself without ripe bananas you can quickly ripen them by putting them in the oven. With the skin on, put the bananas in a 300F oven for about 40 minutes.
Don't be alarmed with your overripe bananas are liquefied. This will happen when they get super ripe, if you ripen them in the oven, or after defrosting from frozen. Liquefied banana usually means the flavor is just super intense.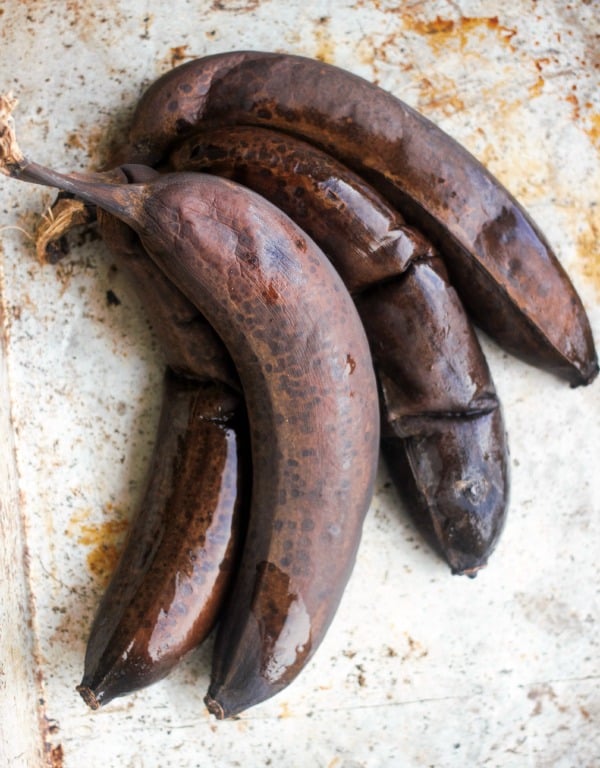 Gather your ingredients. 
Classic banana bread lineup is pretty simple: ripe bananas, melted butter, eggs, sugar, flour, salt, and baking powder.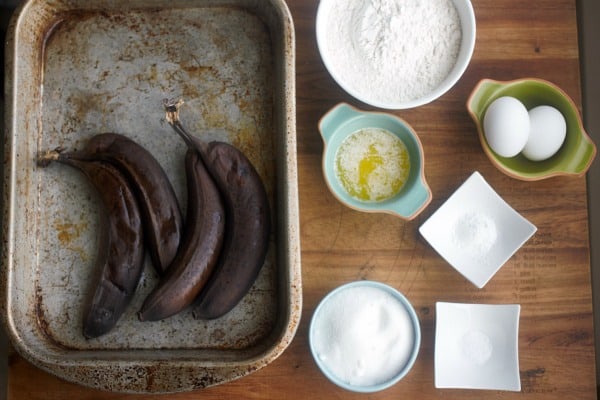 Mix together wet ingredients. 
Banana bread is a quick bread which you may or may not remember follows the muffin mixing method. The method involves mixing together the wet ingredients with the sugar in one bowl, mixing together all the dry ingredients in a separate bowl, and then combining the two.
In a medium bowl, mix together all of the wet ingredients with the sugar. You don't need to do this with a mixer. A simple spoon will do until everything is all combined.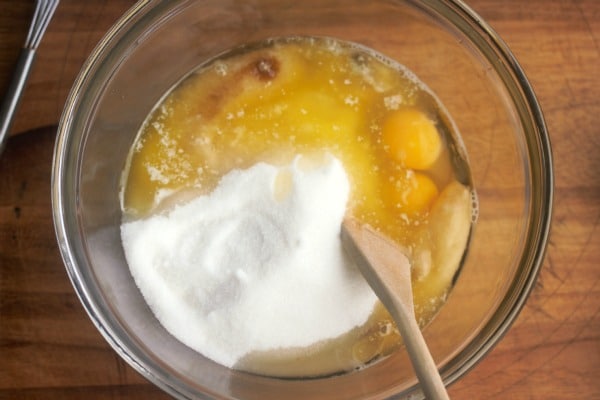 Mix together all of the dry ingredients. 
In a separate, large bowl, whisk together all of the dry ingredients. I like to use a whisk for this so that all of the ingredients are incorporated evenly and aerated a bit.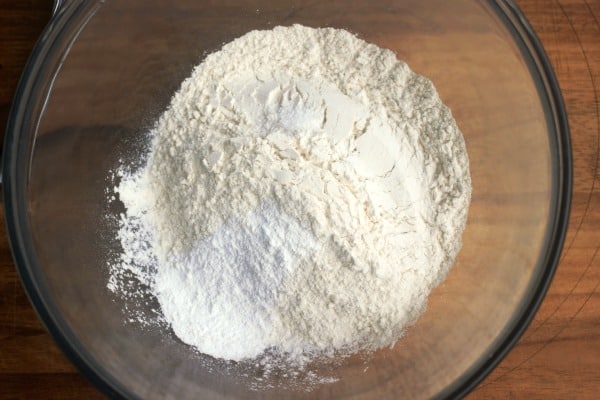 Combine the wet with the dry ingredients. 
Pour all of the wet ingredients into the dry ingredients. Use a spoon to gently combine the two together. Less is more with the stirring here. It will be lumpy. You don't want stir more than needed.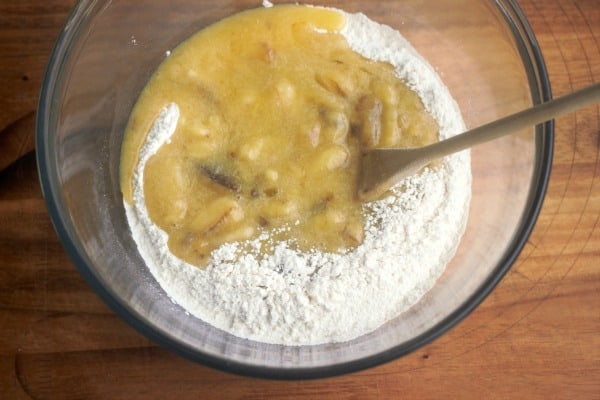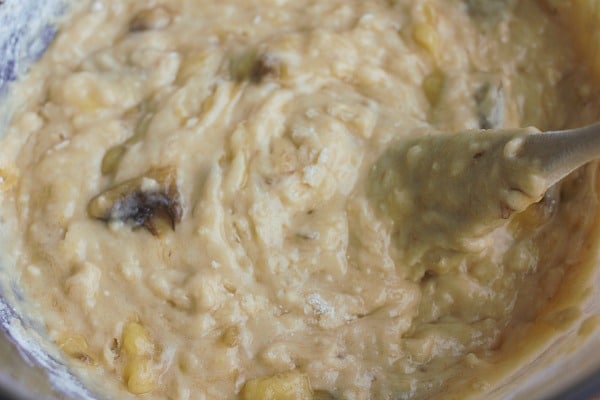 Bake. Cool. Eat.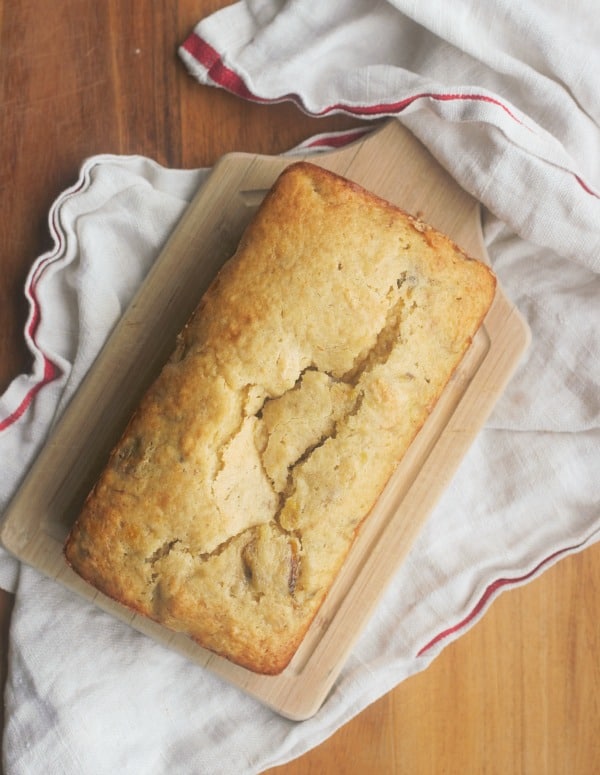 Banana bread is absolutely one of my favorite baked goods to dress up. Add in nuts, chocolate chips, toasted coconut, dried cherries, cinnamon, a peanut butter swirl, a nutella swirl, anything you can think of! Go nuts. Or just make it as is. Simply perfect banana bread. Loaded with banana flavor and perfectly comforting.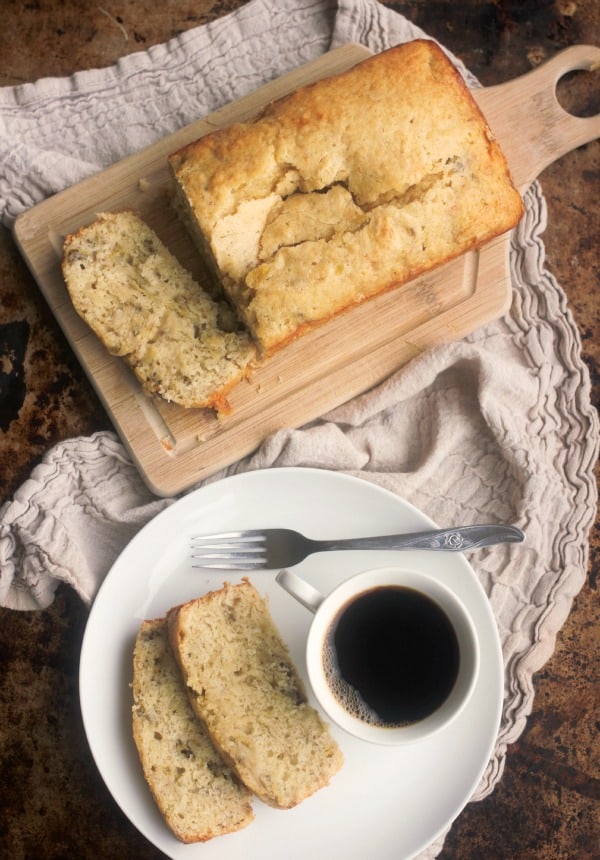 Baker Bettie
Yields 1
Simply Perfect Banana Bread
10 minPrep Time
1 hrCook Time
1 hr, 10 Total Time
Ingredients
4 very ripe bananas
2 large eggs
1/4 cup melted butter, cooled slightly
1 cup granulated sugar
1 3/4 cups all purpose flour
2 tsp baking powder
large pinch of salt
Instructions
Preheat oven to 325 degrees F and grease a 9x5-inch loaf pan.
In a large bowl, combine bananas, sugar, egg, and butter together in a bowl. Mash the banana with the spoon and stir to combine.
In a separate large bowl, whisk together the flour, baking powder, and salt. Pour all of the liquid ingredients into the dry ingredients and stir just until combined. Pour the batter into the prepared
Bake in the preheated oven until a toothpick inserted in the center of the bread comes out clean, about 1 hour.
7.6.4
108
http://bakerbettie.com/simply-perfect-easy-banana-bread/
Tools I used and recommend for this recipe:
[AMAZONPRODUCTS asin="B00008W70I,B0000VLZKS"]
Disclaimer: this post contains affiliate links.