Sweet and Spicy Asian Wings
This sweet and spicy Asian hot wings recipe is baked under the broiler and result in really crispy skin and a bit of char which makes them absolutely addictive!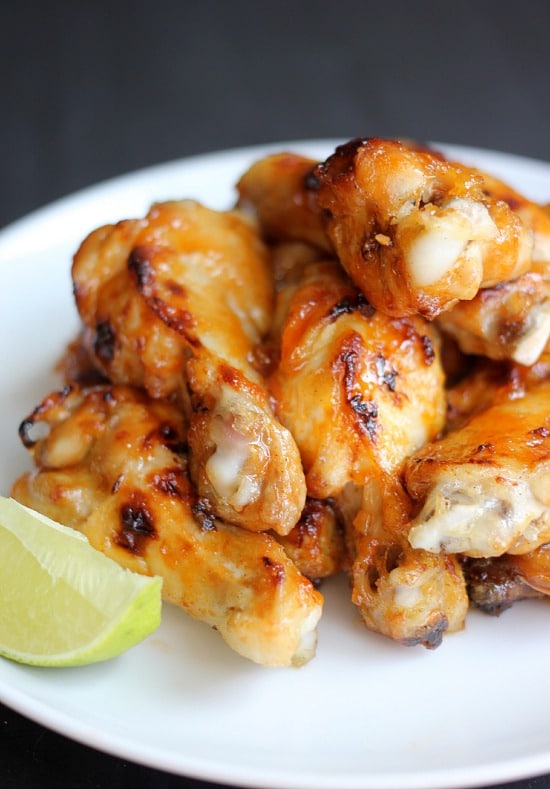 I'm totally a borderline crazy cat lady.
I am.
And I totally accept that.
It wasn't until I met my husband who had a cat and then he insisted on getting another one. They have become my family.
I'm that obnoxious lady that can't stop taking pictures of them doing cute things. If you follow me on instagram, beware you will be bombarded with food porn and videos of my cats trying to steal my wine. That is my life.
And while my big orange cat can't keep himself away from the wine (seriously, he needs rehab), my prissy calico cat can smell chicken from a mile away. She loooooves chicken.
The entire time I am cooking anything with chicken she prances around my feet in the kitchen purring and rubbing up on my legs hoping I will give in and give her a little piece. She always wins.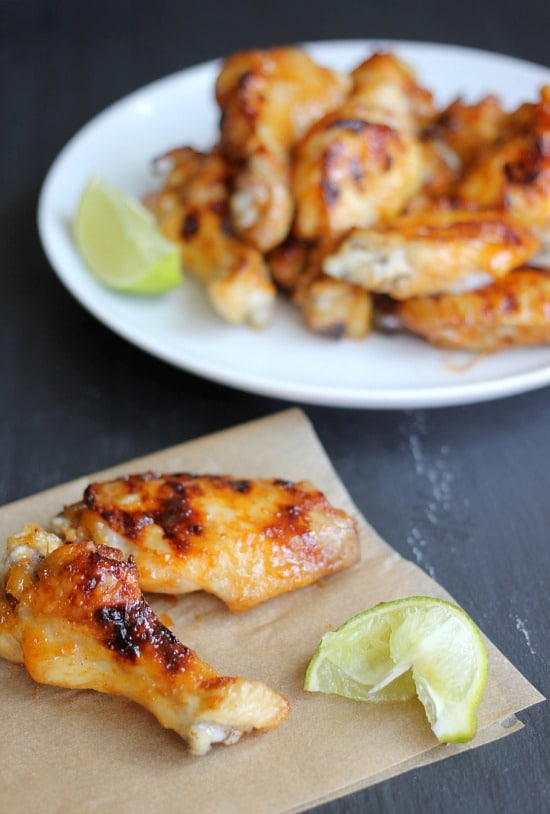 I made these wings for my husband a few weeks ago for Sunday football. He was pretty pumped. What is it about sitting on a couch, watching football, and gnawing on some meat bones that makes men so happy?
I admit, I kind of like it too. Not a whole day of it. But an hour of it is kind of fun!
I love how wings are the perfect vessel for pretty much any kind of sauce or flavor you come up with. I love asian flavors.
I seasoned these up with some sriracha, ginger, garlic, honey, and lime juice and they were pretty bangin. I always broil my wings. It never fails to get the crispy and add some lovely char on the skin and is way less messy than frying them.
I did some broiled Buffalo BBQ Wings a while back too. I'm not sure I could pick a favorite between the two. I'll take both please.
---
 One Year Later: Apple Cider Muffins with Almond Streusel
One Year Ago:  Pumpkin Chocolate & Walnut Coffee Cake with Warm Toffee Sauce

Baker Bettie
Yields 32
Sweet and Spicy Asian Hot Wings
20 minPrep Time
24 minCook Time
44 minTotal Time
Ingredients
1 1/2 TBSP cornstarch
1 1/2 TBSP rice wine vinegar
1 cup honey
1/2 cup brown sugar
1/3 cup garlic-chili sauce (like sriracha)
2 TBSP soy sauce
juice of 1 lime (plus zest if desired for more lime flavor)
1 TBSP fresh grated ginger
2 cloves garlic, minced
4 lbs chicken wings, split and wing tips removed
1 TBSP canola oil (or vegetable)
Non-stick spray
salt and pepper
Instructions
Allow the wings to sit at room temperature for 10-15 minutes to take the chill off. Preheat your oven broiler. You will want to use a broiler pan if you have it. If not, line a sheet pan with foil and place an oven safe cookie rack over the sheet pan. Spray the broiler pan or the cookie rack with non-stick spray.
Pat the wings dry with paper towels. (you want to get rid of the water moisture so they will crisp nicely). In a large bowl toss the wings with the canola oil and a generous amount of pepper and salt. Spread the wings on the broiler pan or cookie rack in a single layer. With the oven rack on the second rung from the top, place the wings under the broiler for 8 minutes.
Remove from the oven, flip the wings oven, and place back under the broiler for another 8-10 minutes, just until barely cooked through.
Meanwhile in a saucepan over medium heat, whisk together cornstarch, rice wine vinegar, honey, brown sugar, sriracha, soy sauce, lime juice, ginger, and garlic. Bring to a simmer and reduce heat. Let cook for about 10 minutes until slightly thickened and reduced. Remove from heat and set aside.
Remove wings from the oven and brush with a coating of sauce. Place back under the broiler for 2 minutes. Remove from the oven and brush the same side with another coating of sauce.
Flip wings over and brush with a coating of sauce. Place back under the broiler for another 2 minutes. (you may go longer if you want even more char and crispiness. Just watch closely!)
Serve with additional sauce and ranch or blue cheese if desired!
7.6.6
70
http://bakerbettie.com/sweet-spicy-asian-wings/
Products I used for this recipe…
Disclaimer: Please note that the links below are affiliate links and I will earn a commission if you purchase through those links.
[AMAZONPRODUCTS asin="B01523L6BG"][AMAZONPRODUCTS asin="B000JPSI8C"][AMAZONPRODUCTS asin="B000G0KJG4″]