Apple Almond Breakfast Cereal with Blackberries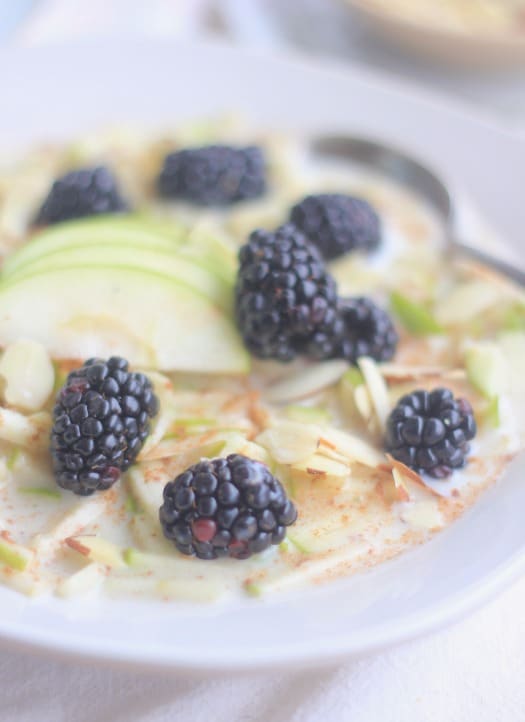 I just discovered something. Something amazing. Something I am pretty damn proud of. And I'm scared that somebody else already discovered this and has been doing it forever. In fact I pretty much know, without a doubt in my mind, that somebody else is already doing this. Because seriously. Is it even possible to come up with something completely unique anymore? But I refuse to google it. I absolutely refuse to google "fresh apple cereal" or "shredded apple cereal" or anything along those lines. If I don't look then it isn't happening! Right?! And this is completely my invention/discovery! Let's just go with that.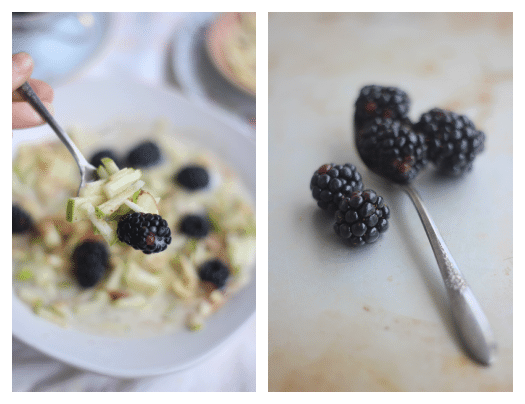 I have issues with traditional breakfast cereal. I feel like I'm eating overly sugared cardboard that quickly turns into overly suggard soggy cardboard. And while that's all fine and good for a lot of people, I just really can't stomach it very often. But I like the idea of breakfast cereal. The idea of dosing something delicious and crunchy with milk and  eating it in front of the T.V. in your jammies on the weekend. A lazy Sunday morning on the coach with very few dishes to clean.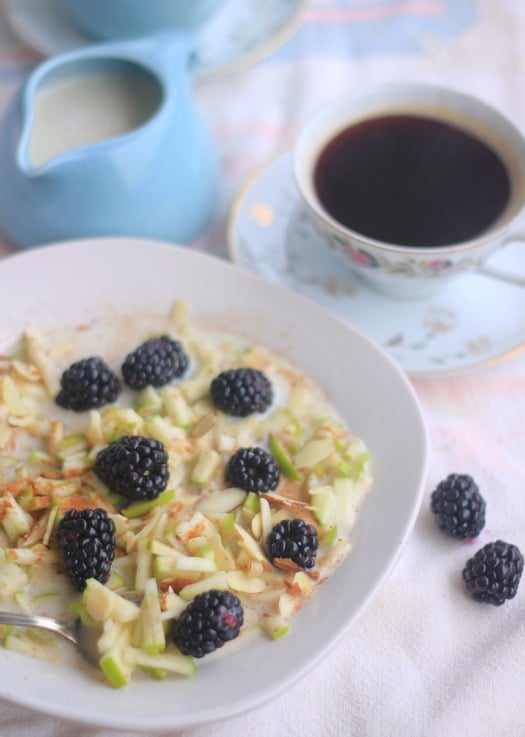 This cereal has several advantages…
#1:You can control the amount of sugar (or lack of sugar) you are consuming before noon.
#2:The apples stay crisp in the milk for a long time! No soggy cardboard here!
#3:It only takes about 5 minutes longer to prepare than pouring cereal out of a box.
#4:You can easily flavor it the way you like. Some of my other favorite combinations are…
-Apple and peanut butter
-Apple and pumpkin pie spice
-Apple, pecan and dried cranberries
-Apple, carrot, and raisin
Oh the possibilities!
#5: You really don't need a recipe, but I will give it to you anyway!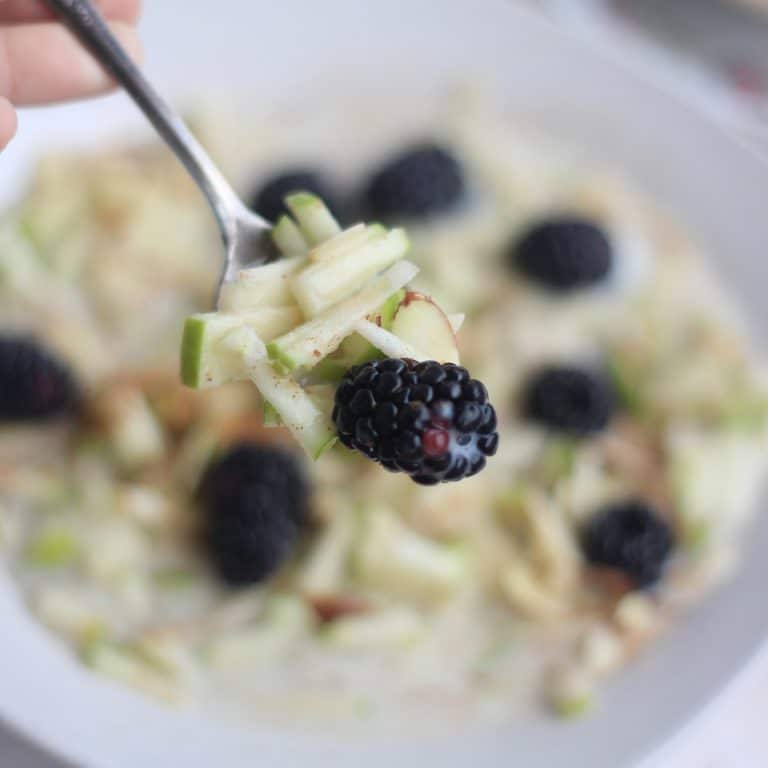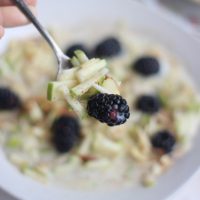 Apple Almond Breakfast Cereal with Blackberries
Ingredients
1 tart apple (such as granny smith)
1 TBSP slivered almonds
1/4 tsp ground cinnamon
1 packet stevia, or sweetener of choice (optional)
1/2 cup vanilla almond milk
1/2 cup fresh blackberries
Instructions
Finely chop the apple. (If the apple is firm enough, you can also use a box grater and grate the apple)
Combine the shredded apple, almonds, cinnamon, and stevia in a bowl and stir.
Pour milk over the apples mixture.
Top with blackberries.
Nutrition Information:
Amount Per Serving:
Calories: 226