Avocado Toast with Bacon, Tomato, and Fried Egg
Seasoned avocado toast topped with a fried egg, crispy bacon, and a juicy tomato tastes totally decadent but is a healthy way to start the day!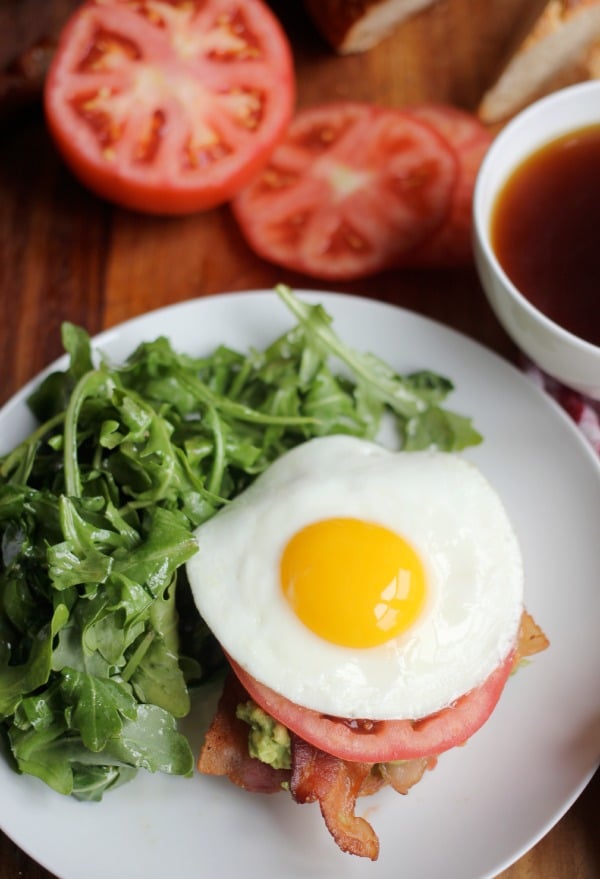 I have a whole new routine the last couple of weeks. And the routine involves making myself brunch. Every. Single. Day. Are you jealous? I'm totally not sorry about it.
For the last year, my routine involved me getting up at 5 am and not getting home until at least 11pm but mostly later. And now my routine involves brunch. It's a pretty awesome trade off. Since school is over, I have committed myself to the blog. I still work nights, but now I get up a little closer to 7am and I sit in my pj's and work on the computer. I answer emails, I edit photos, I write about food, I develop recipes. It's the best job I can think of.
Oh yeah, and there's a whole lotta work going on with that blog lifestyle magazine thing too. In case you haven't heard yet, we are launching VRAI Magazine in just under a week! We have been developing this project for months and I am excited to see where it goes. We have an amazing team of bloggers who are all great storytellers. The magazine will bring you articles about food, travel, crafting, diy, fashion, parenting, and various other lifestyle topics that all focus on true stories from real bloggers. I really hope you join us for the launch! You can subscribe to the twice monthly publications here!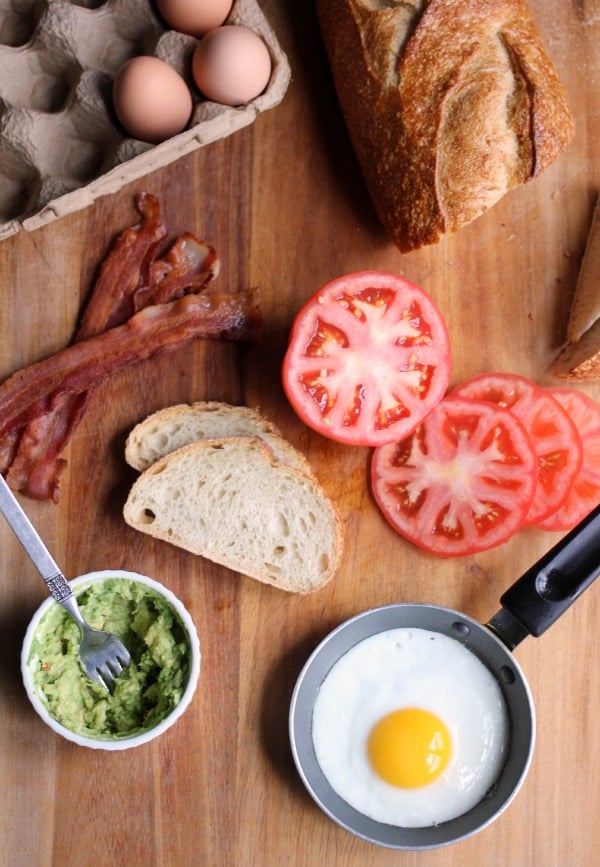 Ok, sorry. Where were we?
Oh yeah, BRUNCH!
So since I'm trying to be a serious blogger/magazine editor and want to get in a good 8 hours of work before I go to my other job, I don't want to take time out twice during the day to make breakfast and lunch. My compromise is to grab a piece of fruit and coffee and get started working immediately in the morning. Then about 11 o'clock I will take a break for BRUNCH! Can you tell that I really love mixing breakfast and lunch? It makes me feel irrationally happy!
Also, please note my baby skillet that perfectly holds one egg. Another thing that makes me irrationally happy. My aunt got it for me when I lived in Austin, TX with her. She had one that we would use to make egg sandwiches with and I was obsessed with it. So she got me one too. I think of her every time I use it.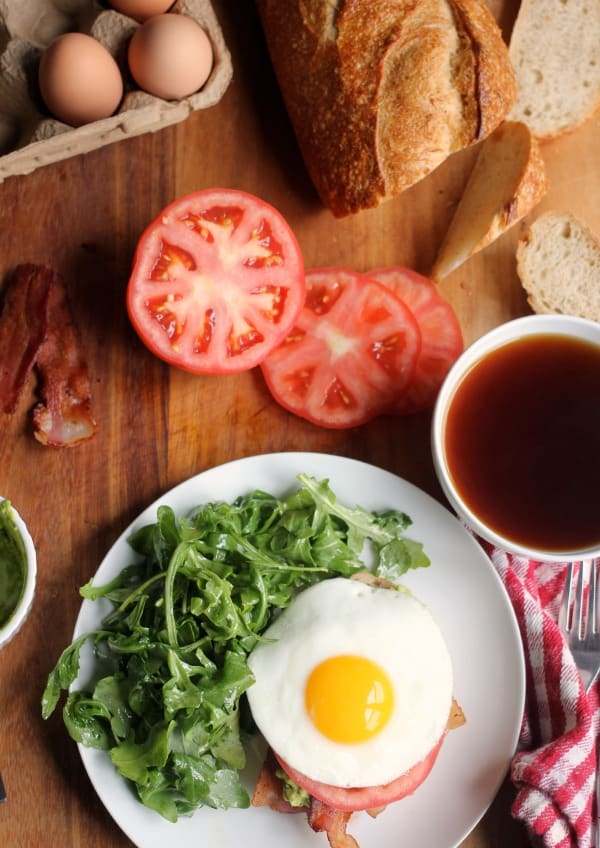 One of my absolute favorite breakfast or brunch combinations is mashed avocado with my egg. There is something that tastes so decadent about it. So simple, yet so rich. Lately, I have been adding bacon and tomatoes to make a sort of open faced breakfast BLT. Tomatoes still aren't quite in season yet, but I'm antsy! I want summer here now!
I season the avocado with salt and pepper, a little garlic powder and a pinch of red pepper flake. I guess you can call it a quick guacamole if you want. Serve that over sourdough toast with crispy thick cut bacon, a big slice of juicy tomato, and an egg cooked the way you like it! Runny and drippy for me please! Always. It's just so darn good. Lately, I have been pairing it with a simple arugula salad dressed with a quick mustard vinaigrette. It's enough to keep me fueled for the day, but not so heavy that I am longing for my afternoon nap that I never grew out of.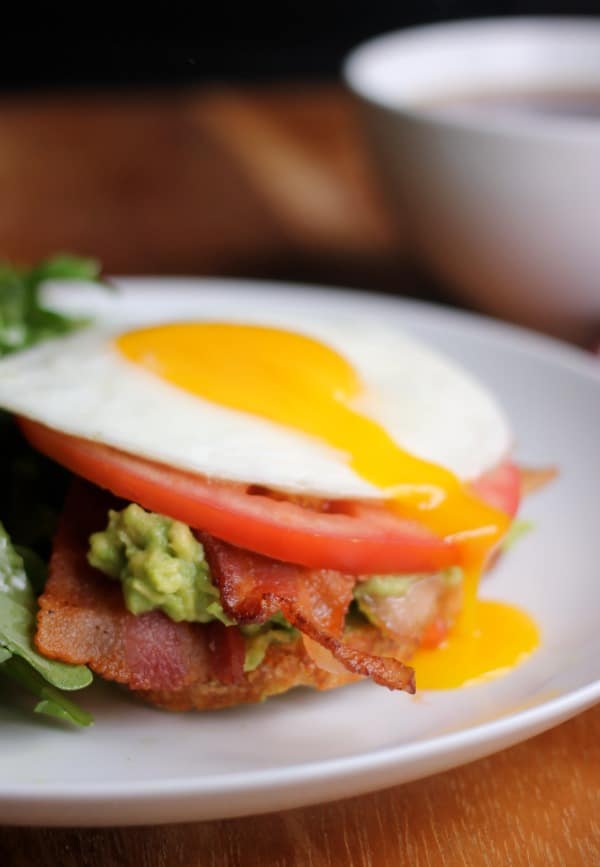 I completely understand that homemade weekday brunch isn't doable for most people. But when you do get the chance, on the weekend or your day off, treat yourself! Find a little luxury you enjoy and remind yourself that you are worth it! Because you are.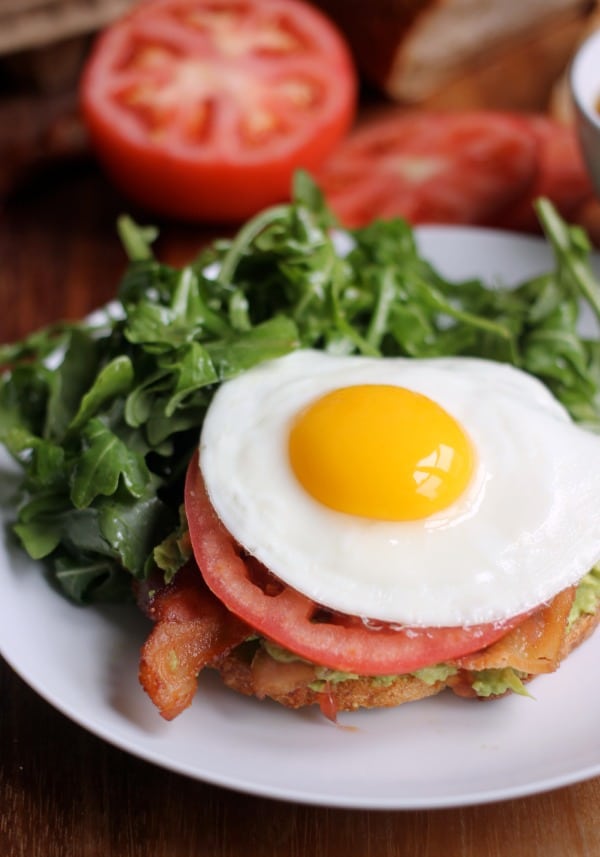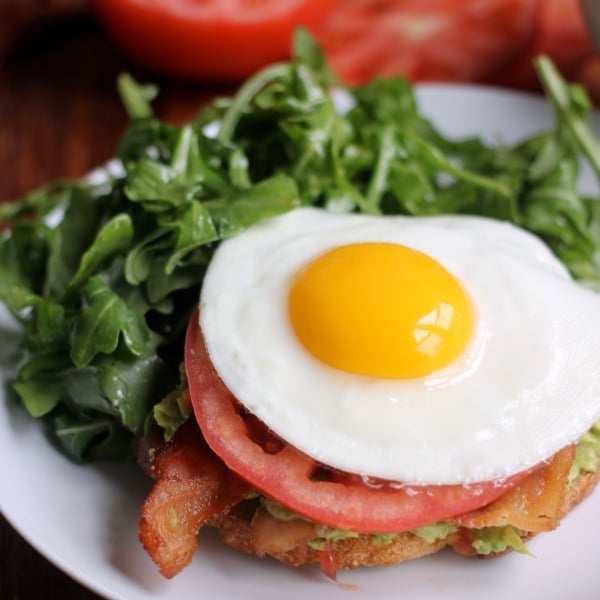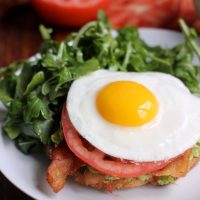 Avocado Toast with Bacon, Tomato, and Fried Egg
Yield: 1 Serving
Prep Time: 5 minutes
Cook Time: 5 minutes
Total Time: 10 minutes
Seasoned avocado toast topped with a fried egg, crispy bacon, and a juicy tomato tastes totally decadent but is a healthy way to start the day!
Ingredients
avocado, mashed
salt and pepper
garlic powder
red pepper flake
slices of sourdough bread, toasted
thick cut bacon, cooked crispy
slices of tomato
eggs, cooked the way you like
Instructions
Cut the avocado in half and scoop out the flesh. Mash with a fork and season with salt, pepper, garlic powder, and red pepper flake to taste.
Spread the mashed avocado on the toast.
Top with strips of bacon, tomato, and fried egg.
Serve open faced with a knife and fork, or eat as a sandwich.
Nutrition Information:
Amount Per Serving:
Calories: 0