Best Vegan Recipes and Vegan MoFo 2013!

Welcome Vegan MoFoers and non-Vegan MoFoers alike! This year I wanted to kick off my participation in Vegan Month of Food with a little bit about why I play around with vegan baking and cooking as well as a recap of some of my best vegan recipe creations.
I get asked by a lot of people why I create vegan baked goods if I am not vegan, so here are my reasons…
1.) It makes me a better baker. I become more knowledgeable about ingredients, how to manipulate them, and how to make baked goods in a new way.
2.) It makes me more creative. I love to create simple vegan recipes that don't require a lot of unfamiliar ingredients to people who may not eat this way. This makes me so much more creative with how to utilize familiar ingredients but still stick to a recipe with no animal products.
3.) It makes my baked goods more accessible to more people. Food is about sharing and I love to share what I create. I hate it when someone can't eat something I made so I often make delicious vegan and gluten free food if I'm going to be sharing it with a group of people so that everyone can partake.
This year I will mostly be blogging about basic vegan baking and the science behind it. I will be making basic baked goods and show you how to adapt them to create many variations. There will probably be a few other things here and there, but I am excited! For those of you who are not vegan I truly hope you stick around. I promise the recipes will be enjoyable and can be easily adapted for the ingredients you keep on hand!
So to kick things off, here are a few of my most popular and my favorite vegan creations. I'll be back this week with lots of new stuff!
Oatmeal Peanut Butter Chocolate Chip Banana Bread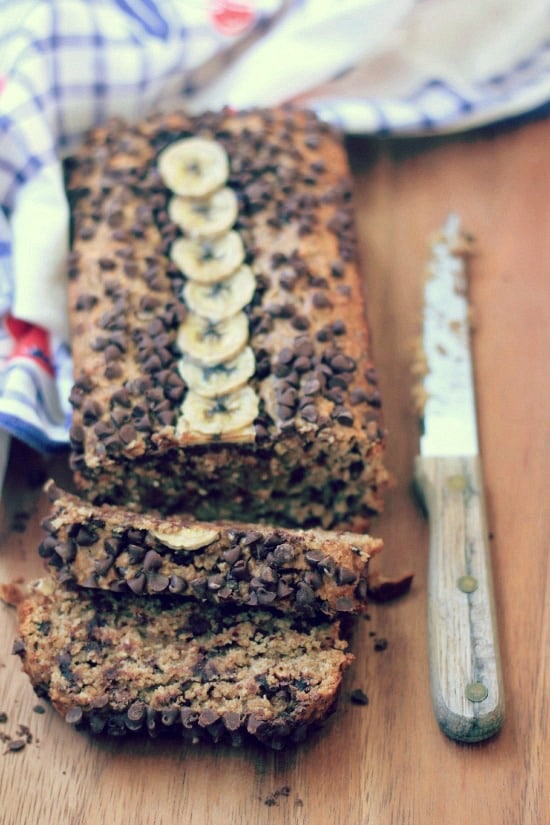 This bread has been blowing up on pinterest as of late and I can totally understand why. It is incredibly simple to make with only familiar ingredients like: peanut butter, oatmeal, banana, brown sugar, and cinnamon. This has not only been one of my favorite vegan creations, but really one of my all time favorite recipe creations. And if you use gluten free oatmeal it is also gluten free!
Cinnamon Salted Caramel Brownies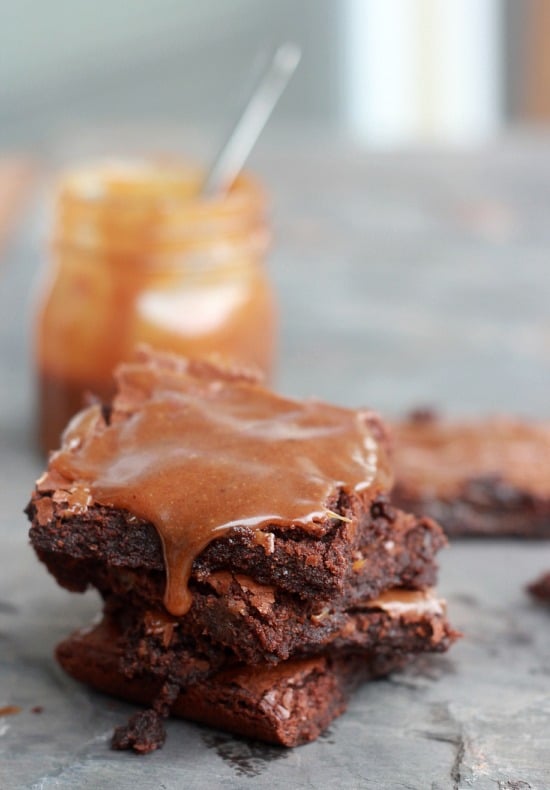 I made these during MoFo last year and they turned out so delicious. You basically make a vegan caramel sauce and then use it as part of the base for the brownie recipe. Now that I'm staring at this picture again, I probably NEED to make these again soon.
Creamy Cauliflower and Basil "Alfredo"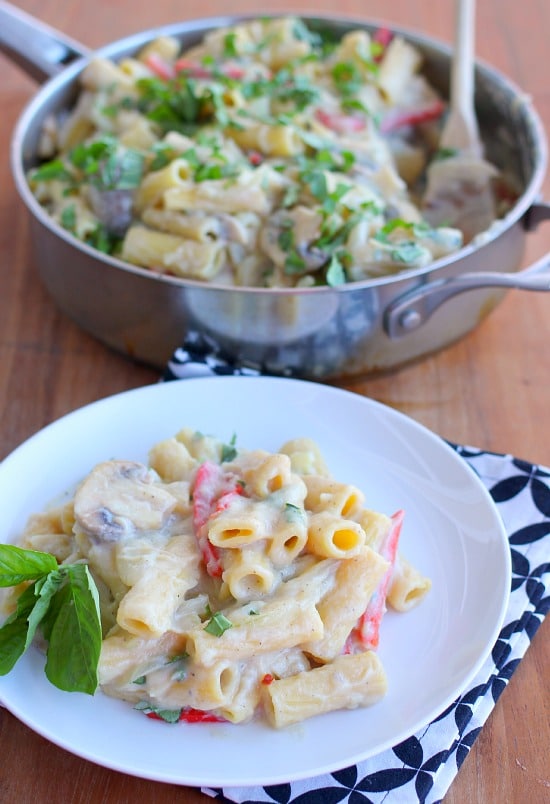 And baking isn't all that I do even though that is mostly what the blog is filled with. I love to cook and experiment with savory food too. This dish turned out pretty damn amazing. It was so flavorful and creamy it was really hard to believe that wasn't filled with butter and cream. Oh, the magic of cauliflower!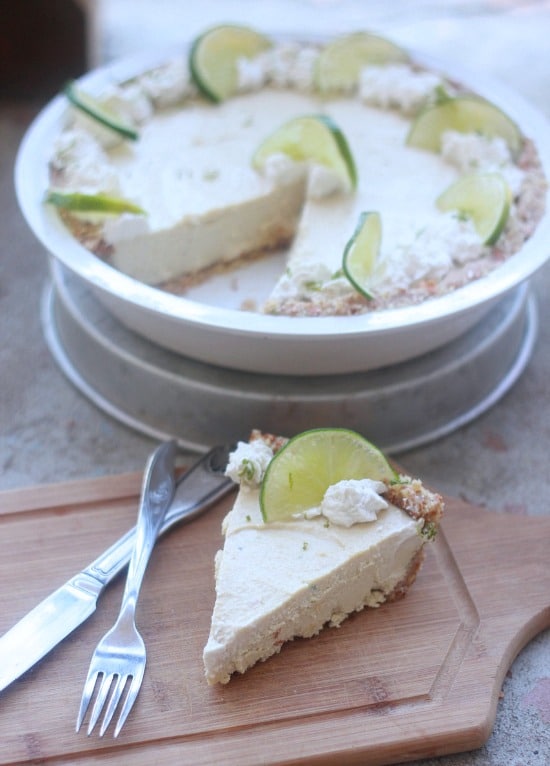 This little number was one of my first attempts at a raw dessert and man was I proud! I couldn't believe how well it turned out and my husband even loved it. That is a HUGE success! Incredibly creamy and tangy and so much easier to make than a baked key lime pie.
Oatmeal Peanut Butter Brownie Bites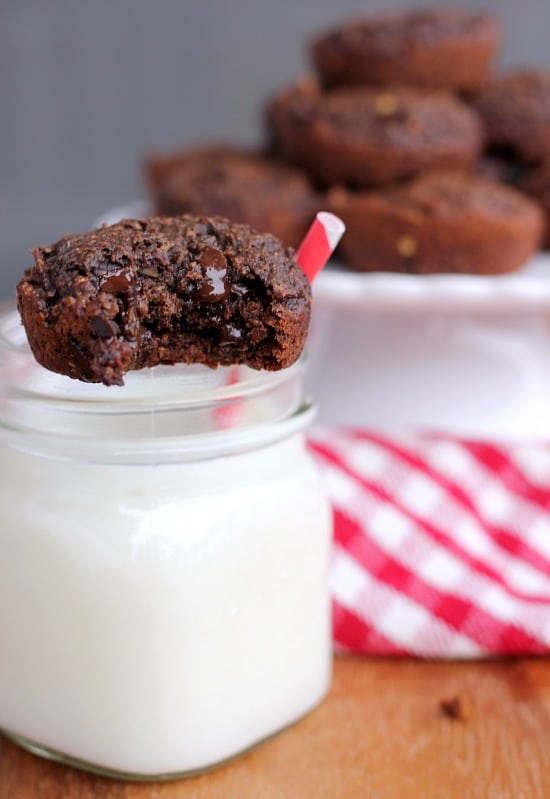 I was inspired to make these after having so much luck with that banana bread. Again, they have very few ingredients and only ingredients that people commonly have on hand. The oatmeal gives such a wonderful chewy texture to these and they are just a liiiitle addicting. I think I ate maybe a dozen of them in one day. Don't judge me.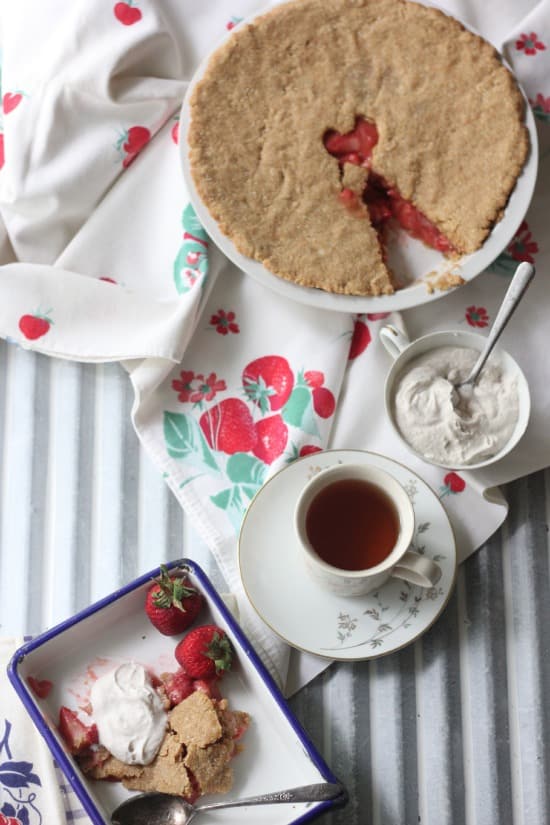 Strawberry Rhubarb pie reminds me of my childhood. My grandmother made it all the time and it was a family favorite. This one is grain free and vegan and the crust tastes almost like a brown sugar shortbread. Topped with some coconut milk whipped cream and it is one hell of a dessert or breakfast. I think pie for breakfast should be a thing more often.
I will be back tomorrow with something delicious. I hope everyone is having a relaxing and safe holiday weekend!