Breakfast Pasta with Brussels Sprouts, Bacon, and Fried Egg
This breakfast pasta is incredibly hearty with bacon, brussels sprouts, and a fried egg of course. Use fresh pasta if you can, but dried will also work well!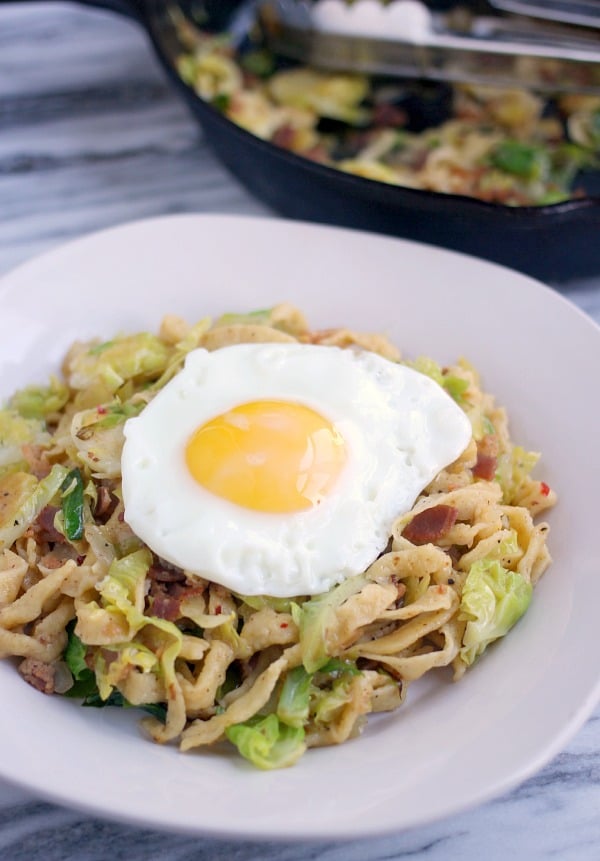 Hello friends! It seems like it has been ages since I have shared with you! I'm so sorry. I hope you will forgive me. I totally took advantage of the holiday laziness. And I say sorry, but I'm really not sorry. It has been pretty glorious.
This Christmas Mr. Baker Bettie and I were on our own. We missed our families terribly but we took advantage of spending a whole day together without a single thing to get done.
We literally never left the house or our pajamas for the whole day. It was awesome. And if we couldn't be with our families on Christmas, I can't think of a better way to spend the day.
My sweetie pie of a man spoiled me with a bunch of kitchen stuff. All things I truly didn't need, but am very excited to put to use! Like a pasta machine! I used it to make some decent pasta for this breakfast. It was pretty darn tasty, but I need to get some semolina to make some better quality stuff.
This pasta doesn't really have to be for breakfast, but I mean, it's pasta for breakfast! So you should do it. Breakfast is my boo. Pretty much my favorite thing ever next to my husband and my kitties.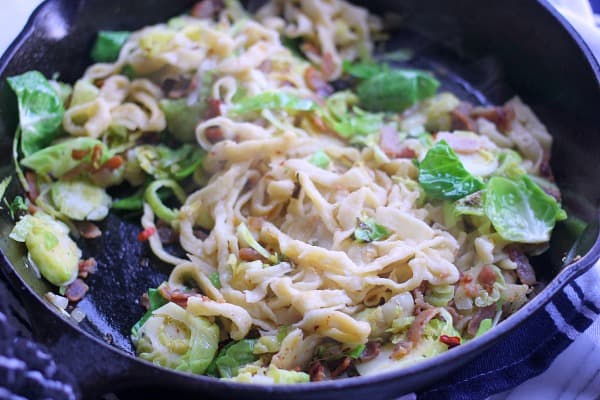 You know what else is my boo? Brussels sprouts. I ranted and raved about them a while back. I lectured all you brussels sprouts haters to give them a chance if prepared properly. And I don't really care how trendy they are right now. B-sprouts deserve some fame.
The problem with brussels sprouts bad wrap is that they must be prepared from fresh. They are not a veg that holds up to freezing well (in my opinion).  And you can't overcook them. Because if you do, they start releasing this smelly gas. And nobody likes that.
I like to cook them with really high heat really fast. It gives them a good char and maintains a little crunch. Trust me. Brussels sprouts are veg heaven.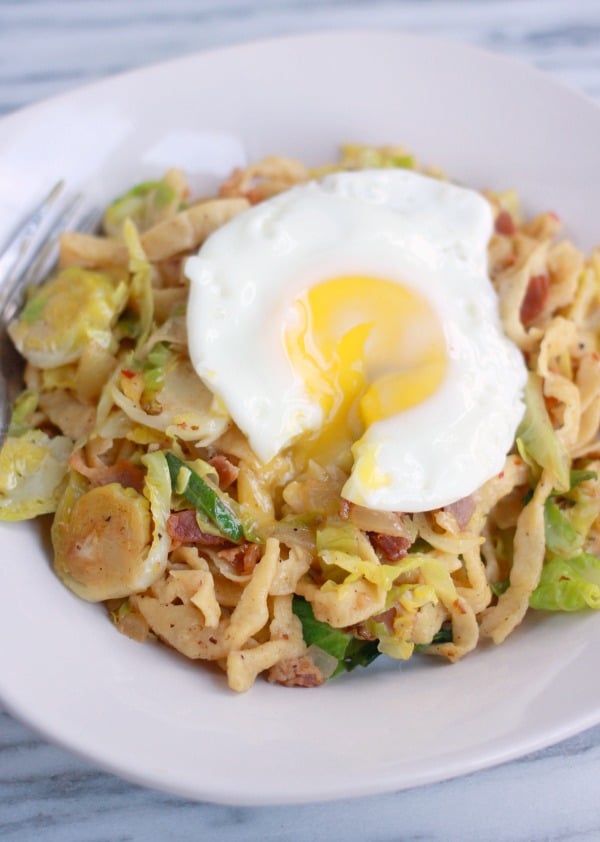 I was so anxious to make some fresh pasta the other morning that I made this for breakfast. It was super simple after the pasta was made (which was also fairly simple, but you can use dried pasta too).
Basically, I just rendered some bacon and removed it from the pan keeping the grease. I then sauteed some onion, garlic, red pepper flake, and the brussels sprouts. I then added the pasta, bacon, and a bit of the pasta water to the pan and tossed everything together.
The yolk from the fried egg on top created a bit of a sauce with the bacon grease and pasta water. It was just so freaking good. Like probably one of my favorite breakfast creations ever. THAT good. So I guess what I'm getting at here is… just try it. Give those b-sprouts a second chance. They deserve it!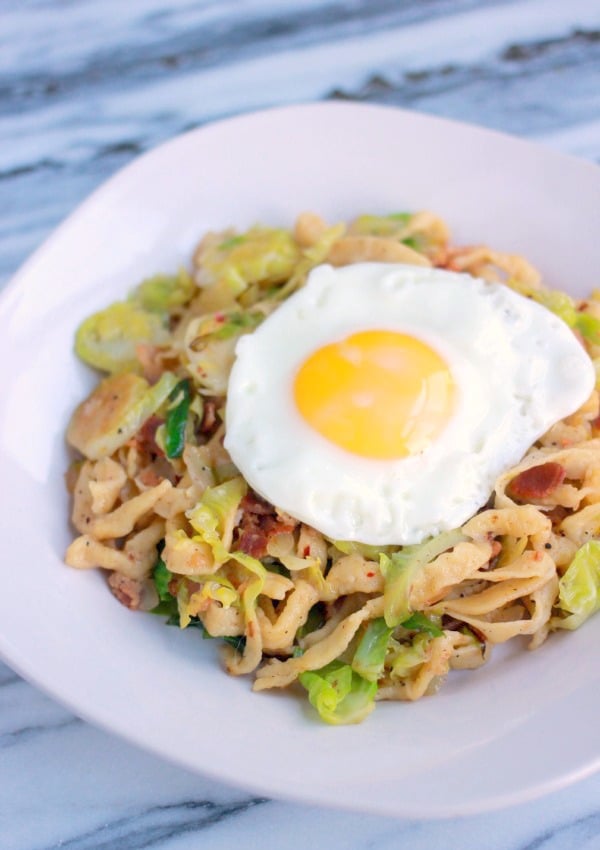 I hope you all have a safe and fun New Year filled with love! I will be back New Years Day with a 2013 round up of this year's most popular posts! A lot of cookies are involved in that. I'm not sad about it 🙂
One Year Ago: 
Merry Christmas, Darling
Two Years Ago: 
Cocktails for New Years Eve and the Morning After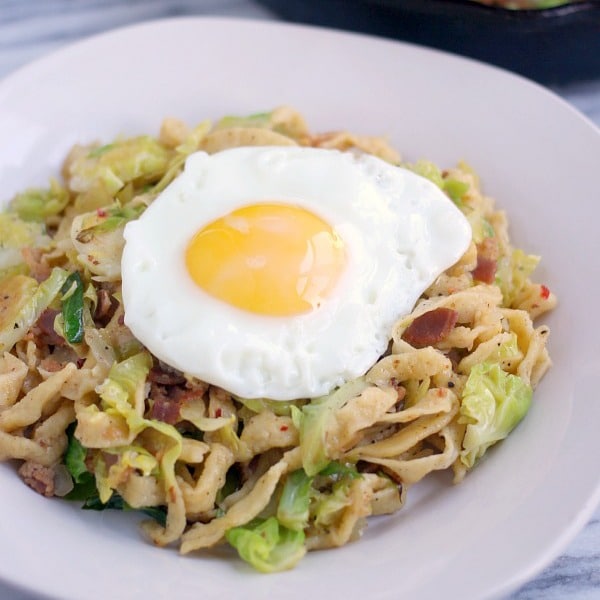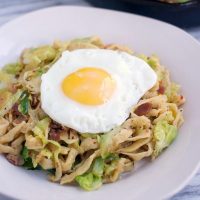 Breakfast Pasta with Brussels Sprouts, Bacon, and Fried Egg
Yield: 2 Servings

Prep Time: 10 minutes

Cook Time: 20 minutes

Total Time: 30 minutes

This breakfast pasta is incredibly hearty with brussels sprouts, bacon, and a fried egg of course. Use fresh pasta if you can, but dried will also work well!
Ingredients
6 oz cooked pasta, pasta water reserved (can be fresh or dried pasta)
4 strips bacon, diced
1/2 small onion, small diced
2 garlic cloves, minced
1 cup brussels sprouts, trimmed and thinly sliced
1 tsp red pepper flakes
salt and pepper
2 eggs, fried
Instructions
In a large pan over medium high heat, cook the bacon to crispy. Remove the bacon and set aside keeping the grease in the pan.
Add the onion, garlic, brussels sprouts, and red pepper flake to the pan and saute until browned. Salt and pepper to taste.
Add the cooked pasta and the bacon back into the pan and toss together. Add several TBSP of the pasta water to the pan and toss together.
Serve each portion with a fried egg on top. (this serves 2 large portions or 4 small portions)
Nutrition Information:

Amount Per Serving: Calories: 701