Caprese Chopped Salad with Charred Peaches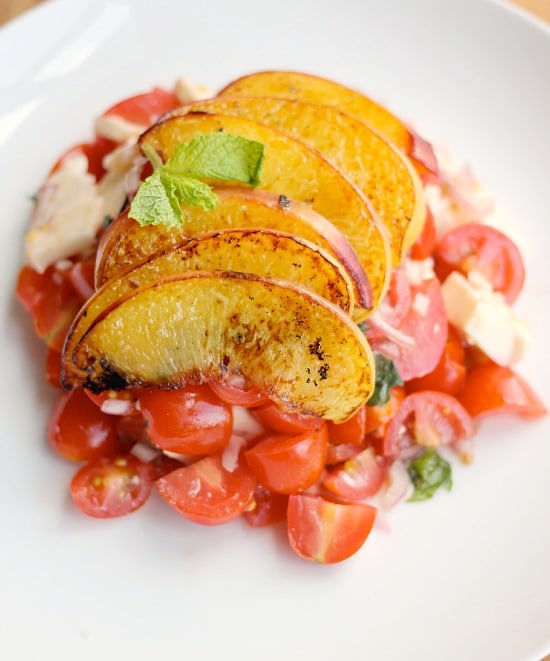 Finishing my bachelor's degree was probably the most difficult thing I have worked for in my life. I worked long hours, often more than one job, while always taking more than a full course load. I can't say that college was a happy time. There were certain aspects that were happy. I met some of the most amazing people and had some of the most amazing professors that I learned more than I could have ever imagined from. But overall, I was not a happy person. I don't even think I fully understood that I wasn't happy at the time. And I definitely didn't realize it was because I was only half passionate about what I was doing. I was passionate about the therapy aspect, because I truly love helping people. But my passion for the music aspect of my degree was forced. It didn't come from my soul.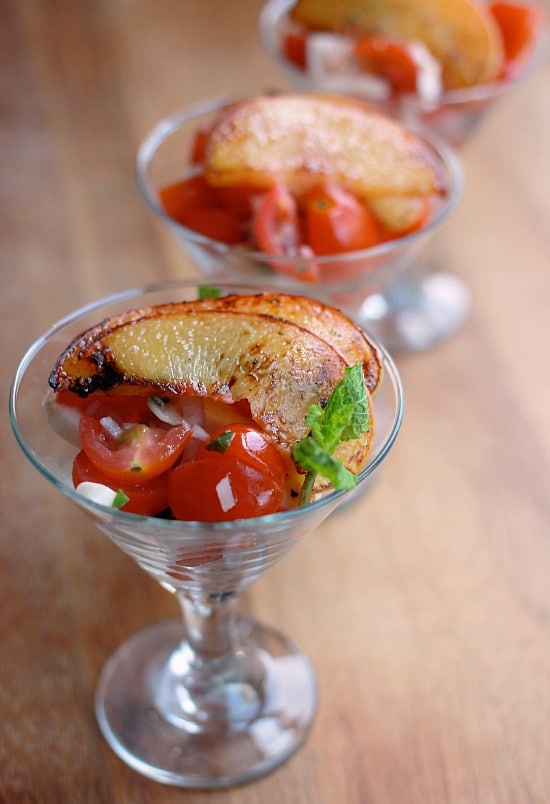 Now, here I am about to start school again. I am filled with such a mix of emotions. Part of me is anxious. It is bringing up a lot of feelings from my college experience. But deep down, I am ultimately excited. Because I know this time it will be different. I am not naive. I know that culinary school is going to be really hard work. But cooking comes from my soul. It sparks my creativity that I never thought I had. I start in a few weeks. I am beyond excited.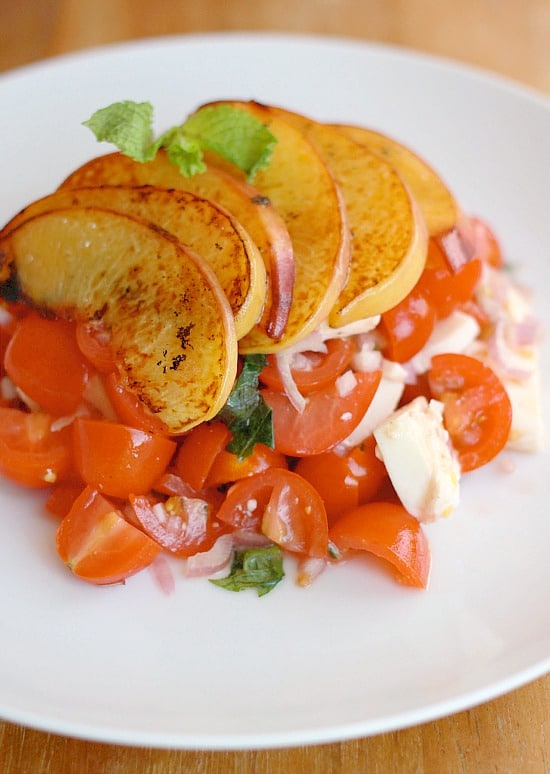 My biggest fear is that I'm not going to have enough time to keep up with the blog. I'm going to do everything I can to not let that happen. This place is one of my biggest supports. I come here to find and share inspiration and I just can't lose that. But there may be an adjustment period so hang in there with me! There has already been an adjustment with managing my time since starting my new job. Side note, I got a job! I'm hosting at this pretty amazing restaurant in the city. It feels good to be around people who are passionate about great food and service. I'm loving it so far. And I'm feeling inspired. Inspired by summer flavors like this salad. Caprese is one of my favorite things and the charred peaches add another depth of flavor. I ate this as my lunch but it would be such a pretty appetizer too!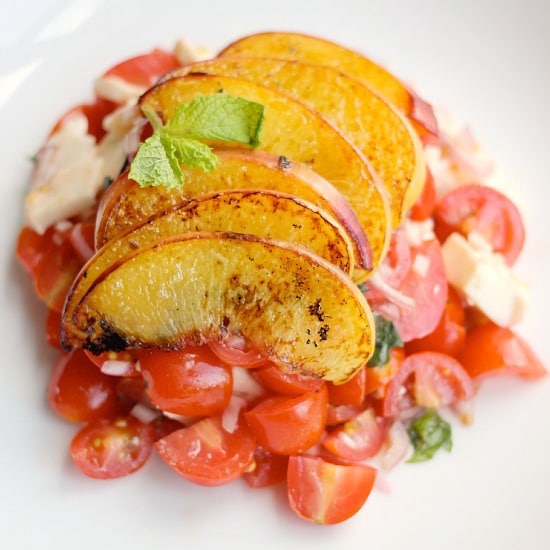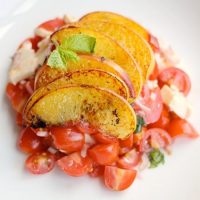 Caprese Chopped Salad with Charred Peaches
Yield: 2 Salad Servings or 6 Appetizer Servings
Ingredients
1 ripe peach
1 pint grape tomatoes
1 small shallot
6 oz fresh mozzarella cheese
6 large basil leaves
1 TBSP balsamic vinegar
salt and pepper
Instructions
Heat a skillet over medium high heat and lightly oil or butter the skillet.
Cut the peach into slices and place in the skillet for a few minutes until slightly charred on one side. Remove from the skillet and set aside.
Quarter the tomatoes and put in a medium size mixing bowl.
Finely dice the shallot and add to the tomatoes.
Chop the mozzarella into pieces about the size of the tomatoes and add to the bowl.
Finely chop the basil and add to the rest of the salad and mix to combine.
Add the balsamic vinegar and salt and pepper to taste.
Serve with charred peaches on top.
Nutrition Information:
Amount Per Serving:
Calories: 182