Cheesy Chili American Chop Suey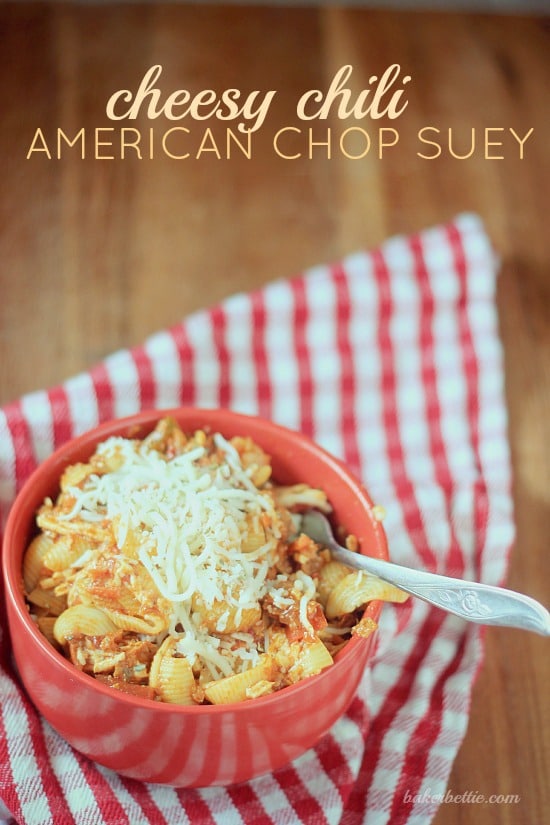 For some reason I really don't have very vivid memories of my childhood. There are very few things I remember and I feel like a lot of my memories are really just stories people have told me. But my memory never fails me when it comes to food. Imagine that. I have some pretty vivid memories of the things our family ate regularly. Homemade beef stew, stuffed bell peppers, vegetable stir fry, french dip sandwiches, and what we called "goulash."  There are many more, but these are the ones that stand out at the moment.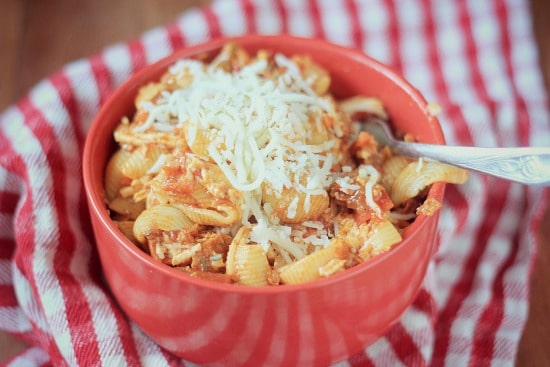 The word "goulash" has always kind of made my skin crawl. Even so, I always loved the dish. So comforting and simple. I remember it was one of the only things my dad knew how to cook so we would have it about once a week when it was his turn to make dinner. I can't remember how I learned that the dish we called American goulash can also be called American chop suey.  I'm also not sure that "chop suey" really sounds that much better but for some reason I prefer it to goulash. It just doesn't sound as sloppy or something. I don't know.
This version of American Chop Suey is a little bit more kicked up than the dish I grew up with. It is more of a cross between a chili and a goulash. It's spicy and garlicky and cheesy and delicious. It's also one of those dishes that almost tastes better as leftovers because the flavors just keep mingling and developing.  Total comfort food.
What is your favorite dish from your childhood?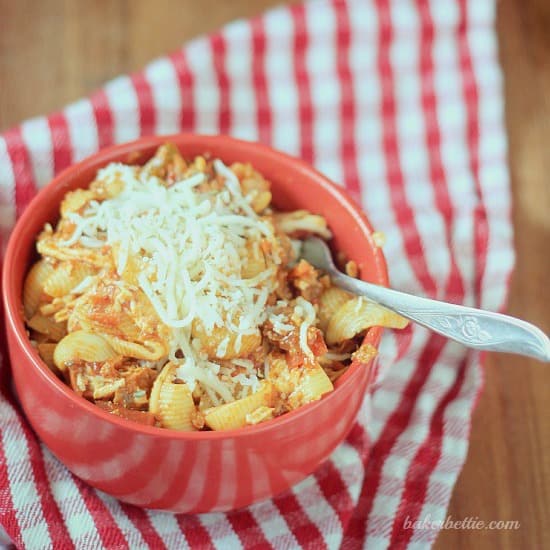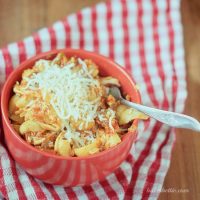 Cheesy Chili American Chop Suey
Ingredients
1 lb ground beef
2 TBSP oil
1/2 yellow onion, finely chopped (plus more for topping if desired)
1 green bell pepper, finely chopped
2 carrots, shredded or finely chopped
4 cloves garlic, minced
1 (14.5 oz) can fire roasted tomatoes
1 (14.5 oz) can tomato sauce
1 cup beef stock
1 TBSP chili powder
2 tsp red pepper flakes
1 tsp dried basil
salt and pepper to taste
1 1/2 cup shredded mozzarella cheese (plus more for topping)
1 lb pasta
Instructions
Brown the ground beef. Set aside.
In a large pot over medium high heat the oil and add the onion, bell pepper, and carrots and sauté until the onion is soft and translucent.
Add the garlic to the pot and the ground beef continuing to cook for another 2 minutes.
Add the tomatoes, tomato sauce, beef stock, chili powder, red pepper, and basil and bring to a simmer.
Meanwhile bring a large pot of salted water up to a boil and cook pasta to al dente. Strain
Salt and pepper the beef mixture to taste.
Combine the pasta and the chop suey sauce and add in the mozzarella cheese.
Serve with more chopped onion and shredded cheese on top.
Nutrition Information:
Amount Per Serving:
Calories: 0