Chicken Noodle Soup Pho Fusion
This is a chicken noodle soup pho fusion dish, similar to pho ga, but with egg noodles and a mash up of flavors of American chicken noodle soup and Vietnamese pho!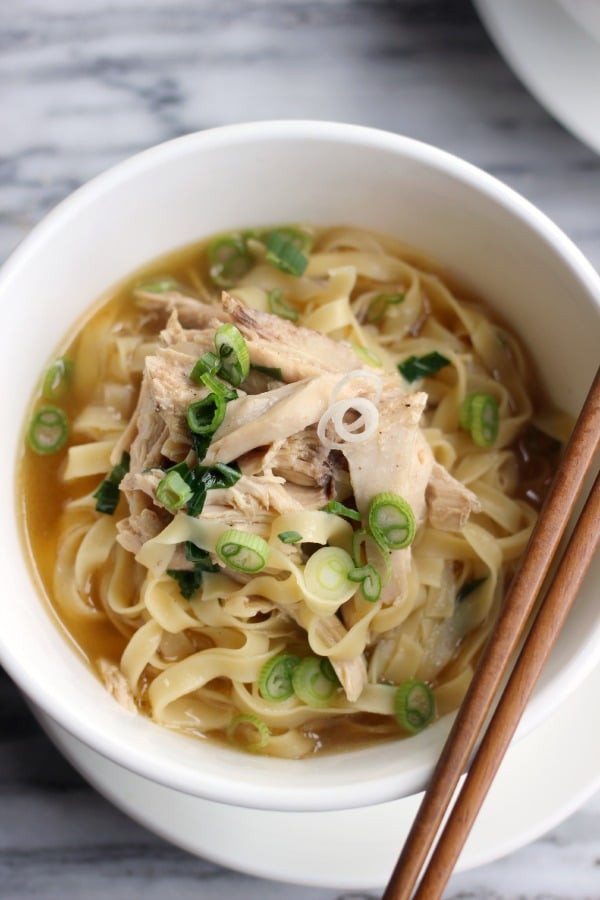 I moved away from Kansas for the first time in my life to Austin, TX in 2010. I went to work at the state hospital there as a music therapy intern. It was exciting and terrifying. I was in a new city, with a new job, around new people. I was very lucky in that I had family there and was able to stay with my aunt since I was working for free. However, I still inevitably found myself to be very homesick at times. Homesick for the familiar. Familiar people, familiar places, familiar life.
We lived in an area that was surrounded by tons of Vietnamese restaurants. It was impossible not to notice them. Sometimes several different ones all sharing the same parking lot. And each of them advertizing pho, usually accompanied with a neon picture of a bowl of soup and steam coming up. I was becoming an adventurous eater at the time, but it was difficult for me to get up the courage to go into one and try this unfamiliar cuisine. I had no reference point for what to order. And situations like that often make me anxious. So of course, I avoided it.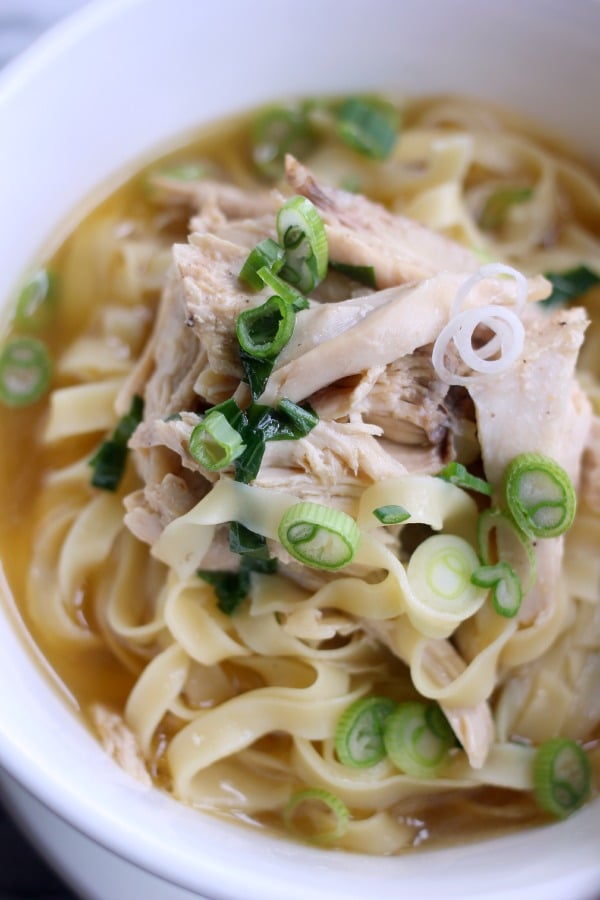 About a month after moving to Austin, my sister came to visit me from L.A. I had a cold at the time and wasn't much of a host in this still unfamiliar city. One lazy afternoon she suggested we go get some pho, claiming that it would feel healing. I was down. And she became my host guiding me in my first Vietnamese food experience. I trusted in her to order for us. When the food came to the table we each had a huge bowl of noodle soup in front of us with the most thinly sliced rare steak floating on top. It smelled incredible. The bowls also came with a plate of accompaniments. Bean sprouts, lime wedges, jalapeno slices, and tons of fresh herbs: basil, mint, and cilantro. She coached me about flavoring my soup, first tasting it as is and then adding in as much or as little of the add ins and sauces on the table as I desired.
I know it sounds lame, but it truly was a transformative experience. I was absolutely drawn in by the complexity of the broth. It's all about the broth. Such an incredible depth of flavor yet so clean on the palate. And it was healing. I felt as though that bowl of soup could cure everything from my cold to my homesickness and everything in between. The next day we couldn't decide what to eat for lunch. I sort of jokingly suggested pho again. My sister instantly agreed. I was so happy I almost cried.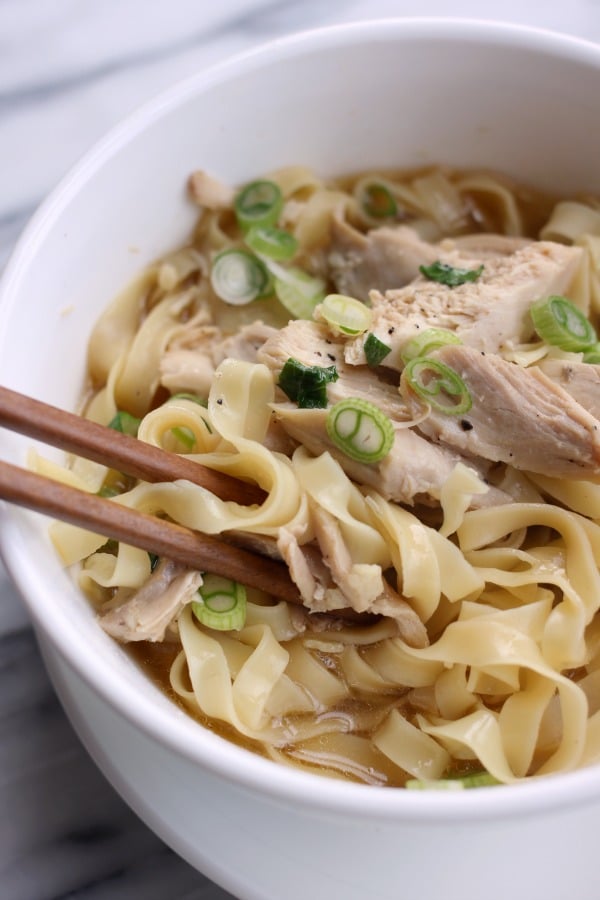 A traditional pho is a fusion dish all on it's own. The broth has very French influences in the way it's made over a long period of time by simmering beef knuckle bones. The fusion comes in with the other flavors that are added to the broth. Typically ginger, star anise, cinnamon, cardamom, clove, coriander, and various other spices are added to create a more complex flavor.  I have been sick this week and have been craving both pho and the good old chicken noodle soup I grew up eating. So I decided to do my own fusion dish. This is similar to a pho ga (Vietnamese chicken soup) but I replaced the rice noodles with egg noodles and shredded the chicken as you would find in our traditional American chicken noodle soup. I made a good chicken broth with all the amazing spices and flavors you find in pho. It was just what I needed. Even if it didn't heal my cold, it felt healing for my soul. I hope it will do the same for you.
Note: If you have an asian market near you, you can purchase pho spice packets. If this is not available to you, then you can make a sachet out of any whole spices you desire. Cinnamon, star anise, cardamom, coriander, fennel seed, clove, and allspice would all work nicely. You can also omit these spices and still have a great chicken noodle soup.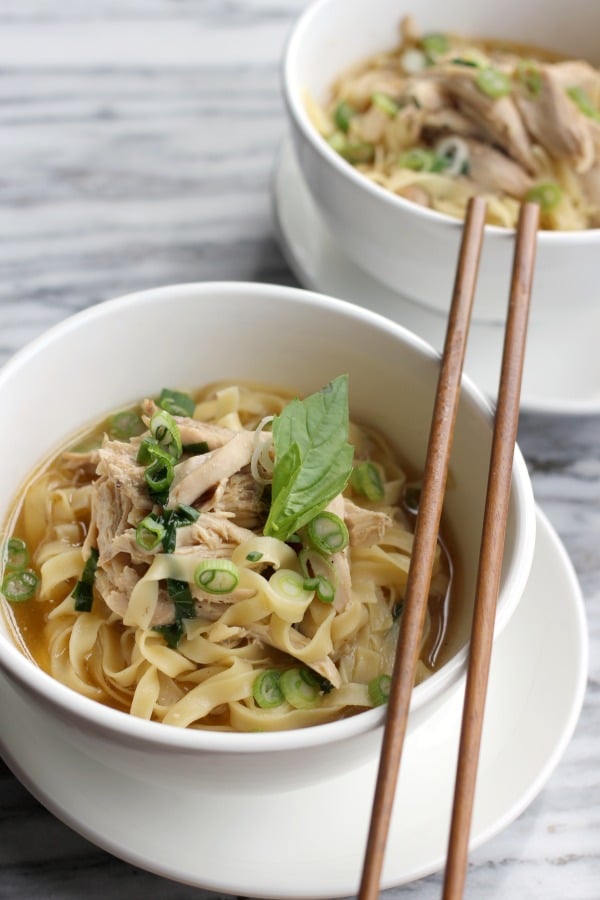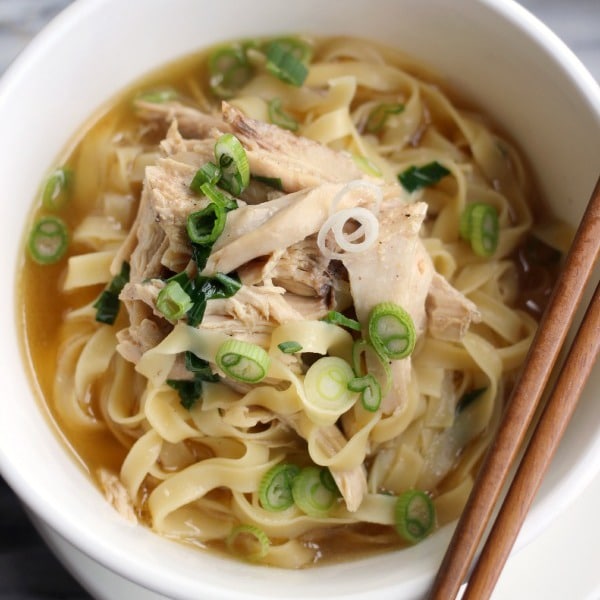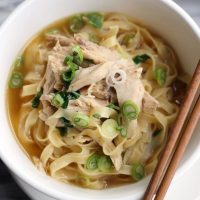 Chicken Noodle Soup Pho Fusion
Yield: 4 Servings

Prep Time: 30 minutes

Cook Time: 2 hours 30 minutes

Total Time: 3 hours

This is a chicken noodle soup pho fusion dish, similar to pho ga, but with egg noodles and a mash up of flavors of American chicken noodle soup and Vietnamese pho! 
Ingredients
1 whole chicken
cold water
3" piece fresh ginger, cut in half lengthwise
1 onion, skin removed and cut in half
1 carrot, cut into several large pieces
2 shallots, skin removed and cut in half
4 cloves garlic, peeled
package pho spices and cheesecloth (sachet bag usually comes with the spices if you buy the packet)
12 oz egg noodles
salt and pepper
sliced scallions
bean sprouts
cilantro
basil
mint
slices of jalapeno
lime wedges
Instructions
To Prepare the Broth
Break the chicken down into 8 pieces. Place the chicken pieces and the carcass into an 8 qt stock pot. Fill the pot with enough cold water to cover the chicken completely plus a little more. This will be a little over 4 qts water.
Place the pot over medium high heat. Pay attention to when the water just starts to come to a boil. Turn down the heat to keep the water at a simmer. Skim the scum off the top of the pot with a ladle. Simmer for 1 hour. Skim occasionally if needed.
Meanwhile, place the ginger and the onion on a foil lined sheet pan and place under the broiler for a few minutes until charred. Set aside.
Place half of the spice bag into a dry pan and toast on medium heat until fragrant. Place spices into the sachet bag or in cheesecloth and tie shut.
After the pot has simmered for an hour remove the chicken pieces from the pot and allow to cool slightly. Remove the skin and discard. Pick the chicken meat from the bones and hold under refrigeration until ready to add back in the soup.
Add the bones back into the pot along with the onion, ginger, carrot, shallot, garlic, and sachet of spices. Continue simmering for another 90 minutes.
Strain the broth and discard the bones. Defat the broth and return the broth to the stockpot.
To Make the Soup
Bring the broth to a boil and add the noodles.
Once the noodles have cooked, add the chicken and salt and pepper to taste.
Serve big bowls of soup with accompaniments such as sliced onions, bean sprouts, fresh herbs, and lime wedges.
Nutrition Information:

Amount Per Serving:Calories: 196