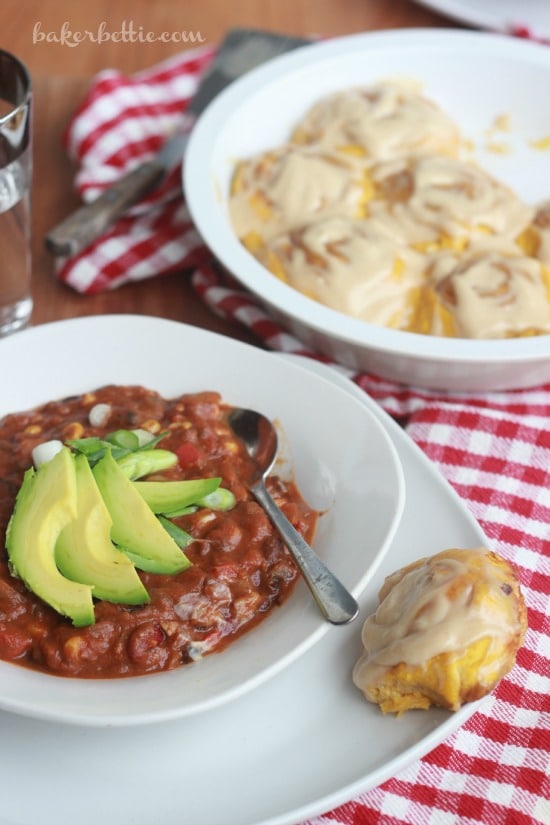 And so begins VeganMoFo (Vegan Month of Food)! I couldn't be more excited to be a part of this event. If you are not familiar with "the mofo" as I refer to it, it is a month long event where tons of bloggers post about all things vegan. I have heard about it for a few years now and this is my first year participating as one of the bloggers!
I hope that my non-vegan followers stay aboard as I bring Fall Comfort Foods, all. month. long.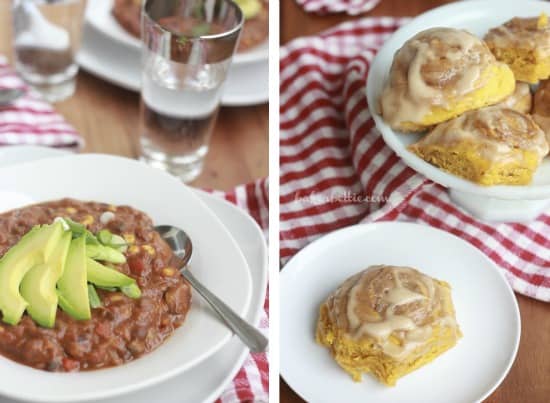 Today I bring you what I consider to be the dish that signals the start of Fall in my mind. A good hearty chili. And what is chili without a cinnamon roll?
Ok, I know some of you are completely agreeing with me right now. You get it. You grew up eating chili and cinnamon rolls your whole life and in your mind they just go together. But the rest of you are sitting here reading this and saying "what the…? Chili and cinnamon rolls? Are you freaking crazy?" No. Well not completely.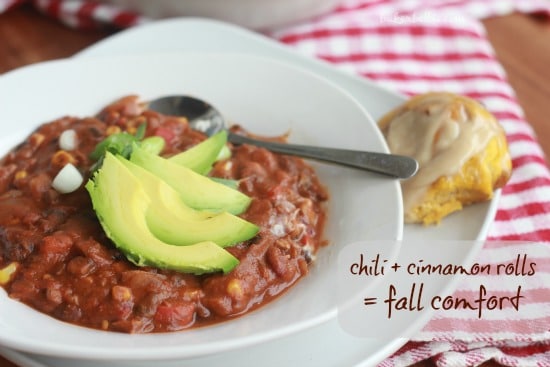 You see, growing up where I grew up (which is in Kansas) this is a very common meal. In fact, it is on most school lunch menus. Chili day was always the best school lunch day. Because without fail every "chili day" at school was accompanied by a warm gooey cinnamon roll. And this isn't really considered a dessert. It is more of a side dish.
I do have to say to those of you who have never heard of this combination and are asking yourself "so do you pour the chili over the cinnamon roll?" The answer for most people is no. They are two separate items eaten in the same meal that compliment each other in the best way possible.
But for me, the answer is: kind of. I am kind of obsessed with the contrasts of the spicy and sweet.  And I literally throw my cinnamon roll into the bowl and devour them together. STOP JUDGING ME! It is amazing.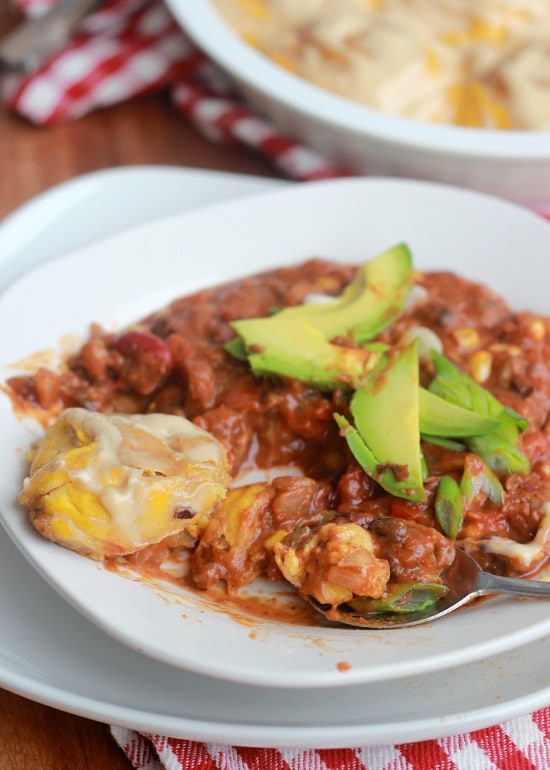 Today I bring you my favorite chili I have made to date. And I have made A LOT of chili. There are a few ingredients that make this chili incredibly awesome. Cinnamon, a touch of cocoa powder, balsamic vinegar, and pumpkin.  My sister introduced me to adding pumpkin to chili a few years ago and I never leave it out anymore. The pumpkin really doesn't add a pumpkin flavor, it just makes it incredibly thick and creamy. Even if you don't like pumpkin, give it a try! It only ups the nutritious and delicious factors. Tomorrow I will bring you the recipe for these Pumpkin Spice Cinnamon Rolls!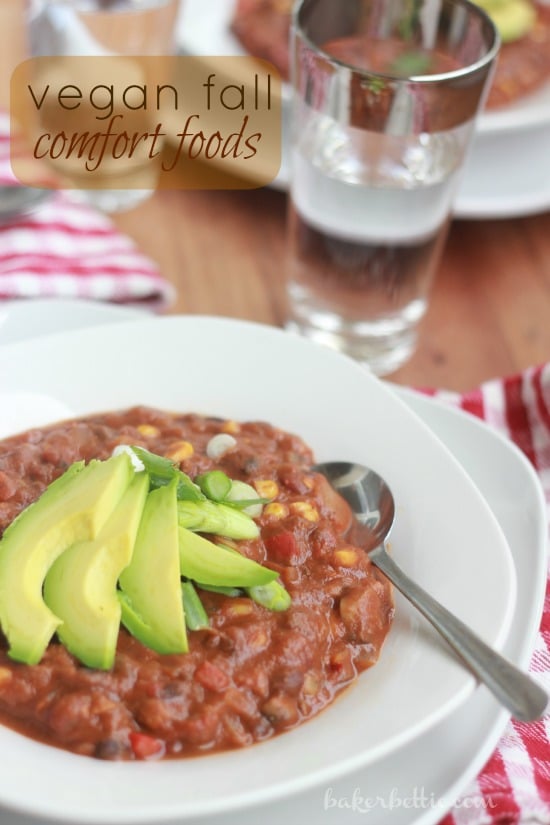 Ingredients
1 TBSP cinnamon
2 TBSP unsweetened cocoa powder
2 tsp kosher salt
2 tsp black pepper
1 TBSP chili powder
2 tsp red pepper flakes
1 TBSP dried basil
vegetable oil
1 1/2 lbs mushrooms, finely chopped
1 small yellow onion, finely chopped
1 red bell pepper, finely chopped
1 green bell pepper, finely chopped
1 cup fresh or frozen corn
4 cloves garlic, minced
1 15 oz can of pumpkin
1 15 oz can of black beans, drained and rinsed
1 15oz can of kidney beans, drained and rinsed
2 15 oz can tomato sauce
1 15 oz can fire roasted tomatoes
1/4 cup balsamic vinegar
green onions (optional)
avocado (optional)
Instructions
For the chili seasoning, mix together all of the spices. (Alternatively, use your favorite chili seasoning with the addition of the cinnamon and cocoa powder.)
Heat oil in a large pot over medium high heat
Add the mushrooms to the pot and saute for 2 minutes.
Add the onion, red bell pepper, green bell pepper, and corn to the pot and saute for a few more minutes until slightly softened (about 2 more minutes)
Add the garlic and cook for 1 more minute.
Add the pumpkin, black beans, kidney beans, tomato sauce, roasted tomatoes, balsamic vinegar and spice mixture to the pot.
Stir very well until all is combined.
Turn the heat down to low and cook for another hour, stirring occasionally.
Serve with green onions and avocado slices if desired and definitely with a cinnamon roll!
Nutrition Information:

Amount Per Serving:Calories: 0