Chocolate Cinnamon Rolls with Almonds and Pearl Sugar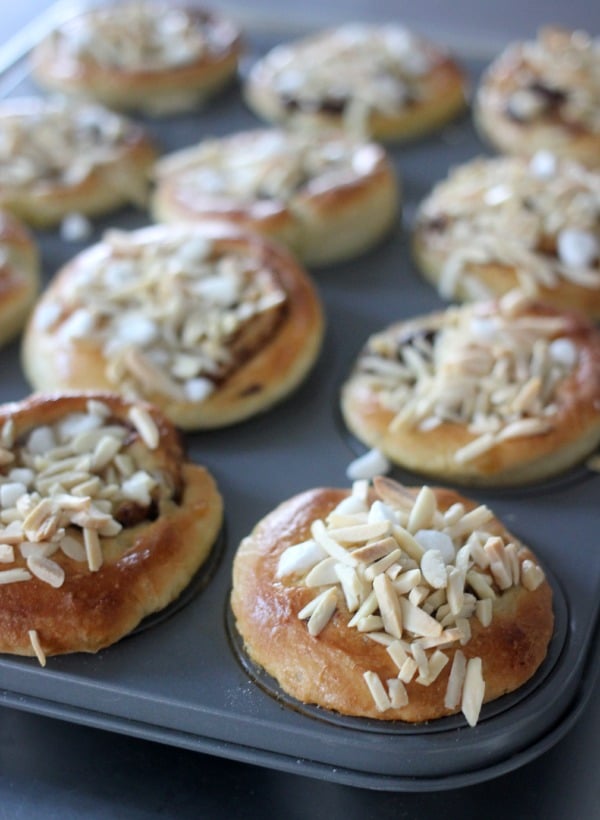 Hello friends! Today I'm sharing an awesome recipe with you for chocolate cinnamon rolls that are studded with pearl sugar. What is pearl sugar you might be asking? Pearl sugar or nib sugar, are large crystals of sugar. Belgian pearl sugar is most commonly used in making Belgian liege waffles. The large crystals of sugar don't dissolve into the dough. Instead they create pockets of caramelized crispy bits of sugar in the waffle.
You might remember that I made some liege waffles a few months ago. I didn't have Belgian pearl sugar at the time so I shared a hack with you so that we could all still make liege waffles. We deserve that right? But the lovely folks over at Waffle Pantry were kind enough to send me over some real Belgian Pearl Sugar to try. I will most definitely be using some of it to make some more of those yeasty liege waffles but I wanted to experiment with the sugar a bit and do something different for you guys.  And Mr. BB has been asking me to make a breakfast pastry that involved chocolate so I decided to make chocolate cinnamon rolls!
The dough recipe creates super soft and pillowy rolls and I wanted to create a contrast of textures by pressing some of the pearl sugar into the dough. The crunchy pockets of sugar made these really awesome and different. You can see the evidence of how much we loved these by my lack of food styling and obviously rushed photos of these babies. We were really focused on the eating part!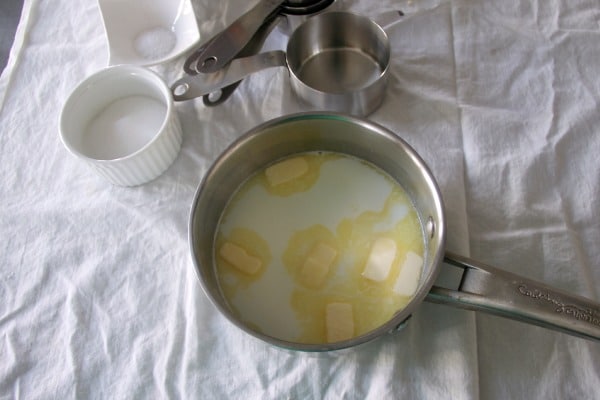 The dough for this recipe starts with scalded milk. In case you don't remember from the Country White Bread post, scalded milk serves several purposes including making sure your yeast dough gets the amount of rise you are looking for. So heat the milk up until it's steaming and remove from the heat.  Then we'll add the butter to the milk to melt and mix in. This cools slightly, and then we will move onto making the dough!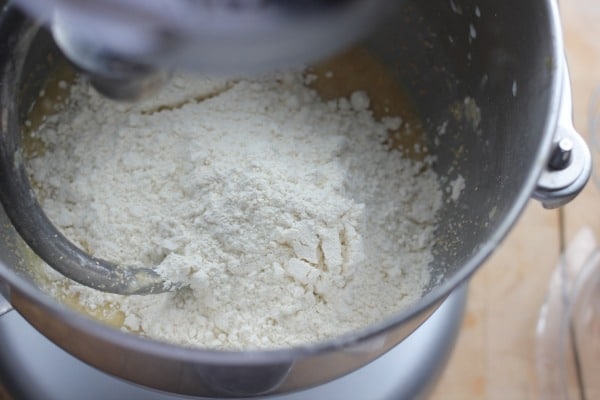 This yeast dough is super easy to make. All of the rest of the ingredients go into the bowl of a stand mixer with the warm milk and butter mixture, and it is mixed for about 5 minutes with a dough hook until well combined. You can stop the mixer and scrape down the sides of the bowl if necessary to make sure all of the flour gets incorporated.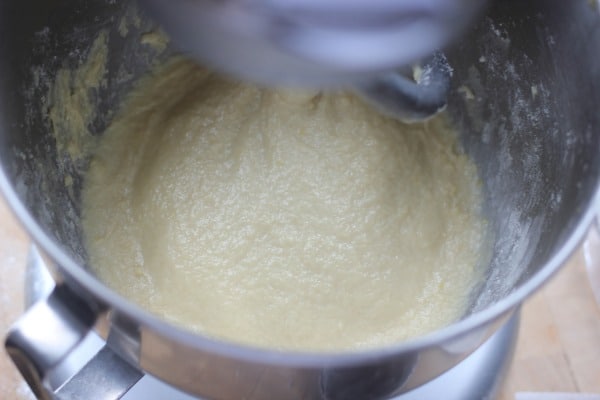 At this point you are going to look into your mixing bowl and think you need to throw some more flour in there. But don't! For the love of Pete, don't! Transfer the dough into a lightly oiled bowl, this is where a rubber bench scraper would be helpful but a rubber spatula works too. Cover the dough with a clean towel or loosely with plastic wrap and let it rise for 2 hours. After it rises you will be surprised at how much it has changed and how easy it is to work with.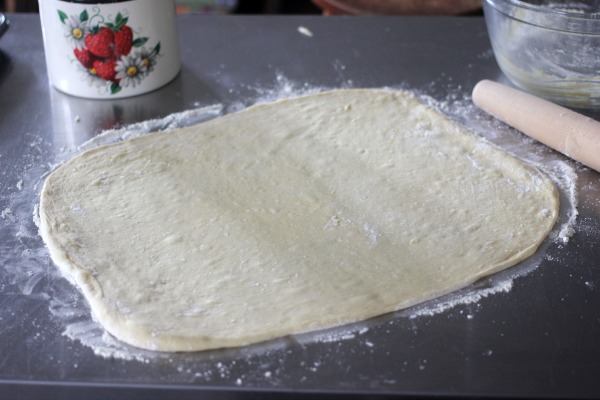 At this point you can add a small amount of flour if needed to make sure the dough doesn't stick to the bench. Then roll it out to a rectangle. I love how soft and easy this dough is to work with. The texture is dreamy.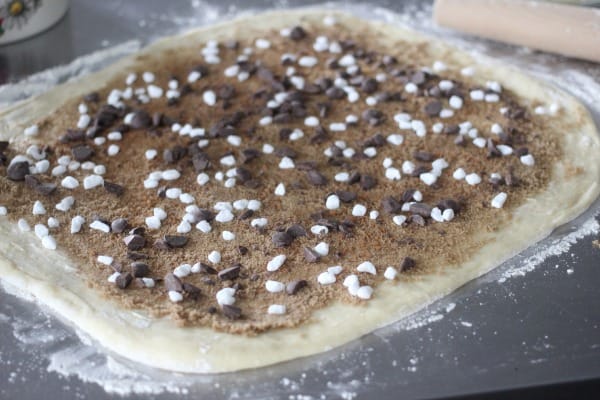 Then, soft butter, brown sugar, and a little sprinkle of cinnamon are all slathered onto the dough. There are really no exact measurements here folks. Use as much or as little as you like! I then took a big handful of the pearl sugar and sprinkled it around the dough with some chopped bittersweet chocolate. Gently press these into the dough so they sort of stick in place while you roll the whole thing up into a log!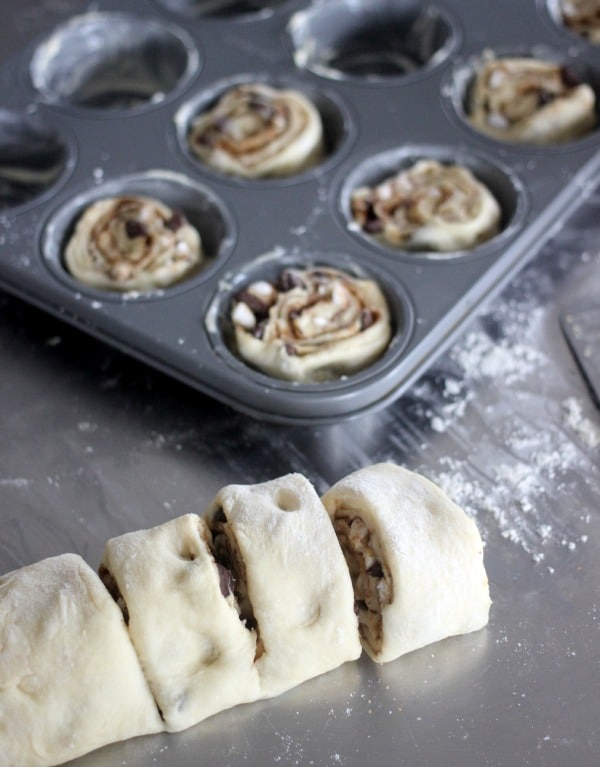 I saw cinnamon rolls baked in muffin tins recently so I wanted to try it for these. But feel free to bake these the traditional way, in a cake pan or baking dish. I have to admit, I didn't love the look of these after baked in the muffin tin. I wished they had more of a cinnamon roll look to them. But they tasted amazing, so it really didn't matter! This batch is perfect to make 12 pretty large rolls, so if you do want to use your muffin pan you are good to go!
Just look at all that chocolate and butter and sugar pearls peaking out between the layers!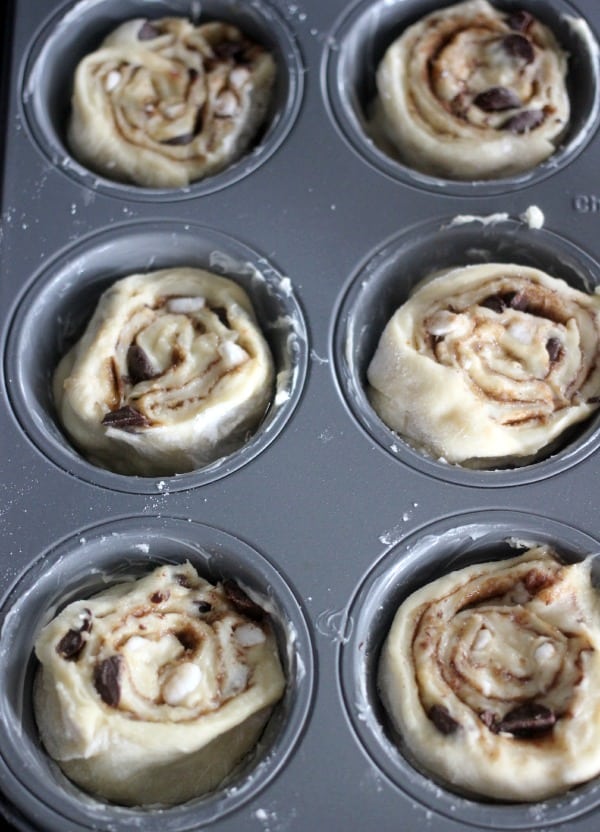 The rolls need to proof for about 45 minutes after they are shaped. If you want to make these ahead of time, I suggest proofing them about 2/3 the way (30 minutes), then cover and refrigerate them overnight. Pull them out about an hour and a half before baking so they can come back to room temp and finish proofing. Preferably set them near the oven while preheating it so they have a warm environment.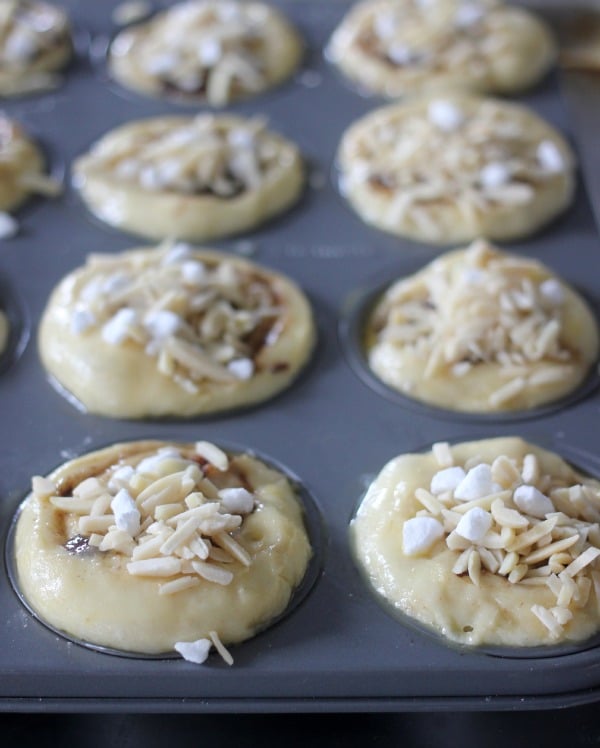 After the rolls have proofed, you could cover them in egg wash and just bake as is. But I added some slivered almonds (I thought I bought sliced, but oh well), and some more pearl sugar for extra crunch!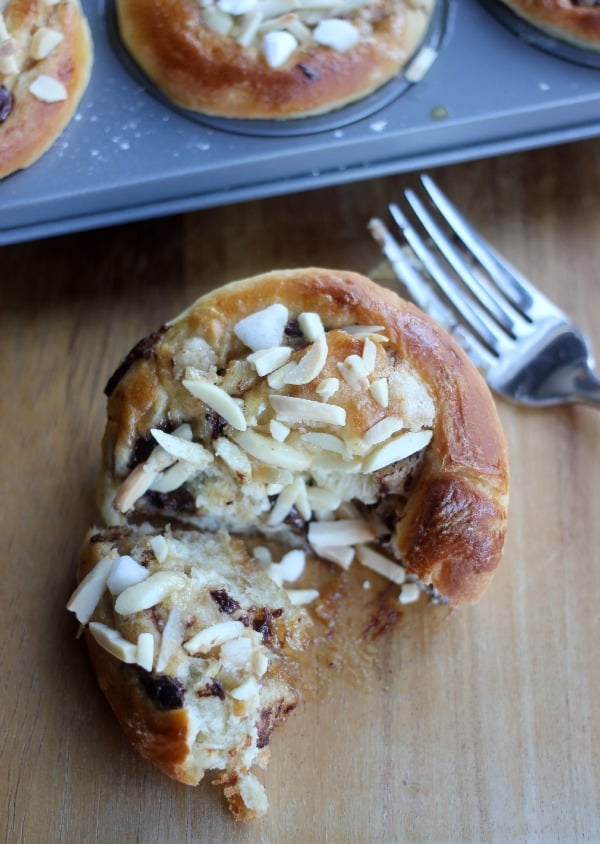 The rolls turned out fantastic! I can't wait to use this dough recipe again. It creates pillowy soft and fluffy rolls. It really was the perfect recipe to experiment with the pearl sugar because the contrast from the bits of crunchy crystals was awesome! Usually Mr. BB is the one who's inpatient with the pictures, but I was too this time! I just couldn't even focus on pictures when all I could think about was stuffing one of these in my face!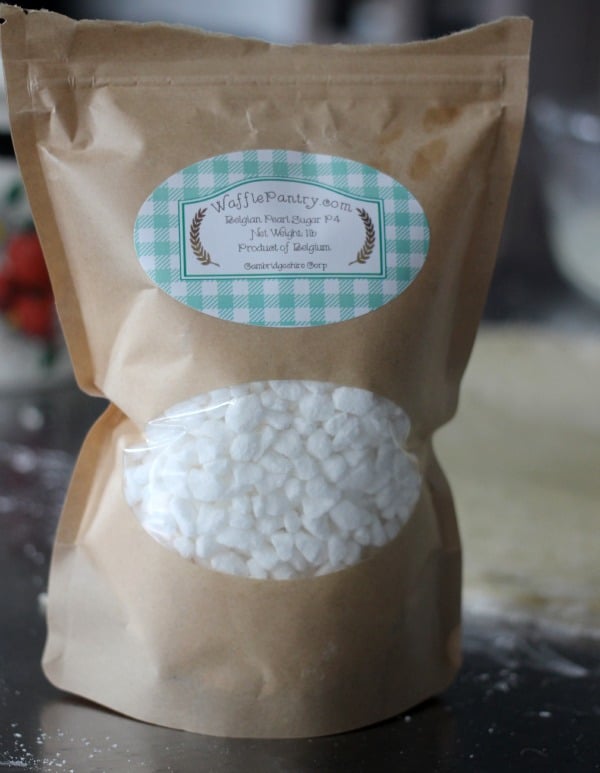 I can't wait to experiment more with the pearl sugar. I still have TONS of it left. Do you have any suggestions of what else I could do with it? Other than make a million liege waffles, because duh. That is already happening.
Aaaaand, the lovely folks of Waffle Pantry have kindly offered to give away 1 pound bags of the Belgian Pearl Sugar to 3 of my readers! Aren't they sweet?!
There are 3 ways to enter to win a 1 pound bag of Waffle Pantry's Belgian Pearl Sugar: THE CONTEST IS NOW CLOSED!
Leave a comment below stating what you want to use the Belgian Pearl Sugar for, or an idea of how to experiment with it!
You can get an additional entry by following Baker Bettie on instagram @bakerbettie. Just leave another comment below stating you have done so or you already are!
You can get an additional entry by following Baker Bettie on facebook!  Just leave another comment below stating you have done so or you already are!
NOTE: If you are entering the giveaway on your smartphone or tablet, click the comment link at the very bottom of the post to get to the comment section.
The 3 winners chosen at random are: Rachel, Julia, and Jennie! Congratulations ladies! I am emailing you all as we speak!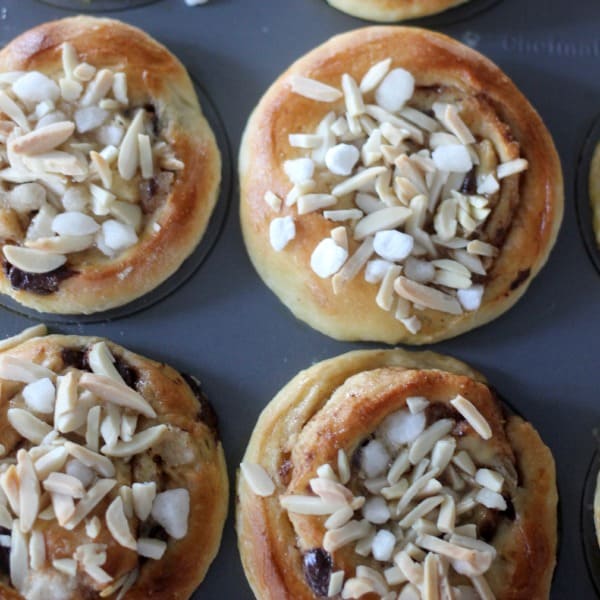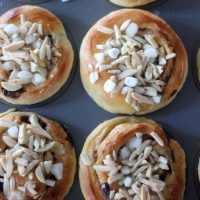 Chocolate Cinnamon Rolls with Almonds and Pearl Sugar
Yield: 12 Rolls
Prep Time: 3 hours
Cook Time: 25 minutes
Total Time: 3 hours 25 minutes
Ingredients
1 cup milk
3 TBSP unsalted butter, cut into pieces
3 1/2 cups unbleached all-purpose flour
1/2 cup sugar
1 large egg
1 tsp kosher salt
2 1/4 tsp rapid-rise or instant yeast (1 package)
pan spray or butter for greasing pans
4 TBSP unsalted butter, room temperature
3/4 cup light or dark brown sugar
1 TBSP ground cinnamon (more or less)
large handful of Belgian Pearl Sugar (about 1/3 cup or 75 grams more or less)
1/2 cup dark or bittersweet chocolate, chopped (more or less)
egg wash (1 egg whisked with 1 TBSP water)
1/2 cup sliced or slivered almonds
1/4 cup Belgian pearl sugar
Instructions
Put the milk in a saucepan over medium heat, and scald. This should take about 4 minutes, until steam starts rising off the milk. Remove the milk from the heat and add the pieces of butter to melt and combine. Allow to cool to about 110 degrees F. You do not want it hot because it will cook the egg and kill the yeast.
Place all of the other dough ingredients (flour, sugar, egg, salt, yeast) in the bowl of a stand mixer fitted with the dough hook and turn on low speed. Slowly pour the warm milk and butter mixture into the bowl. Beat on low speed for about 5 minutes, stopping occasionally to scrape down sides of bowl, until flour is absorbed and dough is smooth and quite sticky. The dough will look too wet, but do not add more flour at this point.
Lightly grease a large bowl and transfer the dough to bowl. Cover bowl with a clean towel or loosely with plastic wrap. Let dough rise in warm area until doubled in volume, about 2 hours.
Punch down dough and transfer to floured work surface. Roll out to about a 15×11-inch rectangle. You can add a bit of flour at this point if needed to prevent sticking to the bench and rolling pin.
Spread butter evenly over dough, leaving 1/2-inch border. Rub in brown sugar, sprinkle cinnamon, and evenly distribute the pearl sugar and chocolate pieces. Gently press the sugar and chocolate into the dough slightly so that they stick.
Starting at 1 long side, roll dough into log, pinching gently to keep it rolled up. With seam side down, cut dough crosswise with thin sharp knife into 12 equal slices.
Butter a standard 12-cup muffin tin or a baking dish. Place one roll in each cup or line the rolls up in the baking dish slightly touching each other. Let dough rise in warm area until almost doubled in volume, 45 minutes. Brush each roll with egg wash and sprinkle with almonds and pearl sugar.
Meanwhile, preheat the oven to 350°F. Place the pan of rolls on a baking sheet and bake at 350°F until tops are golden, about 20-25 minutes. Remove from oven, let cool briefly, then turn out onto cooling rack.
Notes
If prepping the night before, allow the rolls to proof in the pan for about 30 minutes then cover loosely with plastic wrap and refrigerate. 2 hours before you want to serve the rolls, pull them out of the refrigerator and allow them to come to room temp and proof for about an hour and a half. Then brush with egg wash, sprinkle with almonds and pearl sugar, and bake at 350°F for 20-25 minutes and serve!