Chorizo Burger with Fried Egg and Sriracha Mayo
Spicy chorizo burger topped with a fried egg and sriracha mayo. An easy way to add a little excitement and spice up the classic hamburger.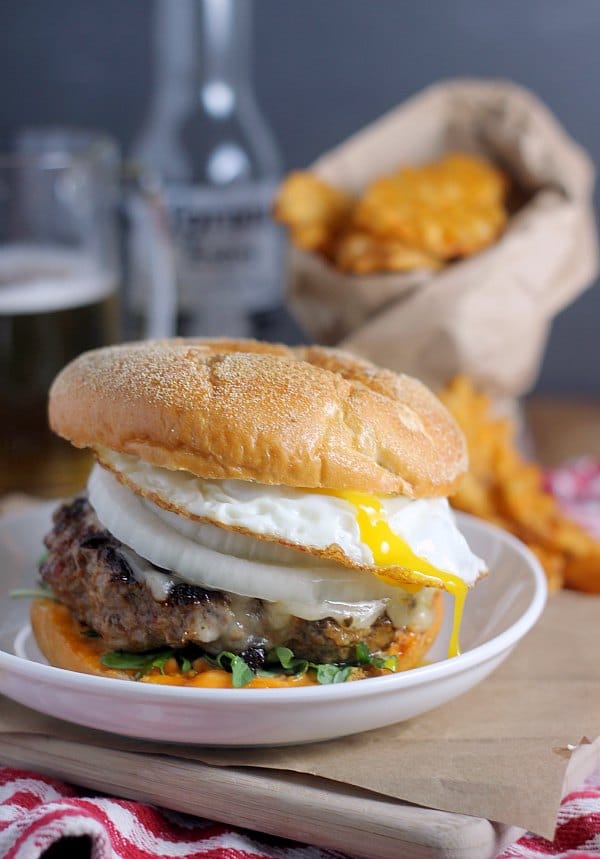 I hope you don't mind me taking a break from all the baking and baking science today for a savory post. This is a type of cooking I loving like to call "hub grub." It happens a few times a month.
As we're walking through the grocery store checking everything off the list, my husband will say, "I want something really good for dinner sometime this week." This is code for, "Everything we have planned for meals is far too healthy and I want something really decadent once this week."
Sometimes I just go back to the standards that he loves. Like the Buffalo Chicken Mac & Cheese, or Chicago Deep Dish Pizza, or any variety of Hot Wings. But occasionally he or I will get a new inspiration.
The original plan was the make his favorite sliders. Check out the post and giggle at how bad my pictures are. This was my first post ever. But as we were walking around he spotted some fresh chorizo and got really excited! For some reason we have had a difficult time finding chorizo in the grocery stores in Philly. So he snached it up and said to me, "Chorizo Burger. Boom."
We decided to do a mixture of half chorizo and half ground beef. We both thought it was the perfect mix. The beef cut the mixture enough so that the spices and richness from the chorizo weren't too overpowering.
But you could always change the ratio if you wanted to emphasize the chorizo more. Slather on some sriracha mayo and top with a fried egg and we may have a new favorite to add to the "hub grub" meal rotation!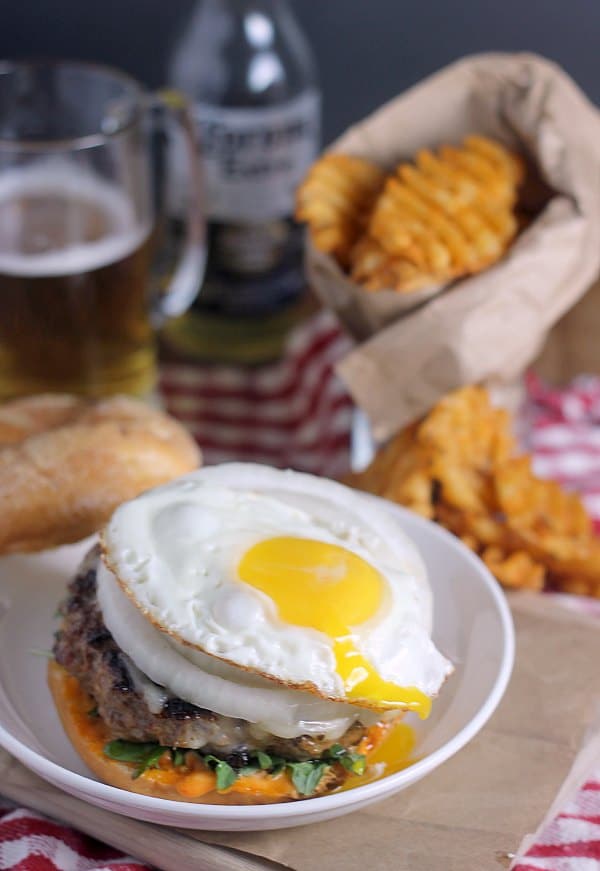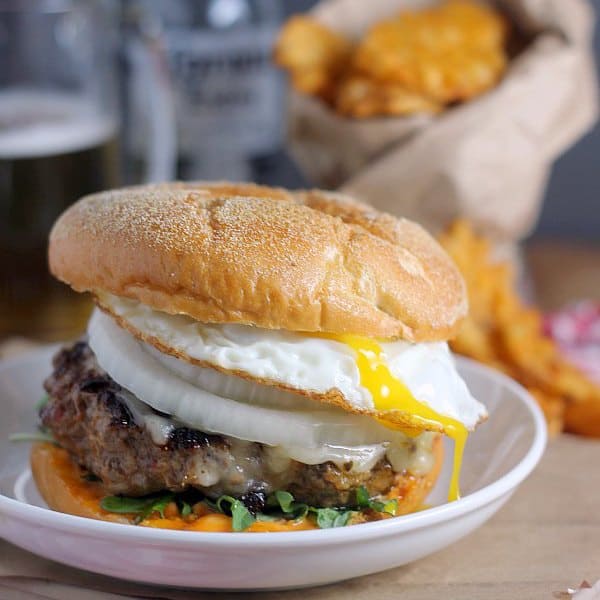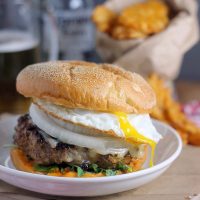 Chorizo Burger with Fried Eggs and Sriracha Mayo
Yield: 5 Burgers

Prep Time: 10 minutes

Cook Time: 12 minutes

Total Time: 22 minutes

Spicy chorizo burger topped with a fried egg and sriracha mayo. An easy way to add a little excitement and spice up the classic hamburger. 
Ingredients
1 lb spicy fresh chorizo
1 lb ground beef (80-85%)
Salt and pepper, to taste
5 buns
5 slices pepper jack cheese
1/3 cup prepared mayonnaise
1-3 TBSP sriracha
5 eggs
1 onion, sliced
lettuce
Instructions
Mix together the chorizo and ground beef in a large bowl. Gently mix with clean hands and add salt and pepper to taste (you can cook a small piece of the mixture to test for seasoning). Form the mixture into 5 large patties (a little over 1/3 lb each).
Place a skillet (preferably cast-iron) over medium-high heat. Once the skillet is hot, place the patties in the skillet and cook on each side for about 5-6 minutes, until cooked through. Place a slice of pepper jack cheese on top during the last 2 minutes of cooking.
Top with a fried egg, sriracha mayo, sliced onions, lettuce, and any other toppings you desire.
Notes
To make sriracha mayo add 1-3 TBSP (or more) of sriracha to 1/3 cup prepared mayo according to your preference.
Nutrition Information:

Amount Per Serving: Calories: 0