Dark Chocolate and Toasted Pecan Cookies with Browned Butter (gluten-free edition)
Remember these…
Well, last night I made them again.  In an easy gluten free version.  And they taste JUST as amazing!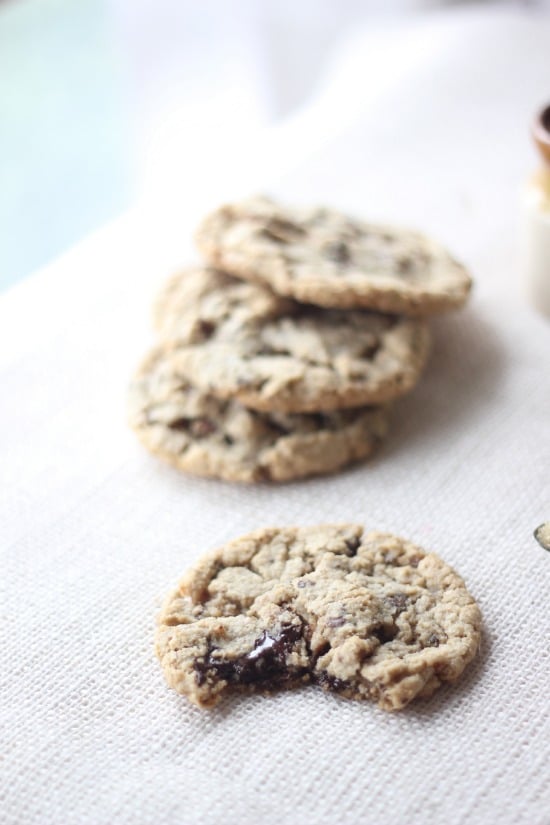 Ok… so they don't look quite the same.  I couldn't get them to stand as tall as the with gluten version. But seriously. The flavor is the same caramely, salty, sweet, "adult cookie" flavor.
And the texture is awesome too.  Slightly crunchy on the outside and super chewy on the inside.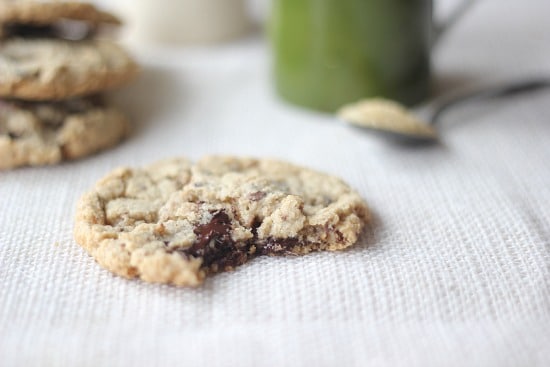 Here is the thing about gluten free baking.
It. is. complicated.
I have to give mad props to those who have become great at it.
I don't know if I will ever be that person.  But my goal here is to find some fairly easy, fool proof recipes that anyone could make.  Because I guarantee that even if you personally don't need to avoid gluten, you currently know or will someday know somebody that does.
So make them these cookies.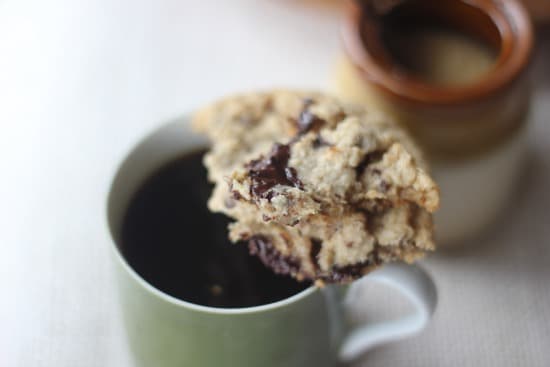 And marvel at how easy good gluten free baking CAN be.
A little science for the geeks like me…
Gluten is most commonly known as coming from wheat.  When wheat is processed with other ingredients (mainly water) the protein in wheat creates gluten.  But not only wheat, I recently learned that gluten comes from barley,rye, and malt as well.  (Thank you Cara from Fork and Beans).
Here is the the thing about gluten and baked goods.  It literally acts like a glue.  It is sticky and stretchy and is the main part of the structure for baked goods.  So this can be tricky to replace.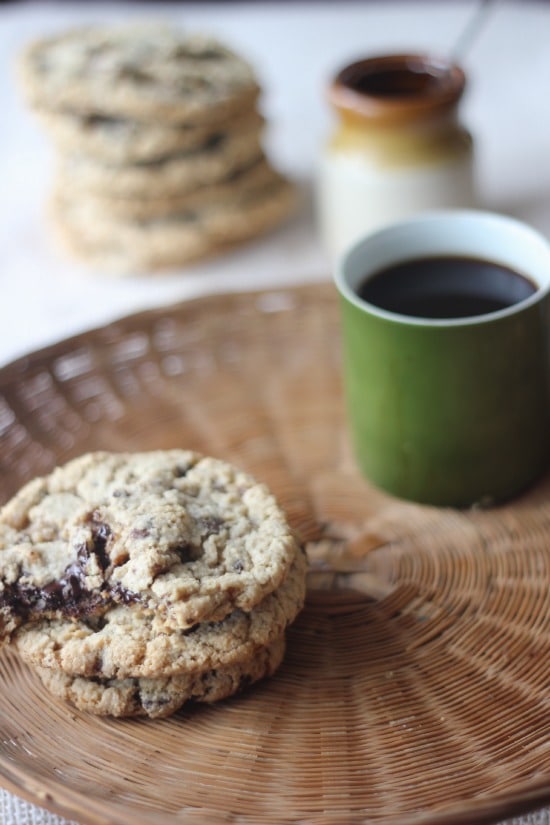 There are MANY different gluten free flour replacement options and they often require the use of at least 3 different ingredients.  Mainly a flour, a starch and a gum.  And while becoming great at figuring out these combinations is a necessity for many, it doesn't always have to be this complicated. Especially for those who don't do it often.
I found this article claiming that a mixture of 24 oz rice flour and 16 oz corn starch makes a gluten free all-purpose flour that can be used in most any recipe.  This sounded too easy to me.  So I tried it.  And it worked.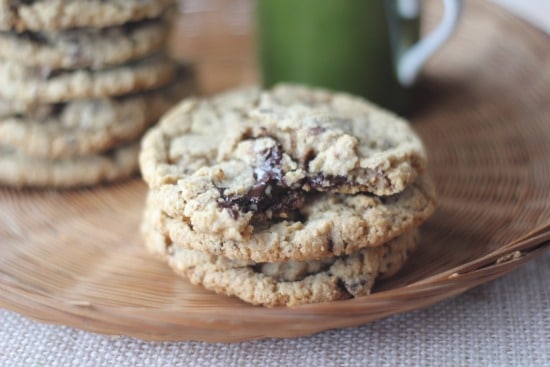 Rice Flour is literally what it sounds like.  It comes from finely ground brown or white rice. IT can actually be made at home by grinding rice and putting it through a sieve to remove any large particles, though it is easily found in stores these days.  Rice flour is commonly used in gluten free recipes.  I find that brown rice flour has a better flavor for cookies because it is a bit nuttier.
Corn Starch is commonly used as a thickening agent in cooking (i.e. creating a roux, thickening soups).  I could go into all the sciency stuff about why this all works but there is no need to do that.  The thing that is important here is that cornstarch is flavorless after cooking.  This is especially good in gluten free recipes because it isn't going to add any different flavors that you aren't used too.  The starch will also help add structure and tenderness to the baked good.
So to make this gluten free all purpose mixture all you have to do is mix a 24 oz bag of brown rice flour with a 16 oz of cornstarch.  Put it in a large ziplock or large tupperware and mix well.  I noticed that cup for cup this mixture weights quite a bit less than regular all-purpose flour.  So when substituting add 1/4 cup per cup of all-purpose flour.
1 cup all purpose flour = 1 1/4 cup rice flour/cornstarch mixture
1/4 cup all purpose flour= 1/4 cup plus 1 tbsp rice flour/cornstarch mixture 
Click here for the regular version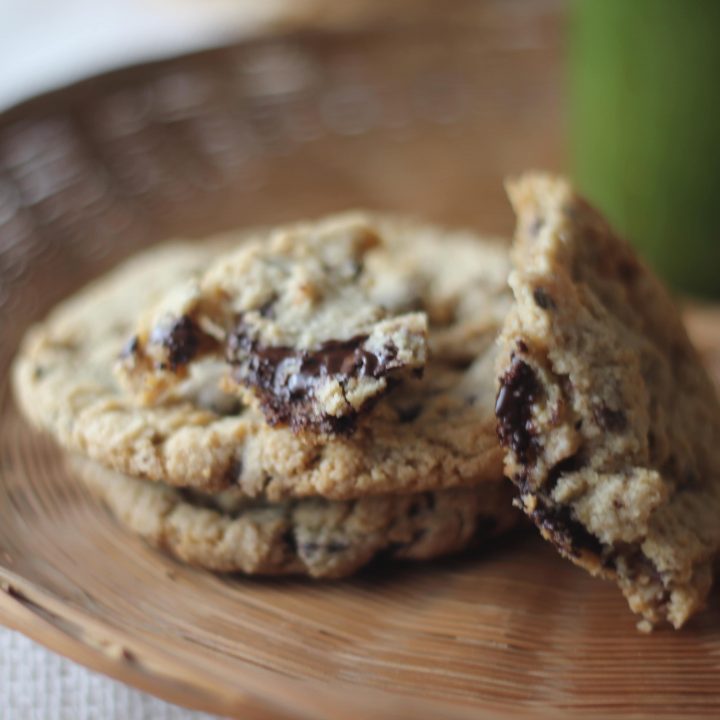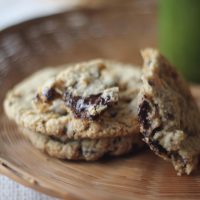 Gluten Free Dark Chocolate and Toasted Pecan Cookies with Browned Butter
Ingredients
1 cup (2 sticks) unsalted butter
1/4 cup granulated sugar
1 1/2 cups dark brown sugar
2 eggs, room temperature
1 TBSP pure vanilla extract
2 1/2 cups gluten free flour mixture (see above for the recipe)
2 cups oat flour
1 tsp baking soda
1 tsp baking powder
1 1/4 tsp kosher salt
10 oz dark chocolate (at least 60%) cut into chunks or you can use chocolate chips
1 1/2 cups pecans, toasted
Instructions
In a medium saucepan, melt the butter over medium heat. Once the butter is melted, increase the heat to medium-high and stir constantly until the butter turns a dark amber color. This should take about 4 minutes after the butter is melted. Allow to cool to room temperature.
Preheat the oven to 375 degrees.
In the bowl of a stand mixer fitted with a paddle attachment, beat the butter, granulated sugar, and brown sugar until creamy. Add the eggs one at a time and beat until incorporated. Add the vanilla.
In a separate bowl, whisk the gluten-free flour, oatmeal flour, baking soda, baking powder and salt until combined. With the mixer on medium speed, gradually add the dry ingredients until well combined. Scrape down the side of the bowl as needed. Remove the bowl from the mixer and add the chocolate and pecans. The dough will be very thick so use clean hands to mix the chocolate and nuts into the dough.
Use a large scoop and drop 6 rounded mounds of dough onto a cookie sheet lined with foil or parchment.
Place in the freezer while you preheat the oven to 375 degrees. Bake in a 375 degree oven for 8-10 minutes. The cookies will look under-baked, but they will be perfect.
Nutrition Information:
Amount Per Serving:
Calories: 0