Dark Chocolate Custard with Meringue
Easy dark chocolate custard with meringue. Rich and velvety and a perfect ending to a romantic dinner. Serve in little coffee cups or ramekins. Very simple and elegant!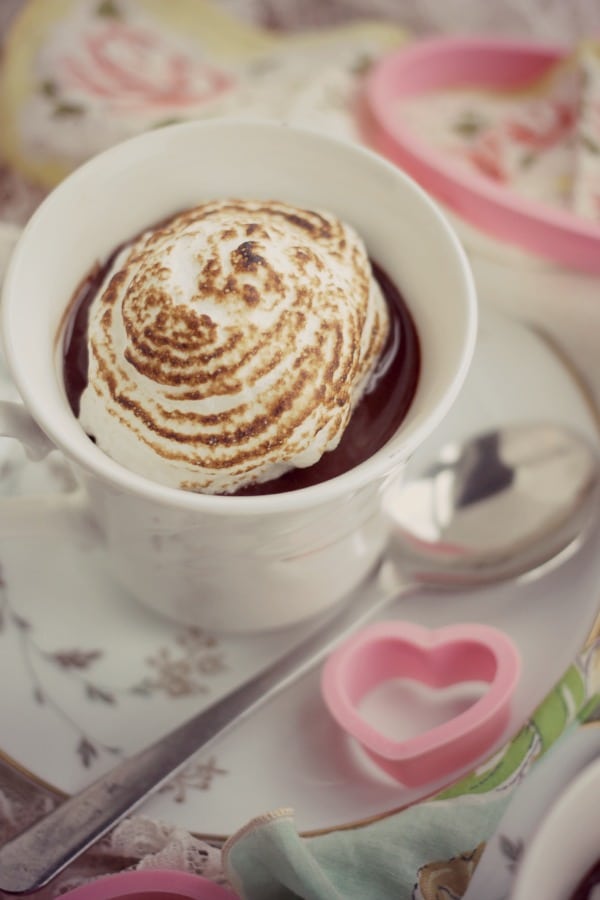 My husband and I met at work. I was new, he had worked there for a long time. And everyone knew him.
I was shy. He didn't seem shy at all. He walked around the office with confidence. Joking with everyone. Fixing computer problems, and printer problems, or anything IT related. He would turn things off and then on again to make them work.
He was just someone you noticed.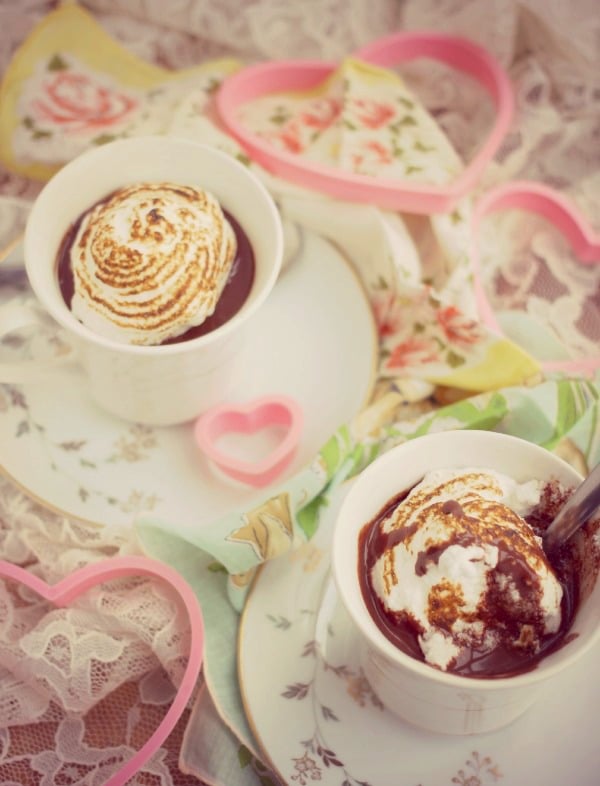 We almost immediately hit it off. Like old friends who had known each other for ages.
We talked. We joked. We hung out. It was comfortable.
And the whole time I never thought anything of it. It was just all happening. Like when someone becomes your best friend. It just happens. You don't have to force it. Or whoo them. You just realize one day that this person is the one you trust more than anyone else.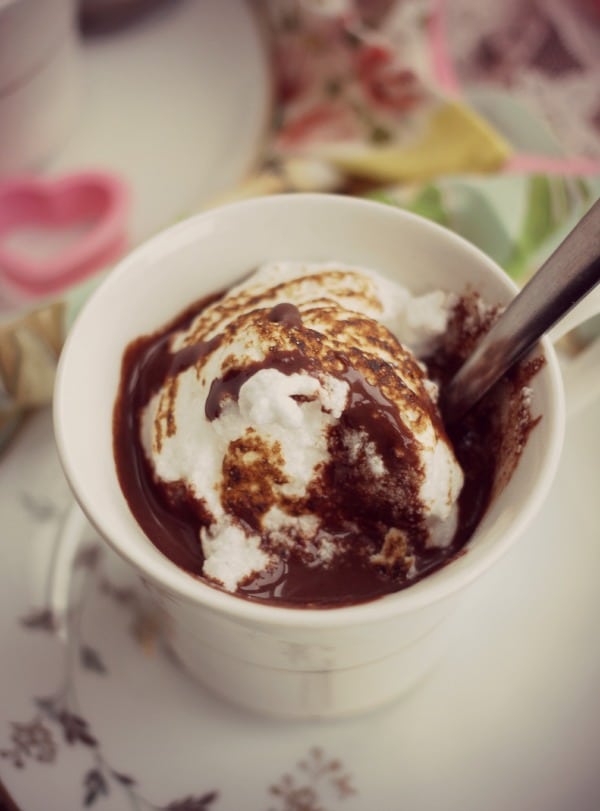 I remember the day I started realizing we were becoming much more than friends quite vividly.
We went for a walk one evening and stopped at a park. We climbed the jungle gym and began to talk. We talked about everything. Our childhoods, our past relationships, our best and worst moments in life.
And somewhere in all that talking we completely lost track of time. 7pm soon became 3 am. Without either of us even realizing it.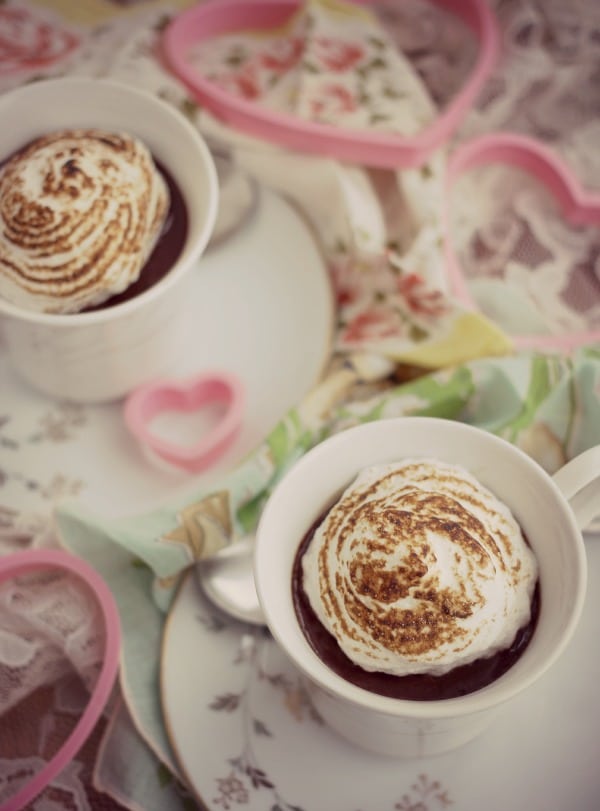 He drove me home and walked me to the door. And in one instant, while we were saying goodnight, I felt him become nervous. I could read it all over him. It was like a switch flipped. He fidgeted. His voice got shaky. We were having the most comfortable, lovely evening, and all of a sudden he was nervous?
So we said goodnight and he left.
And I immediately texted him: "What the hell was that? Why did you all of a sudden get so nervous."
And in that moment I knew. I knew what the night had meant. I knew why we could spend 5 hours just talking and not even notice. I knew why I felt I needed to call him out on getting nervous around me.
I was falling in love with my best friend. And he was falling in love with me.
And when we saw each other the next day we laughed about it. He told me that he loved that I called him out on getting weirdly nervous after a night that had been so comfortable. He loved that I could be so open with him.
That night will always be one of my favorite memories of us. It was the night I knew, without really knowing, that this was the man I would spend my life with.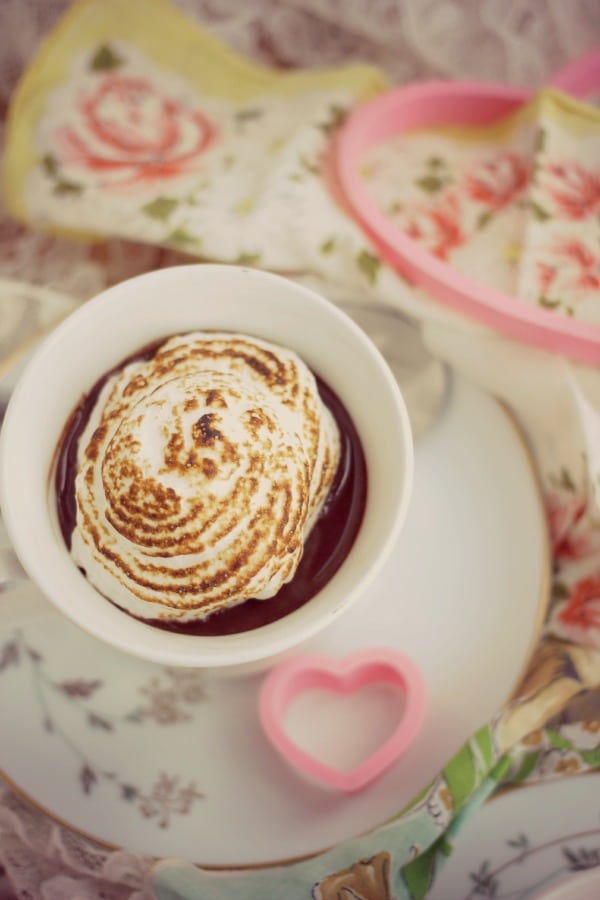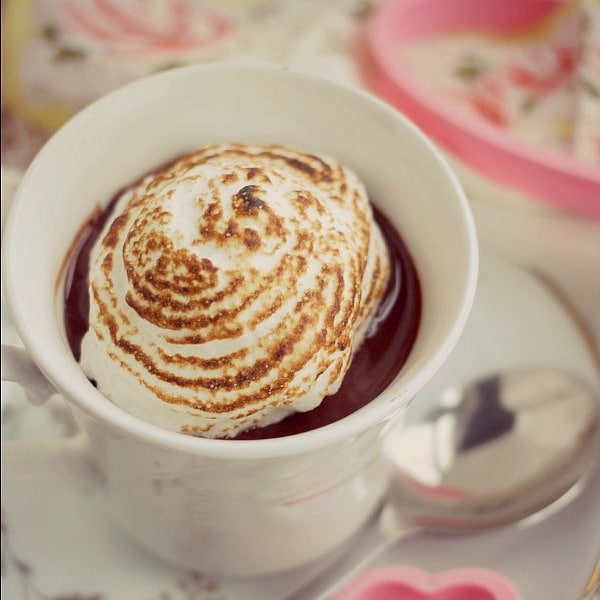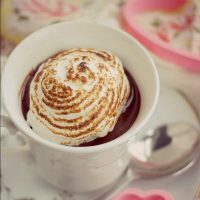 Chocolate Custard with Meringue
Yield: 2 Servings
Prep Time: 5 minutes
Cook Time: 10 minutes
Total Time: 15 minutes
Easy dark chocolate custard with meringue. Rich and velvety and a perfect ending to a romantic dinner. Serve in little coffee cups or ramekins. Very simple and elegant!
Ingredients
2 eggs, separated
1/4 cup milk
1/4 cup heavy cream
2/3 cup bittersweet chocolate chips
large pinch salt
1/4 cup sugar, divided
Instructions
Separate the egg yolks and whites. Set the egg whites aside for the meringue. Put the yolks into a medium bowl and whisk lightly until smooth.
In a saucepan over low heat, combine the milk, heavy cream, chocolate chips, salt, and 2 TBSP of the sugar. Stir constantly until melted and just beginning to bubble.
Temper the egg yolks by stirring in a few TBSP of the hot chocolate mixture. While stirring constantly, slowly begin streaming in the rest of the chocolate mixture.
Pour the chocolate mixture into 2 or 3 cups depending on serving size desired. Refrigerate until set.
Beat the egg whites to soft peaks. Slowly add in the remaining 2 TBSP of sugar and continue beating to stiff peaks.
Dollop or pipe the meringue onto the custard. You can toast the meringue with a torch or under the broiler for a few seconds.
Nutrition Information:
Amount Per Serving:
Calories: 492