Garlicky Kale, Tomato, and Onion Cauliflower "Hash"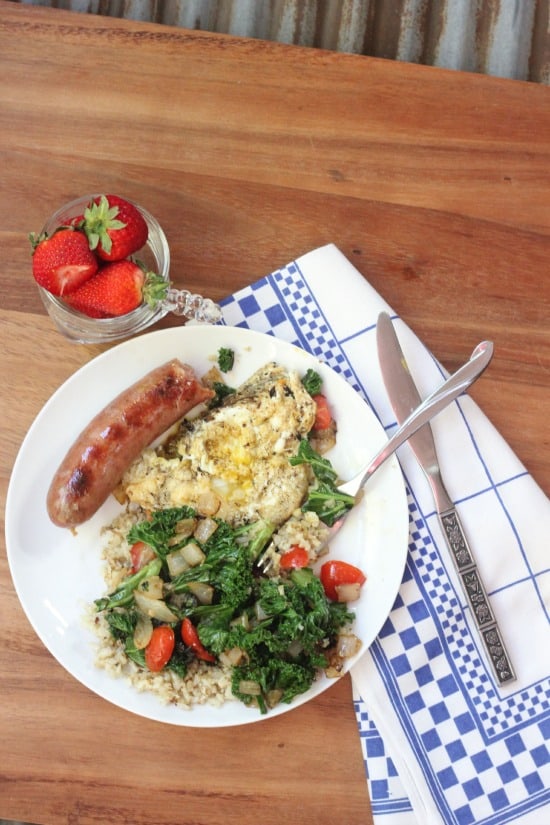 Those of you who follow my posts regularly may think that I don't cook much.  Almost every single post of 2012 has been of a sweet or baked good.
You see, it isn't that I don't cook savory stuff.  I am just usually too impatient and eat what I cook before I get some good photographs of it.
This is the reality of a food blogger.  If you want to get some good shots, your food is going to be cold before you get to eat.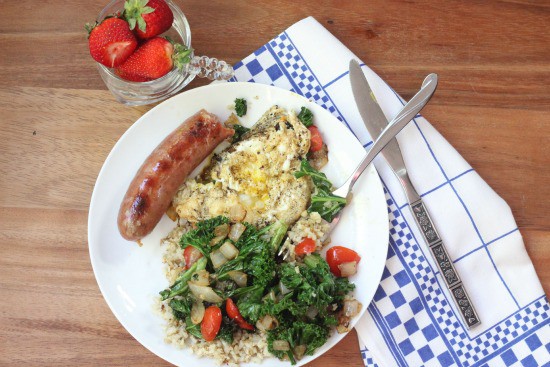 But I am learning so much with my new way of eating and I wanted to share it with you!  I decided to snap a few quick shots of my breakfast, they are by no means fancy pictures,  to show you my new discovery: Cauliflower rice!
Those of you who have been doing the Paleo thing and just healthy eating in general thing probably already know about it.  But this is new for me, and I am kind of obsessed with it at the moment!
Cauliflower Rice: Cauliflower pulsed in a food processor or blender until it is the consistency of rice.  An AMAZING substitute for rice or in this dish, hash browns!
Breakfast is my favorite meal.  Especially on the weekends. I love to take my time and cook up something special.  But I have been missing bread or potatoes to sop up my runny egg yolks with these past few weeks.  Then I started reading about cauliflower rice on some other paleo blogs and I knew EXACTLY what I needed to do with it.
I cooked all of this up in a cast iron skillet to get the char on everything that makes it taste like it came from a greasy diner.  The cauliflower rice browned up so nice.  It has the same starchy like texture as potatoes, perfect for sopping up some egg yolk.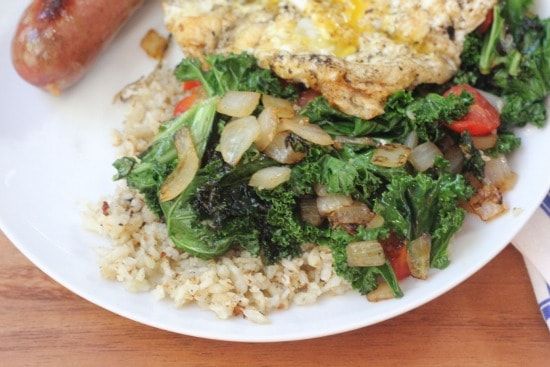 I hope everyone has a lovely and safe holiday weekend!  Cook up something special and healthy for your loved ones!
Garlicky Kale, Tomato, and Onion Cauliflower "Hash"
Ingredients
2 1/2 cups cauliflower rice
coconut oil
the greens from 3 stocks of kale, roughly chopped
1/2 a white onion, roughly chopped
1/2 cup cherry tomatoes, cut into quarters
3 cloves garlic, finely chopped
Instructions
Heat coconut oil over medium high heat in a skillet. (cast iron is preferable)
Once skillet is hot, add the kale greens and onion and saute for 2 minutes.
Add the tomatoes and garlic and cook for another 2 minutes. Pepper to taste.
Remove vegetables from skillet and set aside. Add a bit more coconut oil to the pan.
Add the cauliflower rice and cook over medium high heat until browned and slightly charred.
Divide between 4 plates and top with veggies.
Notes
Serve with fried eggs and organic local sausage.
Nutrition Information:
Amount Per Serving:
Calories: 0