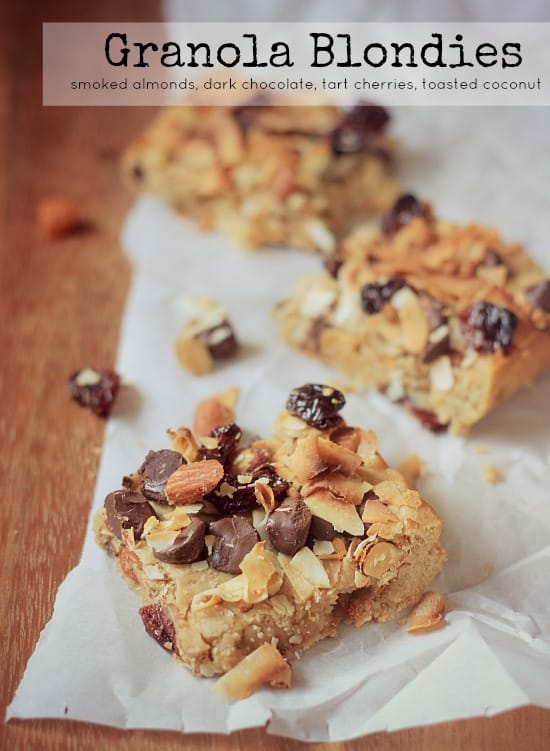 I was standing in my kitchen with a spoon full of cookie dough and a mouth full of cookie dough. I was having a battle with myself. To bake or not to bake? That is the question. I had been dreaming up these vegan blondies filled with granola all day long and now it was coming to fruition. But before I could put the dough in the pan and bake it I had to do what any normal person would do. Eat a big hunk of it first. And oh my god. I don't even know how to express to you how good this dough is. I took a bite. I took another bite. I tried to force myself to put it all in the pan. I took another bite. "I can't bake these! There is no way they will be as good as this dough is!" I needed someone to force me to bake them. I looked down at my cat, who was sitting at my feet staring up at me, trying to get some kind of confirmation from him that I should put these in the oven. He was no help.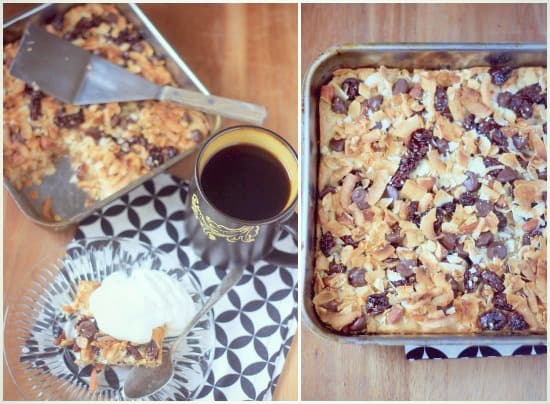 Let's not even talk about how much of this dough (I ate half of it) I ate. Let's also not talk about how right I was. Because as good as these blondies are, and they are sooo good!, the dough was so much better. So let's just not even talk about it. But let's do talk about how you should double the dough part of this recipe so you can eat as much of it as you want without being tortured by putting it in the oven. Do that. Really. And if you are one of those people that is weird about eating raw cookie dough because of the eggs, well then here you go. No eggs in this baby! You. Are. Welcome.
I ate this as my breakfast with some more coconut milk yogurt on top. It was delicious. I recommend you do the same. And heat it up a little bit too. Or poor a little milk on top. It's like a blondie and granola breakfast cereal. Nothing wrong with that. Totally comforting.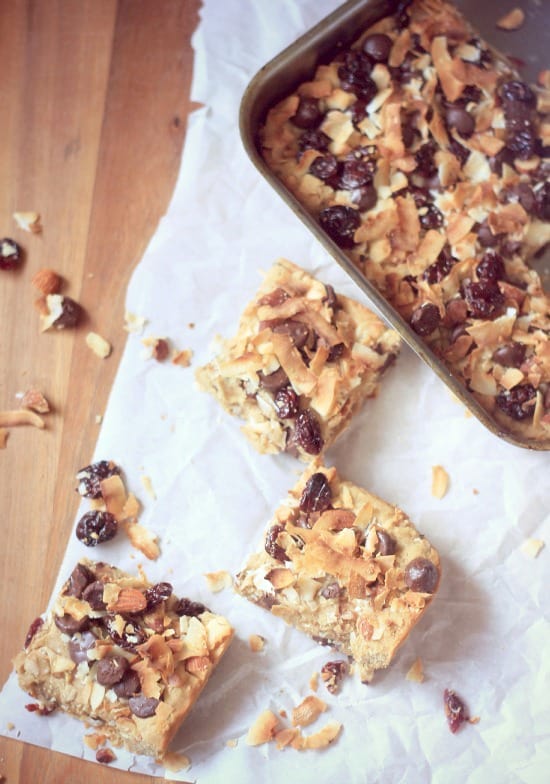 Vegan Granola Blondies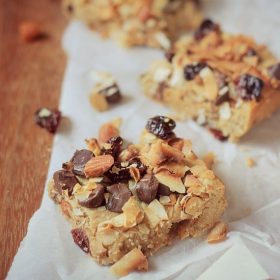 Ingredients:
For the Blondies
1 stick (1/2 cup) unsalted butter, softened (I used Earth Balance)
½ cup vanilla yogurt (I used So Delicious Vanilla Coconut Milk)
3/4 cup dark brown sugar
1 TBSP vanilla extract
1 tsp baking powder
1 3/4 cup all-purpose flour
For the Granola
1 cup unsweetened flaked coconut
1 cup smoked almonds, roughly chopped
1 cup dark chocolate chips
1 cup dried tart cherries
Directions:
Preheat oven to 350 degrees.
Lightly oil a 9X9 baking dish.
In a large bowl, beat together the butter, yogurt, and brown sugar until light and fluffy.
Add the vanilla extract and baking powder to the bowl and mix until well incorporated.
Add the flour slowly, continuing to mix until completely incorporated.
In another bowl, combine coconut, almonds, chocolate chips, and cherries.
Fold in 1 cup of the granola into the batter.
Spread the batter evenly into the prepared baking dish.
Top with the remaining granola.
Bake at 350 for 25-30 minutes until set. (check it after 20 minutes and cover with foil if the coconut is browning too much.)
All images and text ©
.