Creamy Shells and Cheese with Roasted Broccoli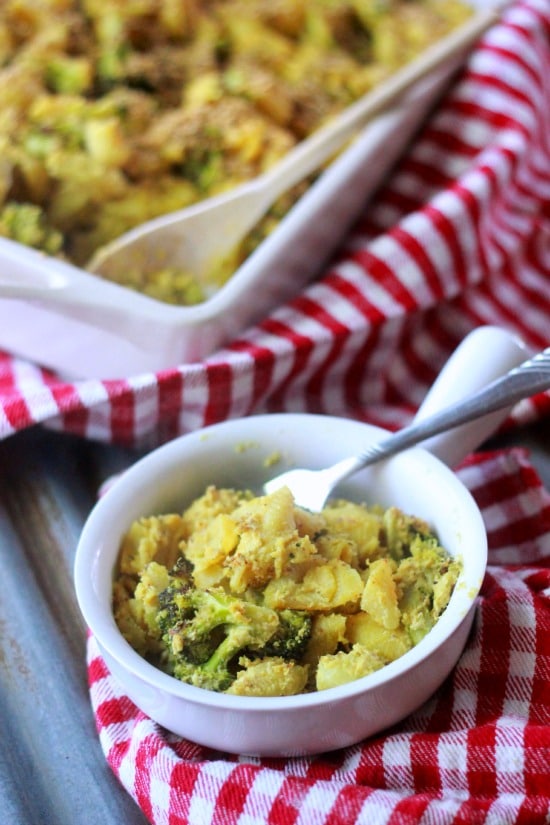 Hub Grub: A secretly healthy meal disguised as something decadent so my husband will eat it. 
When I first met my husband he was introduced to me as "I.T. Chris" because he was the IT guy where I worked.  I wasn't the least bit interested in him at first.  Not because he wasn't perfectly nice, funny, smart, and attractive.  But because I was in a "serious" relationship with a guy who was a musician and had pretty eyes.  In my mind those were the important things.  I was blind to the fact that we had no real chemistry or anything to talk about.
Chris and I soon became good friends.  We never lacked things to talk about and we felt very comfortable around each other and best of all we made each other laugh.  After pretty eyed musician was out of the picture our friendship naturally progressed into more and we were soon engaged to be married.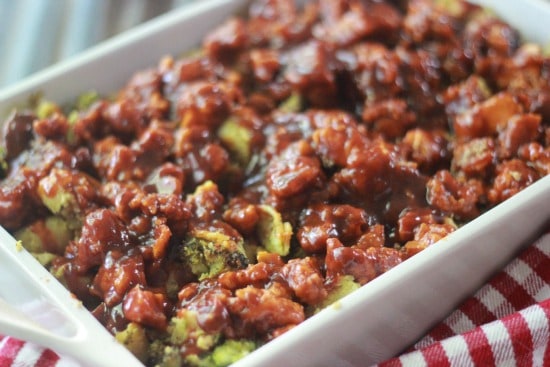 Chris and I disagree about very little.  Some of the big things include: my idea and his idea of what a healthy meal is, and the fact that he refuses to eat mac and cheese with a fork and I refuse to eat it with a spoon.  You know, the important things.
To compromise a little I have agreed to not force upon him "healthy food" that he doesn't like and he has agreed to try healthier versions of his favorites that I create.  We have also agreed to not be judgmental of each other's fork and spoon habits.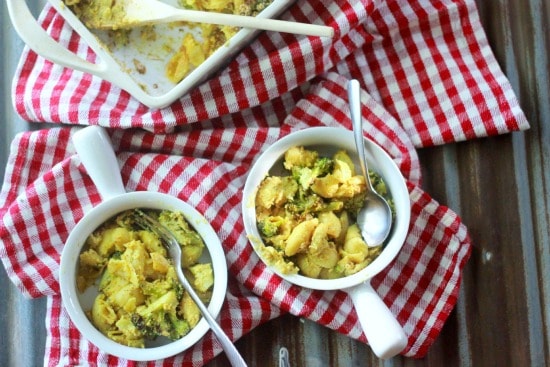 I have been wanting to try making a vegan mac and cheese using cashew cheese for a long time now.  Many people have said that it is so good you can't tell it is vegan.  And they are right! It is sooo delicious.  I think I like it better than a regular cheese sauce.  I used quinoa pasta to go with it and roasted broccoli and it was so decadent as is for me.  But for my husband and his friends who were over this evening, I threw on some buffalo chicken and they gobbled it down.  I don't think a single one of them knew that there wasn't actually any cheese in this.  I say this sauce is a winner!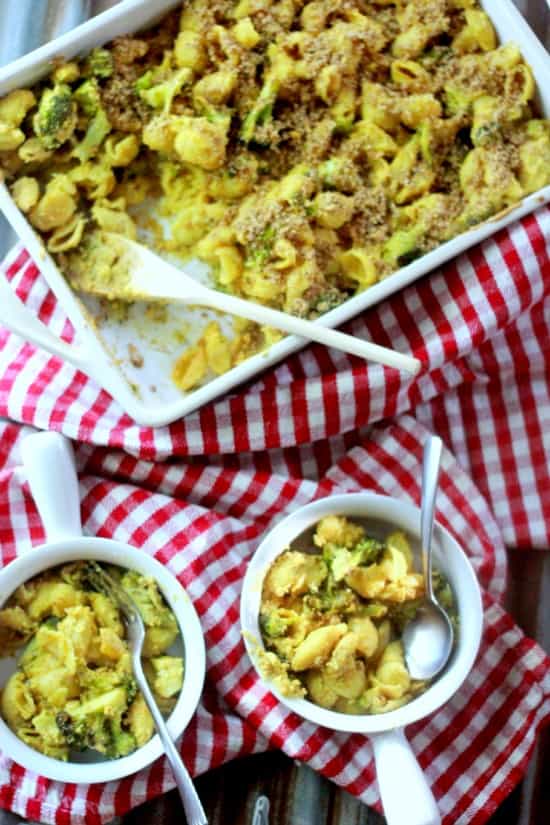 Creamy Shells and Cheese with Roasted Broccoli
Ingredients
1 large head of broccoli
3 TBSP olive oil
2 garlic cloves
3 cups raw cashews
juice of 2 lemons
1 1/2 cup water
1 TBSP kosher salt
2/3 cup nutritional yeast
1 tsp chili powder
2 cloves garlic
1/2 tsp turmeric
1/2 tsp cayenne
1 tsp dijon mustard
1/2 tsp black pepper
1 lb pasta
1/2 cup almond meal
2 TBSP nutritional yeast
1 TBSP coconut oil
Instructions
Preheat oven to 425 degrees.
Cut broccoli into florets and toss on a baking sheet with olive oil and garlic.
Bake in a 425 degree oven for 15 minutes while preparing the pasta.
Cook pasta according the package instructions until al dente. Prepare the cheese sauce while the pasta and broccoli are cooking.
Combine all ingredients for the sauce in a blender and mix until a smooth sauce. If you do not have a high powered blender (such as a vitamix) this will take some time. Keep scraping down sides and keep blending until smooth.
Drain pasta and return to pan over medium low heat.
Add the cheese sauce and broccoli and stir until heated through.
If desired, pulse ingredients for the topping in a blender until it looks like bread crumbs.
Transfer to a baking dish to serve and top with topping if desired.
Nutrition Information:
Amount Per Serving:
Calories: 0