Sometimes I think that my blog is not an accurate representation of what actually goes on in my kitchen. Like my kitchen is just always filled with beautiful baked goods styled to perfection. This couldn't be further from the truth. My kitchen is more like a science lab. I am constantly baking up experiments that, more often than not, are failures.
Ok, maybe failure isn't the correct word. It is rare that something is actually inedible. But frequently, my little experiments do not make it on the blog.  Why? Because I want my blog to be mostly filled with very high quality recipes and amazing looking food. But the experimentation's are also a part of who I am as a baker. They are a part of my process. They are important to me, because they are what makes me better. What helps me learn. And what brings me to the more beautiful baked goods that I allow you all to see.
So today I bring you a different kind of post. I bring a recipe that is not yet perfection. And pictures that are not beautifully styled. I give you a glimpse behind the scenes of my baking thought process and a recipe that is in the works.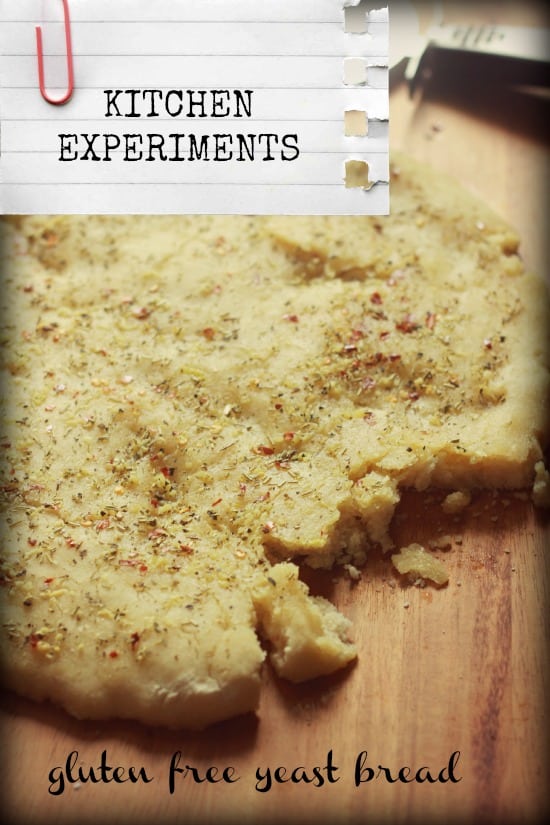 I've been wanting to make a gluten free yeast bread for a while now. But I have a few rules for myself with gluten free baking. #1: I want it to be as simple as possible. #2: I don't want people to be able to tell that it is gluten free. Gluten free baking can get very complicated. Lots of unfamiliar and expensive ingredients for those who don't often do this kind of baking. Gluten free baked goods can often taste a bit off and are easy for those who don't usually eat this way to distinguish.  Call me a perfectionist, but these things are not okay with me for my own baking needs. I often bake for my co-workers and it frustrates me when I tell someone that something is gluten free or vegan and for that very reason they choose not to eat it. I'd rather give it to them, let them enjoy it, and then tell them.
Today was my first attempt at diving into the gluten free yeast bread world. I wanted to make a loaf bread, but I soon realized that the dough I made was not going to form very well into a loaf. Instead I patted it out into a flat bread and topped it with some garlic and herbs. It is delicious. I had my husband eat it and he thought it was rather good too.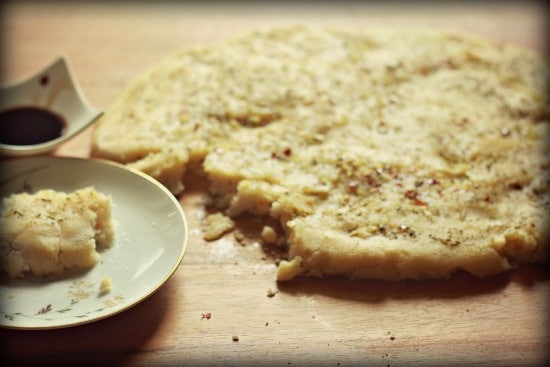 Successes: 
Easy recipe, requires no kneading and few ingredients
The texture is chewy and bread like.
Isn't easily distinguished as a gluten free bread
Would make a great gluten free pizza dough
No funny after taste like many gluten free breads
Has a great yeast dough flavor
Failures: 
A bit crumbly
Does not form into a loaf
Some might find it too chewy
Does not rise as much as a traditional yeast bread (note: it is believed by some that salt deactivates the yeast and should not be added before the flour. If the flour is added immediately the salt should not affect the yeast. I have made traditional breads this way many times with success)
Conclusions from the Experiment: 
It would be beneficial to bake this on parchment paper for easy transferring due to the slightly crumbly nature of the bread.
The rice flour/arrowroot mixture absorbs more liquid than wheat flour and therefore requires less water or more flour for the same dough consistency.
This bread does not rise like a traditional yeast bread does, but the yeast flavor is still great.
Use clean hands to pat the dough out into desired shape. A rolling pin will stick too much.
This recipe would probably benefit from some kind of binding agent to resolve the crumbly nature of the bread.
I ate this with some balsamic vinegar and it was delicious and kind of addicting. The chewiness was really surprising and I loved it! Will definitely be experimenting with this recipe again.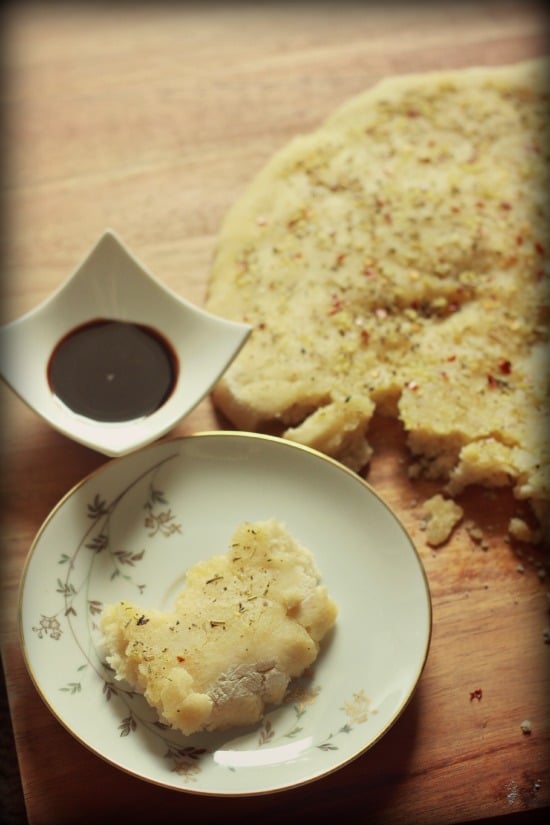 Ingredients
1/2 TBSP active dry yeast
1/2 TBSP kosher salt
1 1/2 cups luke warm water
2 1/2 cups brown rice flour
1 1/2 cups arrowroot powder (or cornstarch)
olive oil (optional)
garlic (optional)
spices such as rosemary, basil, red chili flakes, oregano (optional)
Instructions
In a container with a lid, combine yeast, salt, and water.
Add brown rice flour and arrowroot powder and stir until all combined.
Cover with the lid but do not snap it tight. Leave it slightly open.
Let rest at room temperature for 2 hours. You may also store it in the refrigerator overnight.
Preheat oven to 400 degrees.
Pat out to a quarter of an inch thick on a sheet pan lined with parchment paper.
If desired, brush olive oil, garlic and herbs over the dough.
Bake at 400 for 12-16 minutes.
Nutrition Information:
Amount Per Serving:
Calories: 0