Lemon Thyme and Goat Cheese Icebox Cake
Icebox cakes are a classic retro cake that are making a comeback. This Lemon Thyme and Goat Cheese Icebox Cake is an updated version of the classic. Thin cookies are layered with a creamy goat cheese filling that has touches of honey, lemon, and fresh thyme all throughout!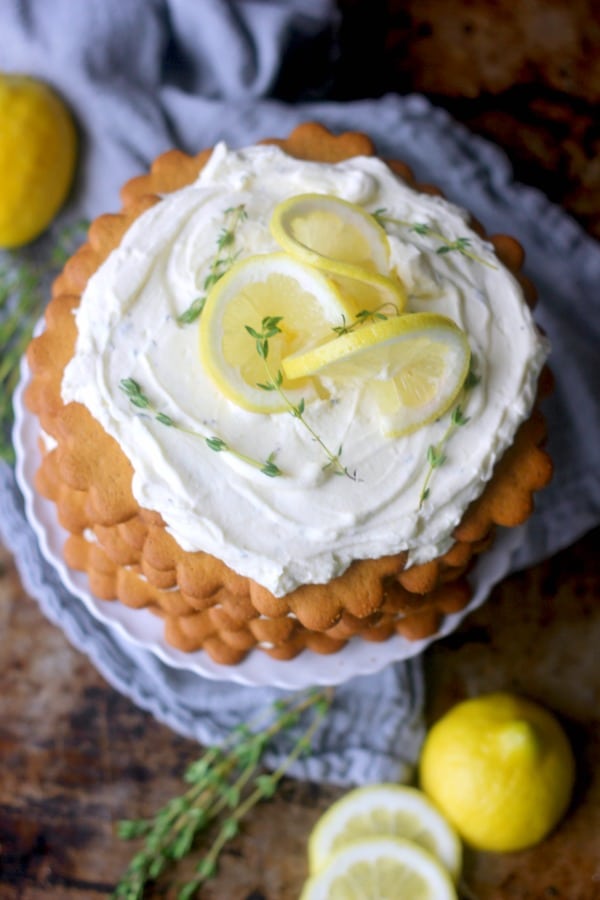 I am feeling very grateful today! Mr.BB and I are about to head up north to take a little vacation just the two of us. We realized recently that we haven't taken a trip just the two of us since our honeymoon 5 years ago. We decided to take an early anniversary/we both turned 30 this year trip. We rented a cute secluded cabin on a little lake in northern Michigan and we couldn't be more excited! I plan to just sit outside by the lake, relax, cook some good food, and spend some quality time with Mr. BB. The house also comes with some kayaks and a canoe so we are pretty pumped! On a slightly unrelated note, I'm currently in the market for a friend in Chicago with a boat. Send applications.
I'm even more excited that we rethought our original plan of going to Vegas. As much fun as I have in Vegas, I'm not sure it would be that enjoyable with the incredible heat wave going on. Are you experiencing that where you live? Ok, I know. How boring can I be talking about the weather? But growing up in Kansas, I have experienced what incredible heat like that feels like and it is pretty much all you can think about and it is downright miserable. And the absolute LAST thing on your mind is turning on the darn oven. I think that's why icebox cakes are making such a comeback lately.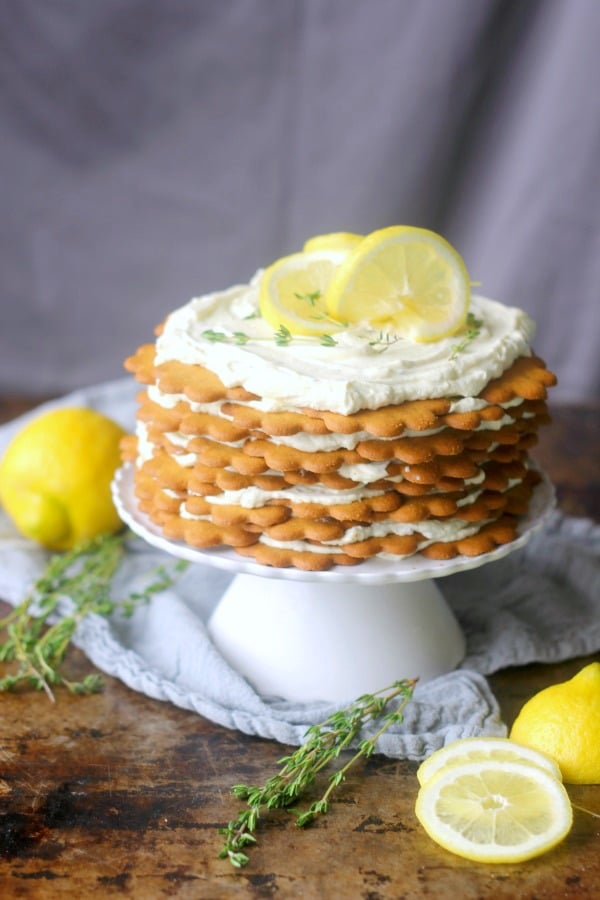 Have you noticed this trend of icebox cakes popping up everywhere? I keep seeing them all over social media and I had never actually made one so I decided that the official start of summer was the perfect time. I've been eyeing this Meyer Lemon and Thyme Icebox Cake for some time. I love mixing fresh herbs into my desserts and the cake is so beautiful! But I wanted to put my own spin on it with goat cheese, because well, it's goat cheese!
If you have never made an icebox cake before it is incredibly simple. You make a creamy filling and layer it over and over again with thin cookies. After refrigerating it for a few hours, the filling softens the cookies and the layers become one cohesive cake that can be sliced.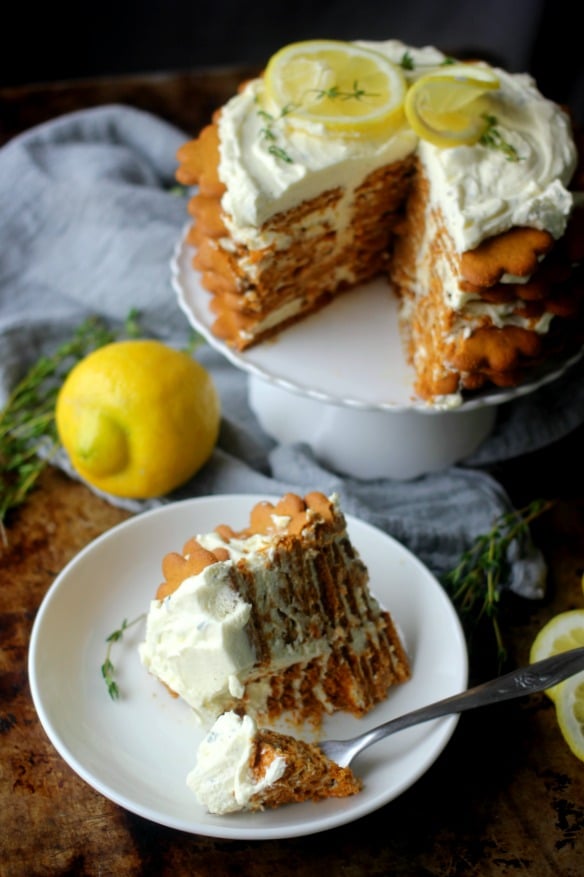 I had so much fun making this cake! It's like building blocks for cake! To assemble, all you do is layer the cookies and filling over and over again. That is my kind of cake! As I've expressed in the past, cake is kind of my baking arch enemy. I am too impatient and decorating is definitely not my forte! The beautiful thing about this cake is it is rustic in nature. It's supposed to look a little messy!
Happy summer solstice! Stay cool out there!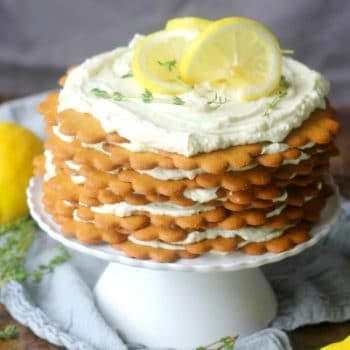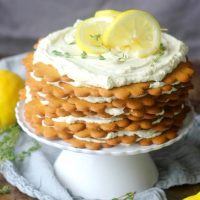 Lemon Thyme and Goat Cheese Icebox Cake
Yield: 8 Servings
Prep Time: 30 minutes
Cook Time: 30 minutes
Total Time: 1 hour
This Lemon Thyme and Goat Cheese Icebox Cake is an updated version of retro classic icebox cakes. Thin cookies are layered with a creamy goat cheese filling that has touches of honey, lemon, and fresh thyme all throughout! 
Ingredients
2 cups cold heavy cream
2 TBSP fresh thyme (less if you want a less prominent flavor)
1 TBSP lemon zest
4 oz goat cheese, soft
4 oz cream cheese, soft
1/2 cup honey
3 TBSP lemon juice
Instructions
In a large mixing bowl, combine the heavy cream, fresh thyme, and the lemon zest. Using a hand mixer, beat the mixture until it is very thick and forms stiff peaks.
In a separate bowl, add the goat cheese, cream cheese, honey, and lemon juice. Beat with a hand mixer until smooth and creamy.
Fold the whipped cream mixture into the goat cheese mixture. Be gentle as you fold so you do not deflate the whipped cream.
Lay down your first layer of cookies on your serving platter. Place one cookie in the middle of the plate and surround it with 6 cookies. You can use a bit of honey on the back of each cookie on your first layer to help "glue" them in place.
Add about 1/3 cup of the creamy filling and spread out evenly over the cookies, leaving a border around the edges.
Add the next layer of cookies, alternating the outer cookies in the spaces of the layer before.
Continue alternating the cream and cookies.
Refrigerate for about 3 hrs before slicing and serving. The cake is best served the day of. You can make the filling ahead of time (up to 3 days early) and assemble the cake the day you want to serve.