Apple Cinnamon Jicama Breakfast Porridge
At the risk of sounding conceited I need to brag on myself for a moment.
You see, I am really good at a few things.  Really good.
These things include: Procrastinating, Making Messes, and Making Excuses.
I am also really good at combining these talents.  Such as making a fantastic mess, procrastinating the clean up of said mess, and making some great excuses as the why these two things happened.  Pure talent.
Don't even start thinking that these things are effortless.  I'm telling you, it is hard work. And all joking aside, these things make my life really stressful.
So I have been slowly tackling these issues talents to reduce the amount of stress in my life.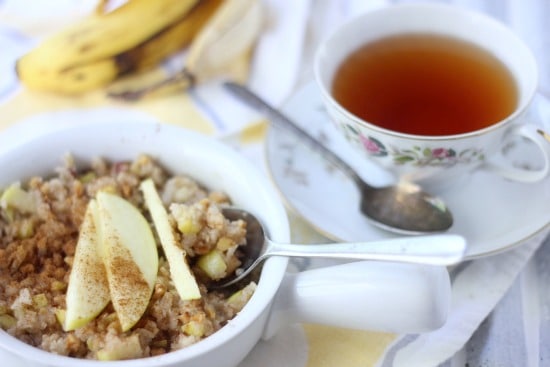 The whole making excuses thing has been a big one for me lately.  I posted here about a huge change in eating habits I recently made.  This change has been a long time coming, but I have been procrastinating, procrasti-baking (which also involves making a lot of messes), and making excuses as to why I couldn't do it.  But no more. My health is on the line and excuses just aren't going to fly anymore.
But I do know that to be successful I need to find ways to make this lifestyle doable for myself.  I need to have a plan. It's when the plan isn't there that the excuses are easier.  And that is why I am announcing my new series: "No Excuses"
The goal of the series is to take recipes that I have an urge to "make excuses" for and make them over into recipes that need "no excuses."
I start with my morning bowl of oatmeal.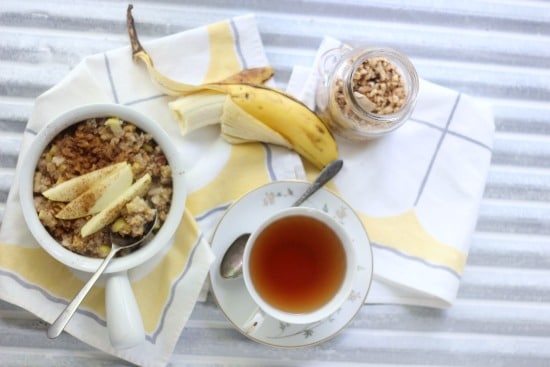 I know. I know. Oatmeal isn't the unhealthiest of foods. But as much as my taste buds and soul loves my warming bowl of morning oats, my guts aren't so keen on them.  And when I decided to give up grains, giving up my morning oatmeal was what I mourned the most.  Not cookies. Not bread. Oatmeal.
I introduce you to my revamped breakfast porridge, made from jicama.  I think I love this even more than oatmeal and my tummy is definitely more happy!  If you have never eaten jicama, you need to try it.  It is slightly sweet, and crunchy when raw.  Sort of a mix between an apple and a potato.  It is also really easy to find in the grocery store if you know what you are looking for.
So tell me… what dish do you make excuses for?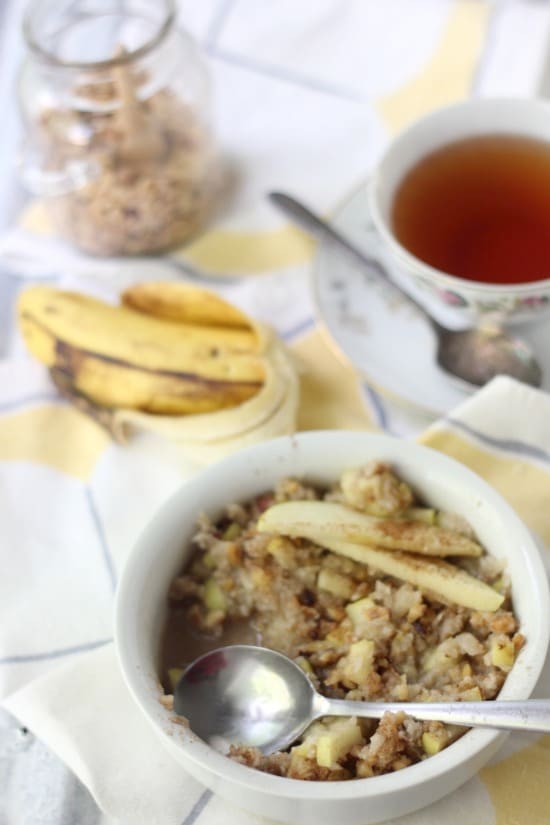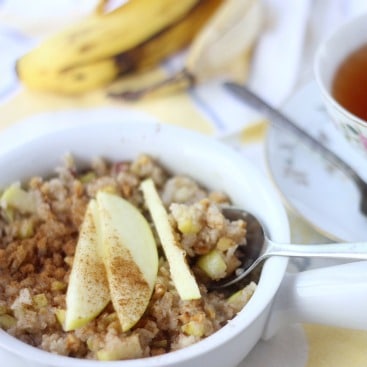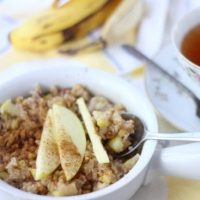 Apple Cinnamon Jicama Breakfast Porridge
Ingredients
3/4 cup jicama rice (instructions below)
1/4 cup finely chopped nuts (I used hazelnuts)
1/3 cup nut milk
1/3 cup finely chopped apple
1 tsp ground cinnamon
1 TBSP honey or agave
Instructions
Peel jicama and chop into medium chunks.
Place jicama in a food processor or blender and pulse to a fine crumb, like rice.
Place in a clean kitchen towel and wring out the moisture.
Place all ingredients for the porridge in a pan over medium high heat.
Cook for about 5 minutes until heated through and creamy.
Nutrition Information:
Amount Per Serving:
Calories: 359