Whole Wheat Chocolate Chip Cookies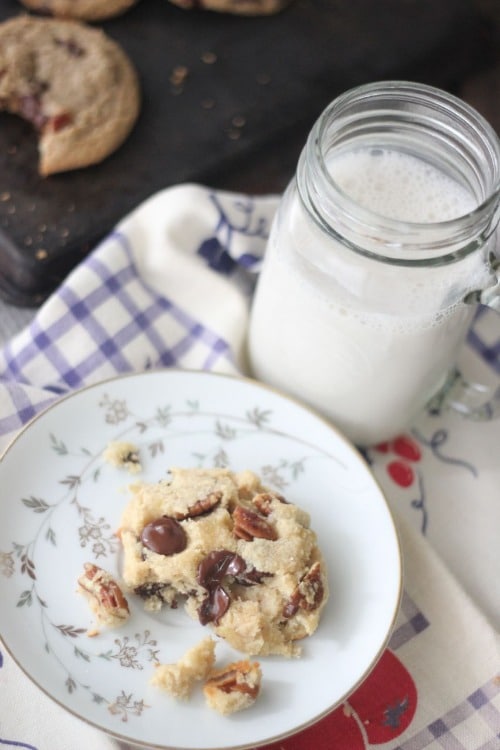 I walk around with a constant level of anxiety.  And when I say constant, I really do mean that.  I'm even anxious when I sleep.  It is hard to explain.
Baking has been my escape from the anxiety.  Whenever I need to shut out the world and turn off the nerves.  I get in the kitchen.  I brown butter, whisk eggs, pinch salt, sift flour, stir batter, scoop dough, bake cookies, share them with friends, bring people joy.  It is all so beautiful and relaxing to me.  It is my therapy.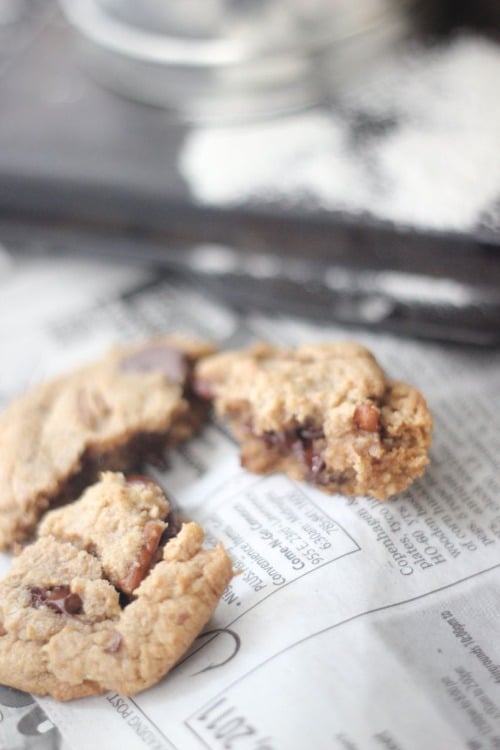 Lately baking hasn't been so therapeutic.  I am trying to learn a whole new baking "language."  I am bumbly in the kitchen, unsure of myself… frustrated… grouchy…anxious.
But I know from experience that this will pass.  I will learn. I will become comfortable.  And I will be an overall better baker because of it.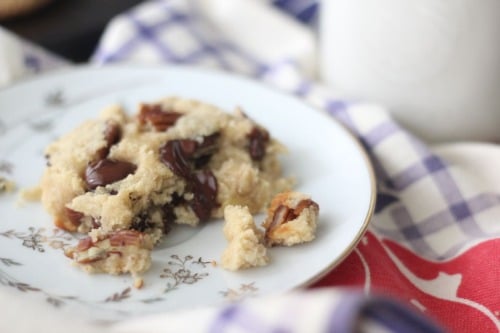 But last night I just needed something familiar.  I needed some good old baking therapy.  And cookies were definitely the answer.  Cookies are what I'm known for (as much as someone who nobody knows can be known for something.)
Cookies are what my family and friends request from me.  They are my forte.  So I baked some cookies for our work picnic and for my dentist (who also happens to be my sister-in-law) in hopes that she and her staff would be super gentle while fixing my tooth this morning.  They were.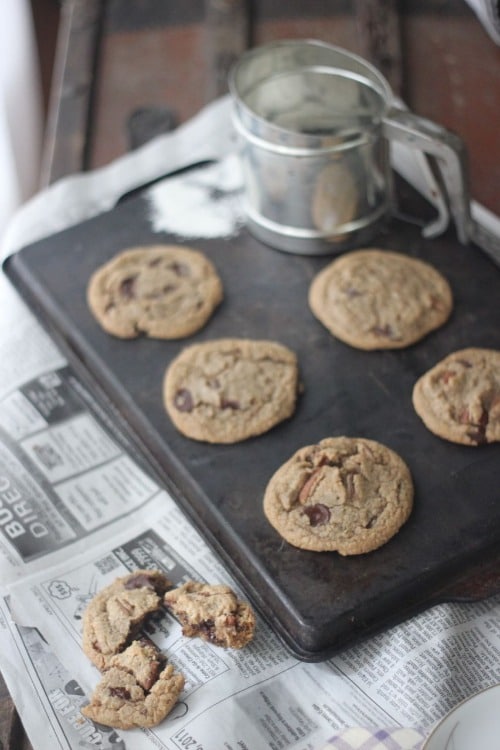 I was determined to make these cookies purely as baking therapy and not let myself eat them.  The inevitable migraine that would result if I did eat one would not be worth it.  But do you know how difficult it is to not have a cookie when warm cookies are in the oven?!  REALLY DIFFICULT!
So after doing some web surfing, I found a single serving cookie recipe PERFECT for this occasion.  A "no excuses" cookie recipe.  It came out soft and gooey and really hit the spot.  And it is grain free, refined sugar free and dairy free!
I also made the cookies for my co-workers and family a little healthier too.  Less sugar and with whole wheat flour.  Everyone really loved them which makes me smile 🙂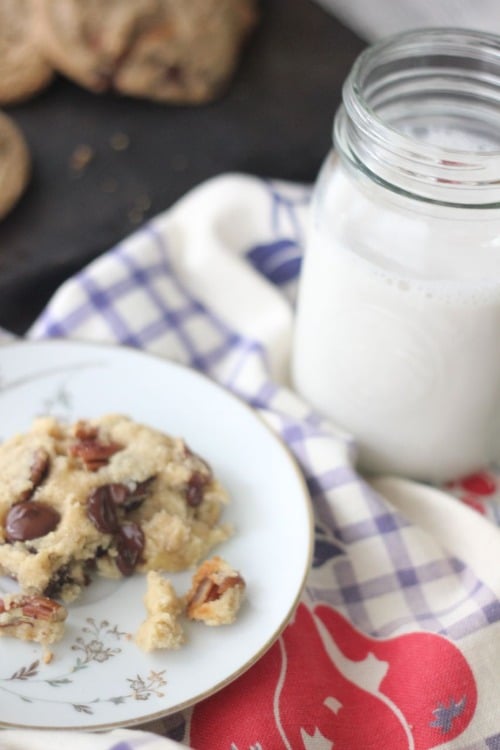 Whole Wheat Chocolate Chip Cookies
1/2 cup unsalted butter 1/3 cup dark brown sugar 1 egg 1/2 TBSP vanilla extract 1/2 tsp baking soda 1/2 tsp baking powder 1/8 tsp cinnamon 1/2 tsp salt 1 cup whole wheat flour 1 cup oat flour 1 cup dark chocolate chips 3/4 cup toasted pecans
Ingredients
Heat butter in a small saucepan over medium high heat. Stir continuously until the butter becomes an amber color. Set aside to cool.
Preheat oven to 375 degrees.
Cream butter and sugar until fluffy.
Add egg and vanilla and mix until incorporated.
Add baking soda, baking powder, salt, and cinnamon and incorporate.
Mix in the flours in small batches until a stiff dough forms.
Fold in chocolate chips and nuts with clean hands.
Bake for 8-12 minutes until just set around the edges.
Nutrition Information:
Amount Per Serving:
Calories: 0