Orange Chicken Cauliflower "Fried Rice"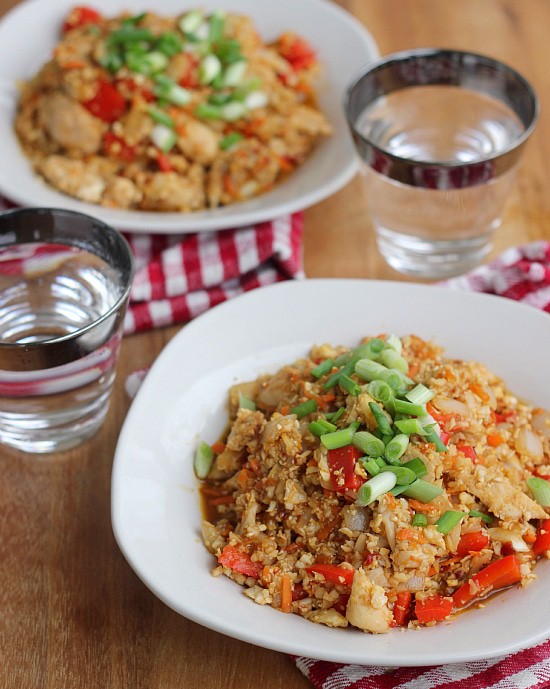 You may not realize through the blur of butter and sugar on this blog that I do enjoy eating healthy. I actually prefer it. I think a combination of healthy meals mixed with a treat here and there is the perfect balance.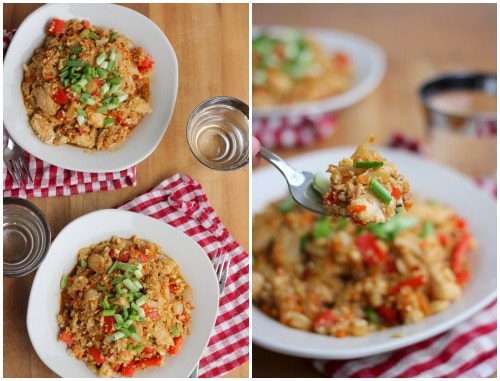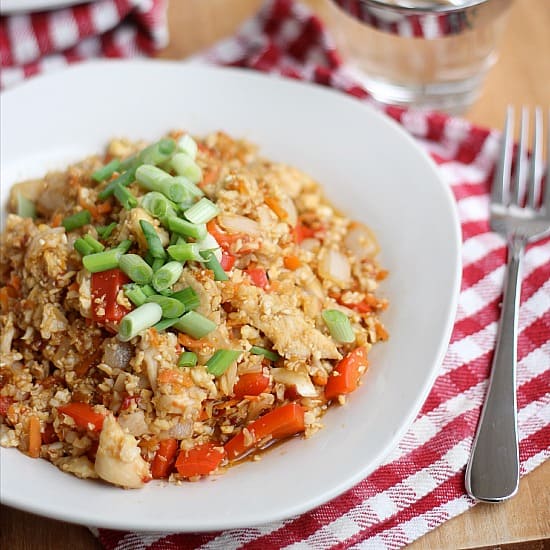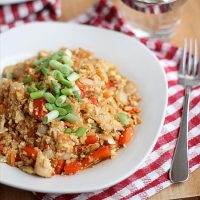 Orange Chicken Cauliflower "Fried Rice"
Yield: 4 Servings
Prep Time: 15 minutes
Cook Time: 10 minutes
Total Time: 25 minutes
Ingredients
12 oz chicken breast
1 small white or yellow onion
1 red pepper
3 large carrots, peeled
2 oranges
2 TBSP cornstarch
1/3 cup soy sauce (preferably low sodium)
4 garlic cloves, minced
2-3 TBSP chili garlic sauce (such as Sriracha)
oil
green onions for garnish (optional)
Instructions
Prep the Chicken and Veggies: Thinly slice the chicken and set aside. Cut the cauliflower into quarters and remove the core. Chop the cauliflower into florets. Put the florets into a blender or food processor. Pulse until the cauliflower is the consistency of rice and set aside. Chop the onion, pepper, and carrots and set aside.
Prep the Sauce: Zest and juice the oranges into a small bowl. Whisk in the cornstarch, soy sauce, garlic, and chili sauce. Set aside.
Cook: Heat about a tablespoon of oil in a wok or large skillet. Once very hot, add the chicken to the pan and cook until no longer pink. Remove from the pan and set aside.  Heat another tablespoon of oil in the pan and add the vegetables, cooking for a few minutes. Once the vegetables are starting to soften, add the cauliflower rice and continue cooking for another minute. Add the sauce and the chicken back to the pan and heat through.
Serve: Serve hot with diced green onions if desired.
Nutrition Information:
Amount Per Serving:
Calories: 340