Oven Roasted Tomatoes with Onion Hash, Fried Egg, and Sausages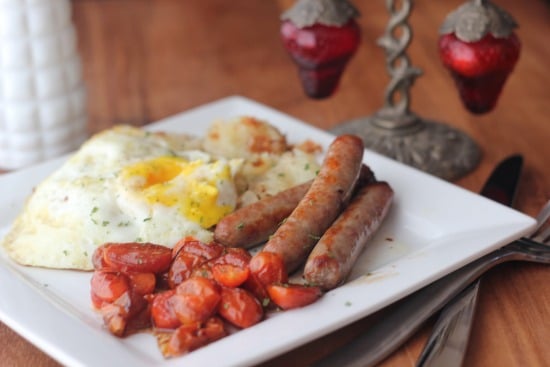 It's only Wednesday but I am already dreaming of the weekend. Not that I hate my job or anything. I actually like it a lot. But I do love lazy weekend mornings where I get the lay in bed for an hour… or several hours, after I wake up and make a leisurely breakfast or brunch.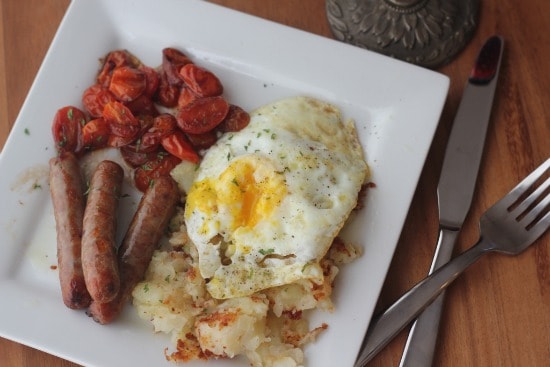 I LOVE breakfast food. All of it. LOVE. And I love that it doesn't need to be overly complicated to be absolutely delicious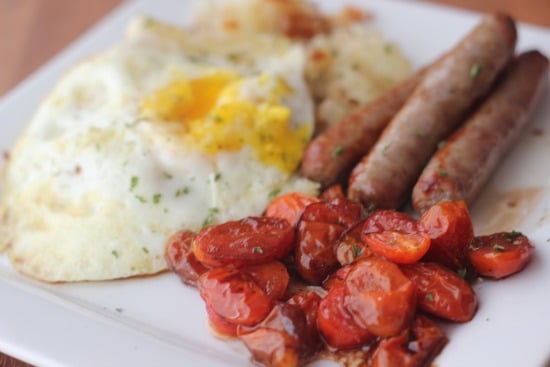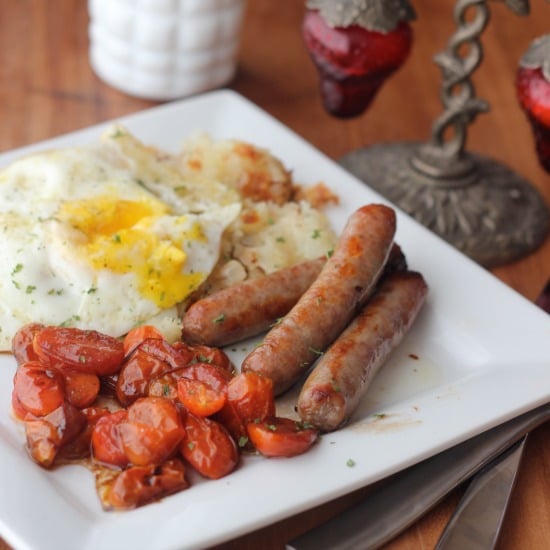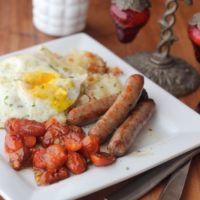 Oven Roasted Tomatoes with Onion Hash, Fried Egg, and Sausages
Ingredients
1 1/2 lb baking potatoes
4 Tbsp butter
1 large onion, finely chopped
12 small breakfast sausage links
2 Tbsp olive oil
2 cups cherry or grape tomatoes
1 Tbsp balsamic vinegar
4 eggs
sea salt and freshly ground black pepper
Instructions
Peel and cook the potatoes in a large pot of slightly salted, boiling water, until almost cooked through. About 10 minutes. Drain well and coarsely mash.
Melt butter in a large non-stick skillet and saute onion over medium low heat for 15 minutes until soft and golden.
Add the potatoes to the pan with salt and pepper, to taste.
Cook stirring and mashing the potatoes occasionally, for 15 to 20 minutes until well-browned and crisp around the edges.
Meanwhile, put the sausages in a roasting pan and drizzle with half the oil, and roast in a 400 degree oven for 25 minutes.
Half the tomatoes and put them in a shallow baking dish. Drizzle with the remaining oil and put them on the top shelf of the oven after the sausages have been cooking 5 minutes.
Cook the tomatoes for 15 minutes, then drizzle over the balsamic vinegar and cook for 5 more minutes.
Fry the eggs to your liking (I love a runny yolk!) and serve over the onion hash alongside the sausage and tomatoes.