Vegan Pumpkin Spice Cinnamon Rolls with Maple "Cream Cheese" Icing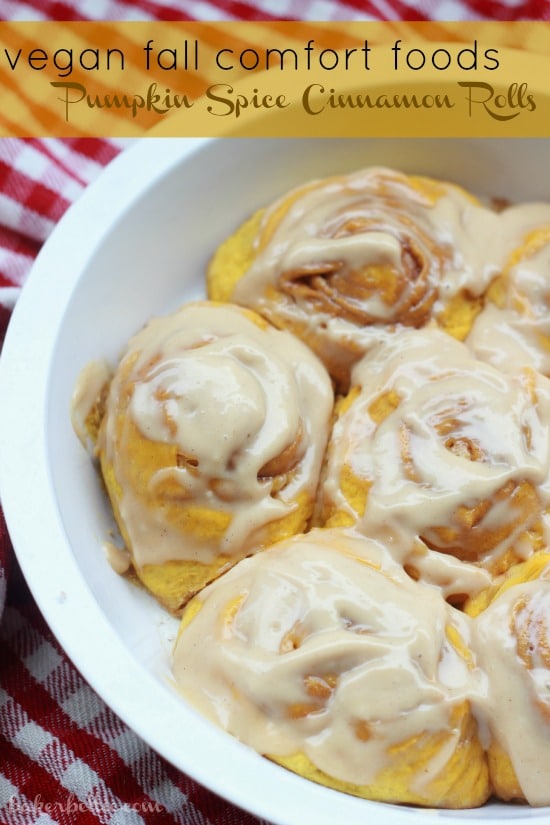 I have a confession. Until very recently I really didn't care that much about cinnamon rolls. I mean, I didn't hate them by any means. But for some reason I could sit in a kitchen with the smell of cinnamon rolls baking and then completely not care if I didn't eat one when they came warm out of the oven. I've always been that way about donuts too… but that's beside the point. We're talking about cinnamon rolls here.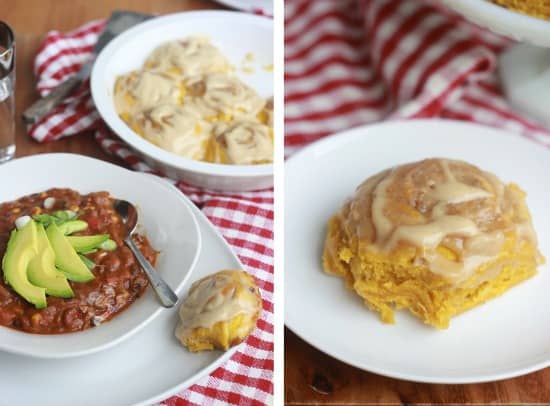 I remember when I was little, I usually wouldn't eat them at all. Except when it was "chili day" at school. This was pretty much the only time that I cared about having a cinnamon roll because chili just doesn't seem complete without its little cinnamon roll side kick. If you missed my chili post from yesterday you might be thinking this statement is a bit strange. But I assure you, it is completely normal (and delicious) here in the midwest. Chili and cinnamon rolls just go together.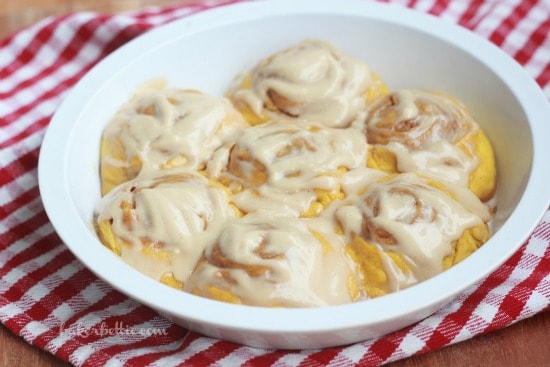 Yesterday I posted these cinnamon roll's partner in crime, my Vegan Mushroom Chili that is thickened up with pumpkin. Today I present to you Vegan Pumpkin Spice Cinnamon Rolls. I love Fall Comfort Foods. They just make my soul happy. And this recipe is no different. It screams Fall. It even looks like Fall. Now go put on a pot of chili and make these cinnamon rolls. Then tell the world about this combination because the world needs it. NEEDS.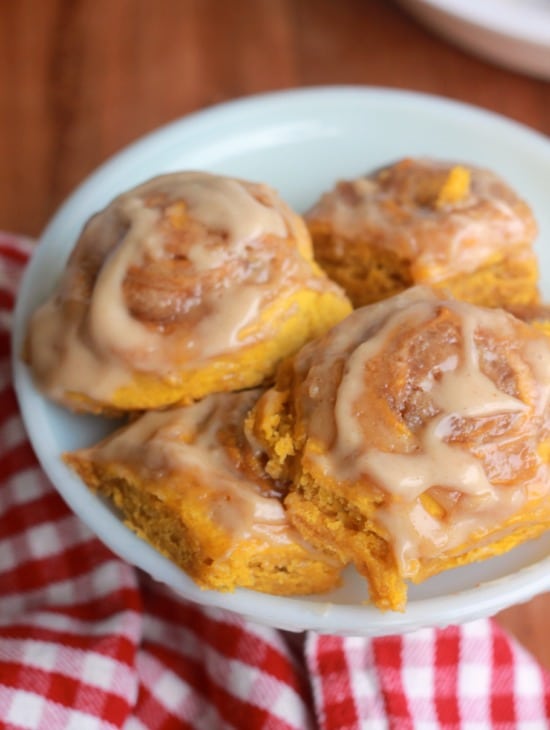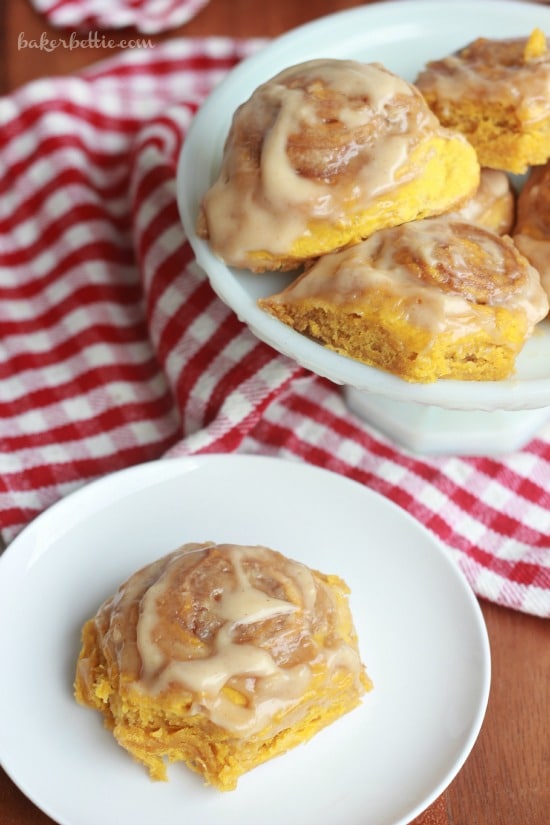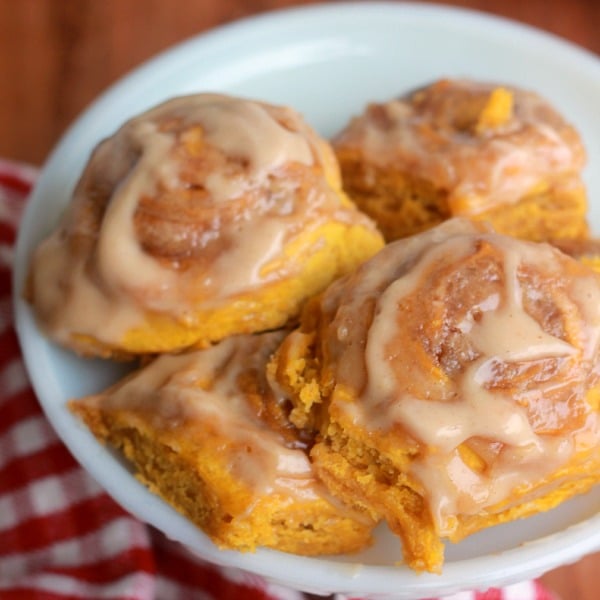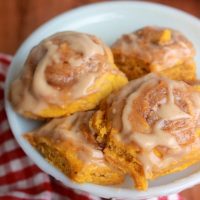 Vegan Pumpkin Spice Cinnamon Rolls with Maple "Cream Cheese" Icing
Ingredients
2 1/4 tsp active dry yeast
1/2 cup warm water (about 110 degrees)
1/4 cup non-dairy butter (I use Earth Balance)
1/2 cup granualted sugar
3/4 cup nondairy milk
1 cup pumpkin
1/2 tsp kosher salt salt
4 cups unbleached flour
2 TBSP non-dairy butter (I use Earth Balance)
1/2 cup brown sugar
1 TBSP pumpkin pie spice
1/2 cup Tofutti "Better Than Cream Cheese", room temperature
1/4 cup pure maple syrup
1 tsp pumpkin pie spice
Instructions
Melt butter in a medium saucepan over medium low heat.
Add the sugar, milk, and pumpkin to the sauce pan and stir until warmed through and combined.
Allow to cool while getting the yeast mixture ready.
In the bowl of a stand mixer fitted with a hook attachement, combine the yeast, water, and a pinch of the sugar and let sit until foamy. (about 10 minutes).
Turn the mixer on low and get all ingredients lined up to be mixed in.
Add the butter, milk, pumpkin mixture to the bowl.
Add the salt to the bowl and immediately begin adding the flour.
Start with 3 1/2 cups of the flour and mix on medium speed for 3 minutes.
If the dough is not doing pulling away from the sides of the bowl, add additional flour, 1 tablespoon at a time.
Place the dough into a large, lightly oiled mixing bowl.
Cover the bowl with a towel and store in a warm place for 1 hour.
Melt the butter for the filling and combine the brown sugar and pumpkin spice.
Oil a 9'' baking dish and set aside.
Flour a clean flat surface and sprinkle the dough, a rolling pin, and your hands with flour.
Roll the dough out into a large rectangle.
Brush with butter then sprinkle liberally with the sugar/spice mixture.
Use your hands to gently rum the sugar into the dough.
Starting at the long end, tightly roll the dough into a log then cut it unto 9 even pieces.
Place the rolls to the prepare pan, leaving even spaces in between.
Cover pan with a towel and allow the rolls to rise for 45-60 minutes.
Bake at 375?F for 16-18 minutes.
While the rolls are in the oven, prepare the icing.
Whisk together the cream cheese, maple syrup, and pumpkin pie spice.
While the rolls are still warm, cover with cream cheese icing and serve.
Nutrition Information:
Amount Per Serving:
Calories: 443