Easy 3 Ingredient Self-Rising Flour Biscuits
Self-Rising Flour Biscuits are the easiest biscuits you will ever make! The dough for these drop biscuits comes together in less than 10 minutes and uses only 3 ingredients: self-rising flour, salted butter, and milk or buttermilk!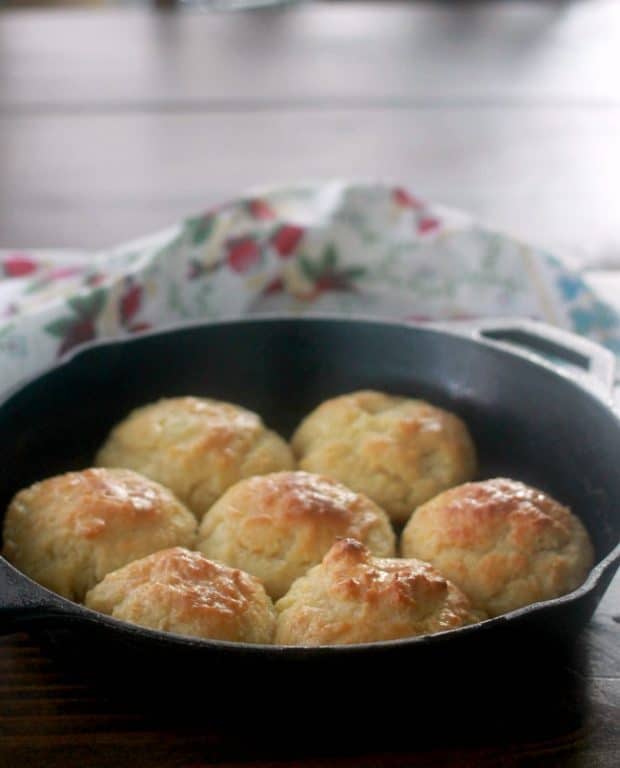 These biscuits only have 3 ingredients in them. Yep. That's it. Three!
Salted butter is cut into self-rising flour before being mixed with milk or buttermilk. And just like that, you have a buttery biscuit dough ready to hit the oven!
These are also "drop biscuits" meaning that you do not roll and cut them out. Just scoop them into a pan and bake! This means you also don't get your counter all sticky and dirty with biscuit dough and flour.
Think they're too good to be true?! They aren't! I promise!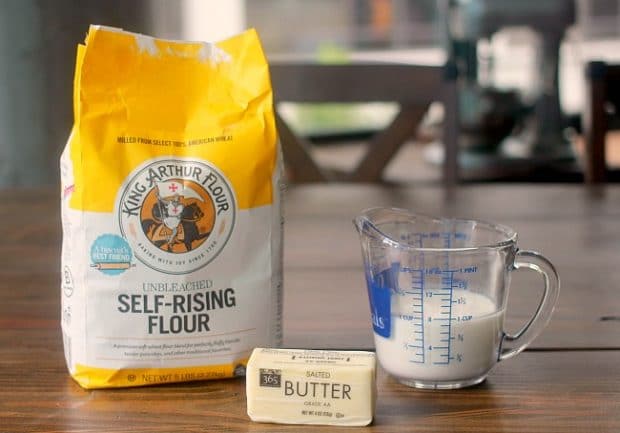 Ingredients in Self-Rising Flour Biscuits
Self-Rising Flour
The key ingredient in these super easy drop biscuits is self-rising flour. If you read my post last week about self-rising flour, then you know that self-rising flour combines three ingredients into one: all-purpose flour, baking powder, and salt! This is the reason this recipe has so few ingredients.
The chemical leavening ingredient, baking powder, in the self-rising flour is what helps the biscuits to rise. The salt in the self-rising flour helps to flavor the biscuit but also helps to strengthen the gluten structure.
If you do not have self-rising flour on hand you can still make these biscuits. All you need to do is to replace the self-rising flour with all-purpose flour, baking powder, and salt! *See the notes section of the recipe for the exact quantities.
Baking Tip: Every cup of self-rising flour contains roughly the equivalent of 1 1/2 teaspoons of baking powder and 1/4 teaspoon of salt.
Salted Butter
In order to keep this recipe as simple as possible with very few ingredients, salted butter is used. The only difference between salted butter and unsalted butter is the addition of salt. While the self-rising flour does have salt in it, there really isn't enough to flavor these biscuits properly. Salted butter will do the trick to finish flavoring the biscuits.
If you do not have salted butter on hand, no problem! You will just need to add additional salt into your dough. *See the notes section of the recipe for the exact quantity.
Baking Tip: Every stick (4 oz) of butter contains roughly the equivalent of 1/4 teaspoon of salt.
Milk or Buttermilk
These self-rising flour biscuits can easily be made as plain biscuits or buttermilk biscuits. Both kinds of milk will work!
Because buttermilk is cultured, it has an acidic quality to it. I personally love the tang that buttermilk brings to biscuits.
If you do not have any on hand or do not prefer buttermilk you can definitely use any other kind of milk. Skim milk will produce a biscuit that is less rich in flavor, while biscuits made with whole milk will taste heartier.
You could also use a non-dairy milk if you prefer, just be aware that it will alter the flavor.
Baking Tip: If you want your biscuits to have the tang of buttermilk, but you do not have any on hand, you can easily make a substitute! Put 1 tablespoon white vinegar or lemon juice in a liquid measuring cup and add enough milk to the measuring cup until it measures 1 cup. Stir and let stand for 5 minutes before adding it to your dough.

Tips for Success in Making Fluffy Self-Rising Flour Biscuits
Measure Your Flour Properly
Probably one of the most common baking errors is the way in which flour is measured. Because most Americans measure by volume (using a measuring cup instead of a scale) to measure their ingredients, it is so easy to accidentally pack too much into the measuring cup.
The proper way to measure flour by volume is to fluff the flour up with a spoon or a whisk before measuring, lightly spoon it into the measuring cup without packing it down, and level it off.
The most accurate way to measure your flour would be to use a scale. If you are serious about baking it might be worth the small investment of a basic kitchen scale to very accurately measure your ingredients.
Use Very Cold Butter & Milk
In addition to the baking powder, the steam created when the water in the butter and the milk start to evaporate is what really helps the biscuits to rise. Using cold butter and milk is key to get rapid evaporation and steam once the biscuits hit the oven.
Baking Tip: When making a recipe that calls for cold ingredients, leave them in the refrigerator until right before you need to add them.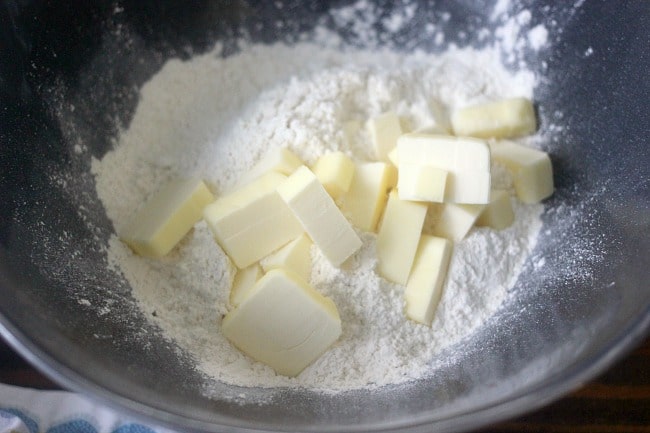 Mix as Little as Possible
Once the milk is added into the flour mixture and stirred, the gluten structure starts forming immediately. Gluten is necessary to hold the structure of these biscuits, but you want to control how much it develops. The more the gluten structure develops, the tougher the biscuits get.
You want to stir the milk into the flour mixture just until it is combined. This will only take about 10-15 seconds of stirring. Then stop! The mixture will look lumpy but that's okay. You are going to have super light and fluffy biscuits!
Be Patient & Don't Peek!
Once your biscuits go into your hot oven, you want to leave the door shut for at least the first half of the baking time, and preferably longer. It's hard not to peek, but RESIST! With the oven door shut, the steam will be trapped inside and your biscuits will get a better rise.
I always say that cook time is just a guideline. Every oven is different and things like climate and elevation can change bake times. You can peek at them during the last bit of bake time to decide if you want to pull them out early or leave them in a little longer.
-> Try this easy Sausage Gravy Recipe with your biscuits!
Ingredients
2 1/4 cups (15.75 oz, 441 gr) self-rising flour (see notes for substitution)
1 stick (1/2 cup, 4 oz, 112 gr) salted butter, cold (see notes for substitution)
3/4 cup - 1 1/4 cup (6-10 fl oz, 177-295 ml) milk or buttermilk, cold (see notes for substitution)
Instructions
Preheat your oven to 450F (232 C)
Measure out your flour by fluffing it up with a spoon, lightly spooning it into your measuring cup being careful not to pack it down, and level it off. Or use a scale to measure by weight. Place in a large mixing bowl.
Cut your cold butter into small chunks and add it into your flour. Using a pastry cutter or a fork, cut the butter into the flour until it is the texture of coarse meal.
Add about 3/4 cup of the cold milk into your flour and butter mixture and stir using a spoon or rubber spatula, not a whisk, just until the flour is incorporated, about 10-15 seconds. Add more milk as needed to bring the consistency to a very thick batter. You want it thin enough that it could not be rolled out like a dough, but still very thick. See the video above for the right consistency. I usually need 1 cup, but you may need a little more or a little less. Do not over-mix your batter or you will have tough biscuits.
Using a 2 oz scoop or a 1/4 cup measuring cup, scoop out your biscuits into a cast iron skillet or onto a sheet pan lined with parchment paper.
Place the biscuits in your preheated oven, and bake at 450 F (232 C) for 16-18 minutes, until golden brown.
If desired, spoon melted butter over the top of the baked biscuits.

Completely cooled biscuits can be wrapped in plastic wrap and stored in the freezer for up to 3 months. To refresh, warm in a 325 F (163 C) oven for about 10 minutes until warmed through.