Spicy Sausage and Sweet Potato Hash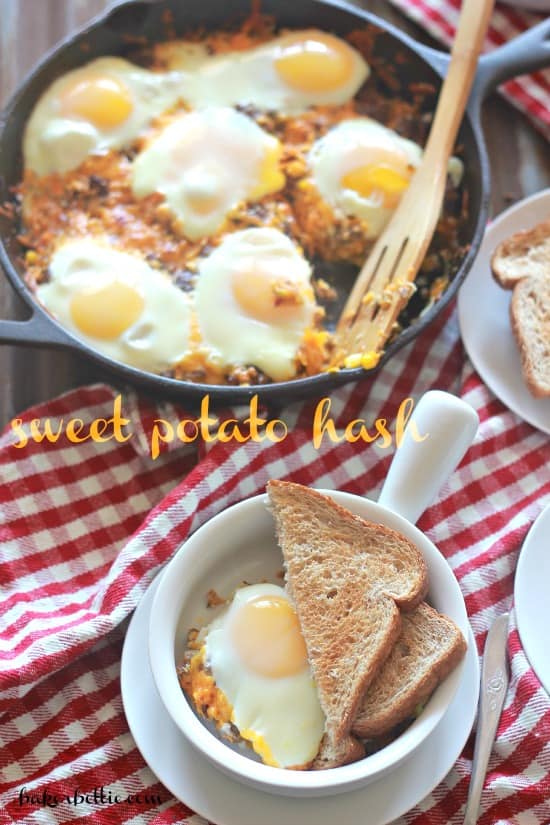 Can we just talk for a moment about the fact that I'm really good at pretending?
I've pretty much been doing it my whole life. Pretending I am confident and not shy, while I am always anxious and nervous around people and in public places. Pretending that I know what I want to do with my life, while I am constantly questioning it. Pretending I am smart, while I am frantically studying to learn the material. Pretending I am a blogger, while I sit at my computer for hours in frustration trying to figure the simplest thing out.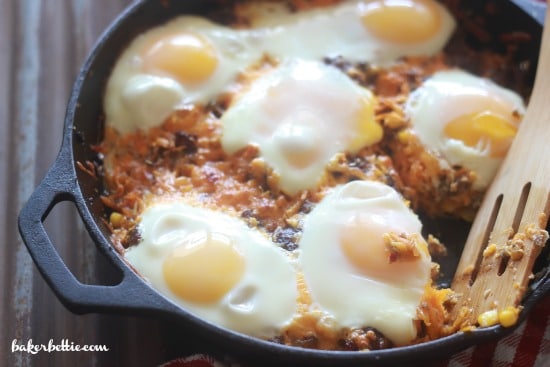 Fake it 'til you make it, right?
Let's be real. I think we are all doing this. And I think the realization that most people are "fakin' it" is important. I mean, do you think that Justin Bieber really knows what he's doing? And look at him! And that Rebecca Black girl. Ok… maybe those aren't the best examples. But you get the point.
This is totally the kind of breakfast that could be a "fakin' it" breakfast. It is so simple to put together, but would fool anyone that you totally know what's up in the category of delicious. Really delicious.
I actually discovered these flavor combinations at one of my favorite local breakfast places, Mirth. It is one of those meals that you can't get out of your head. I actually kind of obsess over how good it is. One day when I am on Food Network's "The Best Thing I Ever Ate" Breakfast Edition, I will talk about Mirth and their version of this recipe. We all have dreams…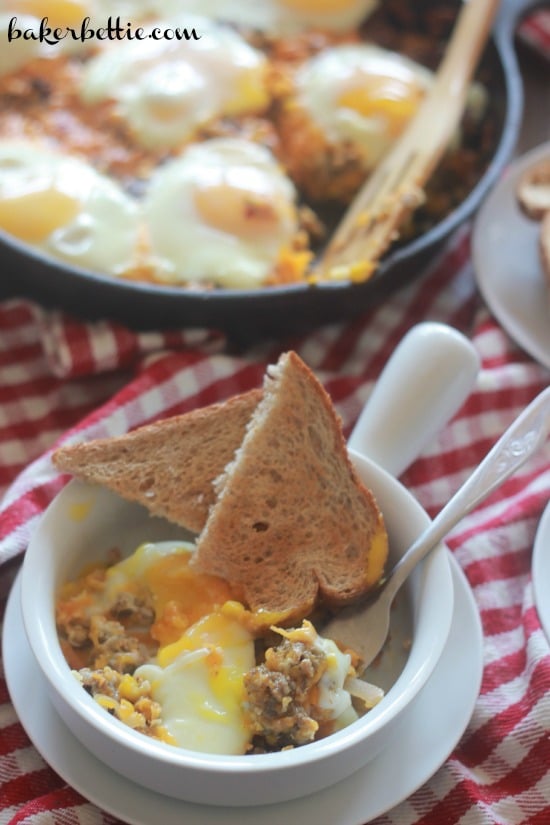 Spicy Sausage and Sweet Potato Hash
Yield: 6 Servings
Prep Time: 15 minutes
Cook Time: 20 minutes
Total Time: 35 minutes
Ingredients
1/2 lb spicy sausage
1/2 small red onion, cut into strips
1/2 cup corn, fresh or frozen
1 large clove garlic, minced
1 large sweet potato, grated on the large side of a box grater
1 TBSP rosemary
1/2 tsp cinnamon
1/2 cup sharp cheddar cheese
6-8 large eggs
Instructions
Preheat oven to 350 degrees
Brown the sausage and set aside.
Heat an oven proof skillet over medium high heat.
Add the onions and corn to the skillet and cook for 1 minute.
Add the garlic, rosemary and cinnamon and cook for 1 more minute.
Turn off the heat and add the sweet potato and sausage to the skillet.
Stir until all ingredients are evenly distributed.
Bake for 15 minutes.
Remove from the oven and turn on the broiler.
Top with the cheese and carefully crack the eggs over the top.
Put under the broiler
Stare at the skillet under the broiler just until the eggs are set but the yolks are still runny (seriously, DO NOT WALK AWAY) about 2-4 minutes.
Nutrition Information:
Amount Per Serving:
Calories: 0