The Second Annual Cookie Wars Original Recipe Contest!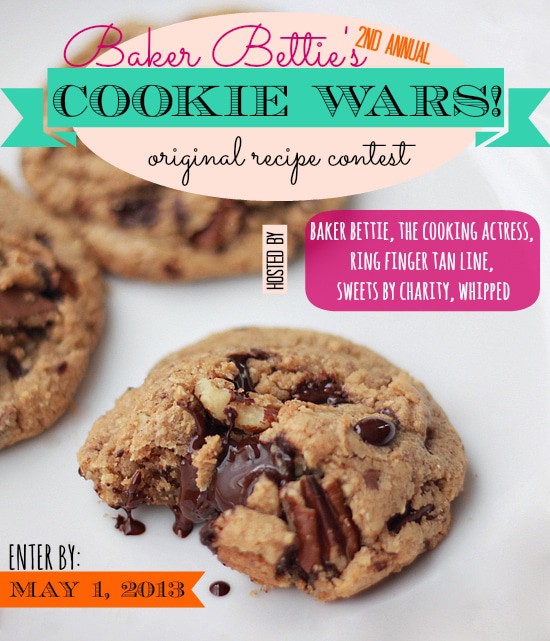 Today is the day. The day that the 2nd Annual Cookie Wars Recipe Contest launches! How freaking excited am I? SO EXCITED!
I have a love affair with cookies. Not just an "OMG I love cookies so much!" love affair. But I actually LOVE cookies. I mean, I am even kind of emotional about them (STOP JUDGING ME!). But cookies are the baked good that made me discover my true passion for baking. It was through creating cookie recipes that made me discover my creativity in the kitchen. Cookies are so versatile. The flavor combinations, the shapes, the frostings, the fillings, the textures. Seriously endless possibilities. That is why I started the campaign last year that "Cookies are the new cupcake!" And that led me to creating this contest!

So here we are again, already a year later. WHAT?! And This year is even better than last. I have 4 amazing and beautiful co-hosts, 25 unique new challenge ingredients, and some awesome prizes!
The basic rules are the same as last year: Create an original cookie recipe using at least two ingredients from the Challenge Ingredient list and submit it with a picture of the final product. And this year's Challenge Ingredients are… (drum roll please!)
Challenge Ingredient List:

Allspice
Beets
Blackberry Jam
Black Beans
Buttermilk
Cashews
Cocoa Nibs
Coconut Cream
Cornmeal
Cucumber
Dried Mango
Fresh Ginger
Gin
Graham Crackers (any flavor)
Liquid Smoke
Marshmallow Cream
Pears
Pistachios
Potato Chips
Prosecco
Sharp Cheddar Cheese
Sour Patch Kids
Smoked Paprika
Stout Beer
Sriracha
To learn all the details about the contest, how to enter, and what you could win check out the contest pages!
Click here for the FAQ's page… 
Click here for the Official Rules page…
Click here for the Official Online Recipe Submission Form… 
Click here to meet this years judges! 
Click here to see last years winners! 
I am so excited to see and taste all of your amazing recipes! And to be fair, I felt I needed to create my own unique cookie recipe with the Challenge Ingredients to kick everything off. So stay tuned for my recipe coming up with week as well as my post on "How to Create an Original Cookie Recipe." Let the baking and cooking inhaling begin!