Creamy Cauliflower and Basil "Alfredo" Rigatoni (dairy free)
This creamy cauliflower alfredo sauce recipe is incredibly simple to make and so luscious you would never know it was healthy or dairy free! Fresh basil brings a new level of flavor and makes this dish taste like real Italian food without any butter or cream! It's almost to good to be true!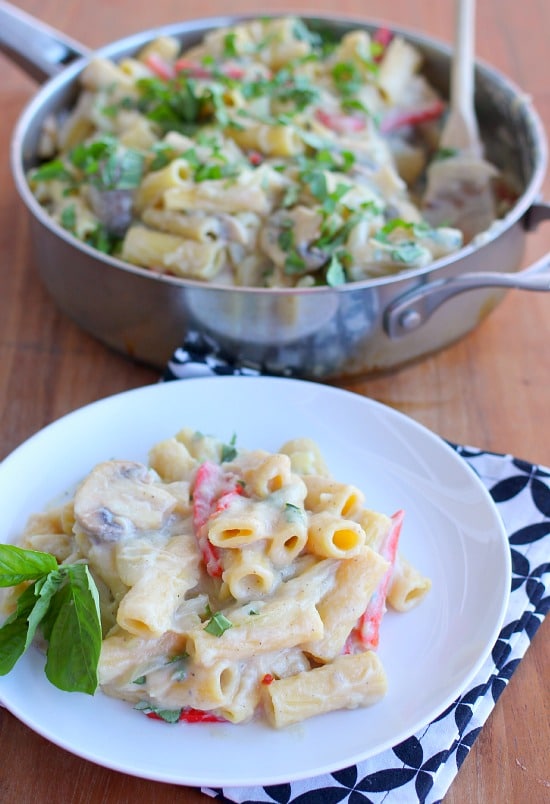 Throwing big handfuls of salty smoked almonds in a container of chocolate soy ice cream and eating it right out of the tub. Embarrassing or brilliant? I'm going to go ahead and pat myself on the back and call that one brilliant, because it is insanely good.
But I'll admit that even though this behavior is absolutely brilliant, I did feel a bit embarrassed after eating half of the ice cream and most of the almonds doing this. I felt like I needed to make something super healthy and brilliant and not embarrassing for dinner. Because eating vegetables totally reverses all embarrassing eating habits right? Just humor me.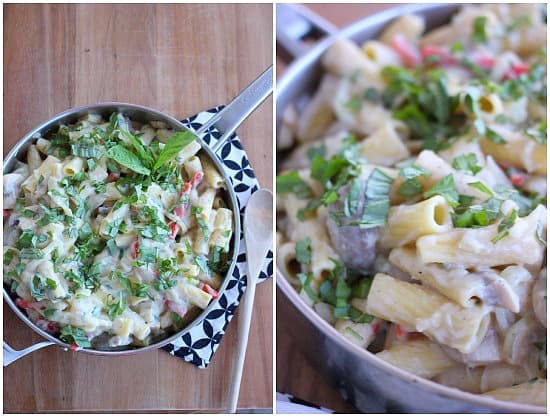 I have seen cauliflower pasta sauces on numerous different blogs. It isn't a new concept, but I had never made it before. So finding myself searching through the fridge that is severely under-stocked I knew what I had to make when I saw the untouched head of cauliflower.
I also knew that my husband would be less than thrilled when I told him what I made for dinner. But I dove in anyway.
Now, full disclosure here, this sauce isn't going to fool anyone into thinking it is a traditional alfredo. It is definitely different. But it is definitely delicious!
It really doesn't have an overly cauliflower taste either. Just creamy, garlicky, peppery, basily, (yes, I said basily. I told you to humor me!) sort of alfredoy yumminess! It's an extremely creamy pasta sauce made entirely out of cauliflower, people!
My husband even ate an entire bowl! That may not make this sound very convincing but trust me, that says huge success! He also went and got a blizzard from Dairy Queen right after he finished the bowl. He doesn't know the secret that you have to eat the ice cream BEFORE the vegetables in order for them to reverse the damage.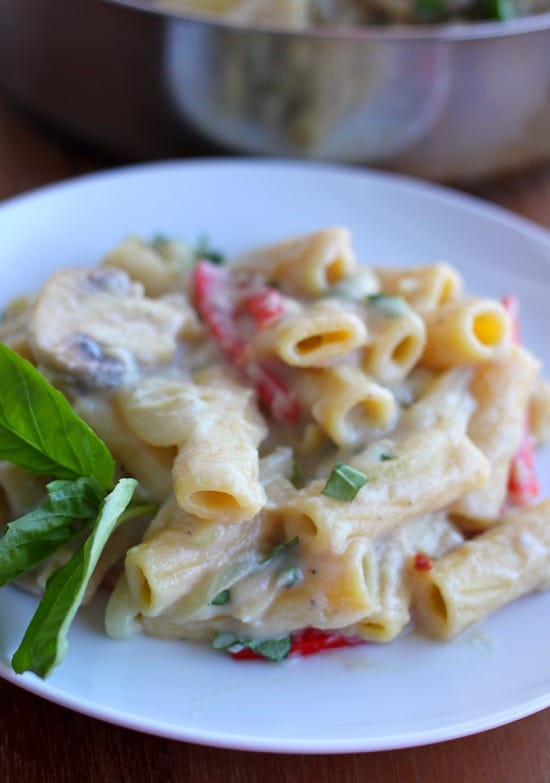 Tools I used for this recipe…
[AMAZONPRODUCTS asin="B00O97D0DO,B003XU3C7M"]
---
One year later: Chorizo Burger with Fried Egg and Sriracha Mayo
One year ago: Creamy Shells and Cheese with Roasted Broccoli (dairy free)

Baker Bettie
Yields 4-5
Creamy Cauliflower and Basil "Alfredo" (dairy free)
10 minPrep Time
30 minCook Time
40 minTotal Time
Ingredients
3 lb cauliflower (about 1 large or 2 small)
2 cups milk of choice (I used almond)
5 cloves garlic, minced
2 TBSP nutritional yeast (optional, but will give the sauce more of a cheesy flavor)
salt and pepper
1 lb pasta of choice
1 large red bell pepper
6 oz mushrooms
1 small onion
1/4 cup fresh basil finely chopped
Instructions
Bring a large pot of water to a boil. While water is heating up, chop the cauliflower into florets.
Boil the cauliflower for about 15 minutes until very tender. Strain the cauliflower.
Place the cauliflower in the blender with the milk and blend until very smooth.
Pour the cauliflower puree into a medium sauce pan over medium heat. Add the garlic, nutritional yeast and salt and pepper to taste. (heavy on the pepper to be true to an alfredo flavor).
Bring another large pot of salted water to a boil and cook the pasta according to package instructions.
Meanwhile, chop the bell pepper, mushrooms, and onion.
Heat oil in a skillet over medium high heat. Once the skillet is very hot, saute the vegetables until tender.
Combine the pasta, sauce and vegetables. Toss with fresh basil right before serving.
7.6.7
37
https://bakerbettie.com/vegan-cauliflower-alfredo/