Raw Vegan Ranch Dressing Dip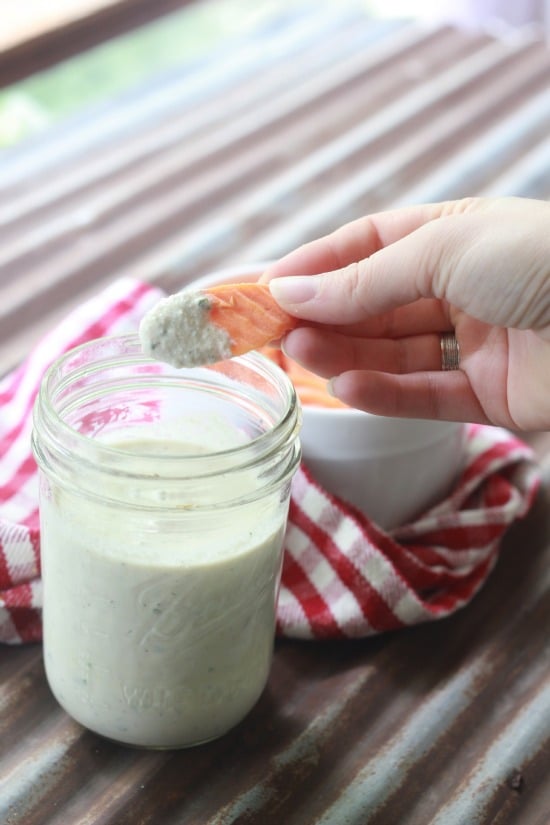 I love fresh veggies just about as much as I love potato chips and french fries.  You see, these things have more in common than you might think.  In my eyes they are all just edible utensils used to get dip into my mouth.  Since throwing in the towel to processed foods and dairy, veggies just haven't had the same excitement to me.  Yeah sure, I could dip them into hummus or baba ganoush and these things are totally delicious in their own way.  But let's face it, it is just not the same as ranch dressing.
The discovery of this raw vegan ranch dressing is pretty much changing my life.  I now have a lovely dip for those healthy edible utensils that are my veggies.  Here is the kicker, it tastes amazingly similar to ranch dressing.  I think I even like this better.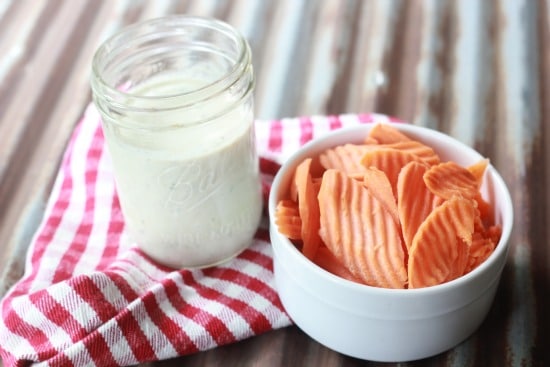 Raw Vegan Ranch Dressing Dip
Ingredients
1 1/2 cup raw cashews, soaked for 1-2 hours (if you have a high powered blender such as a Vitamix, you can skip this step)
1-2 cups water
1/2 tsp sea salt
juice of one lemon
1 clove garlic, or 1/2 tsp garlic powder if you want a more mild garlic flavor
1/2 tsp onion powder
1/4 tsp dried basil, or fresh if desired
1/4 tsp dried dill, or fresh if desired
Instructions
In a blender, combine cashews, 1 cup of water, sea salt, lemon juice, and garlic.
Blend until the cashews become a smooth sauce. If the mixture is too thick, add more water up to 1 more cup until the desired consistency.
Add onion powder, basil, and dill and pulse until combined.
Stores in an airtight container in the refrigerator for up to 4 days.
If the mixture starts to separate slightly after sitting in the refrigerator, put it back in the blender and pulse until smooth again.
Nutrition Information:

Amount Per Serving: Calories: 0