Winner of Cookie Wars 2013!
I am so excited to share with you the winner of this years Cookie Wars Recipe Contest!
Last week I baked away all kinds of cookies for the final round of judging! That evening the cookie tasting ensued and the night ended with a sugar rush, tummy aches, and definite winners! I think next year I definitely need to have someone who is the designated photographer because both years the judges have gotten so caught up in the tasting that we forget to take good pictures of everything. Here are a few I snapped quickly before the cookie tasting madness set in.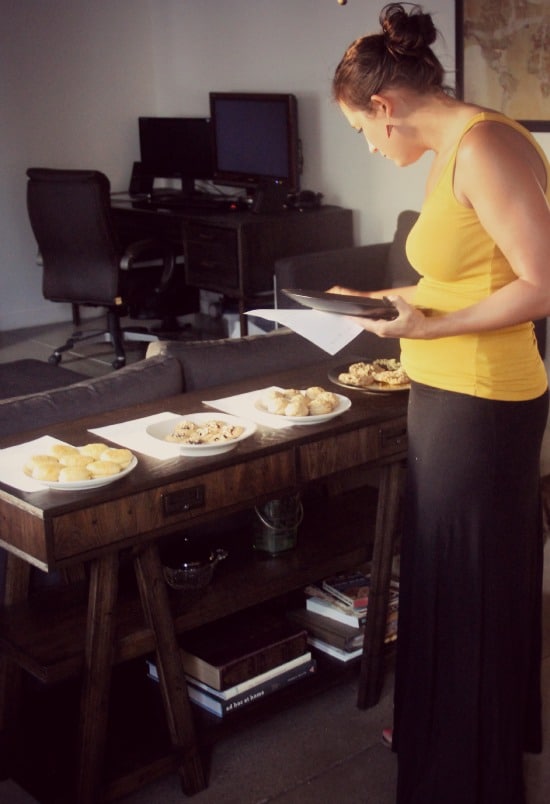 Yesterday I shared with you the 2nd and 3rd place winners and today I am announcing the overall winner! Let me tell you what, it is amazing! All of the judges loved it so much and we were amazed at how many challenge ingredients (4) she was able to use without the flavors being overwhelming. They all worked together beautifully! This girl is talented!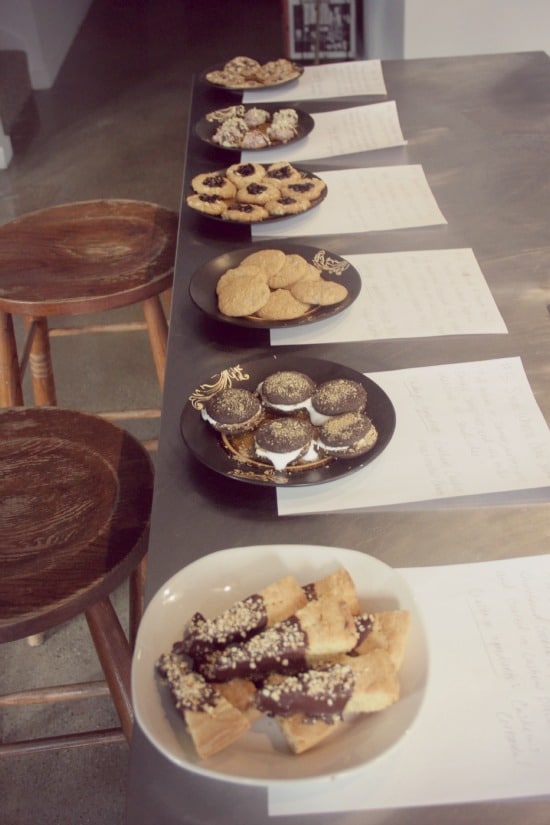 The Overall Winner of Cookie Wars 2013 is…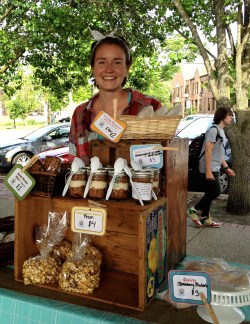 Taylor Tinkham of Oh Dear Bakery with the original recipe for Drunken Debbies with Pear Ginger Buttercream!
Taylor describes this cookie as: "Stout oatmeal cookies sandwiched with pear ginger buttercream."
A little bit more from Taylor…
Q: Tell me a little bit about yourself: 
My name is Taylor, I'm 23 years old and I'm originally from the Twin Cities, Minnesota, butI currently live in Ann Arbor, Michigan. I have a little stand at the local farmers market where I sell my baked goods, the stand and my blog are called Oh Dear Bakery. I also work for a new vegan restaurant in town, and I am a hula hooping instructor and a knitter.
Q: When did you first start baking?
Ever since I can remember I've spent time in the kitchen with the best of the best – my mom and grandma. I think I was helping with Christmas cookies before I could tie my own shoes. Homemade pies, decadent Baked Alaska and beautiful fruit trifles were the norm in my house; I was a lucky kid.
I'll never forget the first cake recipe I made up and baked myself, I think I was about 12. I loved cinnamon (still do) so I made a cinnamon cake with cinnamon glaze. It was sunken in, dense and completely tasteless, the glaze was basically pure powdered sugar. I think I've learned a little since then, but really, who knows?
Q: What is your favorite thing to bake?
Right now I love making bread of any kind. Turning water, flour and yeast into something so delicious is absolutely magical to me. The process of bread making is totally fascinating and could be investigated forever. But if I have to be specific, cinnamon raisin swirl bread would be my favorite thing to bake/eat right now.
Q: What is your favorite kind of cookie?
I like my cookies full of ingredients, kitchen sink cookies you might call them, because they have more filling than actual dough. My mom buys my favorite cookie in LaCrosse, WI, and you can only buy them at the hospital there, so we call them "hospital cookies". They're big and fat and full of all kinds of goodies, nuts and chocolate and coconut and raisins. Yum.
Q: What was your inspiration for this winning recipe?
I think these ingredients stood out to me because they are all things you might see on the menu at one of the many microbreweries in Ann Arbor. Ginger beer, pear hard cider, oatmeal stout, spiced ale… they all work together in beer, so why not a cookie?
I also just really wanted to make a sandwich cookie; sandwich cookies count as one cookie, but you actually get two cookies and filling. It's just about the best deal out there.
Congratulations Taylor on a fabulous recipe and win! 
Drunken Debbies with Pear Ginger Buttercream
This is an original recipe from Taylor of Oh Dear Bakery and was the Winner of Baker Bettie's Cookie Wars Recipe Contest 2013!
Ingredients
12 oz Irish stout
1 cup (2 sticks) unsalted butter
1 1/4 cups brown sugar
1 tsp instant espresso powder
2 eggs
1 tsp baking soda
1 tsp salt
2 cups all-purpose flour
2 cups old-fashioned oats
1 tsp cinnamon
1/2 tsp allspice
1/2 tsp powdered ginger
1/2 cup (1 stick) unsalted butter
2 pears, peeled and grated
1 TBSP fresh ginger, minced
3 cups powdered sugar
1 tsp vanilla
1-2 TBSP heavy cream
Instructions
For the Cookies
Put stout in a small pot over medium heat to reduce to about 1/8 of a cup. This should take about 25-30 minutes (I made the frosting while I waited). Then allow to cool completely (hot beer reduction will melt your butter!).
Combine butter and sugar and cream until fluffy, add espresso powder and eggs. Beat until incorporated.
Mix together the baking soda, salt, flour, oats and spices. Add about half the mixture to the butter/sugar mixture along with the stout reduction. Then add the rest of the dry ingredients and mix until completely incorporated.
Refrigerate 30 minutes-2 days, until ready to bake.
Preheat oven to 350 degrees.
Using a 1 inch scoop, scoop dough onto lined sheet pan giving about 1 inch between each scoop.
Bake 9-11 minutes until golden brown around the edges. Allow to cool on the pan for 5 minutes before transferring to cooling rack.
Put a heaping tablespoon of filling in between two cookies and enjoy!
For the Frosting
Put grated pears and minced ginger in a small pot over medium heat. Allow all moisture to evaporate, stirring occasionally, until uniformly golden brown. Allow to cool completely.
Once pear mixture is cool, begin to beat butter and powdered sugar. Add pear mixture, vanilla and the rest of the powdered sugar until smooth. Add cream if necessary to get a spreadable consistency. Set aside.
Nutrition Information:
Amount Per Serving:
Calories: 0