Chewy Brown Sugar and Rosemary Snickerdoodles
I'm kicking my snickerdoodle game up a notch with these chewy brown sugar and rosemary snickerdoodles! These have become a winter favorite of mine and everyone I share them with goes crazy for them!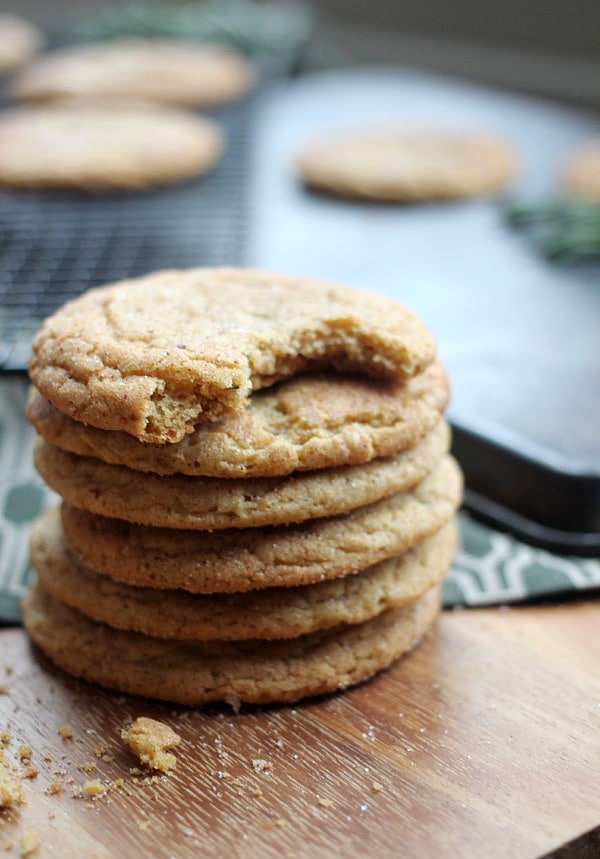 I've been struggling with expectations lately. High expectations about a situation that is very important to me. And I am getting very let down. Extremely let down. And I'm struggling to find a way to let go of the expectation and look for a way to take something good from it. It is very difficult.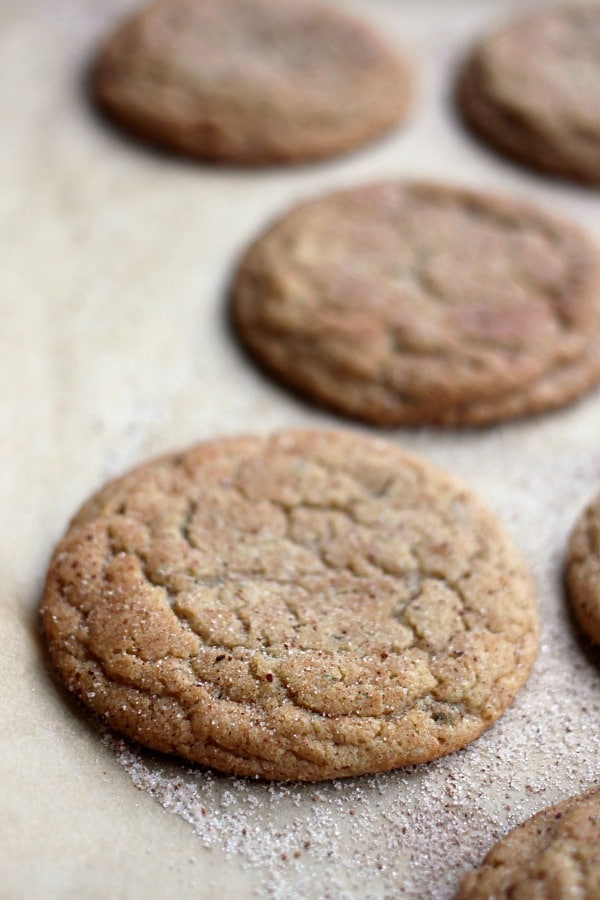 I know there is a lesson to be learned here. To step back from the expectation and just be in the moment. To find something, anything, good from the situation. Even if I am just learning something about life. Or about how I interact with people.
Or about how I deal with being let down. I have become frustrated and cranky and probably not the nicest to other people around me that have nothing to do with it. I'm working on that.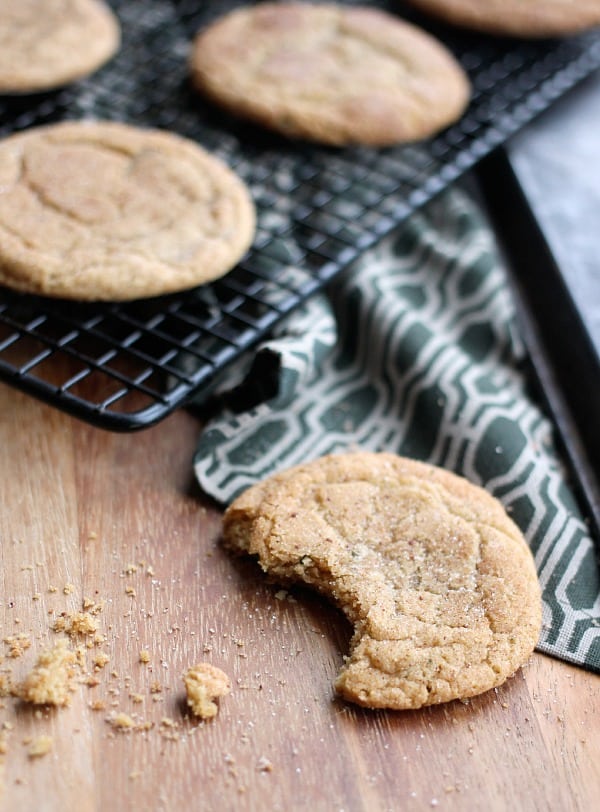 I do a lot of meditating about real life stuff when baking. It's amazing how much about life can be learned when creating in the kitchen. I got a request from my husband's co-workers for something with cinnamon or nutmeg or something holiday flavored.
I decided on snickerdoodles. They are chocked full of cinnamon, perfectly chewy, and absolutely addictive. But I always want to challenge people's expectations about food. Because changing expectations isn't always a bad thing. Sometimes it makes things even better.
I wanted to enhance the snickerdoodle flavor profile. Make them more glamourous. More gourmet. So I added another holiday flavor that always pairs well with cinnamon, rosemary.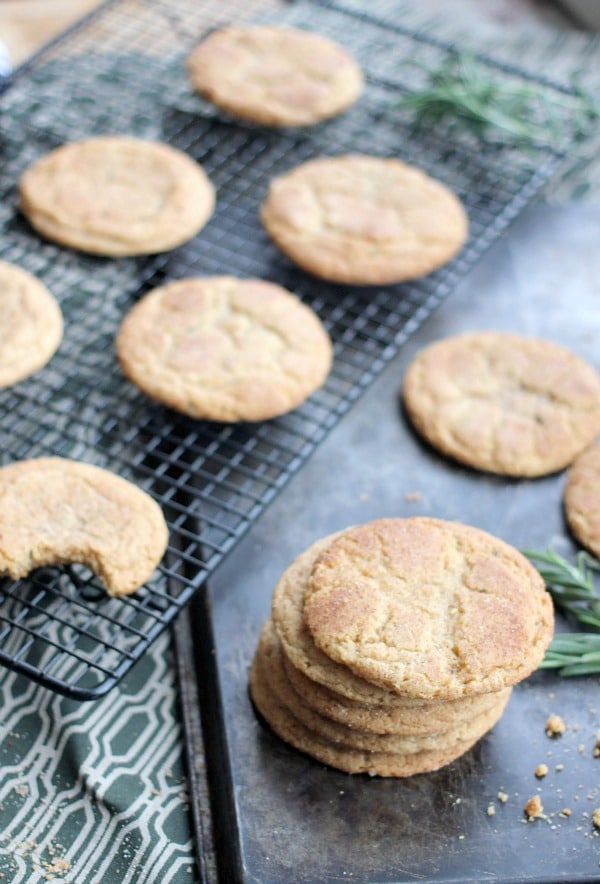 The rosemary adds a wonderful background flavor. It isn't overpowering. And to someone who isn't really knowledgeable about flavor profiles they may not even know what exactly that slightly woodsy flavor is. It just plays on a different part of the pallet and makes the cookies feel so gourmet.
I also used dark brown sugar in these, which is not typical of snickerdoodles, to increase the chew and add another depth of flavor. If you are like me and have never been all that excited about snickerdoodles, or even if snickerdoodles are your favorite cookie, you need to make these! Seriously. Whole new level.
One Year Ago: 
Pomegranate and Lime Parfait
Two Years Ago: 
No-Bake Mini Cherry Cheesecakes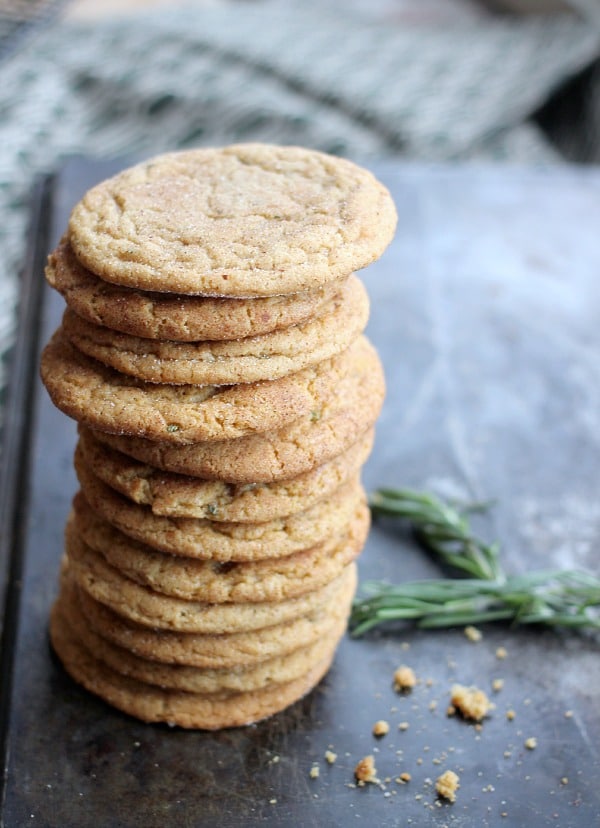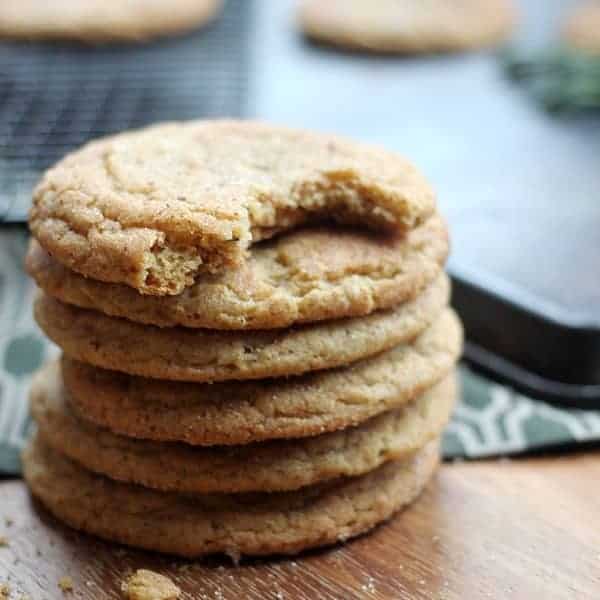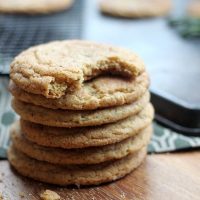 Chewy Brown Sugar and Rosemary Snickerdoodles
Yield: 12-15 Cookies
Prep Time: 40 minutes
Cook Time: 12 minutes
Total Time: 52 minutes
Ingredients
1/2 cup unsalted butter, softened
3/4 cup brown sugar (preferably dark brown)
1 TBSP fresh rosemary, finely chopped
1 large egg, room temperature
1/2 TBSP vanilla extract
1 2/3 cup flour
1/4 tsp kosher salt
1 tsp cinnamon
1 tsp cream of tartar*
1/2 tsp baking soda*
1/4 cup sugar
1/2 TBSP cinnamon
Instructions
In the bowl of a stand mixer fitted with a paddle attachment, cream together the butter, brown sugar, and rosemary until light and fluffy (about 2 minutes). Mix in the egg and the vanilla until incorporated.
In another large bowl, whisk together the flour, salt, 1 tsp cinnamon, cream or tartar, and baking soda.
With the mixer on low, slowly add in the dry ingredients and mix just until incorporated. Scrape down the bowl as needed.
Cover and chill in the refrigerator for at least 30 minutes and up to 24 hours.
Preheat oven to 375F.
Mix together the 1/4 cup sugar and 1/2 TBSP cinnamon in a small bowl. Roll medium sized dough balls (about 11/2 TBSP) in the cinnamon sugar mixture. Place dough on parchment (or silpat) lined baking sheets and bake at 375F for 10-12 minutes until puffy and the edges are set. The middle will still look underbaked.
Allow to cool for 5 minutes on the baking sheets before removing.
Nutrition Information:
Amount Per Serving:
Calories: 140