About
Oh hello! Welcome to Baker Bettie, my website filled with baking techniques, science, and recipes!  I am so happy to have you here! Please have a look around. You can find all kinds of recipes by searching through my recipe index!
A little about me and this website…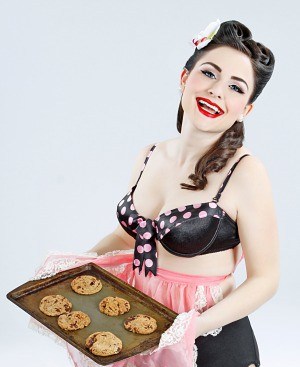 I am totally obsessed with baking, baking science, and basic baking techniques. I want  this to become a place where you can find all of the answers to any of your baking questions! Many of my posts have baking science tips and tricks written into them. If you have a certain topic you are looking for use the search bar at the top right of the page to find it! If you can't find it, please feel free to leave a comment or send me a message through my contact form and I will definitely try to answer it for you.
A few things that might help you navigate the site more easily…
I have a section of basic baking recipes that are very simplified recipes of easy baked goods. Basic cookies, pancakes, brownies, biscuits, cakes and other pastries. This is a great place to start if you are a new baker!
My Baking 101 section will answer a lot of basic baking science questions.  Want to know the difference between baking soda and baking powder? Need weight conversions for basic baking ingredients? Want to learn all about the different varieties of flour? All of these answers can be found in the Baking 101 section.
I have created an archive list of basic techniques, baking words/phrases, and ingredients. Each topic has a link to a page where you can learn more about it. This is a great place to start when trying to understand a topic better. While reading my posts, you will see many links on baking words and ingredients. These links will take you to the page to learn more about it. Don't see something on the page that you want to know? Contact me and I will try and get it added!
I hope you enjoy the site! Please leave me comments if you have any questions and I will try to get to them as soon as possible!
A little about me…
I am a 20 30 something Kansas native. I moved to Chicago in 2015 where I work as a private chef for a young adult with a very long list of food reactions. My day job keeps me incredibly busy researching ingredients, developing recipes, cooking meals, and traveling. In my free time, I enjoy putting all my effort I can into this space, making people feel confident in their baking abilities!
I adore pinup fashion, I am an unashamed cat lady, and I love coffee more than life itself!  To see a little more behind the scenes in what I do for this website, my job, and just my life in general you can follow me on instagram @bakerbettie