The Best Chocolate Chip Cookies
This is arguable the best chocolate chip cookie recipe ever. The cookies are thick, and slightly crisp on the outside and incredibly chewy on the inside.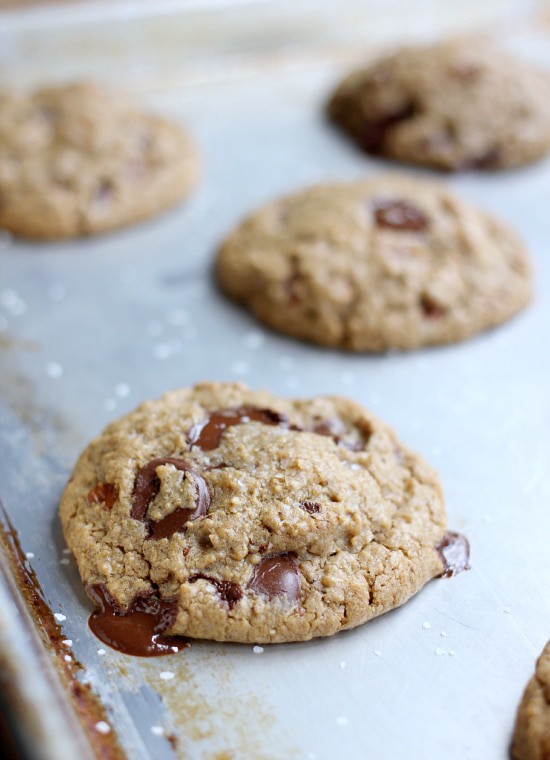 I have a very long post for you today. A post that deserves a very long post because I am going to give you all of the intricate details of creating the absolute best chocolate chip cookies you have ever had. If you just want the recipe and want to skip my rambling and details click here to jump down to it!
Alright, I know some of you (or probably most of you) are skeptical at my proclamation that these are The Best Chocolate Chip Cookies Ever. I am completely aware that there are tons of recipes out there claiming to be the best. Probably too many to count. And I am not naive. I'm sure that there are some who won't think this is the best.
But I'm bringing you this recipe today telling you this is my Ultimate Chocolate Chip Cookie. This is the recipe I have developed into what I consider to be the absolute best, perfect, over the top cookie.
I have worked hard on this recipe and I have guarded it pretty tightly for almost 4 years. But I'm not so sure what I'm guarding it for anymore. So what the hell, here we go…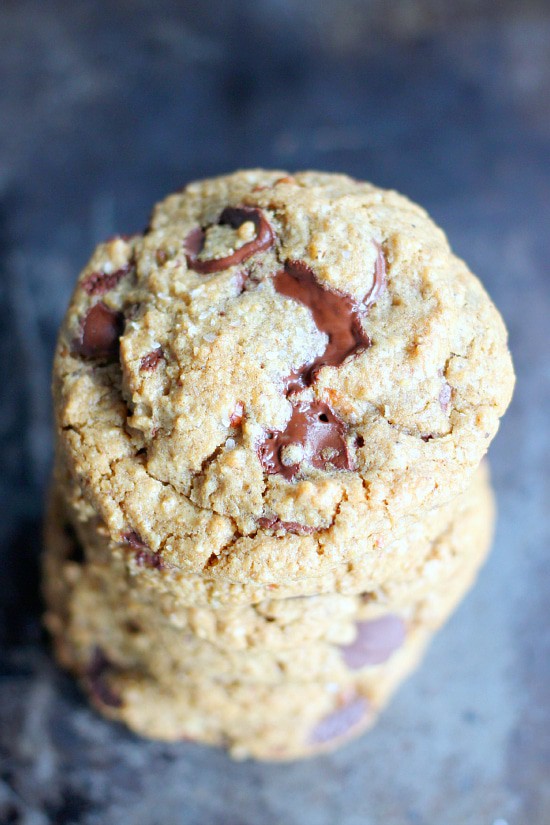 I need to preface this recipe and tutorial by saying that these are not the cookies you make when you have a spur of the moment craving for cookies. These are special occasion cookies. These are "I need to impress someone" cookies.
The reason these are not everyday chocolate chip cookies is that they are a little pricey to make and they also take some time commitment. But if you are dedicated to those two things, these are so worth it.
They have everything you could want in a cookie. Just the right amount of crunchy bits on the outside and an incredibly chewy inside.
They also have an extreme depth of flavor. The perfect mix of sweet, salty and richness.
They also feel a little bit fancy but not so much so that they lose that rustic homeyness that all chocolate chip cookies should have. In my opinion, they are just perfect.
I am going to give you a detailed tutorial of exactly how I make my Best Chocolate Chip Cookies.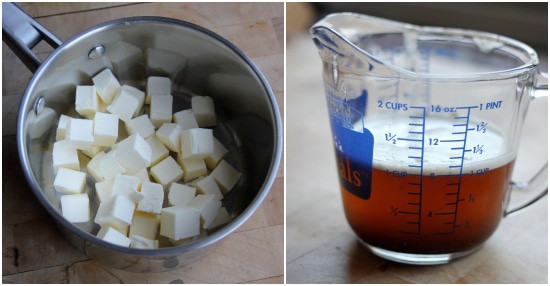 The recipe starts with unsalted butter. 1 cup plust 2 TBSP butter to be exact. It is a bit more butter than most recipes call for, but it helps with the richness of these cookies. The butter is browned at least several hours before making the cookies so that it has time to cool before being added to the dough. You can also brown the butter the night before.
There are a lot of food trends at the moment, and browned butter in baked goods is arguably one of the biggest. I discovered it about 4 years ago and I have never turned back.
Some food trends can be obnoxious, but this one makes complete sense because it can turn ordinary cookies or brownies into something extraordinary.
To brown butter, heat butter over medium heat in a sauce pan. The butter will melt and then slowly come to a boil. Once the butter starts boiling, start stirring continuously. The butter will become murky and then start to clear up as the water cooks off.
You will start to smell the butter when it is getting close to browning. It will smell nutty and then will start turning an amber color. You want it to be a fairly deep amber color, but watch it closely because it can burn quickly. This whole process takes about 15 minutes.
After the butter is brown, remove it from the heat and let it cool to room temperature. You don't want to use hot or even warm butter in this recipe because you won't be able to cream it with the sugar and it will result in really greasy cookies.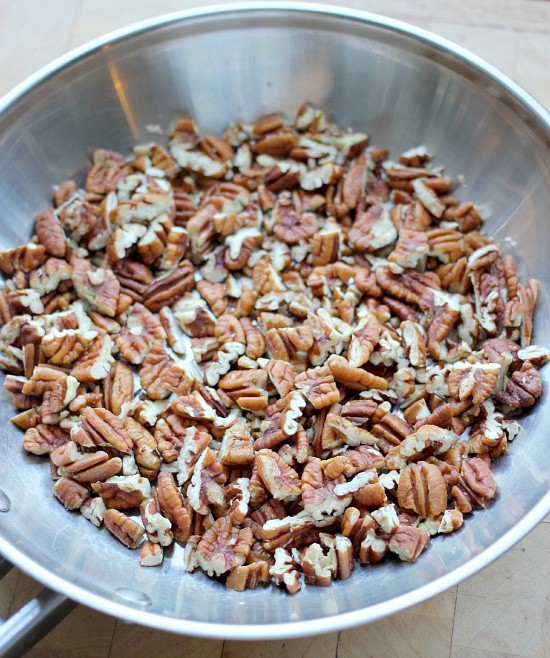 Immediately after browning the butter, it is time to toast the pecans so that they can also cool before making the dough. The toasted pecans are crucial in this recipe. They add another contrast in texture, they contribute to the savory aspect, and by toasting them they create an additional depth of flavor.
I used to be totally against nuts in cookies, but when creating this recipe I couldn't go back after I tried them with the pecans. I have also converted quite a few no-nut cookie purists with this recipe.
To toast pecans, put them in a dry pan over medium heat. Stir occasionally, paying close attention so they don't burn. The pecans will become very fragrant once they are toasted. Remove from heat and allow to cool before making the dough.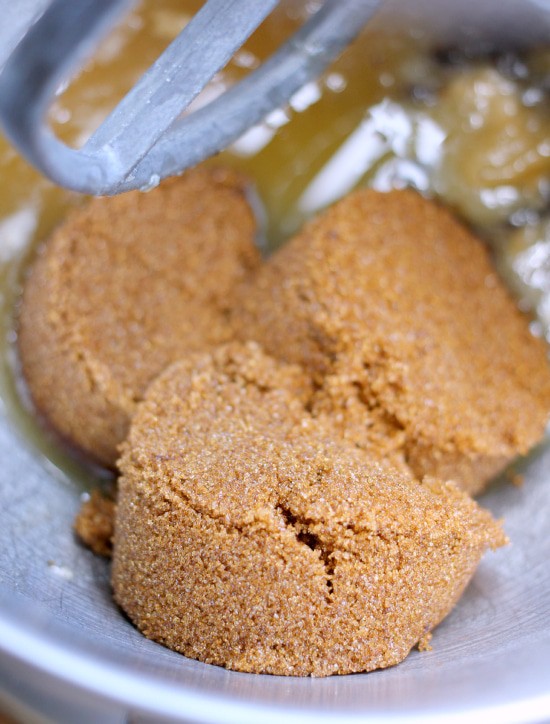 Once the butter has come to room temperature and is starting to become solid again, you can start making the cookie dough. The batter starts by creaming the butter and sugar. One of the things that makes these cookies special is using Dark Muscavado Baking Sugar.
If you aren't familiar, Muscavado sugar is an unrefined brown sugar with a strong molasses flavor. There really is a big difference in quality between this stuff and the other refined stuff.
That being said, regular dark brown sugar will work. But you want to use the dark brown stuff. It will create more chew, depth of flavor, and richness in the cookies.
Beat together the sugar and butter for about 5 minutes until it is pale in color and fluffy.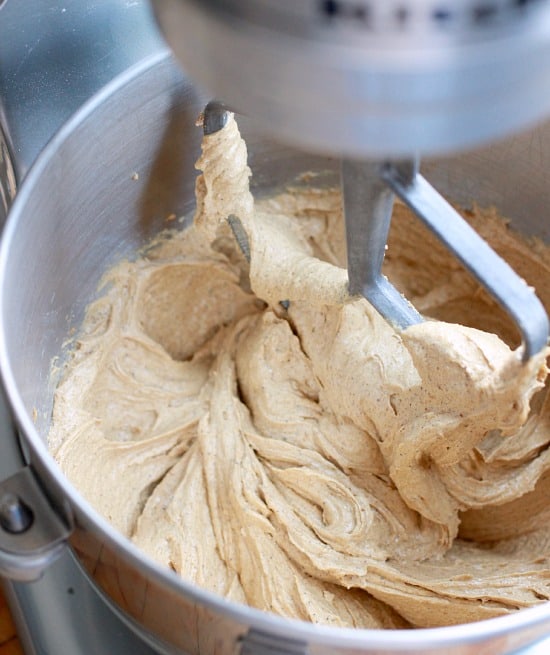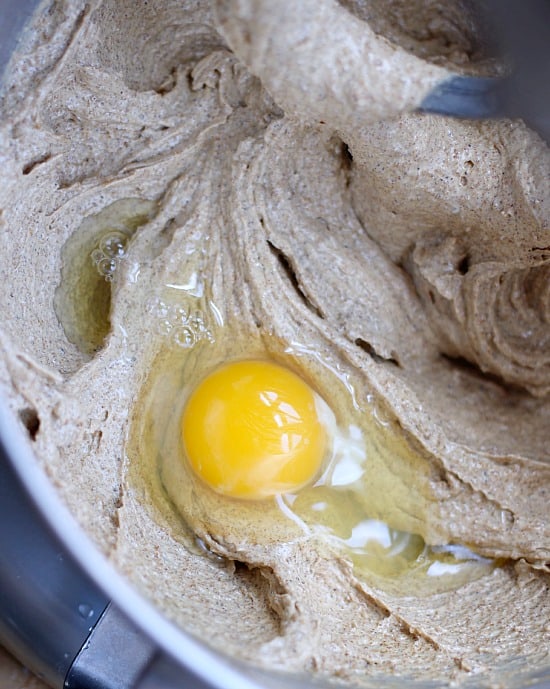 Next it's time to beat in two room temperature large eggs. Fresh is best.
Beat in the room temperature eggs one at a time until completely incorporated.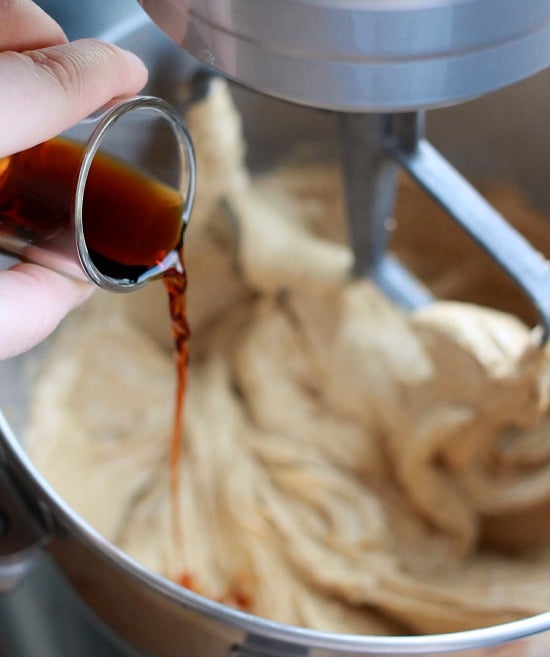 The vanilla is an important element in what makes these cookies the best. I always use a good Mexican vanilla. If you have never used Mexican vanilla before, it has a distinct flavor to it that is not the same as other vanillas. It has almost a hint of cinnamon (but not overwhelmingly so) and it has a bit of a woodsy flavor.
I really think it is what makes these cookies pop and has tasters asking "What is the secret ingredient?" My favorite Mexican vanilla is Danncy Dark Pure Mexican Vanilla Extract
. If you can't find it in specialty markets you can usually find it online on Amazon
or various other online stores. I'm sure there are other great brands as well, but this is what I have experience with.
2 tsp Mexican Vanilla (1 TBSP if using regular vanilla) is mixed into the batter until combined.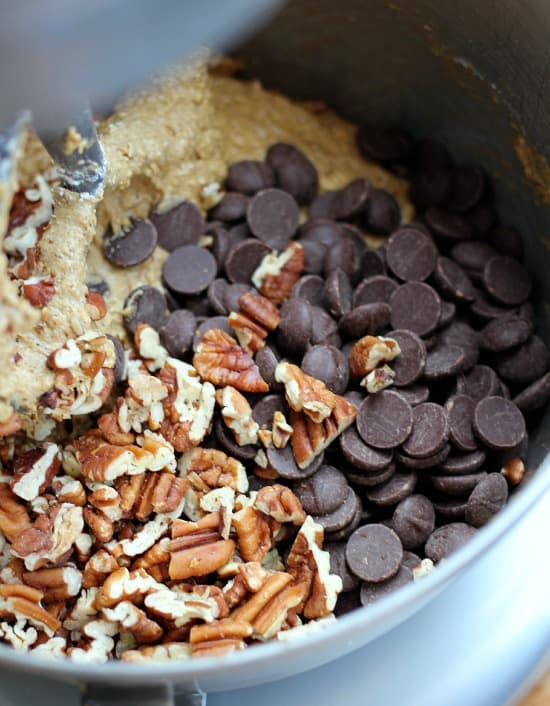 I always add the baking soda, baking powder, and salt to the batter at this point. I never do the sifting together of all the dry ingredients.
Other avid bakers may be rolling their eyes at this, but I find that if you mix in the other dry ingredients before the flour they will get evenly distributed.
I always save the flour as the very last ingredient, even after the chocolate chips and nuts. This is so the flour doesn't get over-mixed into the batter creating a tough cookie.
The combination of both baking soda and baking powder in this cookie gives it a little more tenderness and helps keep the cookie a bit taller.
Also, a note about salt: You want to use kosher salt or a medium coarse sea salt. These salts will hold their shape when mixed and baked and will not totally dissolve in the batter like table salt will. You don't want the whole batter to be salty, you just want little flecks of salt mixed throughout to balance the flavors.
Mix in 1 tsp baking soda, 1 tsp baking powder, and 1 tsp kosher salt.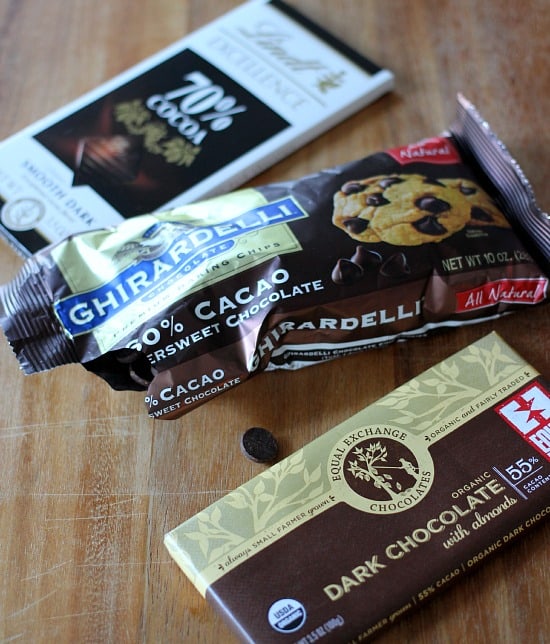 The quality of chocolate is extremely important in The Best Chocolate Chip Cookies. My all time favorite chocolate chips are Guittard 63% Extra Dark Chocolate Chips.
The quality is hard to beat. I can't always find them though, so I often use Ghirardelli Bittersweet Chocolate Chips
(which I also love so much) or a chopped up dark chocolate bar.
I suggest using a chocolate that has a percentage of at least 55%. I sometimes use a mix of 60% and 75%. This is the one thing with these cookies that I do not keep constant. As long as it is a good dark chocolate, then I approve.
Mix in 2 cups chocolate chips or chunks and 1 1/2 cups pecans before mixing in the flour.
Two kinds of flour are used in this recipe: All-purpose flour and Oat Flour.
Oat flour adds an incredible texture and chew to the cookies while also adding another layer of flavor and complexity. Oat flour can simply be made by grinding oatmeal in a blender or food processor to a fine crumb.
Oat flour can also be purchased in most health food sections of the grocery store. About 2 1/2 cups of oatmeal should yield about the 2 cups of oat flour needed for this recipe.
Mix in the 2 cups of oatmeal flour until incorporated before adding the all-purpose flour. Mix in 2 cups all-purpose flour just until incorporated. Do not overmix.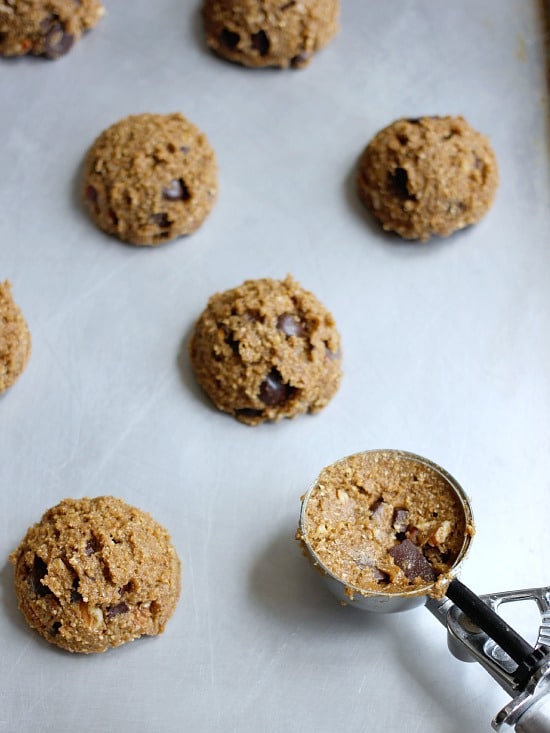 The cookies are then scooped onto a good quality baking sheet
using a big cookie scoop.
The scoop I use is almost 1/4 cup.
If you do not have a scoop you can use a measuring cup and slightly flatten out the bottom of the cookie, keeping the top rounded, and place them on the cookie sheets.
Only place 8 cookies per sheet. Too many cookies will not allow them to bake evenly and will allow the cookies to spread out more when they are baking.
Scoop the dough onto the cookie sheets keeping them in large rounded mounds. Only place 8 cookies per sheet.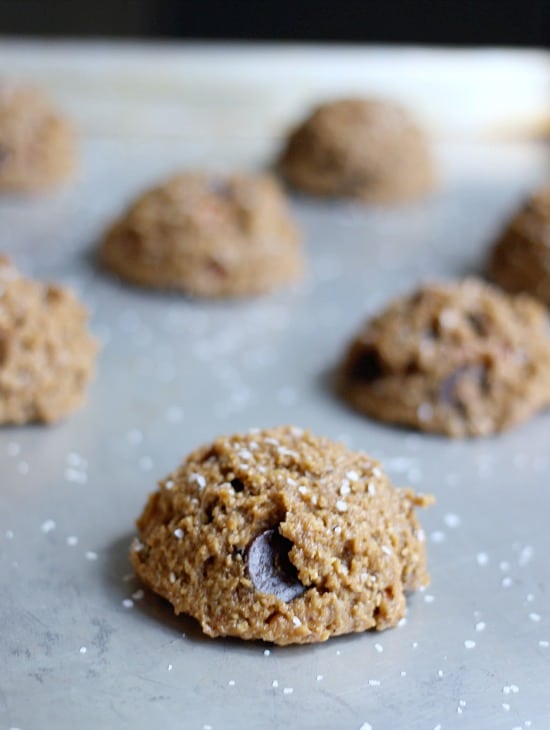 The cookies are then sprinkled with a bit more kosher salt and baked at 375 degrees F. This temperature will allow the cookies to set before the butter melts and allows them to spread and become too flat.
It is important to know if your oven cooks true to displayed temperature. An oven that cooks too hot will keep the cookies too tall and an oven that cooks too cool will make the cookies too flat.
Sprinkle the cookies with a bit more kosher salt and bake at 375 for exactly 9 minutes. Pull the cookies out of the oven and allow to cool on the baking sheets for 5 minutes before removing. The cookies will look slightly underdone but they will be perfect.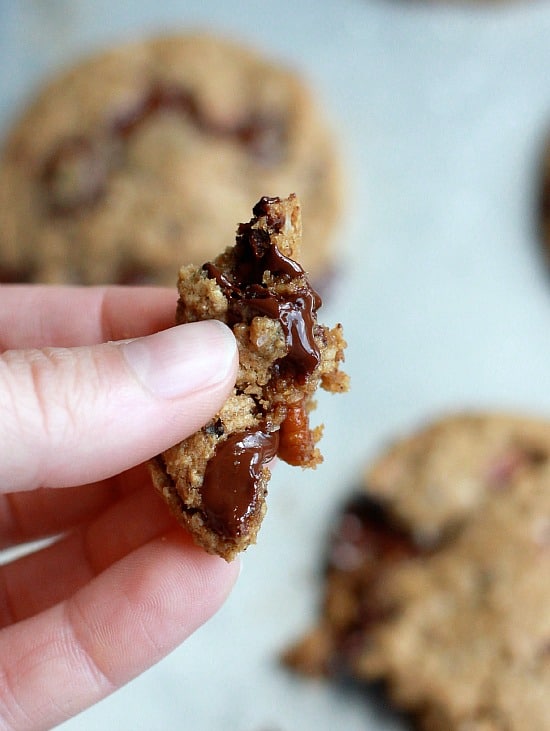 I readily admit that I have had a lot of really awesome cookies and I have tried all the big recipes out there that claim to be the best. And I may be a bit biased, but I have yet to find a recipe that tops this one according to my taste preferences.
Be prepared to be asked to make these all the time if you ever share them with family or friends. I have a few family members that I do not live near anymore that are probably jumping for joy right now knowing that they can now make these themselves.
I think they have the best of all cookie worlds. Slightly crunchy on the outside, chewy and soft on the inside, with all kinds of complexity in flavor. If you do try them please let me know what you think.
And I promise I won't be offended if they aren't what your taste buds prefer. But we probably can't be best friends. Just sayin'.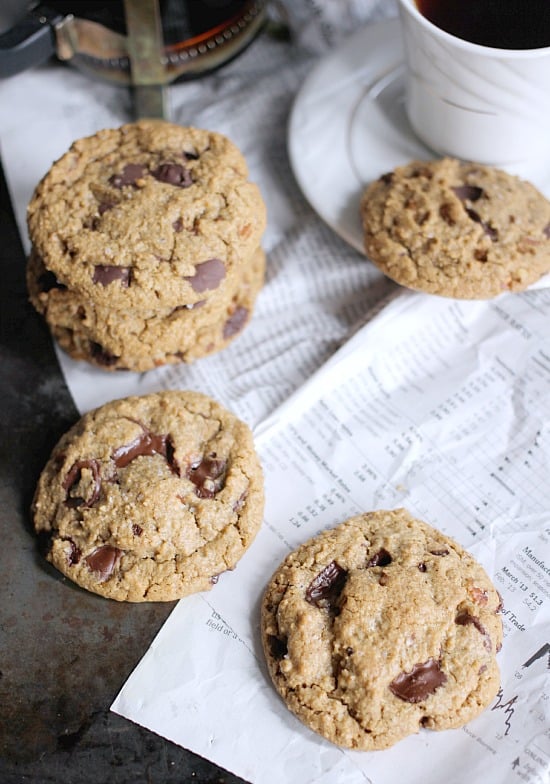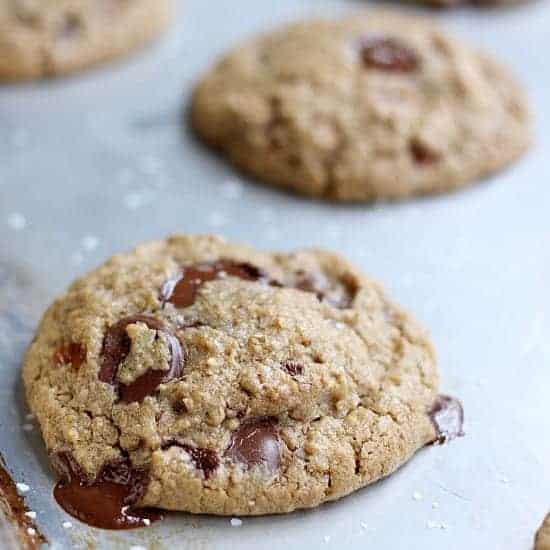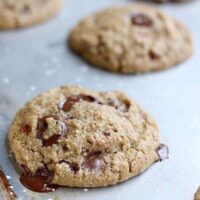 The Best Chocolate Chip Cookies
Yield: 24 Cookies
Prep Time: 2 hours
Cook Time: 9 minutes
Total Time: 2 hours 9 minutes
This is arguable the best chocolate chip cookie recipe ever. The cookies are thick, and slightly crisp on the outside and incredibly chewy on the inside. 
Ingredients
1 cup plus 2 TBSP (9 oz, 252 gr) unsalted butter, browned and cooled
1 1/2 cups (about 5 oz, 140 gr) chopped pecans, toasted and cooled
1 1/2 cups (10.5 oz, 294 gr) dark brown sugar, lightly packed
2 large eggs, room temperature
2 tsp mexican vanilla extract (1 TBSP regular vanilla extract)
1 tsp baking soda
1 tsp baking powder
1 tsp Morton kosher salt (use 2 tsp if using Diamond kosher) (plus extra for sprinkling)
2 cups  dark chocolate chips or chunks (at least 55%)
2 cups (8.5 oz, 238 gr) oat flour
2 cups (8.5 oz, 238 gr) all-purpose flour
Instructions
At least several hours before baking the cookies, brown the butter and set aside to cool until it starts to become solid again. Toast the pecans and set aside to cool.
Preheat the oven to 375ºF.
Using a paddle attachment on your stand mixer, or in a bowl with a hand mixer, cream together the cooled & solidified butter and brown sugar until light and fluffy, about 5 minutes.
Mix in the eggs one at a time until incorporated. Beat in the vanilla.
Mix in the baking soda, baking powder, and salt until evenly distributed.
Mix in the chocolate and pecans.
Mix in the oat flour until incorporated and then the all-purpose flour, being carful not to overmix.
Scoop 8 rounded mounds of dough (about 1/4 cup each) onto each cookie sheet.
Sprinkle the cookies with kosher salt and bake at 375ºF for exactly 9 minutes and then remove from the oven.
Let cool on the cookie sheets for 5 minutes before removing to cool further. (Or eat them straight off the cookie sheet while still hot!)
Nutrition Information:
Amount Per Serving:
Calories: 486
---