How to Make Chocolate Mousse
Learn how to make chocolate mousse that is light, airy, silky smooth, and intensely chocolate. Serve as is, or use as a filling for pie or cake.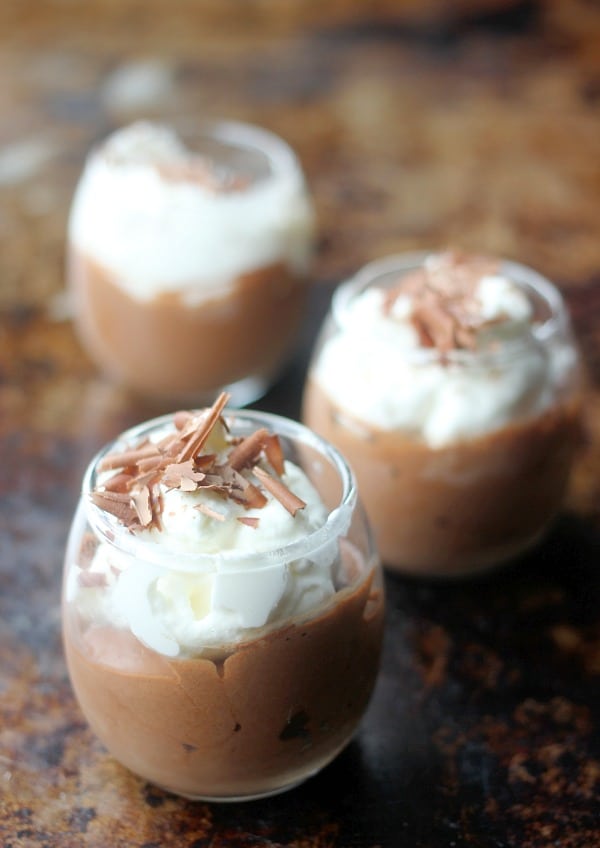 I am here today to torture you with chocolate and give you another amazing base recipe to keep in your arsenal! I hope the more of these you have the more comfortable you feel in the kitchen making amazing pastries and baked goods! That whole idea of baking being intimidating really starts to go away when you realize that it is all pretty much a combination of basic techniques and basic recipes. Once you get that down, you can literally make anything!
As always, please let me know if there is a specific skill or recipe you have been interested to learn! I would be happy to try and fit it in my line up!
Also, I have just discovered Trader Joe's "Pound Plus Chocolate Bars" and they are amazing! If you go through as much chocolate as I do, these are necessary!
Alright, I'm ready to go into our mousse lesson!
WHAT IS CHOCOLATE MOUSSE? 
In french, the word "mousse" means foam or froth. And that is a really good way to imagine the texture of what a properly made mousse should be. There are all kinds of mousse recipes, both savory and sweet, but today we are talking about how to make chocolate mousse. This is another base recipe, just like the ganache, that has endless uses.
Chocolate mousse is intensely rich in chocolate flavor, but so light and airy in mouth-feel. Once it is chilled, the chocolate mousse sets up and can be piped as a frosting on cupcakes or cakes, can be used as a filling in pies or tarts (my favorite application), or just simply eaten as is with a dollop of barely sweet whipped cream and chocolate shavings or fruit.
There are actually many varying recipes for chocolate mousse. Some with just folded in whipped cream, some with both the egg yolks and egg whites, and even some made with gelatin.
But today I am teaching you my favorite recipe/technique for chocolate mousse that produces such a beautiful flavor and texture. It only involves these simple ingredients: chocolate, hot water, salt, egg whites, sugar, heavy cream.
---
HOW TO MAKE CHOCOLATE MOUSSE
For this particular recipe we are going to be using a few simple pastry techniques.
Create a basic emulsion with melted chocolate and water
Create a simple meringue with egg whites and sugar
Make an unsweetened whipped cream
Fold all ingredients together.
It is really simple once you have all of your equipment ready to go and all ingredients measured out.
---
EQUIPMENT NEEDED
1 large bowl
1 medium sized bowl
1 stand mixer with mixing bowl and whisk attachment OR another medium bowl with a hand mixer
1 whisk
1 rubber spatula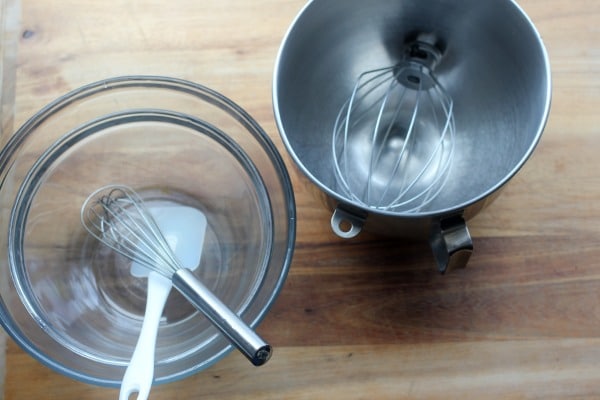 INGREDIENTS NEEDED: 
8 oz good quality chocolate, finely chopped
1/4 cup hot water
large pinch salt
2 large egg whites, room temp
1 1/2 TBSP granulated sugar
1 cup heavy cream, very cold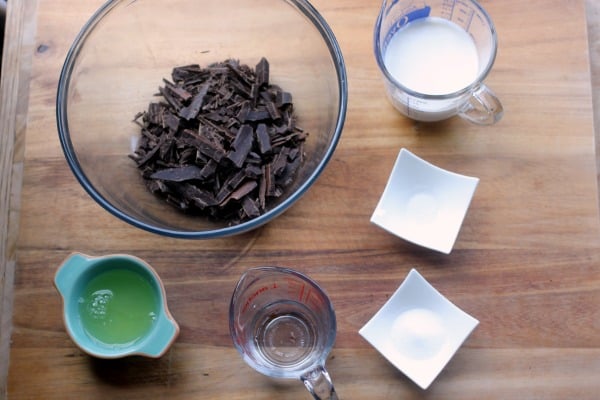 STEP 1: MELT CHOCOLATE
In the large bowl that you will finish the mousse in, melt your chocolate. Now, you can do this over a double boiler (meaning a pot of simmering water that you set your bowl over) but full disclosure here, I almost always use my microwave to melt chocolate. And to do this you need to heat it in the microwave in very short bursts, 10-15 seconds each, and then take the bowl out and stir in between.
Chocolate must melt slowly or it could get too hot, scorch, and seize up on you. You never want to put chocolate in a pan over direct heat. Ok, maybe I've done it before, but you are playing with fire doing that!
Heat the chocolate in the microwave in 10-15 second increments, stirring well after each, until the chocolate is completely melted and smooth and glossy.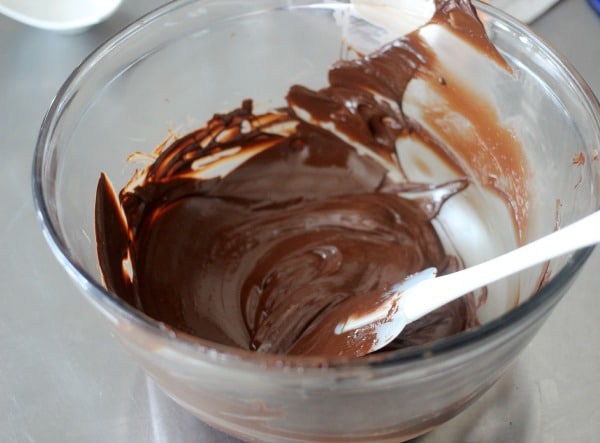 STEP 2: CREATE AN EMULSION OF CHOCOLATE AND WATER
I'm sure you know that water and chocolate don't mix. And if you haven't heard it, hear it now. Typically water is the enemy when melting chocolate. It can cause the chocolate to seize up and go to the bad place with no chance of returning. But we are going to make the unmixable mixable and create an emulsion here of the chocolate and water.
Pour the hot water in the bowl and immediately start whisking quickly and vigorously until all of the water is mixed into the chocolate and the mixture is very smooth. Whisk in the salt at this point.
Set the bowl aside to cool down while prepping the other ingredients.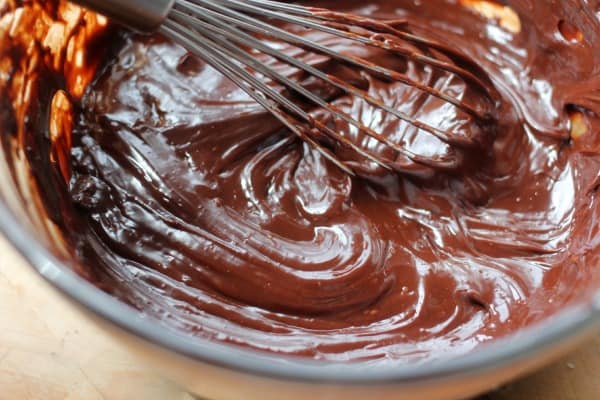 STEP 3: MAKE A SIMPLE MERINGUE
A meringue in it's most basic form is just whipped egg whites with a little bit of sugar whipped in and that is what we are making here. And if you are worried about eating raw eggs just make sure you buy pasteurized eggs. They can be easily found in the grocery store.
Start with room temperature whites. Egg whites whip much faster when they are not cold. Whip the egg whites to soft peaks, then slowly stream in the sugar while continuing to beat to just barely stiff peaks. Be very careful not to over whip the whites. The whites will get too dry.
After whipping the whites gently move them into another bowl and wipe out your mixing bowl so you are ready for the next step.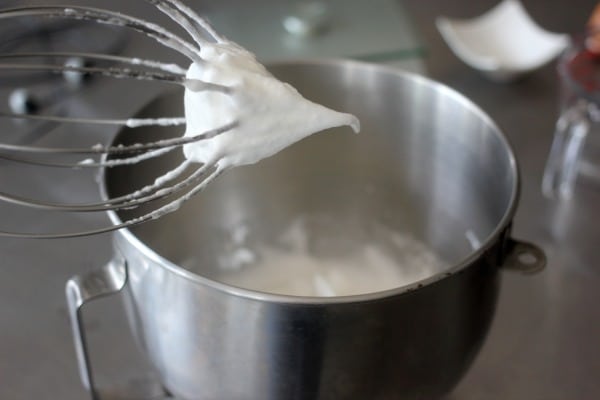 STEP 4: WHIP YOUR CREAM 
In case you weren't aware, though I'm sure most of you are, whipped cream is literally that. Heavy cream that has been whipped. The air beaten into the cream causes it to thicken and grow in volume.  We generally serve it sweetened and many times flavored with vanilla, but for the purposes of this mousse, we are making plain whipped cream. Nothing mixed in.
While we wanted room temp whites for the meringue, you want really cold cream for whipped cream. It will whip up so much faster when it starts cold. Beat on high speed to a firm almost stiff peak. You want to be careful here because if you whip too far you will start making butter! And while that can be kind of cool, it isn't really what we're going for here.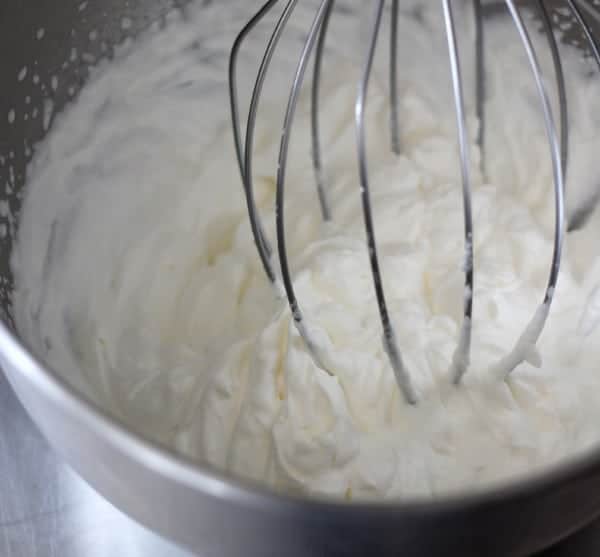 STEP 5: FOLD ALL INGREDIENTS TOGETHER
Folding is a technique in baking that is kind of hard to explain. Maybe I should make a video. But you always want to add the delicate mixture into the heavy mixture because our goal here is to keep things light. We whipped air into our egg whites and heavy cream and we want to keep as much of that as possible.
The chocolate is dense and heavy, so it is inevitable that we will lose some of that air trying to get them all incorporated, but just go slow and be gentle and patient, and it will pay off!
We will start with the meringue. Before we fold, we are going to lighten the batter with a little bit of the meringue. Add about 1/3 of the meringue into the chocolate mixture and use a whisk to stir the meringue in completely. You don't need to be worried about gentle yet, this is just prepping the mixture to make the folding part easier.
Now add another 1/3 of the meringue into the batter and use a rubber spatula to fold it in. Starting on the top, cut down from the center of the mixture to the bottom of the bowl with the spatula, then draw the spatula quickly toward you against the edge of the bowl, and up to the left and out.
Essentially you are bringing a bit of the chocolate up over the egg whites or "folding it".  Do this a few times. And then add the rest of the meringue and fold that in. You mixture will be streaky but as you fold in the whipped cream it will all get incorporated.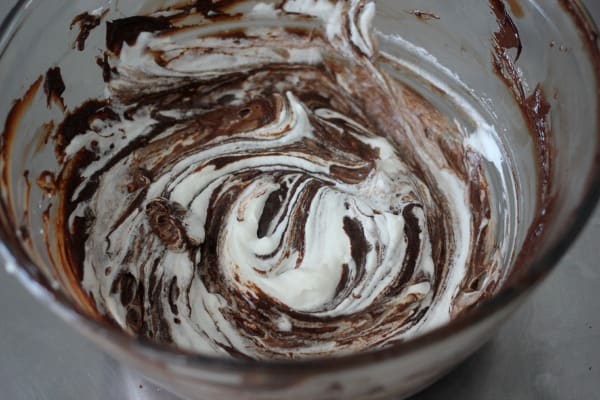 After all of the meringue has been folded in, fold in the whipped cream using the same folding technique. Fold in about 1/3 of the whipped cream at a time.  You will then have this beautiful chocolate mousse!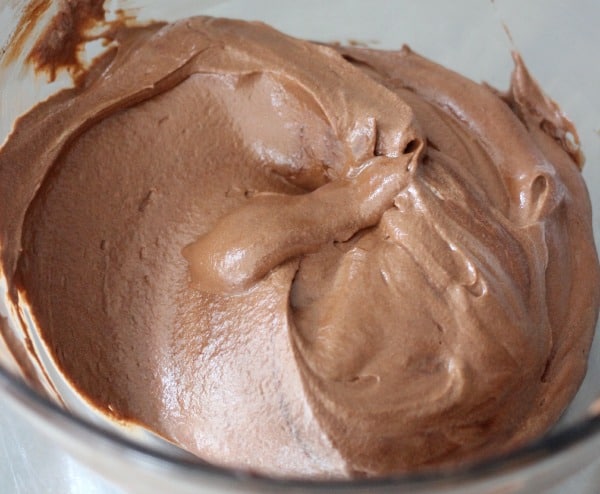 A FEW IDEAS FOR FLAVORING YOUR CHOCOLATE MOUSSE
Add warm peanut butter, or other nut butters, or COOKIE BUTTER into the melted chocolate. Just whisk in until smooth.
Add extracts into the melted chocolate, such as mint, vanilla, anise, almond, etc…
Add spices or finely chopped herbs into the melted chocolate: cinnamon, nutmeg, cayenne, chili powder, cardamom, rosemary (YES! rosemary and chocolate is amazing!), basil, mint, etc…
Whisk in other flavors like citrus zest or instant espresso powder into the melted chocolate
Add a tbsp of dark rum or your favorite liquor into the melted chocolate mixture.
Use a chocolate that has already been flavored, like Mast Brothers Vanilla & Smoke chocolate bar!
WITH THE FINISHED MOUSSE YOU HAVE SEVERAL OPTIONS FOR USES: 
Grab a spoon and sit down with the whole bowl of it and eat it as is.
Spoon it into individual cups and let it chill in the refrigerator to set for at least an hour. Serve with whipped cream and chocolate shavings.
Put it in a piping bag and let it chill in the refrigerator for at least an hour before piping onto cupcakes or filling a cake.
Fill a pie or tart shell with it and let it chill in the refrigerator until set.
Use it as a layer of an ice cream cake
Make a trifle with it.
And oh so many other options. This is one of those pastry recipes that opens up a whole lotta possibilities once you realize how easy and versatile it is!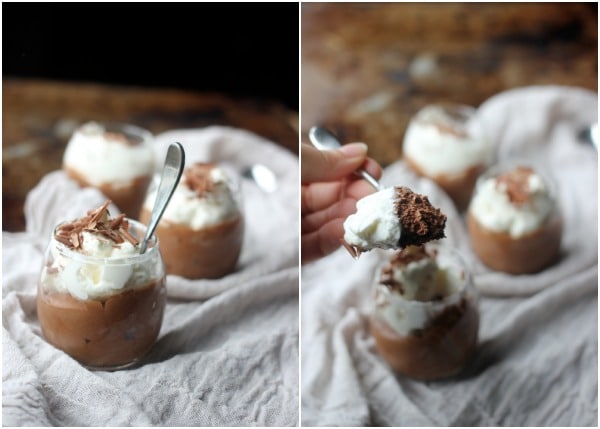 I used this mousse in two different ways. I made little individual mousse cups served with whipped cream, pictured here. And I also made individual tarts, which will be posted in the next few days!
Once set, the mousse becomes very firm. You could even slice a piece of pie that will stand up on it's own. But it is so silky and decadent and light in the mouth feel. It is just luscious!
Classic Chocolate Mousse
This is a basic chocolate mousse recipe. It can be chilled and served as an elegant dessert all on it's own, or used for fillings in cakes, tarts, or pies. It can also be piped as frosting on cupcakes!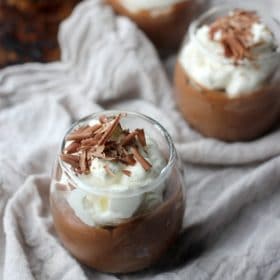 Ingredients:
8 oz good quality chocolate (semi-sweet or bittersweet, I used 60%), cut into small pieces
1/4 cup (2 fl oz) hot water
large pinch of salt
2 large egg whites, room temperature (buy pasteurized eggs if you are worried about eating raw eggs)
1 1/2 TBSP granulated sugar
1 cup heavy cream, very cold (not half and half, it must be heavy cream)
Directions:
Melt the chocolate either over a double boiler or in short, 15 second, bursts in the microwave, stirring well in between. After the chocolate is completely melted and glossy, add the hot water and immediately begin whisking very quickly until completely incorporated. Add a pinch of salt into the chocolate and mix in.
In a clean mixing bowl with the whisk attachment, whip the egg whites until foamy. Slowly stream in the sugar while still whisking and whisk to just barely stiff peaks. Check for peaks frequently being careful not to over whip the whites. Gently move the meringue to another bowl and wipe out the mixing bowl so you can make whipped cream.
Whip the cold heavy cream to make whipped cream to medium-firm peaks. Again, be careful not to over whip your cream.
Make sure your chocolate bowl has cooled down to about room temp before moving on to folding in your whites and cream. Take about 1/3 of the egg whites and whisk them into the chocolate to lighten it and make it easier to fold in the rest. Use a rubber spatula to then fold in the rest of the egg whites in two more portions. Be very gentle not to deflate the whites. You will have some white streaks at this point.
Now, fold the whipped cream into the chocolate mixture about 1/3 at a time. Again, being very gently and patient. Keep gently folding until you have a pail chocolate mousse. It will be light and fluffy.
You can refrigerate the mousse in the bowl and then use it as a filling, or go ahead and portion it out into cups before refrigerating. It will take a good 3 hours to completely firm up, but is significantly firmer after 1 hour. Mousse will keep well covered and refrigerated for up to 5 days.