Chocolate French Silk Pie
Rich and decadent chocolate french silk pie recipe. This pie filling requires no baking and is a rich silky chocolate filling with whipped cream topping and chocolate shavings.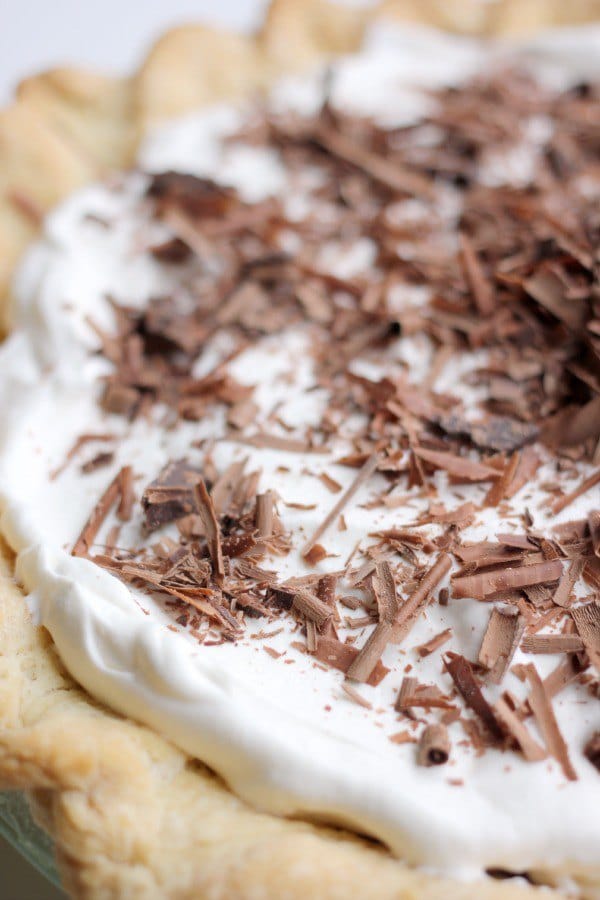 I fully admit that I have avoidance issues when it comes to pie. I rarely make them. And it has nothing to do with disliking pie. Pie is probably one of my favorite desserts. But I don't particularly like making them.
I have realized that the only reason I don't like making them is because I'm not confident in my crust technique. Why is it so hard to make the edges look pretty?!
Making desserts that look pretty is definitely not my strong point. I fully admit that. I am much better at making desserts that taste awesome.
But with the holidays coming up I am determined to end my avoidance of pie and start getting confident with it. Avoiding things is never the answer.
And maybe after I tackle pies I'll start in on cakes. The thought of that just gave me a whole lot of anxiety… It's okay. We're still on pie. One intimidating decorative dessert at a time here.
Let's talk eggs for a moment. More specifically, raw eggs. I feel it is my duty as a recipe blogger to give the raw egg disclaimer on this recipe since it does call for raw eggs. If you are going to make this pie I want you to listen to me closely.
Use fresh eggs for this. Eggs that are at least grade A or preferably grade AA, or even better yet you could use pasteurized shell eggs if you are overly concerned about getting sick!
Don't use grade B or eggs that you forgot to put away and left out on the counter for a couple of hours. The chances of you getting sick from eating a little raw egg are pretty rare. But let's just keep those chances to the absolute minimum by using eggs that haven't had time to grow a whole lot of bacteria.
I fully admit that I eat raw egg all the time. I actually eat raw egg from unpasteurized eggs all the time. A lot of batter gets into my tummy before it goes into the oven and I barely cook my runny eggs in the morning. But I fully understand if you are not okay with the small risk raw eggs bring.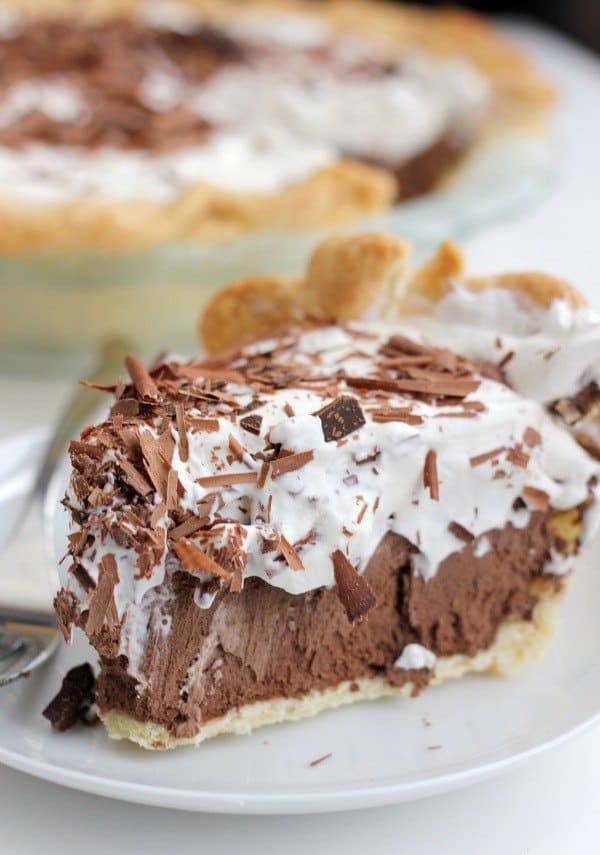 And if you are pregnant, or have a weak immune system, or are feeding small children you should be more cautious. Either pass this recipe by, or you can also buy pasteurized in the shell eggs in the grocery store.
Now there are recipes out there calling themselves French Silk Pie that do not use raw eggs. However, I have to say that these pies aren't really true to what French Silk Pie really is.
French Silk Pie is actually an american creation. Unlike a cooked custard cream pie, it is incredibly dense and "silky." The eggs bring a lot of richness to the pie and this is one of those desserts that I can really only have a few bites of because of how rich it is. My husband, on the other hand, can eat a huge piece for breakfast and feel great.
I hope everyone is looking forward to the holidays with as little stress as possible. This is a great dessert to make the day or even two days before! It holds up well under refrigeration and you can add the whipped cream on just before serving to keep a fresher taste and look.
And cut small pieces for your family to make sure there is some left over for breakfast the next day. Leftover pie for breakfast is one of the best things about the holidays.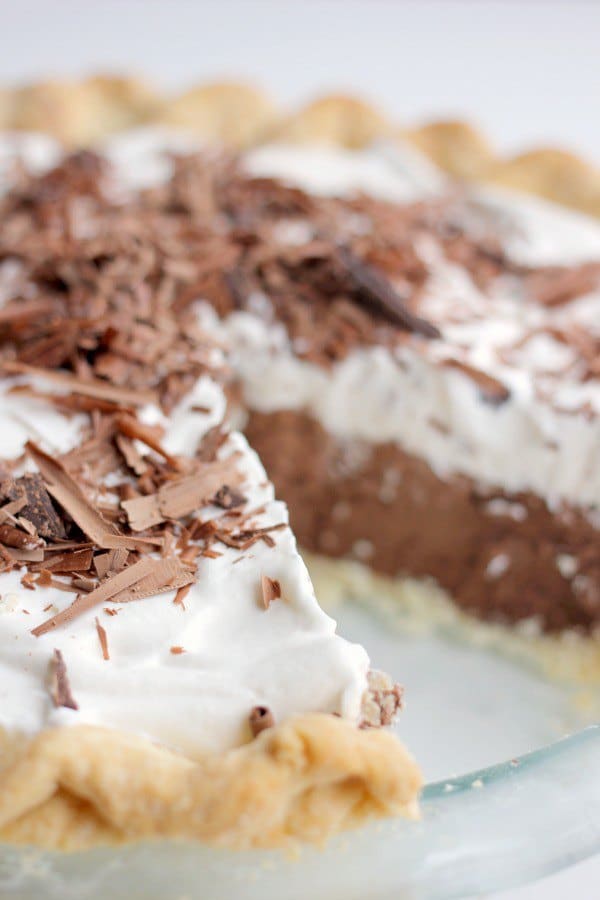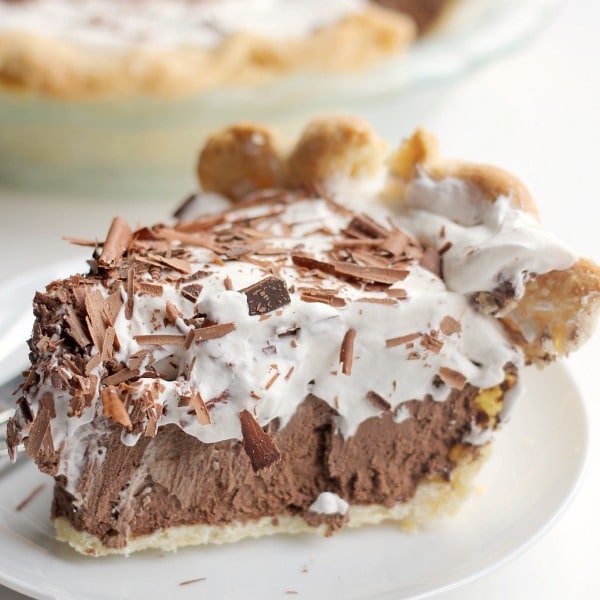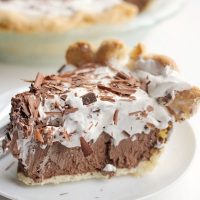 Chocolate French Silk Pie
Yield: 1- 9" Pie
Prep Time: 4 hours
Cook Time: 25 minutes
Total Time: 4 hours 25 minutes
This pie filling requires no baking and is a rich silky chocolate filling with whipped cream topping and chocolate shavings. 
Ingredients
For the Crust
1 1/2 cups flour
1/2 cup shortening or cold butter cut into small pieces
pinch of salt
ice water
For the Filling
1 cup unsalted butter, room temperature
1 1/2 cups granulated sugar
4 ounces unsweetened chocolate, melted and cooled slightly (I used ghiradelli 100% chocolate)
2 tsp vanilla extract
2 TBSP cocoa powder (optional, but intensifies the chocolate flavor and color)
1/4 tsp instant espresso powder (optional, but intensifies the chocolate flavor)
4 large eggs
For the Topping
1 cup (237 ml) cold heavy whipping cream
1 tsp vanilla extract
1/3 cup (40 gr) powdered sugar
chocolate shavings, optional
Instructions
For the Crust
Preheat oven to 400ºF.
Cut shortening or butter into the flour and salt with a pastry cutter to the consistency of coarse meal.
Add ice water 1 TBSP at a time while stirring gently until the dough starts to form into a ball.
Gently roll out the crust and place it in a pie plate. Crimp edges as desired. Dock the dough by piercing with a fork several times around the bottom and sides.
Lay parchment paper into the crust and fill with dried beans, rice, or pie weights.
Bake in the bottom third of the oven for 15 minutes. Remove the pie weights and place back in the oven for 10 more minutes, or until the crust is golden brown.
Allow to cool completely on a wire rack before filling.
For the Filling
In the bowl of a stand mixer fitted with a paddle attachment (make sure not to use a whisk attachment), beat together the butter and sugar until light and fluffy.
With the mixer still running, pour the cooled melted chocolate into the butter/sugar mixture. Add the vanilla, cocoa powder, and espresso powder if using. Scrape down the bowl.
Add eggs one at a time, beating for 5 full minutes in between each addition (20 minutes total) at a high speed. The full mixing time of 20 minutes, 5 minutes for EACH egg, is necessary to get the silky texture and for the pie to set.
Pour the filling into the cooled crust and allow to set in the refrigerator for at least 4 hours and up to 2 days before serving.
To Top
Pour the heavy cream and vanilla in the bowl of a stand mixer fit with the whisk attachment or in a large bowl with a hand mixer. Whip on high speed and slowly stream in the powdered sugar until the whipped cream reaches stiff peaks.
Top the pie with whipped cream and chocolate shavings or curls.
Notes
Filling recipe adapted from Martha Stewart's French Silk Pie Recipe
Disclaimer:Consuming raw or undercooked eggs may increase your risk of food borne illness, especially if you have a medical condition. Use pasteurized eggs to reduce risk.
Recommended Products
As an Amazon Associate and member of other affiliate programs, I earn from qualifying purchases.
Nutrition Information:
Amount Per Serving:
Calories: 635