Chocolate French Silk Pie
Rich and decadent chocolate french silk pie recipe. This pie filling requires no baking and is a rich silky chocolate filling with whipped cream topping and chocolate shavings.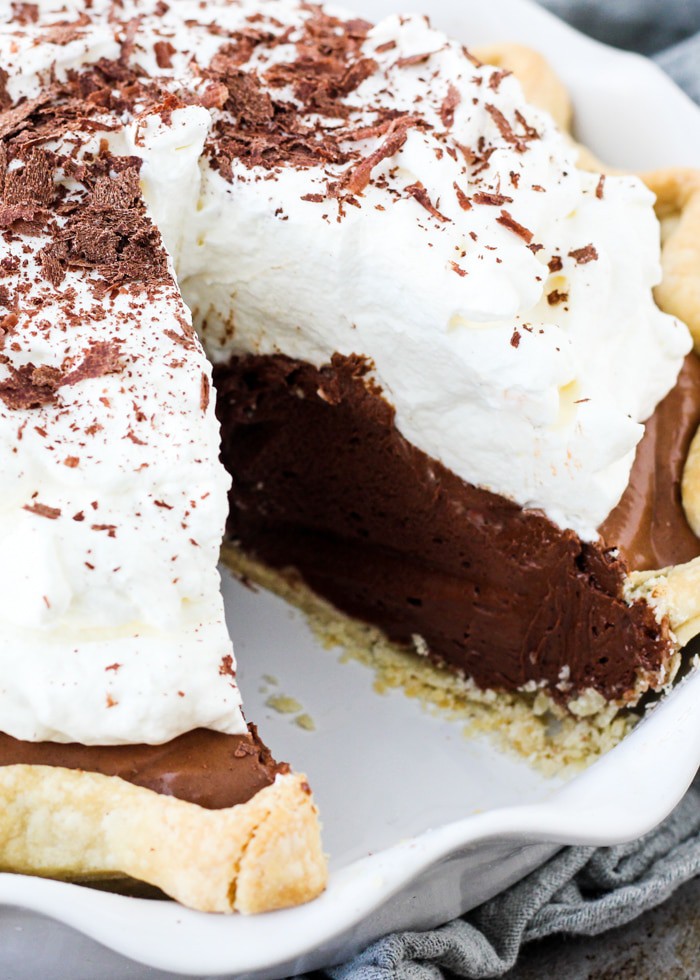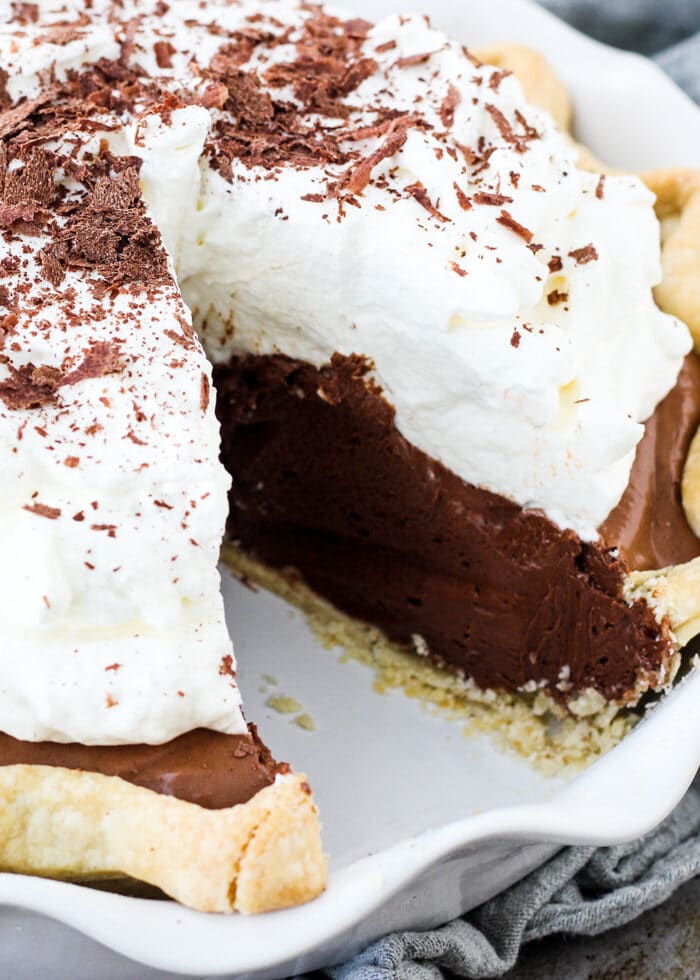 Chocolate French Silk Pie Overview
Chocolate french silk pie is an incredibly rich chocolate pie with a chocolate mousse filling and a whipped cream topping. The filling is intensely chocolate in flavor and is very rich from the high ratio of butter and eggs in the mousse.
Traditional french silk pie is made with a classic pie crust which is what I prefer. I think the contrast of the salty crust is perfect with the rich filling. However, if you prefer, you can use a graham cracker crust or an oreo crust.
This pie is always a showstopper! I bring this along to most holiday gatherings and it is always the most popular dessert offered!
What is French Silk Pie Made Of? Why is it Called French Silk?
French silk pie is made from a rich chocolate filling that is, as its name suggests, incredibly silky. The filling is essentially a rich chocolate mousse made from butter, sugar, eggs, and chocolate. The filling is also kept raw which helps with its unique texture.
There is some debate about when this pie first originated. Some believe it came about in the 50's as a winner of a Pillsbury bake-off, others think it first appeared in the 80's created by a famous pastry chef. Wherever it started it is sure to be a hit with whoever it is shared with!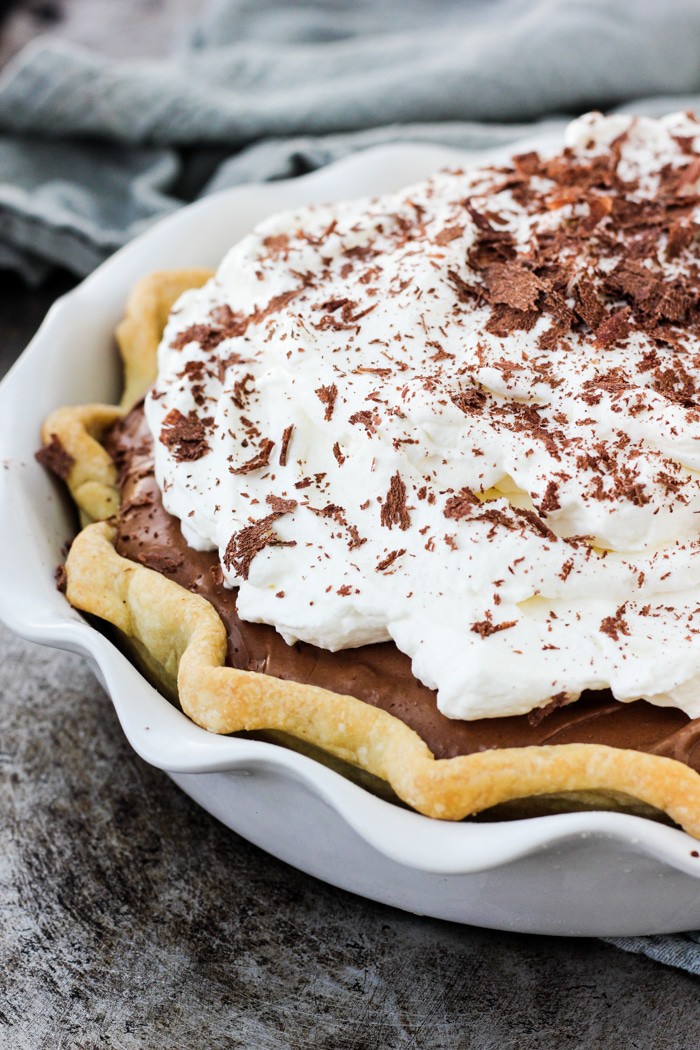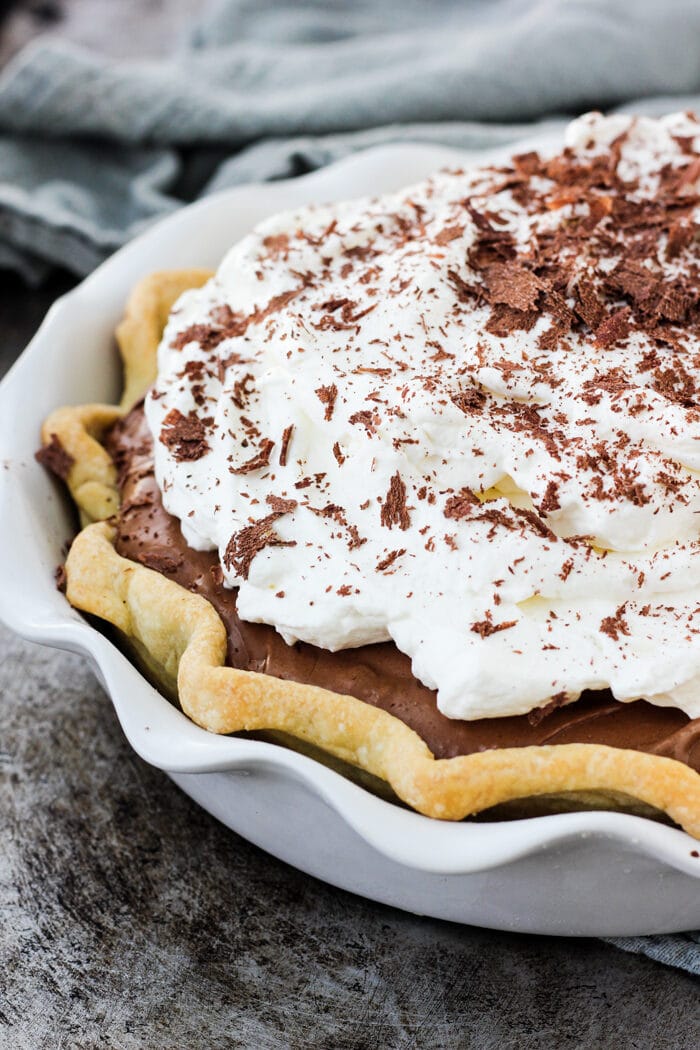 Is French Silk Pie Safe to Eat?
The concern around french silk pie being safe to eat stems from the fact that it is traditionally made with raw eggs in the filling. There are versions out there that call for cooking the filling, however I find the filling to be inferior to the classic version.
Because this recipe does use raw eggs it is important to use pasteurized eggs if you are concerned about foodborne illness. Pasteurized eggs have been heated to a point where any bacteria present will be killed to eliminate the risk of foodborne illness, but the egg remains raw.
You can look for brands of eggs that are labeled as pasteurized in the grocery store. Or if you are unable to find them you can pasteurize eggs yourself using this tutorial.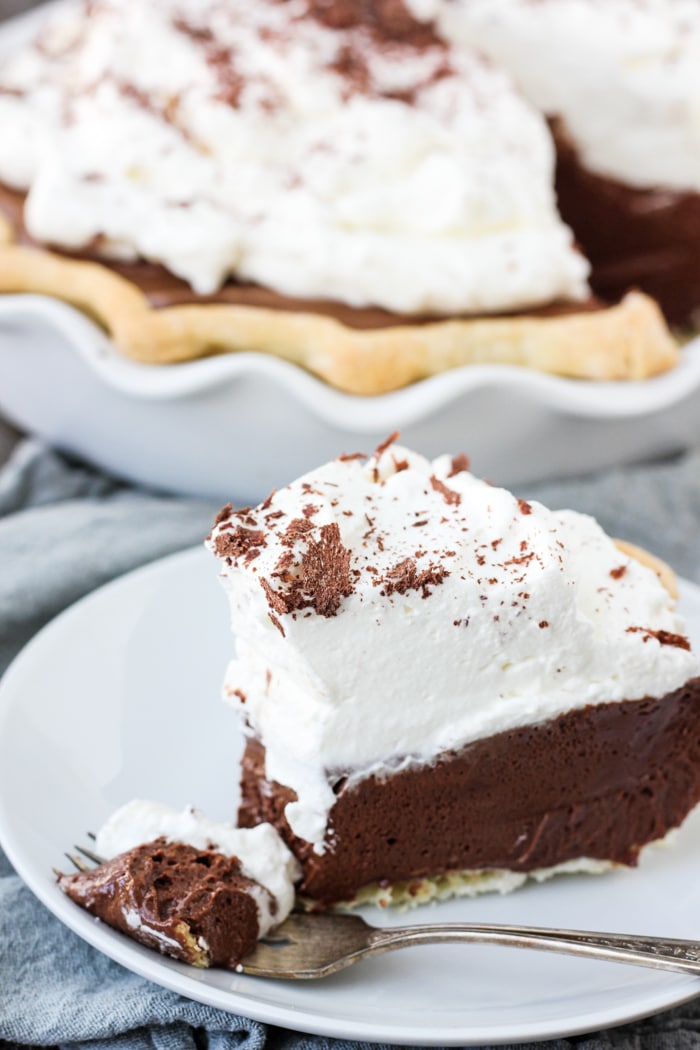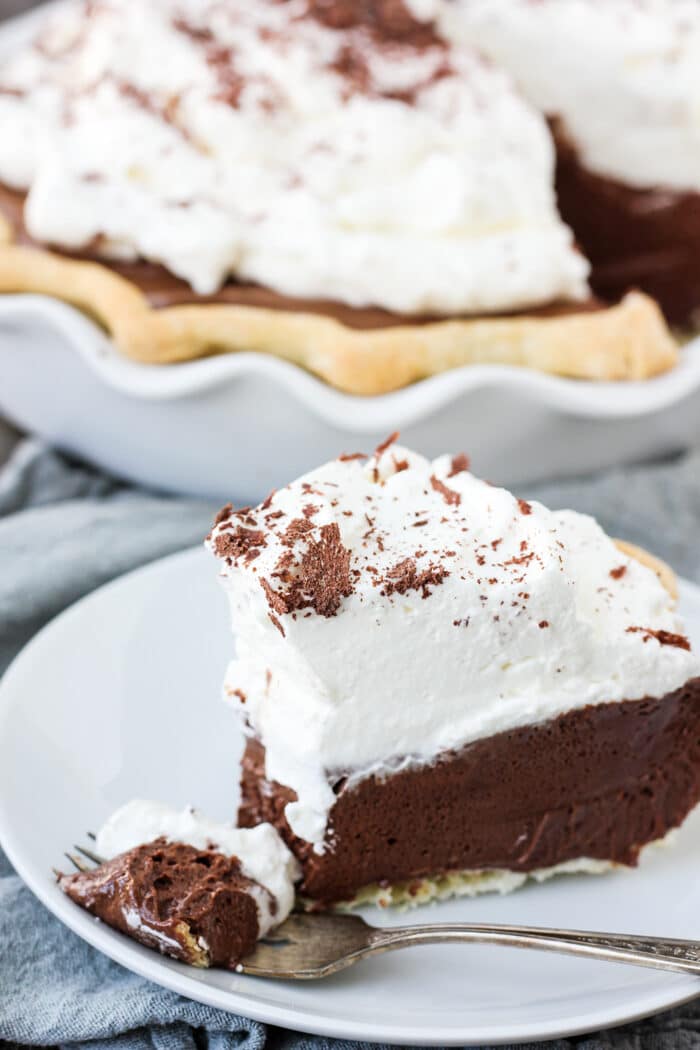 How to Make French Silk Pie
I highly recommend to read the recipe all the way through before starting. Also make sure that you do not rush the filling process as it needs the full mixing time to really set up.
Step 1: Prepare the Crust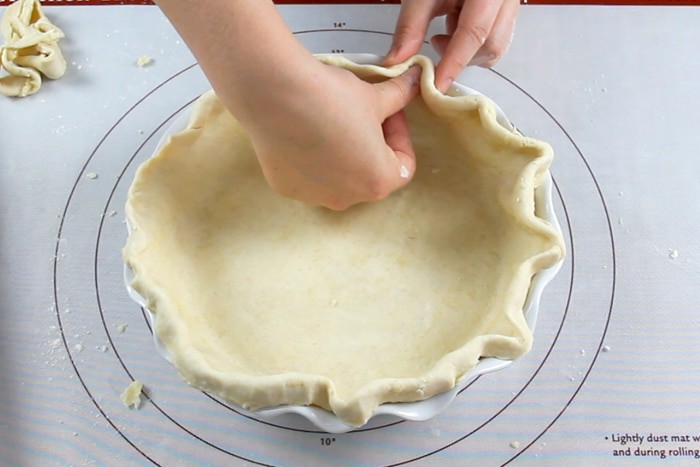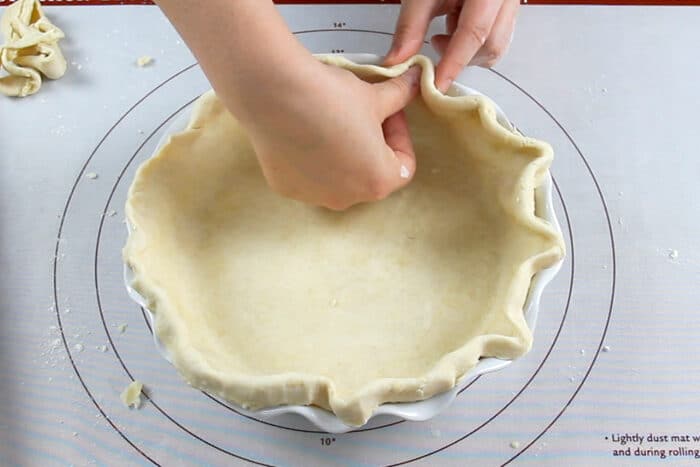 I prefer a traditional pie crust for this pie (recipe below). However, if you prefer, you can prep a graham cracker or an oreo crust. Oreo is my husbands favorite with this pie, but I think its a little too rich.
Step 2: Bake & Cool the Crust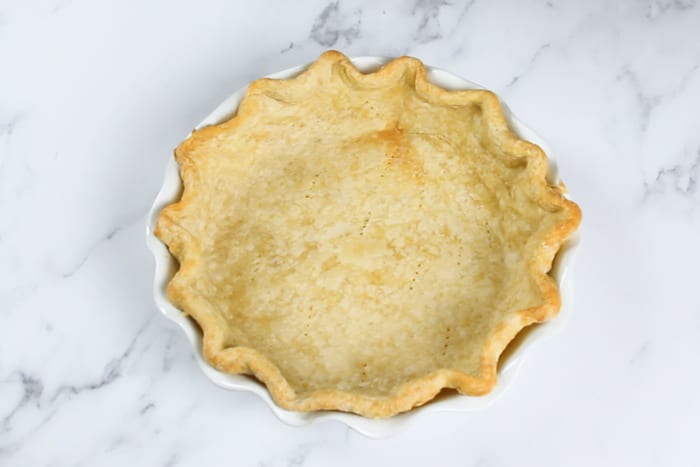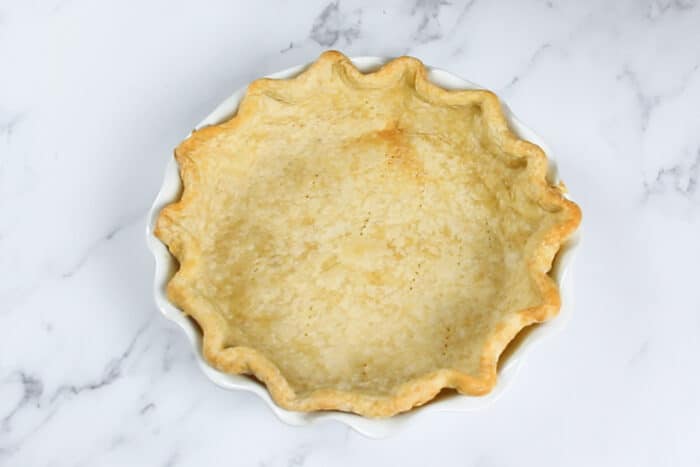 Blind bake the crust and allow to cool completely before adding the filling. Because the filling is kept raw, the crust must be baked all the way through before the filling is added.
Step 3: Cream the Butter & Sugar for the Filling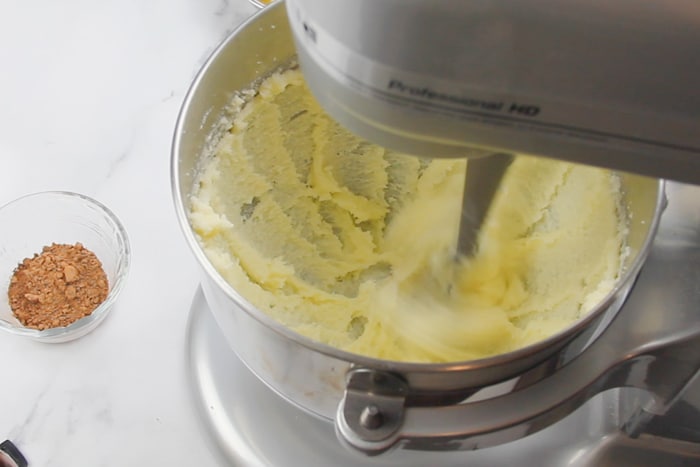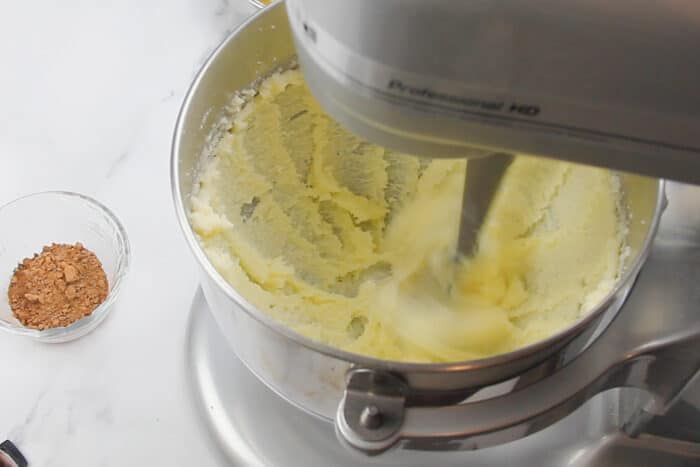 Cream the butter and sugar together until light and fluffy. This will take a good 3-4 full minutes of mixing.
Step 4: Add the Chocolate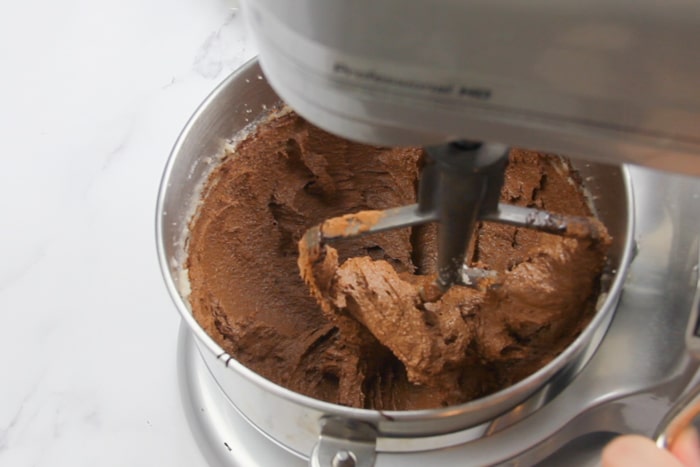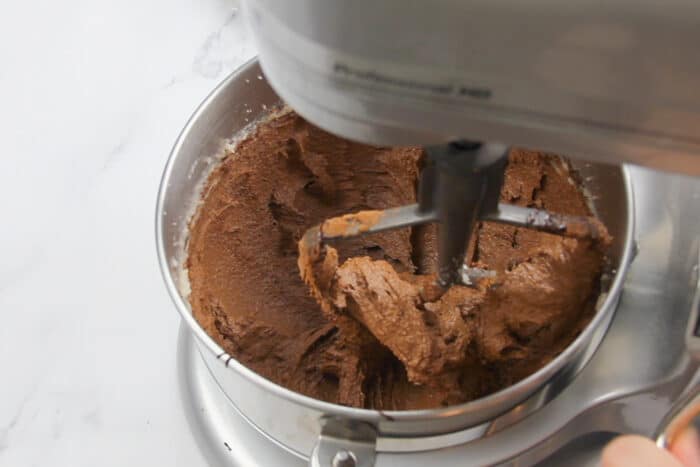 Add the melted and cooled chocolate into the mixing bowl along with the cocoa powder and espresso powder if using. The cocoa and espresso powder are optional but really help intensify the chocolate flavor.
Step 5: Add the Eggs one at a Time


Add the eggs into the mixer one at a time, mixing on high speed for 5 full minutes after each egg addition. This is extremely important for the filling to be able to set.
Do not rush the mixing and adding of the eggs. You will be mixing for a full 20 minutes at high speed- 5 minutes for each of 4 eggs. If you do not have a stand mixer you can use a hand mixer for this step, but it will be quite the arm workout!
Step 6: Allow the Filling to Set & Top
Pour the filling into the cooled pie crust and let it set for 3-4 hours in the refrigerator. Then you can top it with real whipped cream and chocolate shavings!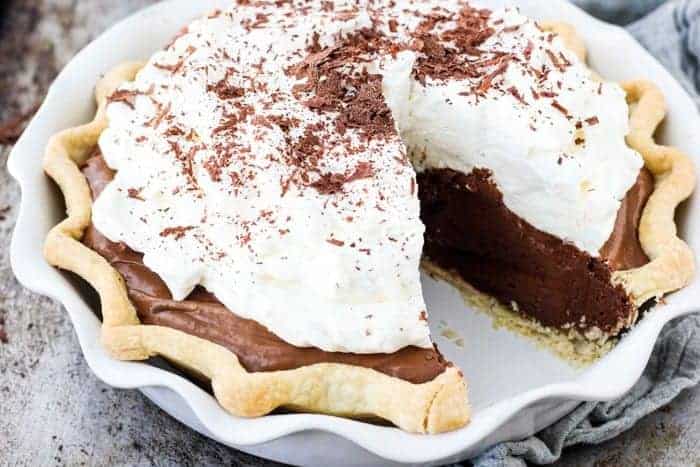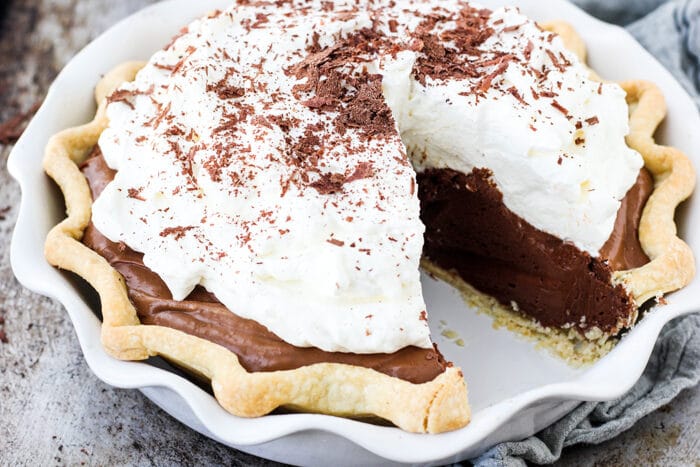 Does French Silk Pie Need to Be Refrigerated?
French silk pie definitely needs to be kept in the refrigerator due to the raw eggs in the filling. The filling will also start melting if it becomes too warm.
How Long Can You Keep French Silk Pie?
You can keep french silk pie refrigerated and loosely covered for 3-4 days. It is best eaten the day after it is made for the best texture with the crust.
Watch the Video Tutorial!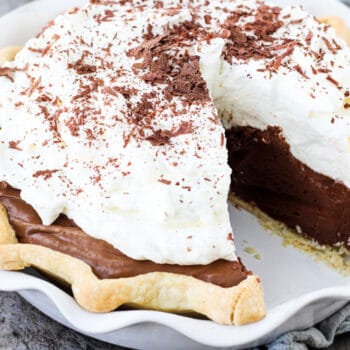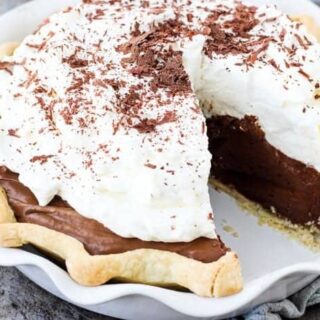 Chocolate French Silk Pie
Yield: 1- 9" Pie
Prep Time: 4 hours
Cook Time: 25 minutes
Total Time: 4 hours 25 minutes
This pie filling requires no baking and is a rich silky chocolate filling with whipped cream topping and chocolate shavings. 
Ingredients
For the Crust
1 1/4 cups (150 gr) all-purpose flour
1/2 tsp kosher salt
1/3 cup (75 gr) shortening or cold butter cut into small pieces
2-4 TBSP (30 ml-60 ml) ice water
For the Filling
1 cup (220 gr) unsalted butter, room temperature
1 1/2 cups (294 gr) granulated sugar
4 ounces (112 gr) unsweetened chocolate, melted and cooled slightly (I used ghiradelli 100% chocolate)
2 tsp vanilla extract
2 TBSP (13 gr) cocoa powder (optional, but intensifies the chocolate flavor and color)
1/4 tsp instant espresso powder (optional, but intensifies the chocolate flavor)
4 large eggs, room temperature (*use pasteurized eggs to eliminate risk of foodborne illness)
For the Topping
1 cup (237 ml) cold heavy whipping cream
1 tsp vanilla extract
1/3 cup (40 gr) powdered sugar
chocolate shavings, optional
Instructions
For the Crust
Preheat oven to 400º F (200 C).
In a large mixing bowl, whisk together the flour and salt. Add the shortening or butter to the bowl and cut it in with a pastry cutter until the consistency of coarse meal.
Add ice water 1 TBSP at a time while stirring gently until the dough starts to form into a ball.
Gently pat the pie dough into a disk and wrap in plastic wrap. Chill in the refrigerator for 30 minutes.
Gently roll out the crust out on a lightly floured surface until it is about a 12 inch circle. Place the dough in the pie plate and pull up on the edges to let it fall into the plate naturally. Do not stretch it to fit. Crimp edges as desired (watch the video to see how I shape it). Dock the dough by piercing with a fork several times around the bottom and sides.
Lay a piece of parchment paper into the crust and fill with it dried beans, rice, or pie weights.
Bake in the bottom third of the oven for 20 minutes. Remove the pie weights and place back in the oven for 5 more minutes, or until the crust is golden brown.
Allow to cool completely on a wire rack before filling.
For the Filling
In the bowl of a stand mixer fitted with a paddle attachment (make sure not to use a whisk attachment), beat together the butter and sugar on medium-high speed until light and fluffy- about 3-4 minutes.
With the mixer still running, pour the cooled melted chocolate into the butter/sugar mixture. Add the vanilla, cocoa powder, and espresso powder if using. Scrape down the bowl.
Add eggs one at a time, beating for 5 full minutes in between each addition (20 minutes total) at a high speed. The full mixing time of 20 minutes, 5 minutes for EACH egg, is necessary to get the silky texture and for the pie to set.
Pour the filling into the cooled crust and allow to set in the refrigerator for at least 4 hours and up to 2 days before serving.
To Top
Pour the heavy cream and vanilla in the bowl of a stand mixer fit with the whisk attachment or in a large bowl with a hand mixer. Whip on high speed and slowly stream in the powdered sugar until the whipped cream reaches stiff peaks.
Top the pie with whipped cream and chocolate shavings or curls.
Notes
Filling recipe adapted from Martha Stewart's French Silk Pie Recipe
Disclaimer: Consuming raw or under-cooked eggs may increase your risk of food borne illness, especially if you have a medical condition. Use pasteurized eggs to reduce risk.
Recommended Products
As an Amazon Associate and member of other affiliate programs, I earn from qualifying purchases.
Nutrition Information:
Amount Per Serving:
Calories: 635